Royals become record-tying fourth 100 loss team
MINNEAPOLIS — Kansas City has become Major League Baseball's fourth 100-loss team this season, matching the major league record.
The Royals were defeated 12-8 by the AL Central-leading Minnesota Twins on Sunday, joining the Baltimore Orioles, Detroit Tigers and Miami Marlins as clubs with 100 defeats. The only other season to feature four 100-loss clubs was 2002, when the Tigers, Milwaukee Brewers and Tampa Bay Rays each dropped 106 games and Kansas City fell on the final day of the season for its 100th loss.
It's also a banner year for baseball's best. There have never been four 100-win teams in the same season, but that could change. The New York Yankees (102) and Houston Astros (102) already have eclipsed the mark, and the Los Angeles Dodgers (99 wins), Atlanta Braves (96) Minnesota (95) and Oakland Athletics (94) could still get there.
Three teams reached 100 wins in both 2017 and 2018. Before then, there were only three 100-game winners in 1942, 1977, 1998, 2002 and 2003
ALCS revenge? Three ways the Yankees are better than they were in 2017
HOUSTON — This is the third time in five years that the New York Yankees and Houston Astros have faced each other in the postseason, but Astros manager AJ Hinch knows you can't think of the past as prelude.
Although some of the names are the same, Hinch considers this 2019 Yankees team an upgrade from the 2017 edition that Houston beat in an epic, seven-game American League Championship Series on its way to the first World Series title in franchise history.
"The Yankees have had something similar that has happened to us, in terms of just the maturation of a core group," said Hinch, who managed both the 2017 Houston team and the group that beat the Yankees in the 2015 AL wild-card game. "Everybody will automatically go to [Aaron] Judge and the group in the middle of the order, but having added DJ LeMahieu, adding Gio Urshela, Gleyber Torres and the weapons they have in their bullpen, they're just different. It feels like a stronger team."
A stronger team? Here's why you can take Hinch's word for it.
'The maturation of a core group'
The Yankees overcame a slew of injuries this season to win their first AL East title since 2012, and this time, they headed into October with a core of young players with their share of postseason experience.
All-Star outfielder Aaron Judge was fresh off a record-setting Rookie of the Year campaign when the Yankees and Astros met in the 2017 ALCS. That season, then-23-year-old right-hander Luis Severino — the scheduled starter for Game 3 of the 2019 ALCS — made his postseason debut. Gary Sanchez, who has developed into one of the premier power-hitting catchers in the game, also appeared in his first playoff action two seasons ago.
Torres, meanwhile, was rehabbing from Tommy John surgery and didn't make his big league debut until 2018, when he got a taste of the postseason in the Yankees' wild-card win over the Athletics and four-game ALDS loss to the Red Sox. He is now among the most dangerous hitters on the team, having helped sweep the Twins in the division series with three doubles, two stolen bases and a home run.
"Our young guys have matured a little bit, and they are simply better players than they were a year or two ago," said veteran outfielder Brett Gardner, who along with CC Sabathia is one of two players remaining from the Yankees' 2009 championship team.
"I've got a better feeling about this group of guys that we have," Gardner said, comparing this year's club to the on from 2017. "And we had a good regular season, even though we've dealt with a lot of adversity. We've got a pretty young roster, guys who have gotten to experience the postseason the last couple years.
"I think they've proven time and time again over the course of the season that not one moment was really too big for them. Overall, as a whole, we have a better team and a better lineup. Up and down, we have more depth, which has been tested throughout the season."
Eduardo Pérez and Tim Kurkjian break down Gerrit Cole's Game 5 dominance and look ahead to the much-anticipated ALCS between the Yankees and Astros.
'Having added DJ LeMahieu … '
The two American League powerhouses both have revamped lineups, but the Yankees' infield has a whole new look compared to the '17 squad. Instead of Greg Bird at first base, they have the team's season-long MVP in LeMahieu (26 HRs, .327 AVG). If they decide to shift LeMahieu around the infield, power hitters Edwin Encarnacion (34 HRs) and Luke Voit (21 HRs) are possible alternatives.
As a replacement for veteran Starlin Castro, who was dealt to the Marlins for Giancarlo Stanton after the 2017 season, the Yankees fielded one of the top second basemen in the game in Torres. Torres is coming off an age-22 season in which he hit 38 home runs and made his second All-Star team.
At third base, the unheralded Urshela had a breakout season at the hot corner. Already known for his defense, Urshela, who turned 28 on Friday, had a career-best 21 home runs and 74 RBIs.
"We had a great team in 2017, but we have a lot more power now. With Gleyber, DJ, Urshela, it's incredible what they have done this year for us," said Sanchez, who hit a career-best 34 home runs this season. "That's been the No. 1 difference for us this year. We had an awesome team back then, but now our power is incredible."
'The weapons they have in their bullpen'
The Yankees have one of the deepest relief units in baseball, with Zack Britton and Adam Ottavino joining 2017 holdovers Chad Green, Tommy Kahnle and closer Aroldis Chapman.
No other bullpen boasts such a diverse collection of power arms.
"Our bullpen is certainly one of the major strengths of our club," Yankees manager Aaron Boone said. "We have a lot of confidence in those guys down there. They know how important they are to what we do. And if we're going to go far in this, they're going to play a huge role."
"This bullpen is great. One of the best ones I've ever seen," said Sabathia, who has seen plenty of pens in his 19 major league seasons.
Said Severino: "Everybody knows we have one of the best bullpens in the majors. All the new acquisitions we have, that has made the difference. Of course we have a lot more power, and not only in hitting home runs but hitting for average. But when it comes to our bullpen, no one compares to our bullpen."
Shut down in Game 1, how will Cardinals' bats fare against the Nats' big three?
ST. LOUIS — The good news: One hit is better than no hits. The bad news, Cardinals fans: You might not want to look at the next three starting pitchers for the Nationals.
The St. Louis Cardinals couldn't touch Anibal Sanchez in the opening game of the National League Championship Series as he took a no-hitter into the eighth inning before pinch hitter Jose Martinez hit a soft liner into center field with two outs to spoil what could have been the third no-hitter in postseason history.
Sean Doolittle would finish off the one-hitter and 2-0 victory for the Washington Nationals. Now the Cardinals get to face Max Scherzer on Saturday afternoon. Then Stephen Strasburg. And then Patrick Corbin. Those three ranked in the top 10 in the National League in ERA. They ranked 2-3-4 in strikeouts. They ranked in the top 12 among NL starters in lowest batting average and lowest OPS allowed. Those three are the primary reason the Nationals are favored to win this series — only the fifth wild-card team since 2008 to be favored in an LCS.
Of course, we should also point this out to Cardinals fans: Those previous four wild-card favorites all lost the series.
The Cardinals themselves aren't about to back down from facing Scherzer and his upper-90s fastball — not to mention one of the best sliders in the business … and his changeup … and cutter and curveball and that extra level of intensity that makes him one of the best competitors in the game. Yeah, the dude has won three Cy Young Awards for more reasons than just a 97 mph heater he can blow past hitters.
It will be a much different pitcher than Sanchez, who tops out around 90 mph and throws a lot of sinkers and cutters. "Definitely a lot different," Cardinals rookie infielder Tommy Edman said, "but at the same time they're both guys who throw their off-speed for strikes. You have to deal with that. Honestly, the approach is the same. Swing at good pitches and not their pitches."
Veteran Matt Carpenter — 7-for-23 against Scherzer in his career — said you leave Friday night behind. "That's the beauty of a seven-game series. We have a lot of baseball ahead of us. Obviously we would have loved to have won this first one, especially at home, the excitement level is big for Game 1. We can flush this one and come out ready for tomorrow."
The problem for the Cardinals is that they don't have the most powerful lineup in the playoffs. Among the four NL teams who made it to the division series, they were well behind the others in runs per game in the regular season:
Dodgers: 5.47
Nationals: 5.39
Braves: 5.28
Cardinals: 4.72
The Dodgers, Nationals and Braves ranked 1-2-3 in the NL in runs. The Cardinals ranked 10th. Some of that is related to park effects — Busch Stadium is good pitcher's park — but in a season where 85 players with at least 300 plate appearances slugged .500, the only Cardinals player to reach that mark was the undersized Edman, who reached .500 on the nose on the strength of a .304 batting average and seven triples in 326 at-bats.
Paul Goldschmidt led the team with 34 home runs and Paul DeJong was second with 30. But after a monster April, DeJong hit just .206/.297/.403 since May 1 and has been moved down to the eighth spot in the lineup. Marcell Ozuna hit 29 home runs and had a good division series against the Braves but also hit just .219 in the second half and .160 in September.
It's fair to ask: Is this Cardinals offense good enough to win four of the next six games and beating three of the best starting pitchers in the world in the process?
"There's complete hope," manager Mike Shildt said. "We had a really good offensive club. Sanchez was really good tonight. … There's nothing but optimism about all our players and our offense for sure. We'll be ready to go tomorrow."
One reason for hope surprisingly might actually be Scherzer's fastball.
"I think the numbers show that we're a good fastball-hitting team," Carpenter said. "That's who we are. That's our DNA. … In a league where for the most part you get a lot of fastballs, we've done a good job at that."
The numbers do back up that statement. The Cardinals had the fifth-best OPS in the majors against fastballs, behind the three American League powerhouse teams and the Dodgers. They hit .284/.375/.505 against fastballs. OK, fine. But Scherzer's fastball isn't your normal fastball. Against fastballs of 95-plus, however, the Cardinals still hit .275/.352/.487, the fourth-highest OPS.
Maybe the Cardinals will thrive against a pitcher who — as Jose Martinez would say — throws over the speed limit. They can also rally behind Adam Wainwright, their Game 2 starter who tossed 7⅔ scoreless innings against the Braves in the NLDS. The 38-year-old vet will be making his first NLCS start since 2014. Wainwright actually squared off against Scherzer on Sept. 18; he gave up one unearned run in a 5-1 victory.
"I told him after game it's, competing against him is like Christmas for me," Wainwright said before Game 1. "He's one of the best competitors out there, one of the greatest pitchers of our generation for sure. I think he's probably going to be a Hall of Famer, and it's just a privilege to get to compete against him."
The Nationals also know Friday's victory is just that — one victory, one of the four needed to move on to the next goal.
"Every game's going to be a battle," Nationals first baseman Ryan Zimmerman said. "That's a really good team over there, that could put a really good pitcher on the mound to match ours every single night. … We're obviously going to enjoy this one a little bit, but it gets us nothing tomorrow. We're gonna come out tomorrow and face a guy for them that's done a lot in his career. It's not gonna get any easier."
Indeed, Scherzer versus Wainwright is a great matchup. Scherzer has 170 victories and is still going strong, perhaps on that Hall of Fame path. Wainwright is winding his own excellent career that has included four top-three Cy Young finishes and 162 victories. Wainwright is now a lot like Sanchez — he needs to hit the corners and keep the Nationals off-balance with the great curveball.
He joked about how similar he is to Scherzer: "We're both attacking with high velocity fastballs at the top of the zone and nasty sliders and changeups."
The beauty of the baseball postseason isn't just that it's a best-of-seven series, but you can win with 98 mph fastballs or 89 mph fastballs. We'll see which approach will be the winning one in Game 2.
MLB Playoffs Daily — Yankees-Astros superteam showdown gets going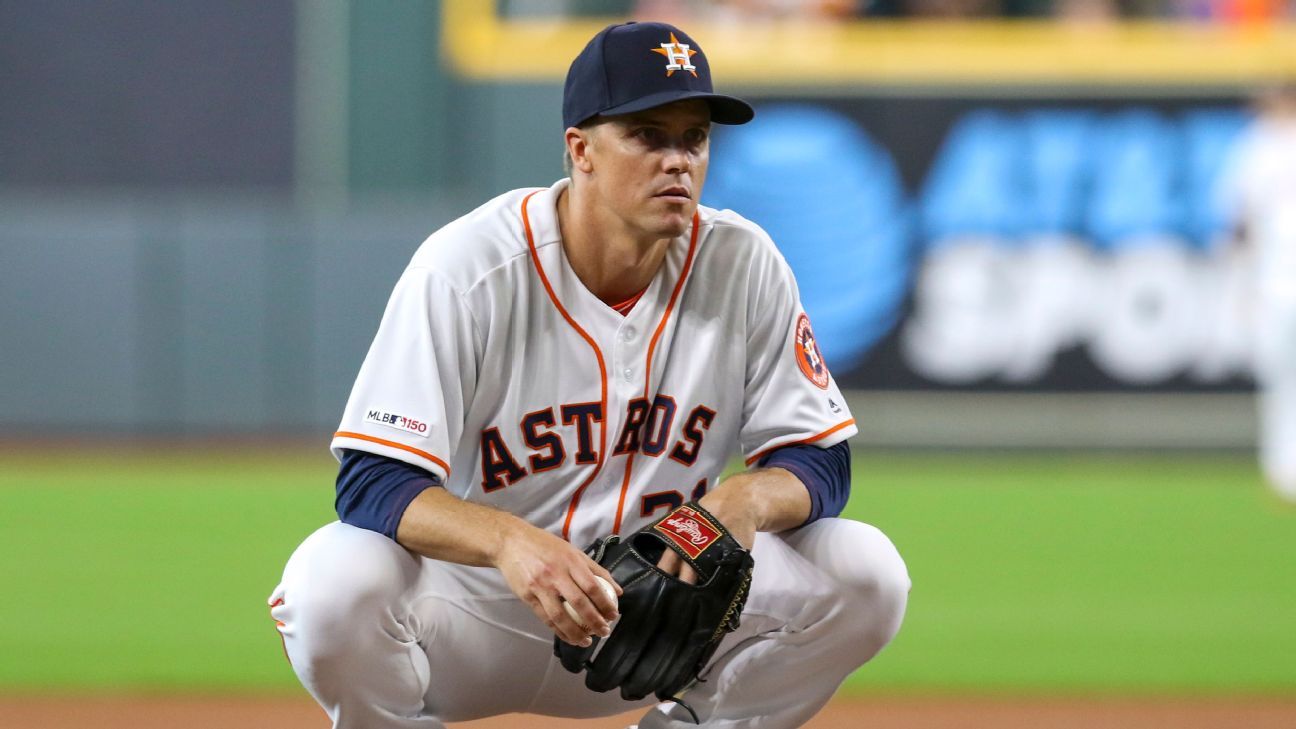 With the National League Championship Series already underway and the Washington Nationals riding high with a 1-0 series lead over the St. Louis Cardinals after a remarkable night from Anibal Sanchez on the mound, it's the American League's turn to swing into action Saturday in a clash between the league's superteams — the Houston Astros and the New York Yankees. Can Houston's Zack Greinke match fellow finesse righty Sanchez's first-game feat? And can the Cardinals tie up their series before having to head to D.C.?
What's on tap
Saturday's schedule
4:08 p.m. ET: Nationals at Cardinals, Game 2
8:08 p.m. ET: Yankees at Astros, Game 1
The most important thing of the day: The Yankees face the same challenge the Cardinals did in their Game 1 — they're not facing the Astros' best or second-best starter, but if they lose, things could get ugly with Justin Verlander and Gerrit Cole lined up next. That's the Cards' situation, going up against Max Scherzer in Game 2 and already down a game.
The view from inside the ballpark
HOUSTON — When the Astros and Yankees last met in the ALCS, in 2017, the series went seven games — and the home team won each time. If the Yankees don't want history to repeat itself — once again, Houston has home-field advantage — their best bet might be to steal Game 1 against Zack Greinke on Saturday night. After that, they face Justin Verlander, and then Gerrit Cole back in the Bronx. Good luck. — Matt Marrone
ST. LOUIS — Think the Cardinals' offense is done after getting shut down in the series opener? Manager Mike Shildt disagrees. After the Game 1 loss, he said: "There's nothing but optimism about our players and our offense." The only problem is that they'll have to turn that optimism into production against a run of aces that starts with a Game 2 matchup with St. Louis native Max Scherzer, though Mad Max went out of his way to downplay the hometown theme when he spoke Friday afternoon. — Dan Mullen
A stat to impress your friends: No player in St. Louis' starting lineup recorded a hit in Game 1, the first time that has happened in franchise postseason history in 244 games across 29 different years that the Cardinals played in the postseason since the start of MLB's modern era in 1903.
Predictions
Nationals-Cardinals
You'd have to be crazy to pick a team that just got one-hit and is now up against Scherzer, right? Probably, but I still don't see the Cardinals leaving St. Louis in an 0-2 NLCS hole. Adam Wainwright has been so good at home this season; he should keep things close, and the Cards' bats are going to get going at some point. Cardinals 3, Nationals 2. — Mullen
You get one-hit in the series opener and now you get to face the Nationals' ace instead of their No. 4 starter. Good luck, Cardinals. Their best hope is that Scherzer runs up his pitch count and maybe you get to that soft underbelly of the Washington bullpen. I think Scherzer lasts long enough to get the ball to Daniel Hudson and Sean Doolittle, and Washington scratches out some insurance runs against St. Louis' own so-so relief corps. — Nationals 5, Cardinals 3 — David Schoenfield
Yankees-Astros
It's just hard to trust Greinke in the postseason, especially against a lineup like the Yankees will roll out. Yankees 8, Astros 3. — Bradford Doolittle
Greinke said it best about the Bronx Bombers at his Friday news conference: "It's tougher to get good hitters out than not-as-good hitters." Masahiro Tanaka faces a similar problem, but he and his bullpen will have better luck solving it. Yankees 5, Astros 4. — Marrone
About last night
Stud of the night: Anibal Sanchez, of course. A 35-year-old veteran with a 108-108 record across 14 major league seasons again flirted with a no-hit bid in the LCS round — having done so with the Tigers in the 2013 ALCS — this time getting into the eighth inning? It doesn't get much better — or more improbable, in the best possible "you can't predict baseball" way — than that.
Dud of the night: It might seem harsh to single out any one Cardinals hitter, so best to credit the entire starting lineup with a dud for its combined 0-for-27 effort with lone walk and a hit-by-pitch.
Highlight of the night:
Ryan Zimmerman leaps and stretches out to make an unbelievable catch to rob Tommy Edman of a hit in the eighth inning.
Off the diamond
Social media says:
13 years after he used this ball to pitch a no-hitter – in just his 13th big league start! – Aníbal Sánchez nearly did it again tonight. He's now the first player to pitch 6+ innings of no-hit ball twice in the postseason. (Milo Stewart Jr.) https://t.co/DWz4mlRO5Q pic.twitter.com/5jdHGJWoZS

— National Baseball Hall of Fame and Museum ⚾ (@baseballhall) October 12, 2019
Quote of note: "It's almost like one of those things where you get kind of a chuckle out of [the hitters]. He throws his mariposa (butterfly) up there, thing's like 60 mph and he … when a guy like that can manipulate his speeds, it's pretty amazing." — Nationals catcher Yan Gomes, describing Cardinals hitters' reactions to Sanchez's fluttering flirtation with postseason history at their expense.
Best of the playoffs so far …
Our running postseason MVP: There are a lot of ways to break down the dominance of Astros starter Gerrit Cole so far — a 0.57 ERA and 0.57 WHIP, 25 strikeouts, 3 walks, 6 hits allowed over 15⅔ innings, including eight stifling innings in Game 5 against the Rays. Then there's this: Cole joins Mike Mussina in the 1997 ALCS as the only pitchers with at least 25 strikeouts and one or fewer runs allowed in a single series in postseason history.
The play of this October: We're going to cheat and make this "plays": the back-to-back home runs by the Nationals' Anthony Rendon and Juan Soto off the Dodgers' Clayton Kershaw in the eighth inning of Game 5 of the National League Division Series. Kershaw in the wake of Soto's tying bomb could end up as the lasting image of these playoffs.
Game of the postseason so far: Nationals-Dodgers, Game 5 of the NLDS. The Dodgers ambushing Stephen Strasburg, Strasburg settling down and keeping the Nats in it, Walker Buehler's mastery, Kershaw's big strikeout before his eighth-inning implosion, Howie Kendrick's 10th-inning slam, questions for Dodgers manager Dave Roberts. There's a lot to unpack here, and this was a true postseason classic.