Crumbling Cubs lose 5th straight 1-run game
CHICAGO — The Chicago Cubs keep making history, just not the kind they want, as their season continues to fade away.
On Sunday, they became just the second team in 100 years to get swept at home, in a four game series, and lose all four by a single run. They also became the first major league team since 2011 to lose five straight one-run games. It's the first time its happened to the franchise since 1915.
Chicago is now four games back of the Milwaukee Brewers for the second wild card spot.
"If you play back the tape, it's almost unbelievable that it turned out this way," an incredulous Joe Maddon said after losing 3-2 to the St. Louis Cardinals. "The last six have been wash and repeat."
The Cubs completed their home schedule losing their final six games at Wrigley Field, five by one run, as they also lost to the Cincinnati Reds, both Tuesday and Wednesday, before the Cardinals swept them. It's all but dashed their playoff hopes.
"How did it that all happen?" Maddon asked rhetorically. "How did we lose all those four games? They were one run better than us every night, and we were really evenly matched, and that's all I will concede."
Three of the four losses to the Cardinals came with the Cubs leading or with the game tied in as late as the ninth inning.
On Sunday, starter Yu Darvish was attempting to finish off his first complete game of the season, but everything changed after Jose Martine hit a triple to lead-off the inning. Three batters later the Cardinals took the lead for good when Paul Goldschmidt doubled home Tommy Edman who had singled.
Cubs closer Craig Kimbrel blew Saturday's save and was unavailable for Sunday's contest, but Maddon said he would have left Darvish in the game either way.
"I saw Jake (Arrieta) pitch pretty well when he won his Cy Young but this is like equivalent of all that," Maddon said. "He absolutely deserved a better fate."
Darvish has been a strikeout machine for the Cubs, fanning 12 more in 8.1 innings on Sunday. In doing so, he became the fourth different Cubs pitcher, since 1920, to record at least 10 strikeouts in three consecutive games.
"It's tough, for sure," Darvish said. "But we did our best."
A dazed locker room tried to put into words a last week that saw their playoff odds plummet from 77% entering Monday to 2.4% on Sunday, according to Fangraphs data.
"Just not really sure how that happens," outfielder Ian Happ said. "It's bad luck. It's a lot of things. And it's not fun. We played pretty good baseball. It just didn't turn our way."
Anthony Rizzo added: "This is growing pains. You take the good with the bad, wherever you can, and you learn. And try to grow as a person."
The Cubs play their final six games of the season on the road and could be without Kris Bryant who sprained his ankle as he hit first base early in Sunday's game.
Dodgers' Mookie Betts unseats Yankees' Aaron Judge for MLB's top jersey
NEW YORK — Dodgers star Mookie Betts supplanted Yankees slugger Aaron Judge on Friday for baseball's top-selling jersey in his first year on the West Coast.
Judge's pinstriped No. 99 had been the most popular uniform in the majors for three straight years, but he's been bumped by his former AL East rival, according to data released by Major League Baseball.
Betts was traded from the Boston Red Sox to the Dodgers in February, and Los Angeles signed the 2018 AL MVP to a 12-year, $365 million deal that runs through the 2032 season. Betts' No. 50 is the first Dodgers uniform to top the list since MLB began releasing sales rankings in 2010.
It's not hard to see why. Betts is in the running to become the second player, after Frank Robinson, to win MVPs in both leagues. The 27-year-old is hitting .293 with 16 home runs, nine stolen bases and a .930 OPS during this pandemic-shortened season.
Judge slotted second ahead of Philadelphia Phillies slugger Bryce Harper, who is in the second season of a 13-year, $330 million deal.
Fernando Tatis Jr., a breakout star with the San Diego Padres, ranked fourth ahead of fellow youngster Juan Soto of the Washington Nationals. It's the first time two players 21 years old or younger cracked the top five since Harper and Mike Trout in 2012.
It's the first year on the list for Tatis, Soto and Yankees ace Gerrit Cole, who ranks 19th after signing a $324 million, nine-year deal with New York.
Manny Machado ranked 12th, giving the upstart Padres two players in the top 20 for the first time.
The eight-time reigning NL West champion Dodgers have three players in the top 10, with 2019 NL MVP Cody Bellinger sixth and left-hander Clayton Kershaw ninth.
The Chicago Cubs (Javier Baez, Anthony Rizzo, Kris Bryant) and Yankees (Judge, Cole, Giancarlo Stanton) were the only other teams with three players in the top 20.
Roberto Clemente tops list of baseball's legendary Latino faces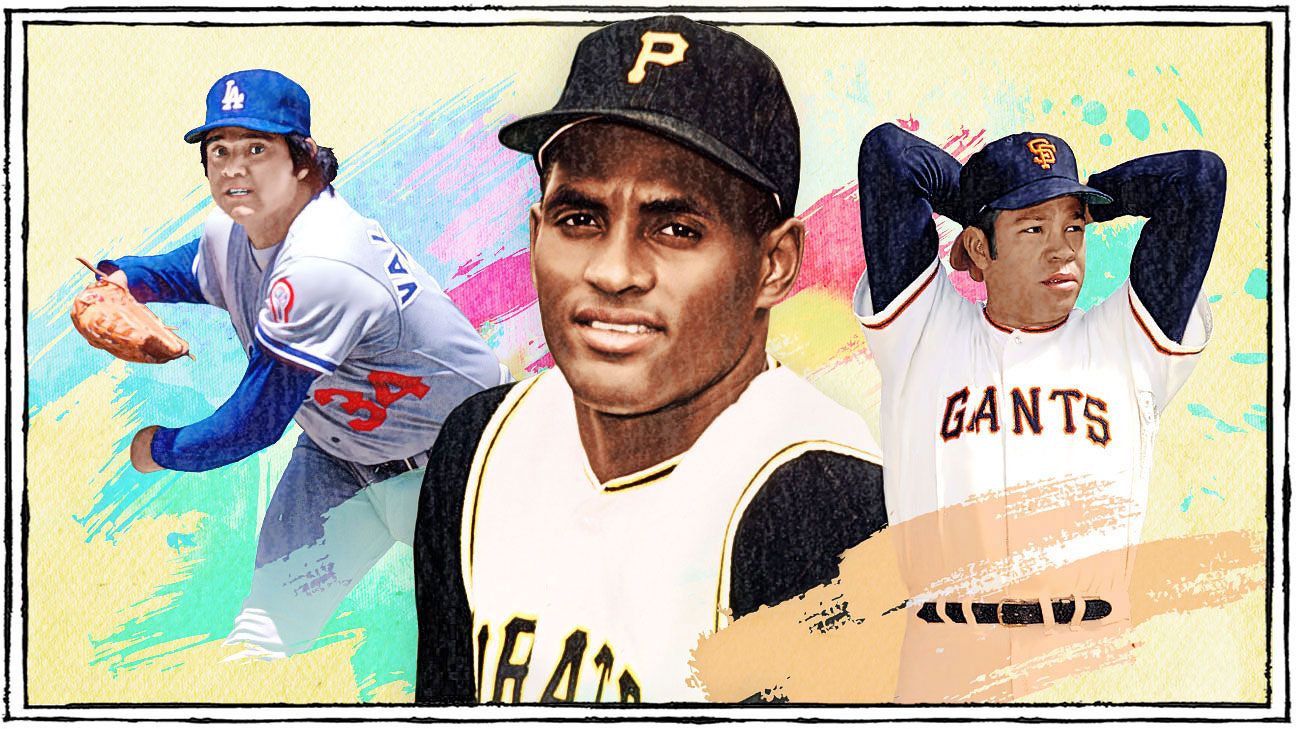 The Latino presence in professional baseball has grown to become an integral part of the game ever since Lou Castro donned a Philadelphia Athletics cap at the outset of the 20th century. Still, its history is usually broken down into two parts: before Roberto Clemente and after.
For players who came before or have come since, the criteria for being considered the Latino standard-bearer for any particular era is not as simple as it was for Clemente, a proud and vigorous guardian of his roots. Some weren't so quick to embrace their heritage. Others still weren't allowed into the highest levels of baseball simply because their skin tone was of a darker hue.
In putting together a list of historic Latino faces of baseball to commemorate Hispanic Heritage Month, a panel of ESPN editors first pared down a list of dozens of candidates, considered legacies and arrived at 15 icons. They include the incomparable Clemente, four exceptional stars who transcend eras and 10 others broken down by decade. Tough calls were made regarding legends who didn't make the cut. Minnie Minoso, for example, braved a lot of the blows before the Latino boom and paved the way for others to thrive but couldn't break through against stars who shined brighter. Some who made the cut without a Hall of Fame résumé were nevertheless included because of what they meant to their home countries.
Not included are the game's current young faces expected to light up the new decade — a group of four to be revealed next week that will be whittled to one winner. To determine those candidates, ESPN Deportes and FiveThirtyEight consulted with ESPN talent, considered factors such as stats and social media presence, and asked fans to weigh in.
Without further ado, we present 15 legendary faces synonymous with béisbol:

The heart and soul
Also considered: None
Roberto Clemente
Played: 1955-72
Country of origin: Puerto Rico
Notable: MVP of the 1971 World Series, in which he hit .414 with two home runs
On the map: The Latino boom in baseball would have happened without Pittsburgh Pirates legend Clemente — a five-tool player — but today's game would have looked much different, because Clemente wore Latin America's heart on his sleeve, playing with an unbridled pride on his way to expedited entry into the Hall of Fame. Off the field, he displayed a passion to help the less fortunate — MLB's Roberto Clemente Award is a testament to his competitive and humanitarian spirits. Almost 50 years after his death, Clemente continues to have an impact on Latin and Puerto Rican players such as St. Louis Cardinals catcher Yadier Molina. "It is an extraordinary honor and a source of great pride for all of us to have the opportunity to wear No. 21 to honor Roberto Clemente on this great day," Molina told ESPN on the 19th edition of Roberto Clemente Day earlier this month. "For all us Latinos who have played Major League Baseball, and have had to deal with so many obstacles, difficulties and challenges, Clemente is the source of inspiration we need to move forward and pursue our dreams and be an example to others on and off the field."

A league of their own
Also considered: Minnie Minoso
Four Latino ballplayers who made an impact culturally and on the diamond:
Fernando Valenzuela
Played: 1980-97
Country of origin: Mexico
Notable: 1981 Cy Young and Rookie of the Year winner in NL
On the map: The left-handed teenager with the quirky windup arrived in Hollywood and took the baseball world by storm as a rookie with the Los Angeles Dodgers in 1981, beginning with his Opening Day shutout against the Astros and ending with a World Series championship. The cultural phenomenon known as "Fernandomania" that followed gripped the country and especially Latinos in Los Angeles — a group that was displaced from their homes with the arrival of the Dodgers in 1958. Valenzuela's 173 career wins are tops among pitchers from Mexico, where his significance cannot be overstated.
Pedro Martinez
Played: 1992-2009
Country of origin: Dominican Republic
Notable: Three-time Cy Young winner, 1999 NL pitching triple crown
On the map: Hall of Famer Martinez dominated on the mound as few have, and he did so at the height of the steroid era. The right-hander was the ace of any all-time Latino staff, his starts must-see affairs. He slung his arrows at the strike zone as well as at batters who dared intrude on his territory. Along the way, he helped end the Boston Red Sox's 86-year championship drought and served as a beacon for pitchers from Latin America.
Mariano Rivera
Played: 1995-2013
Country of origin: Panama
Notable: Career leader in saves with 652
On the map: The only ballplayer — Latino or otherwise — to be voted unanimously into the Hall of Fame. When the Sandman came into a save situation for the New York Yankees armed with his trademark cutter, it was lights out — about as close to automatic as there was in baseball. One of the key components of baseball's last Yankees dynasty also overcame many of the language barriers that immigrants face in their quest to thrive in the United States. And thrive he did, with 13 All-Star appearances, a World Series MVP award and a reputation as the greatest closer of all time.
Alex Rodriguez
Played: 1996-2014
Country of origin: United States
Notable: Three-time MVP, 2009 World Series champion, 696 home runs
On the map: Rodriguez, who was born in New York to Dominican parents, turned the sports world on its ear by signing a 10-year, $252 million contract with the Texas Rangers in the winter of 2000. The team was a cellar dweller during A-Rod's three seasons in Arlington and never made much noise at the turnstiles, but he more than held up his end of the bargain with an average of 52 home runs per season and the 2003 MVP award, before he was shipped to the Yankees. Rodriguez, the highest-paid baseball player of all time to date, is also the highest-ranking Latino on the all-time home run list at 696. However, his 2009 admission of PED use while with the Rangers and subsequent 211-game suspension has burdened his legacy.

Through the decades
1920s: Martin Dihigo
Played: 1923-47
Country of origin: Cuba
Notable: Both a pitcher and an everyday player, Dihigo led leagues outside the majors in the categories of batting average, homers, doubles, wins, ERA, strikeouts and winning percentage
Also considered: Adolfo "Dolf" Luque
On the map: Dihigo's Hall of Fame plaque lists his nickname as "El Maestro," but his influence goes beyond his mastery of several positions, with a versatility and power that improved with each passing year. His command of English and knowledge of the game inevitably led to a path as a manager. Though never in the majors, he left his mark in the Negro Leagues, Mexico and Cuba, and is immortalized in halls of fame in the latter two as well.
1930s: Lefty Gomez
Played: 1930-43
Country of origin: United States
Notable: Five World Series rings, one for each of the fingers on his dominant left hand
Also considered: None
On the map: Gomez, who was born in California with Spanish and Portuguese roots, is the winning pitcher of record for the first All-Star Game in 1933. With the color line firmly in place during this period of baseball history, it is difficult to highlight notable Latinos. However, Gomez — a four-time 20-game winner and three-time strikeout king who shined on the biggest stages while with the Yankees — stands out as the dominant left-hander of the era regardless of heritage.
1940s: Hiram Bithorn
Played: 1942-43, 1946-47
Country of origin: Puerto Rico
Notable: 18-12 record with a 2.60 ERA and seven shutouts in 1943
Also considered: None
On the map: Puerto Ricans consider Bithorn's major league debut as a pitcher for the Chicago Cubs in April 1942 a deep source of pride, responsible for opening doors to generations of the island's ballplayers. It is Bithorn's name, rather than Roberto Clemente's, that graces the name of Puerto Rico's largest ballpark. Bithorn would peak in his sophomore season with 18 wins and a 2.60 ERA, then sat out the next two seasons because of military service. He returned to play in parts of the 1946 and '47 major league seasons. Late in 1951, a police officer in Mexico shot Bithorn under mysterious circumstances. Bithorn subsequently died from injuries suffered in the shooting, with his legacy already cemented.
1950s: Alfonso "Chico" Carrasquel
Played: 1950-59
Country of origin: Venezuela
Notable: Three straight All-Star Game appearances beginning in 1956
Also considered: Vic Power, Bobby Avila
On the map: Carrasquel's third-place finish in the 1950 Rookie of the Year voting sparked a new focus on defensive talent from down south and a new appreciation of the Latin ballplayer. Considered the first in what would become a Venezuelan pipeline of shortstops, the Chicago White Sox's Carrasquel approached the position with a joy and showmanship that only added to his appeal.
1960s: Juan Marichal
Played: 1960-75
Country of origin: Dominican Republic
Notable: Winningest pitcher of the 1960s with 191 victories
Also considered: Luis Aparicio, Orlando Cepeda, Tony Oliva
On the map: The San Francisco Giants' intimidating Dominican right-hander, then 25, outlasted 42-year-old Warren Spahn in a 16-inning duel in 1963 widely considered the greatest game ever pitched — or "Juan Beats Spahn," as the San Francisco Chronicle remembered in its headline. Marichal's endurance that day announced the coming Latino presence on the mound with authority. The first native of the Dominican Republic to earn a spot in Cooperstown, Marichal was the face of the '60s on the field as much as any Latino, even as he came of age alongside Roberto Clemente.
1970s: Rod Carew
Played: 1967-85
Country of origin: Panama
Notable: 1977 MVP named to 18 consecutive All-Star Games
Also considered: Dave Concepcion, Tony Perez, Luis Tiant
On the map: With a discipline learned in the U.S. Marine Corp reserves, Carew hit .388 in 1977, at that point the highest average in a season since Ted Williams hit .406 in 1941, and the best all-time for a hitter of Latino heritage. Carew won the American League batting crown that now bears his name six times in the decade and seven times overall. He joined Roberto Clemente as a member of the 3,000-hit club in 1985.
1980s: Jose Canseco
Played: 1985-2001
Country of origin: Cuba
Notable: 1986 AL Rookie of the Year award followed by AL MVP two years later
Also considered: Pedro Guerrero, George Bell
On the map: With Valenzuela off the board and in his own category, the Havana-born Canseco put his stamp on the latter part of the decade with an unprecedented blend of power and speed that in 1988 led to baseball's first 40-40 season with the Oakland A's. Most consider the Bash Brother's legacy tainted because of claims in his autobiography, "Juiced," that he introduced PEDs to baseball, but there is no denying that his star was among the brightest among Latinos — or any players — in the '80s.
1990s: Sammy Sosa
Played: 1989-2007
Country of origin: Dominican Republic
Notable: 66 home runs in MVP 1998 season, followed by 63 the next year
Also considered: Juan Gonzalez, Edgar Martinez, Ivan Rodriguez, Bernie Williams
On the map: Though it occurred at the turn of the century, Sosa secured his status when he waved an American flag during a home run trot in the aftermath of 9/11. Despite the cloud of suspicion PEDs cast over baseball, there is no denying that the 1998 home run race brought fans back to the game four years after a strike pulled the plug on the sport. In the center of it all was Sosa, the Dominican power hitter whose 66 home runs in 1998 with the Cubs bested his previous career high by 30.
2000s: David Ortiz
Played: 1997-2016
Country of origin: Dominican Republic
Notable: MVP of 2004 ALCS and 2013 World Series
Also considered: Albert Pujols, Manny Ramirez
On the map: The hit that "put me on the map" gave birth to "Señor Octubre" on the way to breaking baseball's most famous curse. Big Papi's two-run, walk-off home run off the Yankees' Paul Quantrill in Game 4 of the 2004 ALCS was the spark that allowed the Red Sox to overcome a 0-3 series deficit and eventually crown them World Series champions for the first time in 86 years. What's more, his postseason prowess has helped him strengthen the bond with his native Dominican Republic, where he remains bigger than life.
Played: 2003-present
Country of origin: Venezuela
Notable: 2003 World Series champion, AL MVP in 2012 and 2013, four-time batting champion
Also considered: Jose Altuve, Adrian Beltre, Nelson Cruz
On the map: Cabrera became the first triple crown winner in 45 years in 2012, hitting .330 with 44 home runs and 139 RBIs with the Detroit Tigers. Since making his professional debut at 16 in his native Venezuela, Cabrera had emerged to become his generation's most complete offensive player. He has also been involved in giving back to communities in Detroit and Miami, while ensuring that the Latin brotherhood in clubhouses remains intact.
Players who break the internet on 2020 contenders
When Rob Friedman — better known as PitchingNinja to his quarter-million followers on Twitter — watches a game and sees something that sticks out, he checks his gut before tweeting a highlight. In the seasons since he began posting the nastiest pitches in baseball, he's developed an intuition about when something might be a hit on social media.
"I just love the superhuman stuff. Some of it is just that it has to be really unusual, sometimes I may be the only person who finds it interesting. I'm watching it and I'm like, 'Wow that was strange,'" Friedman said. "I'll tweet stuff and I won't know if anyone is going to get it or find it funny, but the ones where you doubt whether to put it out there are usually the best ones. You trust your instinct after seeing so many pitches every year."
While baseball's culture has pushed back against flair and individuality on the field over the course of the sport's history, the age of social media serves to highlight it. Bat flips that were once taboo, for example, are now embraced by a new generation of baseball stars. And people like Friedman, who watch baseball obsessively to find a player's or a game's idiosyncrasies, are helping drive the change.
With the postseason about to begin, here are some of the game's biggest online-highlight stars worth keeping an eye on for each of the 16 most likely playoff-bound teams (plus a couple of those still in contention heading into the final games of the season).
Why the internet loves him: Acuna is one of the most talented players in the sport, and he carries himself like he knows it. The Braves' franchise cornerstone routinely makes the jaw-dropping look routine at the plate, and he truly demolishes baseballs. Last year, he fell just shy of becoming the fifth major leaguer in history to join the 40-40 club, with 41 home runs and 37 stolen bases. He didn't get a chance to try again in this shortened season, but keep watching — he's still just 22 years old.
Signature social media moment from 2020: What he does to the ball is serious, but the funniest moment from his season so far was this homer where he slammed his bat down in frustration, thinking he flied out to center field, only to see the ball carry, carry, carry over the wall.
"breaking ball, popped him up…"

*Acuña slams his bat in disappointment*pic.twitter.com/cycPH3AVHG

— Céspedes Family BBQ (@CespedesBBQ) September 4, 2020
---
Why the internet loves him: Darvish brings so many pitches to the mound that his arsenal is prime for pitch overlays, dating back to his days with the Texas Rangers. Since this memorable GIF of five overlaid pitches from 2013, Darvish has accumulated several more pitches, including a sinker, a splitter, two different curveballs and an eephus. Combine that with his active social media presence (most of Darvish's tweets are in Japanese) and a stellar 2020 season and you have an internet fan favorite.
"He's just got so many pitches and they all move a ton. He loves communicating on social media, which makes it even more fun," Friedman said. "If I get something wrong, he'll just correct me, which he does regularly, and chimes in."
Signature social media moment from 2020: Darvish shows exactly why Friedman loves to watch him pitch by using an overlay to show how wildly different Darvish can make the pitches in his arsenal move.
Yu Darvish, 96mph Fastball (foul) and 83mph Breaking Ball (Swinging K), Overlay pic.twitter.com/yJdNeX2Evs

— Rob Friedman (@PitchingNinja) September 5, 2020
---

Why the internet loves him: Robert does everything well on the field with a sense of flair, from demolishing line drive home runs to his speed on the basepaths, but the White Sox Rookie of the Year candidate routinely loves stealing fly balls from left fielder Eloy Jimenez in what can be described as the current on-field bit most closely resembling the old shtick between Adrian Beltre and Elvis Andrus with the Rangers.
Signature social media moment from 2020: Plenty of Robert highlights have made the rounds on Twitter this year, but the funniest has been the series of fly balls with Jimenez and Robert.
They give off Andrus and Beltre vibes https://t.co/RZpn9DAjBO

— Nick Przybyla (@przybylanick) September 6, 2020
---
Why the internet loves him: The polarizing Reds starter is outspoken on social media, but he also makes his presence known when he takes the mound, bringing one of the game's best approaches and arsenals with him while busting out cleats defending Dodgers reliever Joe Kelly after Kelly threw behind and mocked Astros hitters earlier this year (more on that in a minute).
Signature social media moment from 2020: In a game where celebration is often frowned upon, it's refreshing to watch Bauer strut around the mound like McGregor after a K.
Trevor Bauer, Conor McGregor K Strut. pic.twitter.com/y3LDhAje11

— Rob Friedman (@PitchingNinja) August 2, 2020
---
Why the internet loves him: Bieber is the favorite for the American League Cy Young award and possibly even the MVP trophy for a reason. Cleveland's ace does nothing but strike out batters, possesses some of the best command in the game and provides fodder for baseball Twitter accounts like PitchingNinja's, which routinely turns Bieber hitting his spots into GIFs.
Signature social media moment from 2020: Watching Bieber pitch this year has been an absolute treat, and when you overlay two of his best pitches, his fastball and his knuckle curve, as Friedman has done here, you can see why hitters have had a hard time against him.
Shane Bieber, 95mph Fastball and 83mph Knuckle Curve, Overlay pic.twitter.com/bvC0ZAYW04

— Rob Friedman (@PitchingNinja) August 20, 2020
---
Why the internet loves him: "Love" is probably not the best word to use when talking about the relationship between the Astros and the internet post-sign-stealing scandal. But Houston's baseball team routinely finds itself in the middle of social media moments as other teams respond to the offseason revelations. Correa, as one of the key players on the team, found himself right in the thick of everything, including …
Signature social media moment from 2020: Correa was part of baseball's biggest internet moment of the year when Dodgers reliever Joe Kelly struck out the star shortstop and the two got into a jawing match, clearing the benches. Kelly has since become a folk hero in Hollywood, and his pouting face was made into a mural in Los Angeles.
Lol Astrisks. Cry more. #DodgersWin https://t.co/1PDIzU5ul4

— Lisa Guerrero 💃🏽 (@4lisaguerrero) July 29, 2020
---
Why the internet loves him: It's simple: Graterol throws gas and has a slider that moves like a Frisbee. On a team full of big-name players, Graterol is probably best known nationally as the pitcher whose failure to pass his physical led the Red Sox and Dodgers to renegotiate the trade of Mookie Betts — but he's making a name for himself as a pitcher with stuff that screams back-end reliever potential.
Signature social media moment from 2020: Graterol is also a favorite of Friedman, who routinely highlights the movement on the Dodgers reliever's fastball and breaking pitches, but this moment, where Graterol throws a 101 mph fastball while shaking loose the chain around his neck, is the highlight of his season so far.
Why can't the #RedSox get guys like that…

Oh, wait… https://t.co/GoMnP9IyV6

— Brian Ritchie (@brianeritchie) September 3, 2020
---
Why the internet loves him: Pedro Martinez recently said Sanchez is a "mini me with better stuff," and the inspiration is very clear in the Marlins starter's windup. Since making his debut, he's become a favorite of Friedman's. Regardless of whether you're rooting for or against the Marlins making the playoffs, if Sixto is on the mound, you're going to have a good time watching someone throw with electric stuff.
"Sixto Sanchez is off the chart with his pitches and exciting to watch. Part of it is that he plays it up, he plays like he's excited," Friedman said. "Sixto stands out because he just loves the attention too and you can tell. If there were fans out there, they would be going crazy and he craves that stuff."
Signature social media moment from 2020: In many ways, this GIF encapsulates Sanchez on the mound: incredible stuff and some swagger.
Sixto Sánchez, Gross 92mph Changeup…and Basks In his own Glory. ☀️ pic.twitter.com/HQNYNQS3Cl

— Rob Friedman (@PitchingNinja) September 13, 2020
---
Why the internet loves him: Sometimes all it takes is one pitch to become a social media favorite, and the changeup of Brewers reliever Devin Williams is just that. The righty has been one of the best arms coming out of the bullpen, but the movement on his off-speed pitch really sticks out every time he takes the mound.
"If there is one pitch in baseball that you have to watch, it's Devin Williams' changeup," Friedman said. "That has stood out to me as something that's cropped up this season where I didn't come into this season thinking that I was going to watch Devin Williams every single time he comes out to pitch."
Signature social media moment from 2020: At a time where it seems like every reliever is coming out of the bullpen with a fastball measuring in the high 90s, watching Williams fool hitter after hitter with his off-speed stuff is a welcome change of pace.
Devin Williams: The Best Changeup on the Planet.

[All from the 8th inning] pic.twitter.com/Tdguj3GWez

— Rob Friedman (@PitchingNinja) September 6, 2020
---

Why the internet loves him: Buxton hasn't necessarily lived up to the extraordinary hype that accompanied him as a consensus top prospect in baseball, but as one of the game's fastest players, the Twins outfielder routinely makes plays in the outfield and basepaths that few around the game can match.
Signature social media moment from 2020: Watching Buxton circle the bases for an inside-the-park home run truly highlights his game-changing speed.
An inside the park HR for Byron Buxton that @MLB can't screw up… pic.twitter.com/NWeYl8kbcA

— Ted (@tlschwerz) September 16, 2020
---

Why the internet loves him: Amid an up-and-down season for the Yankees, Voit laid claim to the lineup's most stable presence while stars like Gary Sanchez and Gleyber Torres struggled at the plate and others like Giancarlo Stanton and Aaron Judge spent considerable time on the injured list. For most of the season, Voit's power at the plate represented one of the glimmers of hope for Yankees Twitter during their midseason slump, and he also provided some levity with his conspicuously non-specific "foot stuff" that has slowed him in the field and on the basepaths — though not at the plate — and has become a running joke among fans. Then, when that Yankees slump turned into a 10-game win streak, Voit, who had been outspoken on his team's poor play throughout, made it clear things had changed when he said, "We're back to being the Bronx Bombers."
Signature social media moment from 2020: When those rejuvenated Bronx Bombers hit five home runs in a single inning against the Blue Jays, of course one of them came from Voit — who happens to be chasing a home run crown.
BRONX BOMBERS BACK BABY https://t.co/QNfKMPSVLr

— Maggio (@kylemaggio) September 18, 2020
---
Why the internet loves him: Laureano popped up on the radar of even the most casual baseball fans this season when he found himself in the middle of a bench-clearing brawl with Astros hitting coach Alex Cintron, but the rangy Athletics center fielder routinely makes home-run-robbing catches look like a casual, normal part of his arsenal.
Signature social media moment from 2020: Since establishing himself in the majors, Laureano seemingly brings back a couple of homers every season, and every time, it's a spectacle.
It's time to win a ring this year there's no excuses.. https://t.co/lTQEkuHKf0

— WheresFonz (@_FONZY__) August 12, 2020
---
Why the internet loves him: The same reasons Harper came up as one of the most hyped baseball prospects of his generation are many of the same reasons he remains one of the most popular and polarizing players in the game. Depending on who you ask, Harper is both underrated and overrated, but either way, he often provides eye-catching highlights at the plate or in the outfield.
Signature social media moment from 2020: It's easy to forget that Harper was a catcher before converting to the outfield, but throws like these remind baseball fans that he possesses special talent.
Such a smart play by Bryce Harper 👏 pic.twitter.com/88q9XiIvYF

— Baseball Bros (@BaseballBros) September 4, 2020
---
Why the internet loves him: At this point in 2020, it's hard to say anything about Tatis that hasn't already been said. He rakes, while embodying the joy a new generation of baseball players hope to infuse into the game by breaking some of the sport's antiquated unwritten rules. Few in the sport do that better in the batter's box, in the field and on the basepaths.
Signature social media moment from 2020: Air Tatis.
Has a baseball player ever looked cooler? https://t.co/LXe2o72IMb

— Topher (@Chris_Buse1) August 23, 2020
---
Why the internet loves him: It's hard to overlook the in-your-face baseball romanticism of the grandson of a baseball legend flourishing in the major leagues with a breakout season at age 30. The Giants surprised many around baseball with their performance so far this season, and the team doesn't sniff a playoff spot without the offensive production of Yaz, who's hitting .285/.390/.944 with 2.3 WAR.
Signature social media moment from 2020: A staring contest between Yaz and the TV audience. Some social media swooning ensued.
Our Polish Prince 😍 #SFGiants https://t.co/HVaKudmTj7

— Elizabeth Catherine (@Elizabeth_Calo) September 7, 2020
---
Why the internet loves him: Bader brings an elite defensive skill set to the outfield for the Cardinals and routinely makes attention-grabbing snags in the outfield. Additionally, he's an active presence on Instagram, where he routinely posts game-day outfits and operates a second account to display his closet.
Signature social media moment from 2020: Bader makes diving catches in center field look routine, and he always seems willing to go flying through the air to make the extra effort.
🤟🏼🧢💨🤟🏼 https://t.co/VhSgNE4nzz

— Harrison Bader (@aybaybader) September 13, 2020
---
Why the internet loves him: The consistency of Adames at the plate can come and go, but the Rays shortstop routinely makes eye-opening plays and brings an uncommon level of energy and joy to the field.
Signature social media moment from 2020: Adames makes a handful of eye-opening plays where he shows off his rocket arm from shortstop, and this is just one of the latest entries.
👑 "Little Willy, Willy wears the crown, he's the king around town" 👑 https://t.co/fLwi0YYE77

— Marea Clare (@missclareski) August 26, 2020
---

Why the internet loves him: Bichette brings a level of controlled chaos both in the field and at the plate. His swing features an uncommon number of moving parts, from a huge leg kick to a pre-swing bat movement, but something about it just works. Among the trio of Blue Jays sons — Bichette, Vladimir Guerrero Jr. and Cavan Biggio — many evaluators around the sport expect the son of Dante to be the franchise's most important building block. Plus, his name became a meme as fodder for endless puns — from Bro Bichette to Dough Bichette to Edgar Allan Poe Bichette.
Signature social media moment from 2020: Bichette is known more for his bat than his glove, but this diving stop and incredibly long throw remains atop Bichette's highlights during his first "full" season on the Blue Jays' major league roster.
Bo Knows, Bo Flows and Bo Throws https://t.co/oExdI1Bvag

— Craig (@craigoliver19) July 23, 2020