DE Ansah cleared for Seahawks debut Sunday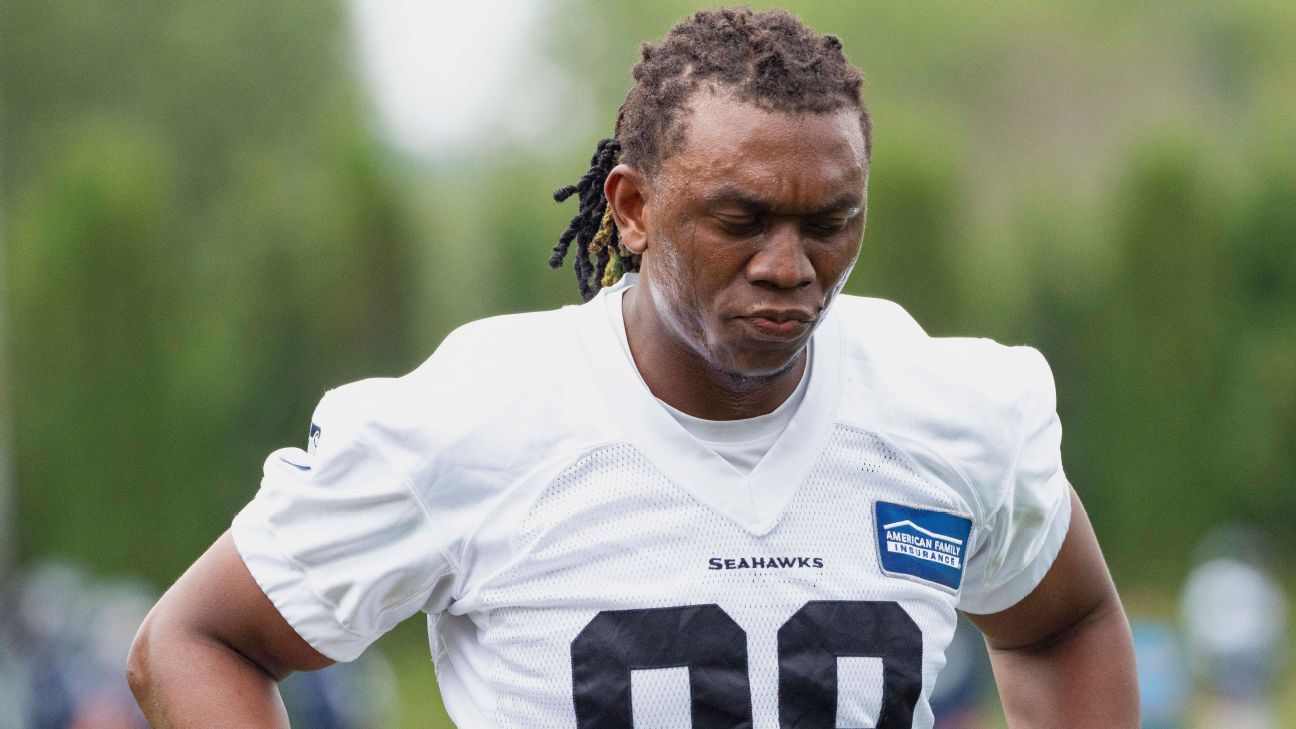 RENTON, Wash. — Ezekiel Ansah is all set for his Seattle Seahawks debut.
According to Pete Carroll, the one-time Pro Bowl pass-rusher is expected to play extensively Sunday against the New Orleans Saints.
"Ziggy's ready to play, ready to play football," Carroll said Friday. "So we're excited to see that. It's been a really good process to get him to this, where he's in good shape, too. He's worked hard and long, so he's in better shape than sometimes when a guy is just coming back. So we'll be able to get him a bunch of plays here in this game and look forward to his participation with us."
Ansah signed with the Seahawks in May after having surgery to repair a shoulder injury that cut short his final season with the Lions. He appeared to be on track to play in the Seahawks' Sept. 8 opener after returning to practice 12 days before. It was thus somewhat of a surprise when he was inactive for the first two games.
Carroll never fully committed to Ansah playing in Week 1 against the Cincinnati Bengals or last week against the Pittsburgh Steelers, giving his usual qualifiers ahead of time about needing to make sure that Ansah felt OK on game day. He gave no such qualifiers Friday.
"We took a shot at it," Carroll said of Ansah returning in time for the opener. "He made it back to practice for Week 1 in time to do that, but we just felt like it would be better to continue to build his confidence in his return and all of that and just wait it out to secure the return. So hopefully that's what happens."
Ansah echoed Carroll's remarks about long-term thinking with his health.
"I think we all got to understand that it's a marathon and not a sprint," Ansah said. "If I was good enough, I would be on the field."
The Seahawks list three players as questionable for Sunday: safety Tedric Thompson, cornerback Tre Flowers and running back Rashaad Penny, who was a late addition to their injury report after hurting his hamstring late in Friday's practice. Flowers turned his ankle Thursday and will be a game-time decision along with Thompson, who missed the Steelers game with a hamstring injury.
Akeem King or Jamar Taylor would step in for Flowers at right cornerback if need be, with another cornerback, Neiko Thorpe, listed as doubtful with a hamstring injury. Lano Hill started last week in Thompson's absence. Carroll said he wouldn't hesitate to give C.J. Prosise snaps behind Chris Carson if Penny can't play.
The Seahawks expect to have receiver David Moore back from the shoulder injury that kept him out of the first two games. Defensive tackle Poona Ford will also return after missing the Pittsburgh game with a calf injury. Right guard D.J. Fluker was a full participant Friday and was not listed with any game designation, meaning he's expected to play despite an ankle injury.
The Seahawks listed Ansah as a full participant in all three practices this week. Carroll said he'll wear some sort of device on his surgically-repaired shoulder, though he didn't specify that it was a harness.
Ansah said his conditioning feels "great" and added that before he began practicing, "it's all I did, run around all day every day."
The Seahawks signed Ansah after trading Frank Clark, who had played the weak-side end spot known as the "Leo" in Carroll's defense. Ansah pivoted away from a question about whether his role in Seattle's defense differs from what he did in Detroit.
"Detroit is the past," he said. "I'm just looking forward to what we can do with this team collectively. So far so good. You can see the production we've been putting on the field and I'm just excited to be a part of that."
As for playing opposite another Pro Bowler in Jadeveon Clowney for the first time Sunday?
"I'm super excited to play with him," Ansah said. "He's a great guy off the field, and we all know what he can do on the field."
Said Carroll: "I couldn't be more excited to see these guys play together and get going. J.D.'s just getting started too. It's pretty fun. Can't wait to see what it looks like."
The one-year deal Ansah signed with Seattle includes a base value of $9 million and has $1.5 million available in roster bonuses tied to being active on game day. That means he lost out on two bonuses worth $93,750 apiece by being inactive the first two weeks. But he also made that same amount in per-game bonuses that are tied to being on the 53-man roster. Ansah can make another $4.25 million in incentives.
Carroll's Friday afternoon press conference was held minutes after news broke that the Patriots were releasing Antonio Brown. He was asked if they would look into Brown, having spoken with him before he signed with New England.
"We're pretty well set right now," Carroll said. "We kinda know where we're going with that."
Players send passionate video message to NFL about racial inequality
NEW YORK — Patrick Mahomes, Saquon Barkley and Michael Thomas are among more than a dozen NFL stars who united to send a passionate video message to the league about racial inequality.
The 70-second video was released on social media platforms Thursday night and includes Odell Beckham Jr., Deshaun Watson, Ezekiel Elliott, Jamal Adams, Jarvis Landry, Stephon Gilmore and DeAndre Hopkins, among others.
— Jarvis Juice Landry (@God_Son80) June 5, 2020
Thomas, the New Orleans Saints wide receiver who has led the league in receptions the past two seasons, opens the video with the statement: "It's been 10 days since George Floyd was brutally murdered." The players then take turns asking the question, "What if I was George Floyd?"
The players then name several of the black men and women who have recently been killed, including Floyd, Breonna Taylor, Ahmaud Arbery and Eric Garner.
"I AM George Floyd," Hopkins says.
Adams follows with: "I AM Breonna Taylor."
The video closes with the players insisting they "will not be silenced." They also demand the NFL state that it condemns "racism and the systemic oppression of black people. … We, the National Football League, admit wrong in silencing our players from peacefully protesting. … We, the National Football League, believe black lives matter."
What ex-Packer Santana Dotson wants people to know about George Floyd – Green Bay Packers Blog
Former Green Bay Packers defensive tackle Santana Dotson met George Floyd only once, but it was an interaction he never forgot and forged a bond that would never be broken.
For the two would always be Yates High School football alums.
Dotson, a 1987 Yates graduate, was the reigning 1992 NFL Defensive Rookie of the Year when he returned home to Houston after his first season with the Tampa Bay Buccaneers and was asked to speak to the current Yates team, which had suffered a heartbreaking playoff loss.
That was Floyd's team.
"George's team went to the state championship and they lost, so when I came back after my rookie season, I spoke to the team and we were introduced," Dotson recalled in a phone interview from his home in Houston. "We were looking eye to eye and there weren't many kids in the room as tall as me."
At first, Dotson didn't make the connection between what happened in Minneapolis last week — when Floyd, who is black, was killed by a white police officer, Derek Chauvin — as the man he knew from his high school. A memorial was held for Floyd on Thursday in downtown Minneapolis.
"I did not realize right away, and then one of my high school coaches reached out to me to let me know that's who in fact it was," Dotson said. "Coming up in our community, everyone has a nickname. His nickname from his family and from the football team was 'Big Freak' — as in Super Freak because he was a basketball player and football player. When I went back and talked to the team, we were eye to eye. He had to be 6-5 or 6-6 then, so thus the nickname."
It was their only face-to-face meeting.
"But he's a hometown guy," Dotson said. "And he's part of the brotherhood that is and was Yates football."
Dotson, who played 10 NFL seasons and was part of the Green Bay Packers Super Bowl teams in 1996 and 1997, has lived in Houston since he retired.
"The thing to me is there's no difference in Santana Dotson and George Floyd," Dotson said. "It was just the opportunities that were put in front of us and being able to take advantage of it.
"In addition to that, the only difference I honestly feel is that being on video for nine minutes. We've talked about this happening in our communities since I was 7 or 8 years old. That's the heartbreak when I look at my kids, who are preparing to have kids, and I feel like I have let them down."
Dotson described Yates as a "community school," one made up of mostly black students.
The school's website says it was named for "Rev. Jack Yates, a former slave who eventually became one of the most influential leaders of Fourth Ward Houston in the 19th century. Reverend Yates founded both Bethel and Antioch Baptist Churches, around which the Fourth Ward grew, and sponsored many other churches and schools in hopes of developing youth as leaders."
"It's a school full of pride, full of tradition," Dotson said. "My grandmother, who is 101 years old and still living, she was in the first graduating class at Jack Yates. My dad, my aunts, they all went through Yates High School. When I say it is a community school, it really is."
Dotson has taken part in vigils, along with several of his former Yates teammates, in the days since Floyd's death.
"It's tremendous pain," he said. "These things honestly have been there, but when it hits so close to home, it's tremendous pain. I'm 50 years old now and I'd have to say the sadness is that we're still here, meaning that it seems like we're still stuck in the mud from a humanity aspect and an equality aspect because the things the African American community are asking for is just equality — equal justice, equal rights, equal education. Those are the same things MLK was talking about in '59 and '60 and here we are 50, 60 years later, and we're still talking about the same thing."
Dotson was aware of the video message the current Packers players and coach Matt LaFleur released on Thursday and wants to encourage even more dialogue about racial divide. The Packers and team president Mark Murphy are making separate pledges of $250,000 to Wisconsin causes that support social justice and racial equality.
• Pressure's on Matt LaFleur to create big plays
• Can Patriots' young defenders step up?
• Browns replenish depth around Garrett
• Jackson embraces new role for Titans
• Townsend replacing an institution in KC
"There has to be an acknowledgement," Dotson said. "Everybody says the system is broke, but I would dare to say the system is working exactly how some want it to work. So there has to be an acknowledge of that, and we have to say we have to go in and correct these things because the marginalized communities are paying for it, and we've got to find a way to get better.
"I would dare to say to the white community: 'Listen to the pain. If you know somebody black, have the courage to reach out to them and just listen. Now is the time to listen. Listen to the heartbreak, listen to the sadness, listen to the madness. The act of even reaching out would be extraordinary to the black community. Not lecture. Everybody wants to talk about the looting and the riots, and let's talk about the cause and effect.'"
Dotson said the school is planning a vigil for Monday, when Floyd's body is returned to Houston.
"I feel like it's my duty to let people know that he was a living human, and he really, truly cared," Dotson said. "He was a sincere character who would give you anything."
49ers' Kyle Shanahan frustrated Colin Kaepernick's message still misunderstood
Kyle Shanahan was not yet the head coach of the San Francisco 49ers when quarterback Colin Kaepernick began kneeling during the national anthem in protest of systemic racism and oppression in 2016.
From afar, Shanahan said, he watched and understood the message Kaepernick was trying to convey. But now, nearly four years later, Shanahan expressed frustration that it's taken others so long to get the point.
"I think the biggest thing that is so hard with the Colin thing is people misunderstanding what he was doing," Shanahan said. "And I think that's why the reactions have been hard the last couple of days over things that people are still confused [about]. Regardless of whether you agree with how he did it or not, that doesn't matter. What Colin was protesting was something that should be respected by all humans. That did take a lot of courage. That is something that is 1,000 percent wrong and what he was trying to fix and bring light to. And gosh it was hard to bring light to the whole country because people didn't want to totally hear it and it got diluted with so much different stuff."
George Floyd's death in Minneapolis last week has again brought Kaepernick's 2016 protest to the forefront. Floyd, who was black, died when Derek Chauvin, a white police officer, kneeled on his neck for more than eight minutes on May 25. Floyd's death sparked protests in cities across the United States over the past week.
Chauvin has been fired from his job and charged with second-degree murder and second-degree manslaughter. The three other officers on the scene — Thomas Lane, J. Kueng and Tou Thao — have been charged with aiding and abetting second-degree murder and second-degree manslaughter, according to criminal complaints.
Floyd's death and the ensuing protests have been a primary topic for the 49ers during their virtual meetings this week, Shanahan said. On Thursday, Shanahan spoke to the media via a Zoom call and spent most of the 30-minute session discussing racism and race relations in the country.
When asked about Kaepernick, Shanahan spoke at length about how he believes the former 49ers quarterback's message was lost and how Shanahan gained a deeper appreciation for what Kaepernick did after he became the Niners head coach in 2017.
Soon after their hiring, Shanahan and general manager John Lynch informed Kaepernick that they intended to release him, which led to Kaepernick opting out of his contract and departing San Francisco. But other players, such as safety Eric Reid, who knelt alongside Kaepernick in 2016, remained on the team.
"Those were the guys who started it and it was very clear when they would articulate it why they were doing it," Shanahan said. "So, the debate on all the other stuff, the flag, everything, like people don't want to hear that. What he was doing was a big deal and whether you disagree with how he did it or not doesn't matter.
"It's three years later and there's still some people not understanding what his message was and regardless, that's too many people not understanding the message that everyone has been giving for a long time. And Colin did it the strongest out of anyone. And people should respect him a ton for that and admire that."
Kaepernick has remained unsigned since leaving the 49ers, but other players, including Reid, continued their protest after Shanahan took over.
Shanahan offered public support for those protests at the time, including a 2017 game in Indianapolis in which more than 20 players knelt during the national anthem with their hands over their hearts and teammates at their side.
Vice President Mike Pence attended that game and departed after the national anthem, pointing to the Niners' demonstration as the reason for his exit.
Asked Thursday how he would handle player protests if they occur again this year, Shanahan reiterated his support for his players, noting it would come "probably with more passion."
"I'm all for protests," Shanahan said. "I'm all for change. I hope the protests cause change. Whatever we've got to do to get the change, I'm for it. And I know our organization is, I know [CEO] Jed [York] is, I know our players are. We always have been. What's different now from then? It's embarrassing to say, probably, but I think white people are more passionate about it now than then. That's our ignorance and that's what upsets black people. And they have every right to be upset because they haven't just been telling us this the last few weeks. They've been telling us this since our grandparents. … It's all the time and it's too long. So, whatever has got to get changed, let's do it."
York announced Saturday night that the 49ers are donating $1 million to local and national organizations "committed to social change." Shanahan said his discussions with players this week have included possible actions they can take as a team to help out.
Those discussions have included topics such as where best to dedicate their time and money, ways to encourage people to register to vote, and how to help young people in their communities.
"I think we all know it's not an easy answer," Shanahan said. "It's the whole country admitting what is wrong, which isn't debatable. So, people need to come out from being sheltered or ignorant, whatever it is. And whoever those people are, kids need to help their parents. The parents need to help their parents. We all need to speak about it and do stuff. … We're going to do a lot. It's not specific yet, but I know our guys are working that hard."