49ers' Justin Skule catching up in effort to fill in for Joe Staley – San Francisco 49ers Blog
SANTA CLARA, Calif. — Minutes after he was diagnosed with a broken left fibula that will keep him out for six to eight weeks, San Francisco 49ers offensive tackle Joe Staley stood on crutches in Cincinnati's visiting locker room on Sunday, vowing to do whatever he can to help his replacement play at a high level.
It didn't take long for Staley to back up his words. On Tuesday night, Staley invited rookie tackle Justin Skule to his house to begin a crash course on playing left tackle in the NFL.
"He's been awesome since I've been here, just taking me under his wing and giving me a little tricks of the trade," Skule said. "And he's done a phenomenal job just these past couple days, giving me pointers, showing me about how he goes through his process and everything like that. I couldn't ask for a better mentor."
This week, Skule will take all the help he can get as he prepares for his first NFL start. And Skule isn't just stepping into the starting lineup — he's filling the left tackle spot that Staley has held down for the better part of the past 13 years, making six Pro Bowls.
Staley is so ingrained in the 49ers' fabric that he was signed to a two-year contract extension through the 2021 season that should allow him to retire with the team. Aside from maybe quarterback Jimmy Garoppolo, there's no more valuable player on the roster.
This means it's not as much about replacing Staley as trying to keep Garoppolo upright while Staley recovers. That the Niners intend to give Skule the first opportunity serves as a vote of confidence in the sixth-round draft pick out of Vanderbilt.
• Belichick's notable swaps with every team
• Speeding up Baker key to Browns' offense
• Can Rosen change Dolphins' minds?
• Shurmur at ease with Jones decision
• Can Cam Newton regain his 2011 form?
• Biggest Week 3 injury questions for 32 teams
The rumor mill accelerated into overdrive soon after Staley's injury, with speculation about the Niners pursuing Washington's Trent Williams via trade or signing a veteran free agent such as Sam Young (which they did on Friday). Skule will start, though, with versatile Daniel Brunskill the presumed backup.
San Francisco coach Kyle Shanahan said earlier this week that while the Niners would scan available options, he and general manager John Lynch didn't see attainable tackles who were an obvious upgrade over Skule.
"We would love to if there were options," Shanahan said. "You look at anything that's possible. I don't think there's a ton of great options out there that are possible."
Instead, the 49ers will give Skule, who was the team's fourth tackle before a season-ending ankle injury to swing tackle Shon Coleman, an opportunity to start against the Pittsburgh Steelers on Sunday as they attempt to get to 3-0 for the first time since 1998.
Skule didn't come with much fanfare, but the Niners liked him because he was a solid, productive player in college. Skule started the final 40 games at Vanderbilt after missing five games to injury in his freshman year. He held his own against some of the nation's elite defensive linemen and earned a reputation for outsmarting opponents as a three-time All-SEC Academic Honor Roll selection.
While Skule lacks the athleticism and pedigree of fellow tackles Staley and Mike McGlinchey, he has impressed teammates and coaches with his quiet, calm approach.
"He's been very consistent," Garoppolo said. "Smart guy, came into the huddle during the game, didn't blink or anything. Just one of those guys, he does the right thing and he's in the right spot. He's been the same guy every day, and you've got to appreciate that."
Last week, Skule played the final 19 snaps. Because the Niners had a huge lead, only one of those was a pass-blocking opportunity, and even that was a quick toss to receiver Deebo Samuel.
This week, Skule can count on being tested early and often by a Steelers defense that is seventh in pass-rush win rate at 55.6%. Bud Dupree likely will get the majority of the opportunities against Skule, who steps in for an offensive line that is seventh in pass-blocking win rate (64.7%) and has yielded just one sack and three quarterback hits.
Suffice to say, the Niners will have to provide Skule with help from backs and tight ends as well as asking Garoppolo to get the ball out quick, though there will be times when Skule has to hold his own.
"You still have to account for that stuff," Shanahan said. "There are a lot of other people on the field that you've got to take care of and try to help too. I'm confident that Skule will come in and by no means will he be perfect, just like Joe isn't, but the game's not too big for him. I know he'll battle and give us a chance to win."
Skule seemed to take his new place in stride Wednesday afternoon. He acknowledged that there will be nerves, though those will go away after a few snaps. It's a lesson right guard Mike Person reminded him of last week, when Person told Skule to take a deep breath when he entered for Staley.
With the bye coming after Sunday, the 49ers could use the Pittsburgh game to evaluate Skule. If things don't go well, perhaps they'll go with Young or look for other options. For now, though, they are giving Skule a chance to make the job his until Staley returns.
"It's a phenomenal opportunity," Skule said. "And I look to take advantage of it. It's very meaningful, and so I hope to make them right and go out and play the best football I can."
Browns' Myles Garrett says fan punched him in face after taking picture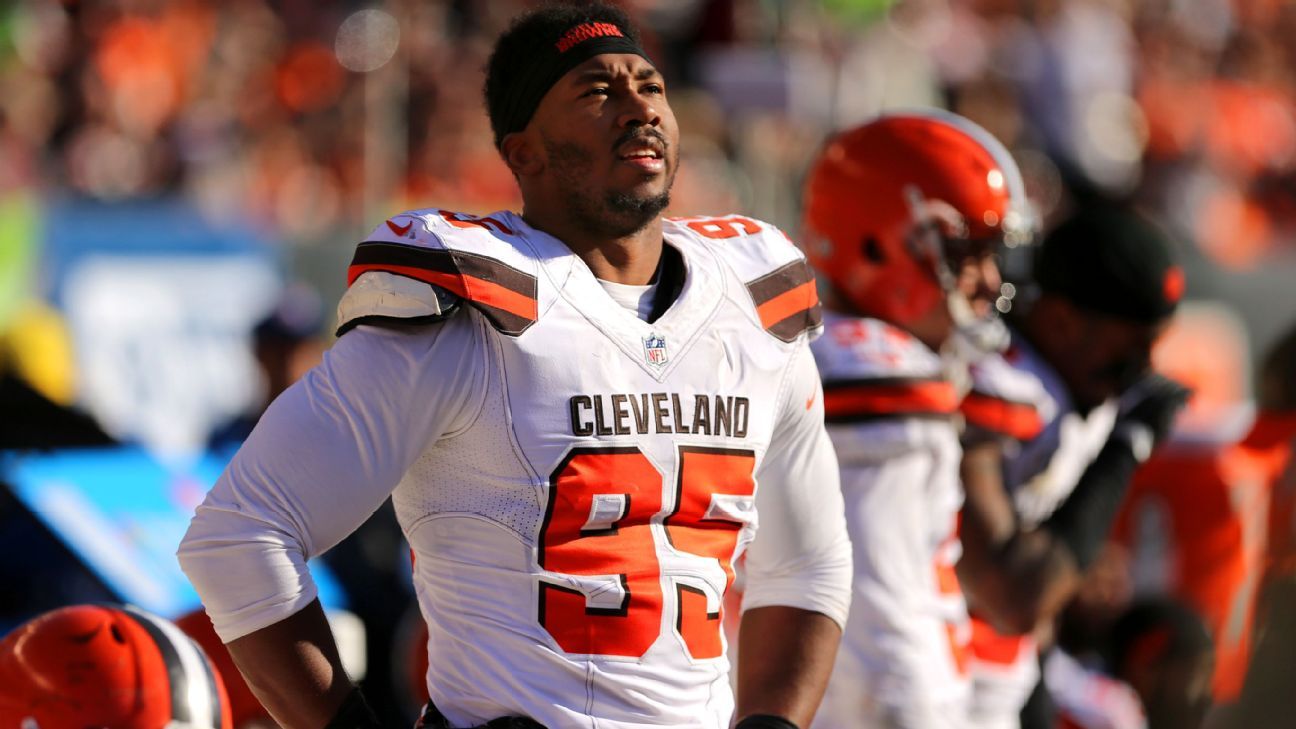 Cleveland Browns defensive end Myles Garrett said Wednesday on Twitter that he was "punched" in the face by a fan.
Garrett wrote that he was driving when a fan flagged him down to take a picture and then "gave me a pillow tap" [in the face].
A "fan" hopped out his car to take a picture with me and then punched me in my face. Hm, put your legs into it might have actually made me flinch. 👍🏾

— Myles "Flash" Garrett ⚡️ (@MylesLGarrett) October 16, 2019
Was in my car, flagged me down for a picture and I cracked the window enough for the camera to get my face. Took the pic and gave me a pillow tap

— Myles "Flash" Garrett ⚡️ (@MylesLGarrett) October 16, 2019
The Browns completed their final bye week practice Wednesday.
Garrett is tied for the NFL lead with nine sacks.
The Browns next play Oct. 27 at the New England Patriots.
Matt Nagy 'cautiously optimistic' Mitchell Trubisky will play
LAKE FOREST, Ill. — Chicago Bears coach Matt Nagy is "cautiously optimistic" that quarterback Mitchell Trubisky will be medically cleared to return from a non-throwing shoulder injury and start on Sunday versus the New Orleans Saints.
"I always say 'cautiously optimistic'… I feel good about [where we are with Trubisky]," Nagy said Wednesday. "But we're preparing with both [quarterbacks right now]."
Trubisky, who practiced on Wednesday, reported that he's close to full strength but said he needs to wear a harness on his left shoulder in order to play.
"I feel close [to 100%]," Trubisky said before practice.
"I think I've just got to show the training staff and the coaches that my shoulder and everything is strong enough to be able to put me out there, to withstand hits, to be able to do my job to 100 percent. I need to show them throughout practice this week that I'm good to go and I feel comfortable about where I'm at. We've done a good job with this rehab plan of getting on the same page and just communicating, and hopefully once I show everyone that I'm good to go in practice this week, they'll let me roll and not look back."
Trubisky suffered a dislocated left shoulder and slight labrum tear in the first quarter of Chicago's victory over the Vikings on Sept. 29. Team doctors determined that Trubisky would not need to undergo surgery, but backup quarterback Chase Daniel started the next week against the Raiders in London.
"It was definitely painful," Trubisky said of the injury. "I definitely wasn't thinking 'Is my season over?' or anything bad like that, I was more thinking, 'Can I go back in and finish the game?' Unfortunately, I couldn't.
"It's different because it's not my throwing shoulder, and that's why I thought I might be able to go back in. I thought, oh, it's just my left arm, maybe I could just catch a snap and be able to do all the handoffs and stuff and be able to throw, but I really couldn't move it. So if what happened to this left shoulder would happen to my right, we might be in a different situation, but it feels pretty good right now. I'm pleased about the progress we've made, a lot of credit to the training staff in just getting that recovery, and thank goodness it recovered quickly."
Trubisky finished last season with respectable numbers in Nagy's system, passing for 3,223 yards and 24 touchdowns with 12 interceptions (95.4 quarterback rating) as Chicago went 12-4 and won its first NFC North title since 2010.
But Trubisky has mostly struggled thus far in 2019.
The former second overall pick had subpar outings versus Green Bay and Denver to open the year. He bounced back with a three-touchdown performance in Washington in Week 3 but has passed for just 588 yards, three touchdowns and two interceptions. Chicago's offense ranks near the bottom of the league in virtually every important offensive statistical category.
Trubisky rushed for a combined 669 yards and five touchdowns over his first two seasons in the league, but he has run only five times for 21 yards in 2019.
"The main thing we've got to do is definitely show consistency," Trubisky said. "But we had some plays where we had some big-play potential. Or we had some drives that we had some good plays. And then we kind of sputtered out and didn't finish the drives.
"Hopefully, we'll have some things that open up. We look at what we did the first couple of games with some of the concepts, the runs and what everyone's comfortable with and get those going. Get on the same page and make sure that we're just executing. We've got enough talent to make it happen. We just got to believe in it."
Browns GM John Dorsey reaffirms commitment to Feddie Kitchens, Baker Mayfield
BEREA, Ohio — Cleveland Browns general manager John Dorsey reaffirmed his commitment Wednesday to both coach Freddie Kitchens and quarterback Baker Mayfield, despite the team's disappointing 2-4 start heading into its bye week.
Dorsey drafted Mayfield with the No. 1 overall pick last year, then this offseason promoted Kitchens from interim offensive coordinator to head coach. Off a promising 7-8-1 finish to last season, expectations ballooned even more for the Browns when Dorsey traded for star wide receiver Odell Beckham Jr. in the spring.
So far, though, the Browns have sputtered, and Sunday, blew a 20-6 lead to the Seattle Seahawks.
Dorsey said that despite that he's been encouraged with what he's seen from Kitchens, especially with how the Browns played against Seattle, coming off an embarrassing 31-3 loss at the San Francisco 49ers the week before on Monday Night Football.
"I think the team has responded really well," Dorsey said. "I like the offensive scheme that he's kind of developed which was on (display) in the Seattle game, by putting (Mayfield) in a really good position to move those chains.
"I think Freddie has done a really good job. I love where he is right now in terms of that first-year heading label you all try to stick with him."
Dorsey also declared that he remains "100%" convinced of Mayfield being Cleveland's franchise quarterback of the future, despite a slow start in his second season.
After finishing second in the NFL Offensive Rookie of the Year voting last year, Mayfield leads the NFL with 11 interceptions. He also ranks 33rd with a completion rate of 56.6% — way down from the 63.8% he posted last season.
"Mastering the quarterback position is very hard," Dorsey said. "Right now, defensive coordinators are probably throwing different looks that he hasn't seen. But Baker is one of those guys that he's smart enough, he's not going to make the same mistake twice. He's learning from that.
"I like where he is. I like his competitiveness. I love everything about him — that hasn't changed one bit, in terms of his competitiveness, his ability to throw the football. … I still think his balls are still accurate. Everybody keeps saying that there's inaccuracy with his ball, I still think he throws a good football. … What I really like is his teammates like him."
Dorsey was also effusive in his praise of Beckham, whom the Browns have had trouble getting the ball to at times. Despite the hype he arrived with, OBJ ranks just 31st in the NFL with 29 receptions and 16th with 436 receiving yards. He also only has one touchdown grab.
Still, Dorsey noted that Beckham has impacted the Browns in ways other than pass-catching.
"Is he a talented player? Yeah, he's a talented football player," Dorsey said. "If we can get the ball to him, we get the ball to him. But let's don't force it. Let's win the game, that's the objective.
"Odell is one of those guys who's a selfless individual. I think he really does a nice job run blocking. I'm happy we have him."
The Browns soon will add 2017 rushing champ Kareem Hunt to their offense. Hunt is serving an eight-game suspension for violating the NFL's personal conduct policy and has been away from the team. Dorsey said that Hunt is "doing really well" and is ahead of schedule rehabilitating from sports hernia surgery.
"In a couple weeks he's going to be back," Dorsey said, "and I can't wait to see him."
Dorsey also hinted the Browns might not be done upgrading the offense heading into the trade deadline later this month. Cleveland has been connected to All-Pro Washington left tackle Trent Williams, who is holding out due to his unhappiness with the Redskins, and would bolster and offensive line that Dorsey admitted needs to be "more consistent."
Dorsey wasn't very cryptic in expressing his interest. Asked if he's spoken to Washington team president Bruce Allen, Dorsey responded, "We've had a few conversations." After Williams' name was brought up, Dorsey answered, "It takes two to tango."