'I love it here, but it's still a business' — Mookie Betts' future looms large in Boston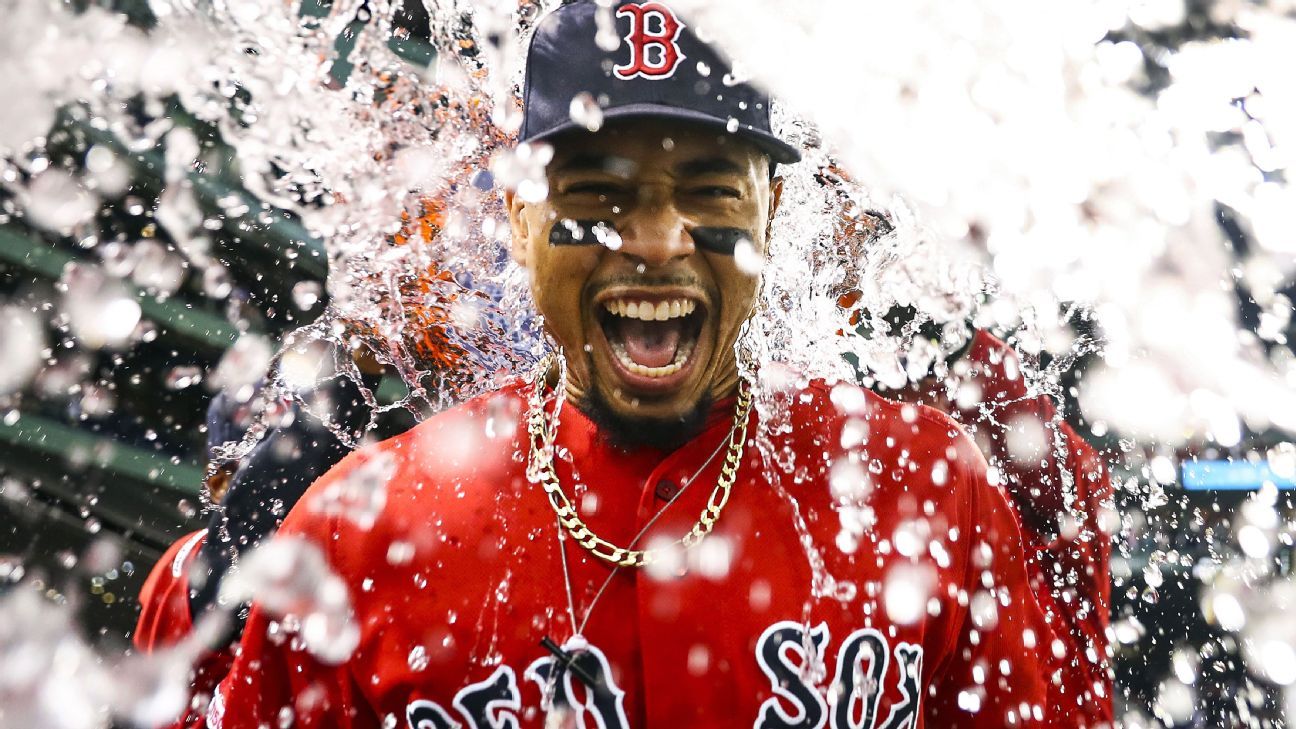 BOSTON — When Mookie Betts was growing up, his father, Willie, drilled a lesson into his head.
"You ain't gonna get nothing you don't deserve," he'd tell the young Betts.
So far in his career, Betts has lived out his father's words.
That advice — to never sell yourself short — is a major reason Betts' contract situation will be among Boston's most speculated topics in 2020, with no resolution guaranteed until after next season. But the noise will be heard this offseason, too, as Boston faces several franchise-shifting decisions, including whether to trade Betts instead of risking losing him in free agency.
After team president Dave Dombrowski was abruptly fired in the midst of a playoff-less season, the Red Sox elevated senior vice president Raquel Ferreira and assistant general managers Eddie Romero, Brian O'Halloran and Zack Scott to lead the team's front office — but that's only on an interim basis. It will be up to the new general manager — once he or she is named — to figure out how to navigate it all, and to do a job where public criticism always exceeds acclaim, regardless of the team's relative success compared to the rest of the league.
Betts has stated publicly on numerous occasions that he enjoys playing in Boston, and has reiterated that sentiment throughout the course of this season. But he won't sign an extension. Before 2018, Betts took the Red Sox to arbitration, prevailing in his case to the tune of a $10.5 million salary, the largest deal ever for a first-year arbitration-eligible player. The Red Sox and Betts agreed to a one-year, $20 million deal before this season to avoid arbitration, the largest amount given to a second-time arbitration-eligible player. Betts turned down an eight-year, $200 million offer before his first arbitration case two offseasons ago and told reporters in spring training that he doesn't expect anything to happen until he's a free agent.
"It's just been a blessing to be a part of such a great franchise with all of the history and all of the guys who have come through and they still come through," Betts told ESPN in May, before the Red Sox title defense fell apart. "You meet a lot of people. A lot of eyes are on you here, and I've learned if you don't embrace it, it may eat you up.
"You have the opportunity to win every year," Betts said. "Nobody is trying to take a season off. You can't ask for anything more than that. Winning every year, winning is obviously the reason why we play and we've been able to do it every year. It's definitely something I want to be a part of."
Betts says it's his obligation to maximize his value — and help raise the bar for the next generation of players — by hitting the free-agent market. Still, Betts and his inner circle of friends from Nashville have maintained for years that the 2018 MVP loves playing for the only franchise he's ever known.
"I'm a confident person in knowing my abilities, but also know, I'm kind of a realist, I know when I suck," Betts said. "I'm confident in my abilities and confident to know what kind of player I am. I've also been educated on the business side of it, getting your value.
"You just have to be able to stand up for yourself. And that's OK," Betts said. "Some people kind of get lost in what everyone else is doing and not pay attention to themselves, and I think I'm one where I pay attention to myself and can set the example for the people coming up. Somebody's gotta do it. I'm more than happy to be the person to do it. I stand on principle."
The Red Sox now face a decision: Is Betts worth more to them as a trade asset than he is in Fenway's right field with one year left on his contract and no promises for anything more? The Red Sox need to decide this offseason how they will handle the lack of contract security around their best and most nationally prominent player. Boston will listen to trade offers for Betts, according to front office sources, but the price will be high: multiple highly regarded prospects, enough to help kick-start a farm system rebuild. Alex Speier of The Boston Globe recently reported that Boston is unlikely to retain both Betts and J.D. Martinez this offseason.
The number of teams that might fit the criteria for the Red Sox, but also make sense as a fit for Betts, is low. Teams would need to be willing to take on what will likely be another record-setting arbitration salary with no guarantee beyond the one year. On top of any salary concerns, teams would need to be in a championship window and willing to part with multiple top-tier prospects, a description that fits few teams at a time when the sport faces a tanking problem.
It's not like the Red Sox are short of money. Boston ranks fifth in attendance in 2019 and Forbes estimates the team is worth $3.2 billion, $2.5 billion more than Henry and his partners paid for it in 2002. Boston, however, is financially motivated to get under the luxury tax threshold, which is subject to harsher penalties for repeat high-spenders — a threshold they've eclipsed the past two years. The threshold will be $208 million in 2020. The team's least creative solution would be to unload either Betts or Martinez, who own two of the team's biggest salaries.
From the perspective of any potential trade partner, Betts would need to represent a valuable enough upgrade in the outfield to justify the high price required to make a deal. Among the teams who merely fit the description of being in a championship window with prospect capital, without considering on-field or financial fit, are the Dodgers, Braves, Nationals, Cubs, Indians, Cardinals, Angels and Padres. Red Sox president and CEO Sam Kennedy has stated on multiple occasions that he hopes Betts remains in Boston for the rest of his career.
"He's the exact type of player you want to have on your team," Kennedy said in January. "Not just from what he does on the field, but off the field. He's such a great person. We'd love to have him be a Red Sox for his entire career. Certainly understand, you try to put yourself in the other person's shoes. He's going to want to see what the market looks like. Understand that. But we've made it crystal clear to Mookie that we want him to be a part of the Red Sox organization long term."
Much of Boston's championship core, from Betts to Xander Bogaerts to Jackie Bradley Jr. to Andrew Benintendi to Rafael Devers, came up from the farm system. Boston continues working toward the ultimate big-market dream: to build a perennial contender by endlessly developing cheap, affordable young stars, and supplementing that with exceptional financial resources — a goal much easier to achieve on paper than in practice.
Henry brought in Dombrowski in August 2015 to push the Red Sox roster over the top, and the 2018 World Series was his mission accomplished. At the time, the team boasted one of the most highly regarded farm systems in the league, highlighted by Yoan Moncada, Devers, Benintendi, Anderson Espinoza and Michael Kopech, all considered at one point among the best prospects in the sport.
Two of the five have gone on to become franchise cornerstones in Boston. Espinoza quickly flamed out as an elite prospect upon arrival in San Diego via the Drew Pomeranz trade. As for the two biggest names shipped to Chicago for Chris Sale, Kopech is still highly regarded (though recovering from Tommy John surgery) while Moncada has put together a strong season at the plate for the White Sox, hitting .312/.365/.540. When Dombrowski was hired, Baseball Prospectus ranked the Red Sox farm system as the sixth best in baseball. By 2019, it was last.
Two last-place finishes in 2014 and 2015 did help procure a high draft position. But while Benintendi was taken near the top of the first round in 2015, that spot is no guarantee for a successful prospect. Top pitching prospect Bryan Mata struggled adjusting to Double-A, posting a 5.03 ERA in 11 starts. Some in the Boston front office think 2017 first-round pick Tanner Houck could factor into the major league mix next season, after finishing his season in Triple-A Pawtucket. Fourth-round pick Noah Song, who some teams around baseball viewed as the top pitching prospect in the 2019 draft, has impressed in Single-A Lowell, posting a 1.06 ERA in 17 innings over seven starts, though his future Naval commitments are clouding his future in baseball.
The organization's top prospect, first/third baseman Triston Casas, finished 2019 as a South Atlantic League Season-End All-Star for Single-A Salem, but the organization boasts no top-50 prospect, according to ESPN's Keith Law.
The lack of pitching depth exposed itself in 2019, as Boston struggled to recover from Eovaldi's early-season surgery, which meant heavy reliance on a taxed bullpen. Dombrowski's replacement will need to figure out a long-term vision for the rotation, which has $237 million tied up through 2022 among three pitchers with injury histories in Sale, Eovaldi and David Price. Sale missed significant chunks of 2018 with shoulder issues, while a visit to James Andrews to check his elbow ended his 2019 season. Eovaldi's health will continue to be under microscopic focus after arm issues derailed his 2019 on top of his two Tommy John surgeries. Price has made 30 starts just twice in four seasons in Boston and Wednesday was shut down for the remainder of the season with a cyst in his wrist.
The Red Sox will have money to spend on the rotation as Rick Porcello's return to Boston looks unlikely, with his $21 million salary coming off the books. Eduardo Rodriguez, off a career-best 2019 season, doesn't become a free agent until after the 2021 season. With so much already tied up in the rotation, Boston could look to sign a starter on a short-term contract, perhaps getting good value on a bounce-back candidate.
Betts turns 27 in October, and ranks fourth among American League players in on-base percentage and fWAR this year, trailing Mike Trout, Alex Bregman and Marcus Semien. His .293/.391/.527 doesn't live up to his .346/.438/.640 from his 2018 MVP campaign, when he posted the second-highest fWAR total (higher than any Trout season) since Barry Bonds' 11.9 fWAR in 2004, according to FanGraphs.
Still, since 2014, Trout is the only player to post more WAR than Betts.
Many baseball insiders believe Betts will exceed the average annual value of this past offseason's Bryce Harper and Manny Machado megadeals when he hits the open market, and he could surpass Trout's record $36 million AAV considering the always-steady climb of contract values and inflation.
Betts has given little indication what he'll value more, length or money, once in free agency. Boston wants its star outfielder long term, but along with luxury tax considerations and current salary commitments, its front office is again in flux.
Leading the baseball operations department in Boston has ended with unceremonious departures ever since Henry bought the team in 2002, and for a reason. Expectations start high and never come down. Theo Epstein quit twice (in 2005 on Halloween, leaving Fenway in a gorilla costume, and in 2011 for the Cubs job). Ben Cherington helped bring a World Series to Boston in 2013. Two years later, Boston hired Dombrowski as president of baseball operations during the middle of a game while Cherington still held the GM position. Cherington quit. Dombrowski's Red Sox tenure ended earlier this month when a team spokesman walked into the Fenway Park interview room a few ticks after midnight following a Sunday Night Baseball game against the Yankees and told media members the team was "parting ways" with Dombrowski.
The standard of winning and excellence in Boston keeps rising. National headlines lamented surprise regarding the Red Sox letting go of Dombrowski less than a year after Boston won 108 games, earned buzz as one of the best teams in franchise history and won a World Series title. But 12 championships in 18 years, across all four major sports, changes things, and really quickly.
Winning a World Series isn't enough in Boston anymore. Under previous leadership, largely a remnant of Epstein's time running the organization, the Red Sox melded business and baseball operations. Kennedy, the executive-level face of the franchise, helped build a collaborative culture with Epstein, his childhood friend from the Boston suburb of Brookline. It was a culture that didn't exist under Dombrowski, who by the end of his Red Sox tenure had siloed himself off from much of the front office, mostly receiving advice from senior vice president Frank Wren and special assistant/vice president Tony La Russa.
Boston is now led on an interim basis by the assistant GM trio of O'Halloran, Romero and Scott with senior vice president Ferreira taking on an expanded role — making her the highest-ranking woman in an MLB front office. Under Dombrowski, O'Halloran focused on player negotiation and day-to-day management in baseball operations, while Romero led international scouting and player development efforts, and Scott oversaw the analytics department. Beyond O'Halloran, Romero, Scott and Ferreira, Boston could look to other familiar faces like Jared Porter and Amiel Sawdaye, who are assistant GMs in Arizona and previously worked in Boston. Their boss, Mike Hazen, ruled himself out of the running by signing an extension to stay with the Diamondbacks.
The tone in Boston brings unique challenges for executives, managers and players.
"Last year, when I came here, I knew what I was getting into obviously," Red Sox skipper Alex Cora said. "The expectations here are to win a championship every year. Is it realistic? No. But as a fan, that's who we are. I'm a fan of other teams and that's what I want for my teams. I don't think it's unfair. It is what it is. We live in a city where the standards are set very, very high since 2002 or right around that. This is what makes it enjoyable, that on a daily basis, you show up and do your best because if not, they're going to let you know that you didn't. That's what pushes me."
Dombrowski's firing amid such an atmosphere didn't change anything for Betts, which shouldn't surprise anyone.
"It doesn't really matter who's there. It's going to be the same answer," Betts said after the Dombrowski news broke. "Nothing's going to change. This is proof that this is a business. I love it here, but definitely it's still a business."
The general manager of the Red Sox, historically, has been among the most scrutinized public figures in the city. Lou Gorman's trade of Jeff Bagwell in 1990 to Houston still intermittently comes up in Fenway Park conversations among fans, writers, security guards and ushers. People still talk about Carl Crawford's and Pablo Sandoval's disastrous tenures in Boston. And the next GM could decide, among many other things, the fate of the team's biggest star.
No pressure.
Ranking MLB playoffs' best remaining starting pitchers
Your eyes are not deceiving you: There has been a lot of good starting pitching so far in the MLB playoffs. There have already been more starts of at least seven innings (11) than there were in the entire postseasons of 2017 (10) and 2018 (9). In more than half the games, the starting pitcher has allowed no runs or one run (26 of 48 games). Nine times a starter has pitched at least seven innings and allowed one run or fewer.
We have a great duel in Game 3 of the NL Championship Series on Monday at Nationals Park, with Jack Flaherty facing Stephen Strasburg. Not only will both likely finish in the top five of the Cy Young voting, but they are also two of the hottest pitchers going.
In fact, let's have a little fun and rank the best starting pitchers right now among those who remain in the postseason, using our specially constructed ranking formula, known as STRIKES: Schoenfield Total Rating Integrated Knowledge Enumerated System. We will factor in this year's regular-season performance, playoff performance and some super-secret "other factors," with each category rated on a scale of 1 to 5.
Here's the top 10:
Gerrit Cole, Astros
Regular season: 5 | Postseason so far: 5 | Other factors: 5 | Total: 15
Have we ever seen anybody do this? On May 22, Cole allowed six runs to the White Sox, falling to 4-5 with a 4.11 ERA. Since then, he has been unbeatable — not in the exaggerated fashion of saying, "he's so dominant he's unbeatable," when he does lose a game every now and then but actually unbeatable. Since May 27, including two wins in the postseason, Cole is 18-0 with a 1.66 ERA, .166 average allowed and 251 strikeouts in 162⅓ innings. His strikeout rate in those 24 starts is 41.4%. His strikeout totals in his past 11 starts: 10, 12, 14, 14, 15, 11, 10, 14, 10, 15, 10. He's like the Little Leaguer who had an early growth spurt and started shaving at 12: He looks almost too good for this league.
Of course, Cole is beatable. He doesn't throw up a zero every start. Not every pitch is 99 mph up in the zone on the black (though it sure feels like it). The Yankees will be ready to tackle him in Game 3 in front of what should be a ridiculously raucous crowd at Yankee Stadium. "He's obviously a great pitcher in the prime of his career in a really good stretch right now," Yankees manager Aaron Boone said before the start of the ALCS. "So any time you go up against a guy like that, it's hard. But it's also really fun. … I think they'll look forward to that challenge, and hopefully, when you do get that mistake, hopefully you're able to take advantage of it. Because you know those are going to be few and far between."
Key stat: In Cole's two playoff starts, when he gets to two strikes, batters are 2-for-34 with 25 strikeouts and two singles.
Justin Verlander, Astros
Regular season: 5 | Postseason so far: 3.5 | Other factors: 5 | Total: 13.5
I'm basically throwing out that start on three days' rest; I doubt we'll see AJ Hinch go down that road again. But even downgrading Verlander's postseason score because of that game, he comes out No. 2 on our list. He dominated the Rays and then held the high-powered Yankees' attack to two runs on 6⅔ innings. He has won a lot of big postseason games in his career, and you know the pressure of the moment won't get to him. He hasn't won 18 decisions in a row like Cole has, but the four runs he allowed against the Rays on short rest marked just the second time since the All-Star break that he allowed four runs in a game. His ERA since the break: 2.22, with 167 strikeouts in 113⅔ innings. Plus, he has cut down on the home runs. Put him on the mound, and I like my chances.
Key stat: Verlander's slider makes him deadly against right-handed batters, but he's equally tough against lefties. In fact, in the second half, his OPS against lefty hitters is eight points lower and his strikeout rate higher (41.8% to 35.4) than his numbers against righties.
Jack Flaherty, Cardinals
Regular season: 4 | Postseason so far: 4 | Other factors: 5 | Total: 13
We all know what Flaherty has done in the second half: 0.91 ERA since the All-Star break, 1.12 if you include his two starts in the NLDS. I dinged him a little for his mediocre first half but gave him extra credit for the monster run he's on in the "other factors" category. He really has made just one big mistake in his two playoff starts: a two-run home run to Adam Duvall in the seventh inning of Game 2 against the Braves, and it came on his 100th pitch of the game. (He stayed in for 117 pitches.)
Buster Olney likes to compare Flaherty to a young John Smoltz for his stuff and style of pitching. Smoltz was one of the greatest postseason pitchers of all time, so the Cardinals hope Flaherty's dominance holds up for his Game 3 start against the Nationals on Monday. Flaherty is only 23, but he's the staff ace. "It's not the norm," manager Mike Shildt said about that on Sunday, "but Jack's not a normal talent. He's got a lot of different skill sets that allow him to get to a point where he's earned — and that's exactly what's happened — he's earned the opportunity to head our staff, which is saying something with the staff we have."
Key stat: During his second-half run, Flaherty has allowed opposing hitters a .155 batting average, including .167 on ground balls. His ground ball rate in this stretch has been 46%.
Max Scherzer, Nationals
Regular season: 4.5 | Postseason so far: 4.5 | Other factors: 4 | Total: 13
Scherzer gets dinged a little for missing some time in the regular season because of injuries and for a 5.12 ERA in September. His start in the wild-card game wasn't his best, as he probably came out a little too amped up and allowed three runs in five innings. Since then, though, he has fired a scoreless inning in relief, held the Dodgers to one run in seven innings in Game 4 and held the Cardinals to one hit and no runs in seven innings in Game 2. Yes, the shadows helped him in that game, but it was peak Scherzer, as he recorded 19 swinging strikes, tied for his second-highest total in a playoff start.
As Cardinals first baseman Paul Goldschmidt said after his team's futile offensive effort against Scherzer: "He can do anything he wants. He's got four really good pitches. He can use them to all four quadrants of the strike zone. He can come right at you with strikes. He can make you chase."
Scherzer's next start would be Game 6, but the Nationals are hoping for a quick series, as Scherzer has racked up a lot of innings early in the postseason. He talked about his arm dragging after the start against the Dodgers, but he obviously recovered just fine. He did, however, give up six home runs across five starts in September, two against the Brewers and one against the Dodgers, so your best chance to beat him is probably the old-fashioned way: a bloop and a blast.
Key stat: Scherzer has destroyed right-handed batters, with a .186/.215/.299 batting line. Stack your lineup with lefties against him if you can.
Stephen Strasburg, Nationals
Regular season: 4.5 | Postseason so far: 4.5 | Other factors: 4 | Total: 13
Here's something many of us never expected to see: Strasburg led the National League with 209 innings pitched. He had a little rough patch in early August, including a nine-run game at Arizona in which he allowed three home runs, but since Aug. 20, he has a 1.91 ERA and .174 average allowed. Strasburg is also starting to build a nice little postseason résumé: In 34 career innings, he has a 1.32 ERA with a 45-5 strikeout-to-walk ratio. He faces Flaherty in Game 3 of the NLCS in one of the most anticipated pitching matchups so far this postseason. If Strasburg fires another gem, maybe we'll move him up this list.
Key stat: Since that Aug. 20 outing, batters are hitting .087 against Strasburg's curveball and .114 against his changeup. He has increased his usage of those two pitches slightly as well, from 50% to 56%, and the mark was more than 60% in his two starts against the Dodgers.
Masahiro Tanaka, Yankees
Regular season: 3 | Postseason so far: 4 | Other factors: 4.5 | Total: 11.5
Tanaka's regular season wasn't anything special, though he made 31 starts, and that 12-run outing in July at Fenway Park helped ruin his ERA. He seems to enjoy the big moment, though: He has allowed just four hits and one run in 11 postseason innings so far, and his career postseason ERA is down to 1.32 in 41 innings. Plus, he has yet to allow more than two runs in any of his seven playoff starts. He doesn't earn a "5" in the postseason category because he doesn't pitch as deep into the game as some of the other starters — not that he has needed to with that Yankees bullpen.
Key stat: In the regular season, batters hit .327/.390/.646 against Tanaka's four-seamer, which he threw 27% of the time. In his two playoff starts, he's throwing the four-seamer 21% of the time, and batters are 0-for-8 against it.
Adam Wainwright, Cardinals
Regular season: 3 | Postseason so far: 4 | Other factors: 3 | Total: 10
So far in 2019, the 38-year-old veteran had his best regular season since 2014 and two outstanding postseason starts — and, really, when he gave up two late runs against the Nationals in Game 2 of the NLCS, you can argue that he should have been out of the game instead of facing the top of the lineup for the fourth time. Wainwright has a 2.86 career postseason ERA, though most of the good numbers before this year came back when he was one of the elite starters in the league. The question now: Will we see him pitch again this season? "I'm hoping to," he said after Saturday's game. "I didn't feel like today was my last day."
Key stat: Wainwright still makes a nice living with that big curveball. Batters had a swing-and-miss rate of 26% against it in the regular season, and it's at 46% in the postseason.
Anibal Sanchez, Nationals
Regular season: 3 | Postseason: 4 | Other factors: 2 | Total: 9
After posting a 6.09 ERA with the Tigers in 2016 and 2017, Sanchez added a cutter with the Braves and turned himself back into a quality starter. He quietly had a solid regular season, and you can't deny his playoff results so far this year: one run in five innings against the Dodgers and that no-hit bid into the eighth against the Cardinals. He doesn't throw hard, so he's the kind of pitcher managers are usually going to have a quicker hook with in the postseason, but his off-speed stuff and ability to paint the corners have worked so far.
Key stat: Sanchez has been successful in the playoffs by mixing things up. He got just two of his 15 outs against the Dodgers on his fastball (four-seamer or sinker) but matched his season high with seven outs on his fastball against the Cardinals.
Patrick Corbin, Nationals
Regular season: 4 | Postseason so far: 2 | Other factors: 2 | Total: 8
Here we have our fourth Nationals starter. You still think the Yankees-Astros winner is a sure bet to win it all? The big-ticket free agent was outstanding in his first season in D.C., going 14-7 with a 3.25 ERA and topping 200 innings for the second straight season. This is Corbin's first taste of the postseason, as he didn't appear in the wild-card game or NLDS with Arizona in 2017. He allowed two runs (one earned) in a start against the Dodgers, though he walked five batters. Then he got hammered for six runs in a two-out relief effort in Game 3. He recovered to get four big outs in Game 5 against the Dodgers and retired the only batter he faced in Game 2 against the Cardinals. He'll start again in Game 4, perhaps with a chance to send the Nationals to the World Series.
Key stat: Lefties hit just .190/.260/.248 against Corbin in the regular season, but they have a .438 OBP in 16 plate appearances so far in the postseason.
Zack Greinke, Astros
Regular season: 4.5 | Postseason so far: 1.5 | Other factors: 1.5 | Total: 7.5
I know, Greinke's two playoff starts weren't pretty and resulted in Astros losses. Against the Rays — pitching for the first time in 12 days — maybe he was a little rusty. He left a couple of changeups over the plate, and Tampa docked him for six runs, including three home runs. His start against the Yankees was hardly terrible — three runs in six innings — and included a cheap home run into the Crawford Boxes by Gleyber Torres (it wouldn't have been a home run in any other park). Greinke's career postseason ERA is now 4.58, worse than Clayton Kershaw's. Still, he had a good regular season, and he seems like the type who won't let a bad outing affect his next performance.
Key stat: Greinke allowed those two home runs to the Rays on changeups — after allowing just three on the pitch in the entire regular season.
MLB Playoffs Daily — Cardinals' bats need to wake up against Nationals
Having seen their offense stymied for a total of four hits in the first two games of the NL Championship Series, the Cardinals need to get something going offensively. The problem is they need to do it against Washington's Stephen Strasburg, who has a 0.80 WHIP, 21 strikeouts and one walk in 15 innings this postseason. Can the Cards break through and make this a series?
What's on tap
Monday's schedule
7:38 p.m. ET: Cardinals at Nationals, Game 3
The most important thing of the day: Only one team has come back from being down 0-3 in a best-of-seven series: the 2004 Red Sox in the ALCS against the Yankees en route to their curse-busting World Series win. Basically, it's territory the Cardinals want to avoid.
The view from inside the ballpark
WASHINGTON D.C. — Teams that win the first two of a best-of-seven series on the road have advanced 22 of the past 25 times. That's what the Cardinals face with the next three games (if necessary) at Nationals Park. St. Louis has been held to four hits in the 18 innings of this NLCS. But the Cardinals will have their ace, Jack Flaherty, on the mound in Game 3, and they're comfortable with their offensive approach. "As long as we keep putting good at-bats together and keep going out there and working toward our game plan, we'll be all right," Flaherty said on Sunday's conference call. — Alden Gonzalez
A stat to impress your friends: The Cardinals need to save their season in Game 3, and who better to turn to than Flaherty, the second-half star of their rotation? Flaherty is the owner of both the lowest ERA (0.91) and the lowest wOBA allowed (.189) in MLB since the All-Star break.
Predictions
With the way Flaherty and Strasburg are pitching, you have to expect another low-scoring game. I'm a little worried about Flaherty's workload down the stretch and Mike Shildt's tendency so far in the postseason to leave his starters in a little too long. Nationals 3, Cardinals 2 — David Schoenfield
I've picked the Cardinals twice in a row, and it has not turned out well for St. Louis, so this might be a good thing for Cards fans. But the bottom line right now is the Redbirds' hitters haven't given us much reason to believe in them, and that's unlikely to change against Stephen Strasburg in Game 3. Nationals 2, Cardinals 0 — Dan Mullen
About last night
Stud of the night: Of course, it's Carlos Correa, who hit the walk-off home run that evened the series for the Astros. Correa also had an RBI double in the second inning to bring in Houston's first run, and he threw out DJ LeMahieu at the plate on a heads-up play that saved a run in the sixth.
Dud of the night: Yankees starter James Paxton, who allowed only one run but gave up four hits and two walks, forcing the hand of manager Aaron Boone. By pulling Paxton in the third inning, Boone needed to go to his bullpen hard, which worked fine until the game went to extra innings and Boone had already used his preferred high-leverage arms.
Highlight of the night:
The Astros take Game 2 of the ALCS as Carlos Correa smashes a walk-off home run in the bottom of the 11th inning.
Off the diamond
Social media says:
Carlos Correa becomes the 2nd player in MLB postseason history with multiple walk-off hits against the same opponent.

The other? David Ortiz, who did it in consecutive games against the Yankees in the 2004 ALCS. pic.twitter.com/ogriWy8goG

— ESPN Stats & Info (@ESPNStatsInfo) October 14, 2019
Quote of note: "There was no losing this game. We were winning this game. Everybody in that clubhouse believes in each other and we're looking forward to going up there." — Astros third baseman Alex Bregman during postgame interview on FS1
Best of the playoffs so far …
Our running postseason MVP: There are a lot of ways to break down the dominance of Astros starter Gerrit Cole so far: a 0.57 ERA and 0.57 WHIP, 25 strikeouts, three walks and six hits allowed in 15⅔ innings, including eight stifling innings in Game 5 against the Rays. Then there's this: Cole joins Mike Mussina in the 1997 ALCS as the only pitchers with at least 25 strikeouts and one or fewer runs allowed in a series in postseason history.
The play of this October: We're going to cheat and make this "plays": the back-to-back home runs by the Nationals' Anthony Rendon and Juan Soto off the Dodgers' Clayton Kershaw in the eighth inning of Game 5 of the National League Division Series. Kershaw in the wake of Soto's tying bomb could end up as the lasting image of these playoffs.
Game of the postseason so far: Nationals-Dodgers, Game 5 of the NLDS. The Dodgers' ambushing Stephen Strasburg, Strasburg settling down and keeping the Nats in it, Walker Buehler's mastery, Kershaw's big strikeout before his eighth-inning implosion, Howie Kendrick's 10th-inning slam, questions for Dodgers manager Dave Roberts. There's a lot to unpack here, and this was a true postseason classic.
For Aaron Boone and Yankees, it's go bold or go home in ALCS
HOUSTON — If it wasn't abundantly clear already, Game 2 of the American League Championship Series crystallized the ethos of the New York Yankees: They are not going to sit back idly and watch the Houston Astros wrest a World Series berth from their lifeless hands. They are going to be aggressive, and that aggressiveness might at times verge on recklessness. So be it. Wallflowers cannot, and will not, beat these Astros.
The Yankees' 3-2 loss in 11 innings Sunday night featured a rightfully assertive posture from the earliest moments of the game. They were facing Justin Verlander in the first of four games he and co-ace Gerrit Cole will start should the series extend to seven, and manager Aaron Boone knows the Yankees must pick off at least one of those to beat Houston. So with a 1-0 series lead in hand already and the opportunity to land a liver shot on the Astros, Boone leadfooted the gas pedal.
Runners on second and third, facing a one-run deficit in the second inning? Boone brought the infield in. Only seven outs from his starter, James Paxton? Boone yanked him. Reliever Chad Green cruising through two innings? Boone pulled him, too, because Adam Ottavino presented a superior matchup opportunity.
This is what constitutes managing in 2019. It's not purely analytics, and it's not some sort of abandonment of gut feeling, and it's certainly not overmanaging, which is a catch-all phrase used by those who think aggressive bullpen maneuvering and seeking out marginal advantages is a bad thing. Here's what it is: pragmatism.
Because — at least based on his decision-making in the first two games of the ALCS — Boone understands what the Yankees are and what they aren't, where they lag behind and where they excel. New York is a team with limited starting pitching and five relief pitchers it deeply trusts. That is a flawed pitching staff, but not so flawed that it can't beat the Astros.
To do so will simply take a deftness similar to what the Tampa Bay Rays showcased in their division-series matchup against Houston. Rays manager Kevin Cash deployed his bullpen with a brilliant touch. He understood the talent advantage the Astros possess would force his team to steal advantages wherever it could. The same goes for the Yankees, and while the overpowering and dominant version of Verlander did not pitch Sunday, the one that did show up was good enough to install a deep sense of urgency in New York.
"Certainly Verlander being on the hill, runs are going to be tough to come by," Boone said. "More often than not I'm going to play that really aggressively."
Play aggressively he did, much to the consternation of armchair managers and Monday morning quarterbacks who believe past success portends future success. Consider Boone's choice in the fifth inning to remove Green for Ottavino. Green had retired all six hitters he faced. Ottavino replaced him, hung a first-pitch slider and watched George Springer punish it for a game-tying home run.
This is a classic case of process not equaling outcome. Ottavino threw a bad pitch. That happens, and when it happens in the postseason it is exponentially magnified. That bad pitch, though, does not take the sound process of Boone's decision — Springer destroys Green's bread-and-butter four-seam fastball; Ottavino is death on right-handed hitters — and invalidate it. It means the right play didn't work. Which, in a seven-game series, admittedly can mean the difference between winning and losing.
Focusing solely on Green's performance also places Game 2 in a vacuum instead of as one slice of a seven-piece pie. The balance between now and whatever games remain is admittedly difficult to strike, but the Yankees, with Game 3 starter Luis Severino not stretched out enough to pitch deep into games — especially against a lineup as patient as Houston's — and Game 4 looking like a bullpen affair, needed to weigh Green's usage accordingly.
Boone is juggling what the front office gave him — and it's a roster that includes five left-handed relievers, which plays awfully well into the hands of the Astros, who were the best-hitting team against lefties in baseball this season. Boone knows this, and he knows it's the sort of thing that will haunt the Yankees at some point in the series, which only exacerbated his exigency in Game 2.
"You're playing it to win the game," Boone said. "You're not playing it to — what if we go 13, you know? You're playing it to what gives us the best chance to win here. And the bottom line is we end up giving up a third run in the 11th inning."
So it went. The possibility of stealing both games at Minute Maid Park — one of them started by Verlander — was exciting enough that Boone emptied his handful of power relievers, going from Green to Ottavino to Tommy Kahnle to Zack Britton to Aroldis Chapman. They covered 20 outs and, Springer's home run off Ottavino excepted, did so with aplomb.
They'll also be ready for Game 3 on Tuesday at Yankee Stadium, when Cole gets his first start of the series. Boone will be suitably pushy in that game, too, if offered the opportunity to steal a win — and even though it's at home, beating Cole in the postseason would constitute grand larceny.
Whatever the outcome in Game 3, Boone may well pray for rain, which is expected to come down in sheets Wednesday. That would allow him to bring back Masahiro Tanaka for Game 4 on full rest, go back to Paxton on full rest in Game 5 and push back the necessary bullpen game as long as possible.
It's not an easy road. The Yankees knew that going into the ALCS. As great a lineup as the Yankees have, as many talented arms as they can offer, the Astros are more talented and managed by AJ Hinch, one of the game's finest tacticians. Boone showed Sunday he's learning himself. He saw an opening. He went full bore. The offense didn't cooperate with any support beyond Aaron Judge's two-run home run, and come extra innings, it left Boone exposed, with CC Sabathia and Jonathan Loaisiga and J.A. Happ in to get the most important outs.
That's not a mistake. It's a solid plan that didn't work. The Yankees will take that. They're certainly not going to beat the Astros sitting back and waiting for the series to come to them.