'I love it here, but it's still a business' — Mookie Betts' future looms large in Boston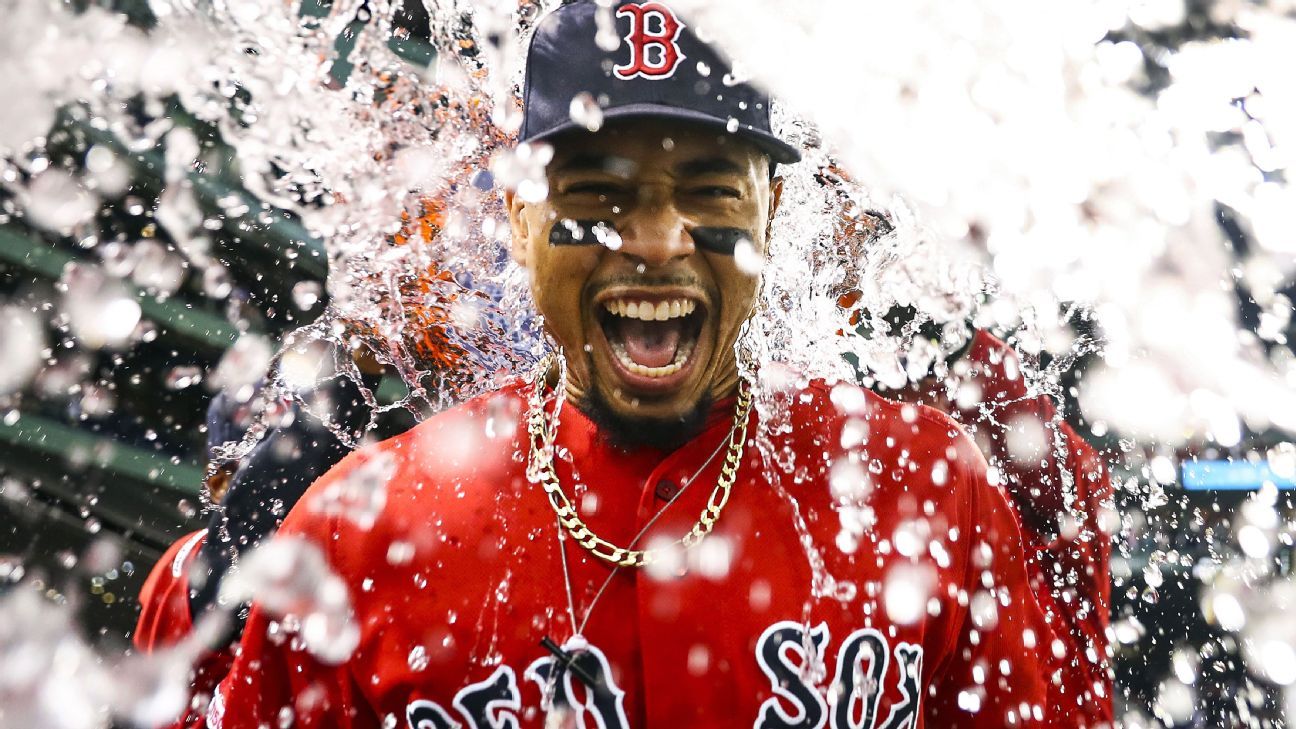 BOSTON — When Mookie Betts was growing up, his father, Willie, drilled a lesson into his head.
"You ain't gonna get nothing you don't deserve," he'd tell the young Betts.
So far in his career, Betts has lived out his father's words.
That advice — to never sell yourself short — is a major reason Betts' contract situation will be among Boston's most speculated topics in 2020, with no resolution guaranteed until after next season. But the noise will be heard this offseason, too, as Boston faces several franchise-shifting decisions, including whether to trade Betts instead of risking losing him in free agency.
After team president Dave Dombrowski was abruptly fired in the midst of a playoff-less season, the Red Sox elevated senior vice president Raquel Ferreira and assistant general managers Eddie Romero, Brian O'Halloran and Zack Scott to lead the team's front office — but that's only on an interim basis. It will be up to the new general manager — once he or she is named — to figure out how to navigate it all, and to do a job where public criticism always exceeds acclaim, regardless of the team's relative success compared to the rest of the league.
Betts has stated publicly on numerous occasions that he enjoys playing in Boston, and has reiterated that sentiment throughout the course of this season. But he won't sign an extension. Before 2018, Betts took the Red Sox to arbitration, prevailing in his case to the tune of a $10.5 million salary, the largest deal ever for a first-year arbitration-eligible player. The Red Sox and Betts agreed to a one-year, $20 million deal before this season to avoid arbitration, the largest amount given to a second-time arbitration-eligible player. Betts turned down an eight-year, $200 million offer before his first arbitration case two offseasons ago and told reporters in spring training that he doesn't expect anything to happen until he's a free agent.
"It's just been a blessing to be a part of such a great franchise with all of the history and all of the guys who have come through and they still come through," Betts told ESPN in May, before the Red Sox title defense fell apart. "You meet a lot of people. A lot of eyes are on you here, and I've learned if you don't embrace it, it may eat you up.
"You have the opportunity to win every year," Betts said. "Nobody is trying to take a season off. You can't ask for anything more than that. Winning every year, winning is obviously the reason why we play and we've been able to do it every year. It's definitely something I want to be a part of."
Betts says it's his obligation to maximize his value — and help raise the bar for the next generation of players — by hitting the free-agent market. Still, Betts and his inner circle of friends from Nashville have maintained for years that the 2018 MVP loves playing for the only franchise he's ever known.
"I'm a confident person in knowing my abilities, but also know, I'm kind of a realist, I know when I suck," Betts said. "I'm confident in my abilities and confident to know what kind of player I am. I've also been educated on the business side of it, getting your value.
"You just have to be able to stand up for yourself. And that's OK," Betts said. "Some people kind of get lost in what everyone else is doing and not pay attention to themselves, and I think I'm one where I pay attention to myself and can set the example for the people coming up. Somebody's gotta do it. I'm more than happy to be the person to do it. I stand on principle."
The Red Sox now face a decision: Is Betts worth more to them as a trade asset than he is in Fenway's right field with one year left on his contract and no promises for anything more? The Red Sox need to decide this offseason how they will handle the lack of contract security around their best and most nationally prominent player. Boston will listen to trade offers for Betts, according to front office sources, but the price will be high: multiple highly regarded prospects, enough to help kick-start a farm system rebuild. Alex Speier of The Boston Globe recently reported that Boston is unlikely to retain both Betts and J.D. Martinez this offseason.
The number of teams that might fit the criteria for the Red Sox, but also make sense as a fit for Betts, is low. Teams would need to be willing to take on what will likely be another record-setting arbitration salary with no guarantee beyond the one year. On top of any salary concerns, teams would need to be in a championship window and willing to part with multiple top-tier prospects, a description that fits few teams at a time when the sport faces a tanking problem.
It's not like the Red Sox are short of money. Boston ranks fifth in attendance in 2019 and Forbes estimates the team is worth $3.2 billion, $2.5 billion more than Henry and his partners paid for it in 2002. Boston, however, is financially motivated to get under the luxury tax threshold, which is subject to harsher penalties for repeat high-spenders — a threshold they've eclipsed the past two years. The threshold will be $208 million in 2020. The team's least creative solution would be to unload either Betts or Martinez, who own two of the team's biggest salaries.
From the perspective of any potential trade partner, Betts would need to represent a valuable enough upgrade in the outfield to justify the high price required to make a deal. Among the teams who merely fit the description of being in a championship window with prospect capital, without considering on-field or financial fit, are the Dodgers, Braves, Nationals, Cubs, Indians, Cardinals, Angels and Padres. Red Sox president and CEO Sam Kennedy has stated on multiple occasions that he hopes Betts remains in Boston for the rest of his career.
"He's the exact type of player you want to have on your team," Kennedy said in January. "Not just from what he does on the field, but off the field. He's such a great person. We'd love to have him be a Red Sox for his entire career. Certainly understand, you try to put yourself in the other person's shoes. He's going to want to see what the market looks like. Understand that. But we've made it crystal clear to Mookie that we want him to be a part of the Red Sox organization long term."
Much of Boston's championship core, from Betts to Xander Bogaerts to Jackie Bradley Jr. to Andrew Benintendi to Rafael Devers, came up from the farm system. Boston continues working toward the ultimate big-market dream: to build a perennial contender by endlessly developing cheap, affordable young stars, and supplementing that with exceptional financial resources — a goal much easier to achieve on paper than in practice.
Henry brought in Dombrowski in August 2015 to push the Red Sox roster over the top, and the 2018 World Series was his mission accomplished. At the time, the team boasted one of the most highly regarded farm systems in the league, highlighted by Yoan Moncada, Devers, Benintendi, Anderson Espinoza and Michael Kopech, all considered at one point among the best prospects in the sport.
Two of the five have gone on to become franchise cornerstones in Boston. Espinoza quickly flamed out as an elite prospect upon arrival in San Diego via the Drew Pomeranz trade. As for the two biggest names shipped to Chicago for Chris Sale, Kopech is still highly regarded (though recovering from Tommy John surgery) while Moncada has put together a strong season at the plate for the White Sox, hitting .312/.365/.540. When Dombrowski was hired, Baseball Prospectus ranked the Red Sox farm system as the sixth best in baseball. By 2019, it was last.
Two last-place finishes in 2014 and 2015 did help procure a high draft position. But while Benintendi was taken near the top of the first round in 2015, that spot is no guarantee for a successful prospect. Top pitching prospect Bryan Mata struggled adjusting to Double-A, posting a 5.03 ERA in 11 starts. Some in the Boston front office think 2017 first-round pick Tanner Houck could factor into the major league mix next season, after finishing his season in Triple-A Pawtucket. Fourth-round pick Noah Song, who some teams around baseball viewed as the top pitching prospect in the 2019 draft, has impressed in Single-A Lowell, posting a 1.06 ERA in 17 innings over seven starts, though his future Naval commitments are clouding his future in baseball.
The organization's top prospect, first/third baseman Triston Casas, finished 2019 as a South Atlantic League Season-End All-Star for Single-A Salem, but the organization boasts no top-50 prospect, according to ESPN's Keith Law.
The lack of pitching depth exposed itself in 2019, as Boston struggled to recover from Eovaldi's early-season surgery, which meant heavy reliance on a taxed bullpen. Dombrowski's replacement will need to figure out a long-term vision for the rotation, which has $237 million tied up through 2022 among three pitchers with injury histories in Sale, Eovaldi and David Price. Sale missed significant chunks of 2018 with shoulder issues, while a visit to James Andrews to check his elbow ended his 2019 season. Eovaldi's health will continue to be under microscopic focus after arm issues derailed his 2019 on top of his two Tommy John surgeries. Price has made 30 starts just twice in four seasons in Boston and Wednesday was shut down for the remainder of the season with a cyst in his wrist.
The Red Sox will have money to spend on the rotation as Rick Porcello's return to Boston looks unlikely, with his $21 million salary coming off the books. Eduardo Rodriguez, off a career-best 2019 season, doesn't become a free agent until after the 2021 season. With so much already tied up in the rotation, Boston could look to sign a starter on a short-term contract, perhaps getting good value on a bounce-back candidate.
Betts turns 27 in October, and ranks fourth among American League players in on-base percentage and fWAR this year, trailing Mike Trout, Alex Bregman and Marcus Semien. His .293/.391/.527 doesn't live up to his .346/.438/.640 from his 2018 MVP campaign, when he posted the second-highest fWAR total (higher than any Trout season) since Barry Bonds' 11.9 fWAR in 2004, according to FanGraphs.
Still, since 2014, Trout is the only player to post more WAR than Betts.
Many baseball insiders believe Betts will exceed the average annual value of this past offseason's Bryce Harper and Manny Machado megadeals when he hits the open market, and he could surpass Trout's record $36 million AAV considering the always-steady climb of contract values and inflation.
Betts has given little indication what he'll value more, length or money, once in free agency. Boston wants its star outfielder long term, but along with luxury tax considerations and current salary commitments, its front office is again in flux.
Leading the baseball operations department in Boston has ended with unceremonious departures ever since Henry bought the team in 2002, and for a reason. Expectations start high and never come down. Theo Epstein quit twice (in 2005 on Halloween, leaving Fenway in a gorilla costume, and in 2011 for the Cubs job). Ben Cherington helped bring a World Series to Boston in 2013. Two years later, Boston hired Dombrowski as president of baseball operations during the middle of a game while Cherington still held the GM position. Cherington quit. Dombrowski's Red Sox tenure ended earlier this month when a team spokesman walked into the Fenway Park interview room a few ticks after midnight following a Sunday Night Baseball game against the Yankees and told media members the team was "parting ways" with Dombrowski.
The standard of winning and excellence in Boston keeps rising. National headlines lamented surprise regarding the Red Sox letting go of Dombrowski less than a year after Boston won 108 games, earned buzz as one of the best teams in franchise history and won a World Series title. But 12 championships in 18 years, across all four major sports, changes things, and really quickly.
Winning a World Series isn't enough in Boston anymore. Under previous leadership, largely a remnant of Epstein's time running the organization, the Red Sox melded business and baseball operations. Kennedy, the executive-level face of the franchise, helped build a collaborative culture with Epstein, his childhood friend from the Boston suburb of Brookline. It was a culture that didn't exist under Dombrowski, who by the end of his Red Sox tenure had siloed himself off from much of the front office, mostly receiving advice from senior vice president Frank Wren and special assistant/vice president Tony La Russa.
Boston is now led on an interim basis by the assistant GM trio of O'Halloran, Romero and Scott with senior vice president Ferreira taking on an expanded role — making her the highest-ranking woman in an MLB front office. Under Dombrowski, O'Halloran focused on player negotiation and day-to-day management in baseball operations, while Romero led international scouting and player development efforts, and Scott oversaw the analytics department. Beyond O'Halloran, Romero, Scott and Ferreira, Boston could look to other familiar faces like Jared Porter and Amiel Sawdaye, who are assistant GMs in Arizona and previously worked in Boston. Their boss, Mike Hazen, ruled himself out of the running by signing an extension to stay with the Diamondbacks.
The tone in Boston brings unique challenges for executives, managers and players.
"Last year, when I came here, I knew what I was getting into obviously," Red Sox skipper Alex Cora said. "The expectations here are to win a championship every year. Is it realistic? No. But as a fan, that's who we are. I'm a fan of other teams and that's what I want for my teams. I don't think it's unfair. It is what it is. We live in a city where the standards are set very, very high since 2002 or right around that. This is what makes it enjoyable, that on a daily basis, you show up and do your best because if not, they're going to let you know that you didn't. That's what pushes me."
Dombrowski's firing amid such an atmosphere didn't change anything for Betts, which shouldn't surprise anyone.
"It doesn't really matter who's there. It's going to be the same answer," Betts said after the Dombrowski news broke. "Nothing's going to change. This is proof that this is a business. I love it here, but definitely it's still a business."
The general manager of the Red Sox, historically, has been among the most scrutinized public figures in the city. Lou Gorman's trade of Jeff Bagwell in 1990 to Houston still intermittently comes up in Fenway Park conversations among fans, writers, security guards and ushers. People still talk about Carl Crawford's and Pablo Sandoval's disastrous tenures in Boston. And the next GM could decide, among many other things, the fate of the team's biggest star.
No pressure.
MLBPA submits counter return-to-play proposal to MLB
The Major League Baseball Players Association delivered a return-to-play proposal to MLB on Sunday that includes a 114-game season, deferred salaries in the event of a canceled postseason and the option for all players to opt out of a potential 2020 season due to coronavirus concerns, sources familiar with the details told ESPN.
The proposal, which was the first from the union and came on the heels of an MLB plan that was loudly rejected by the players, comes at a seminal moment as baseball tries to become the first major American professional sport to return. While players expect the league to reject it, they hoped that it would serve as a bridge to a potential deal this week.
The 114-game season, which under the union's proposal would run June 30-Oct. 31, is likely to be immediately dismissed by the league, which has proposed an 82-game season and suggested that the more games teams play this year, the more money they lose. The union remains steadfast that players receive their full prorated salaries, while MLB's plan included significant pay cuts that affected the highest-paid players the most but covered all levels.
The inclusion of potential deferrals in Sunday's proposal was an acknowledgement by the players that amid the coronavirus pandemic and unrest around the country, cash-flow issues could prove problematic for owners. The deferrals would occur only if the playoffs were canceled, a concern the league has voiced, and would total $100 million. It would apply to players whose contracts call for $10 million-plus salaries and include interest to make them whole.
Deferrals could be a part of any counter from the league, which had not officially responded to the union's proposal Sunday. With the desire to start a season by the first week of July, both parties recognize time is of the essence for a deal.
While MLB's 67-page health-and-safety protocol draft included the ability for high-risk players — either with pre-existing conditions or with family members more susceptible to COVID-19 — to opt-out of the season, the union's proposal suggests they can do so and receive salary. Players not deemed high-risk would be able to opt-out but would not receive salary.
Other parts of the players' proposal, sources said, include:
• Expanded playoffs for two years; MLB's proposal suggested one year of a postseason that goes from 10 teams to 14
• A salary advance of $100 million to split among players during the so-called spring training 2.0 that leads up to the regular season
• Additional commitments to players wearing microphones on the field and other broadcast enhancements
• Offering to hold events like an offseason All-Star Game or Home Run Derby to generate additional revenue
Olney — It's not just the 2020 season at stake, but the future of MLB
Many of the folks inside baseball but outside of the Zoom labor negotiations assume that, eventually, cooler heads will prevail in the talks between the owners and the players' union. Because they have to — right?
Because the alternative — no attempted restart of baseball in 2020 because of a failure of the two sides to agree to terms — bears catastrophic consequences, now and in the sport's future. The leaders on both sides have to see that — right?
They have to understand this nuclear option is no option at all — right?
They have to understand how baseball might need a generation or two — decades — for some fans to forget or forgive this ill-timed squabble over money, at a time when so many have lost jobs and increasingly struggle to meet the cost of shelter and food. Baseball's owners and players can't be so deeply mired in distrust and doctrine that they don't see this — right?
But here we are, in a countdown to utter disaster for Major League Baseball, and sources of moderation on both sides are having difficulty identifying the path through which the parties will leave their respective bunkers to reach the agreement the industry must have. As distasteful as the terms might be for the owners and players, they should all recognize that while concern over player and staff safety could ultimately prevent games from being played, they must settle the question of player compensation — whatever form that takes — and shake hands on the deal and smile for the cameras. (Actually, please be sure to get it in writing that everybody acknowledges — more later on how the failure to do that has contributed to the current stalemate.)
If that doesn't happen — if they can't agree on a deal to play in 2020 — baseball will become a loathed presence on North America's sporting landscape, scorned by many fans. The labor fight will merely be deferred, with escalation in some form all but assured because of the unresolved issues.
Next spring, with only months remaining in the current collective bargaining agreement, the players are more apt to use the threat of a strike. Owners, already damaged by the money losses this year, could be more inclined to dig in and wait out the players, aiming for a lasting reconstruction of baseball's financial model. The labor fight could go on and on, and by the time it all plays out, it's impossible to know how many fans, feeling alienated or disgusted, will leave baseball behind once and for all.
The only sure thing is that the owners and players will lose, unless they settle this standoff that risks mutually assured destruction.
So they have to make a deal. Right?
The fractures between the lead negotiating groups — led by commissioner Rob Manfred and union chief Tony Clark — have developed into a gaping chasm of suspicion and frustration. But each side will also have to work through competing internal forces.
Sources say there is a group of owners perfectly willing to shut down the season, to slash payroll costs and reduce losses, and the disparate views among the 30 teams have been reflected in the decisions to fire and furlough. The Pirates' Bob Nutting used the shutdown as an avenue to suspend team contributions to employee 401K plans — savings best measured monthly in the tens of thousands of dollars rather than the millions that would actually be difference-making for a franchise probably worth at least $1 billion. The Oakland Athletics' John Fisher decided to eliminate the $400 weekly salaries of minor leaguers, which might save the franchise about the amount of the team's unpaid stadium rental bill. On the other hand, clubs such as the Tigers, Padres and Royals demonstrated greater humanity, with the Royals' John Sherman deciding to pay his minor leaguers.
The clash of clans on the players' side was illuminated this week by the Twitter spat between Trevor Bauer and Kyle Lohse, client of Scott Boras, after Bauer tweeted, in so many words, that Boras should butt out of union business. Over the past 2½ months of social distancing, raw exchanges like these have me wondering how we are so technologically advanced and yet so many seem unable to place a direct phone call.
I know what you're thinking: "OK, Boomer. That conversation stuff is so old-school." But better communication will be needed to overcome the union's internal division, to band the baseball brothers together and present a united front that was once a reflex position among the players.
The labor-relations scars of Hall of Fame pitcher Tom Glavine are well-earned from his time as a union front man during the '94-95 players' strike. He has never had a sledgehammer personality, so the message he seemingly tried to impart in an interview with the Atlanta Journal-Constitution the other day was subtle and indirect but hardened. "If it were to come down to an economic issue and that's the reason baseball didn't come back, you're looking at a situation similar to the strike of '94 and '95 as far as fans are concerned," he said. "Even if the players were 100% justified in what they were complaining about, they're still going to look bad."
Keep in mind that the players' strike in '94-95 took place during a time of relative national prosperity. There was no global pandemic, record unemployment or growing civil unrest.
Looking back, Glavine said, "The accessibility thing was a miscalculation on my part. I just felt like if I did an interview on the radio or TV, or if I had five or 10 minutes, I could make somebody understand what was going on and come to our side. That just wasn't going to happen."
From the early-April interviews Boras gave to the statements released by Clark to Blake Snell's Twitch feed, it's as if there has been an effort to win a public relations fight. If asked — and yes, the union would be well-served to seek the counsel of Glavine, David Cone, Todd Zeile, Johnny Bench and others who helped to construct the world's strongest union the current players inherited — Glavine would seemingly tell them: Don't bother; you're not going to win in the court of public opinion.
Perhaps old union warriors Don Fehr and Gene Orza could offer useful reviews of the players' association's current logjam, given their knowledge of the baseball landscape and their decades-old understanding of the owners and leverage. Clark played 15 years in the big leagues, accomplishing things Fehr and Orza could only dream of — 251 big league homers, the stature of a respected clubhouse leader. But Clark does not have a legal background, and in his one major negotiation, the CBA talks of 2016, the union lost enormous ground in agreeing to a deal that effectively fostered soft salary caps and continued tanking.
Bruce Meyer, Clark's right-hand man, has been in baseball for less than two years. The perception of Bauer, many other agents and management officials is that Boras is in a position of high influence right now, and while Boras is the most celebrated player representative in U.S. sports history, with record-setting deals, he also lacks front-line experience in negotiations that possess such long-standing ramifications for this and the next collective bargaining agreement.
Clark, Meyer and Boras have stood firmly behind an assertion that the late-March agreement between the union and MLB made clear that players would be paid their prorated salaries for any games, even without fans in the stands. On the other hand, management contends that the agreement contained an understanding that the question of player compensation would be revisited if there were no fans in the stands, and Joel Sherman wrote recently about the contemporaneous internal management memo that backs this position. There are players and agents who would like to see comparable documentation from union leadership, in the form of memos and emails.
The talks between the two sides are stalled over this important point, and if clear-cut language recognized by both sides does not exist, "it's the fault of the lawyers," said one agent. "The result is devastating."
One way or another, this issue has to be resolved. A question asked by moderates on the players' side: Who will make a deal?
And a question asked on both sides: Is it possible for the owners' side to refrain from the destructive practice of leaking offers to the media? This practice has repeatedly undercut the effort to construct a bridge of trust and shaped the perception of owners' motives. After MLB's most recent proposal was published before it was presented, pitcher Jake Diekman wrote on Twitter, "It's getting very irritating that all of the information regarding the start of the baseball season is getting leaked before 95% of the players can even see it."
On Memorial Day, union moderates thought some conceptual traction had started to build toward a deal, with some salary considerations swapped for some protection of the upcoming free-agent classes. But because the offer was so stark, with the highest-paid players asked to take cuts of up to 80%, and because of how it leaked, many moderates thought that the owners' offer backfired and pushed the players closer to Boras' position — that negotiations about salary are over. The highly respected Max Scherzer, a member of the union's executive committee and a Boras client, tweeted that "there's no reason to engage with MLB in any further compensation reductions," citing conversations with "the rest of the players."
Thus, 80 days after baseball was shut down over the coronavirus pandemic, the two sides are completely at odds — the owners asking for major salary concessions without being willing to opening their financial books, and the union leaders settled behind what might be an unsettled issue, depending on what the negotiated language says.
Meanwhile, they're like two second cousins arguing loudly in the back pews during a memorial service. Everyone watching the spat is mortified and embarrassed for them.
They have to work it out. Don't they?
• Paul Hembekides sent along some notes about baseball's financial landscape:
1. MLB's financial proposal would be a big financial hit for high-earning players (obviously), but that is a really small subset. There were 1,410 players who appeared in an MLB game in 2019. There were 124 players who earned at least $10 million in 2019 (9% of the player pool); there were 140 scheduled to earn at least $10 million in 2020. Forty players earned at least $20 million in 2019 (3% of player pool); there were 47 scheduled to earn at least $20 million in 2020. (This does not account for those who did not play a game in 2019, such as Yoenis Cespedes.)
2. Over the past decade, the value of the average MLB franchise has increased by approximately 300%, to $1.85 billion. The annual contract of the average MLB player has increased by about 40%, to $4.4 million. As The Associated Press reported, salaries have stagnated over the past five years.
3. Baseball is a young man's game. The percentage of players by current service time (from 2019 40-man Opening Day rosters):
0-1 year: 30%
1-2 years: 16%
2-3 years: 11%
3-4 years: 9%
4-5 years: 6%
5-6 years: 6%
6+ years: 21%
Note: This does not add up to 100% because of rounding.
• If the two sides forge an agreement and baseball is played in 2020, it will be interesting to see if some players eligible for free agency in the upcoming offseason choose to not participate for reasons similar to why some NFL and NBA prospects bypass combines and bowl games — out of concern for short-term risk.
Let's say a 29-year-old pitcher is set to become eligible for free agency in the fall and is leery about the possibility of injury, perhaps enhanced by the odd work schedule this year or some performance struggles in what promises to be a small sample size. That player might choose to sit out whatever season is played, opting to take his 2019 résumé into market.
Baseball Tonight Podcast
Friday: Mike Farrell and Brian Rivera, co-directors of the E:60 feature Imperfect: The Roy Halladay Story, discuss Brandy Halladay's decision to talk with them, how they discovered an important video element and the ways Roy's story could impact others; Todd Radom's weekly quiz, and a discussion about PNC Park.
Thursday: Mark Teixeira gives a clear-eyed take about the ongoing negotiations between the owners and the players; longtime media relations director Jay Horwitz discusses his new book about his time with the Mets.
Wednesday: Yankees third-base coach Phil Nevin brings the stories from his time in baseball — about Aaron Boone's impersonations, that confrontation he had with his former GM, and the best baserunner he has ever worked with. Paul Hembekides has numbers that back up Nevin's belief and discusses a dark day in baseball history.
Tuesday: Matt Vasgersian, Sunday Night Baseball's play-by-play man, offers his top five signature home run calls among current announcers and discusses the state of baseball; Sarah Langs of MLB.com talks about historic short-season performances.
Tim Kurkjian's Baseball Fix – How Tippy Martinez once picked off the side
You love baseball. Tim Kurkjian loves baseball. So while we await its return, every day we'll provide you with a story or two tied to this date in baseball history.
ON THIS DATE IN 1950, Tippy Martinez was born.
Martinez was a very good reliever; he had a 3.45 ERA and 115 saves in 546 games. He won a ring with the 1983 Baltimore Orioles. And yet he is best known for one game, Aug. 24, 1983, because he picked off three runners in one inning of a game that Orioles fans voted the greatest in franchise history.
"I get asked about it almost every day," Martinez said.
The full "On this date …" archive
The Orioles were playing the Toronto Blue Jays in a big pennant-race game. Orioles manager Joe Altobelli had been through his two catchers, Rick Dempsey and Joe Nolan, in order to get the score tied after nine innings. In the bottom of the 10th, outfielder Gary Roenicke was playing third base, outfielder John Lowenstein was playing second and second baseman Lenn Sakata was catching for the first and only time in his career. Toronto's Cliff Johnson had homered to start the 10th to give Toronto the lead. Then Barry Bonnell singled.
In came Martinez.
"I didn't even recognize our catcher because he was a second baseman," Martinez said. "But Lenny was looking at this opportunity as a whole new career for him as a catcher. He wanted to throw some guys out. I'm thinking, 'Not on my watch, you're not.' I was just hoping he could catch the ball. I couldn't even throw my curveball because he couldn't do anything back there, I just had to throw fastballs on the outside part of the plate. I decided to shorten my move — it was not cheating — because we knew they were going to run because Lenny was back there. [Manager] Bobby Cox was going crazy in the other dugout."
Martinez threw to first baseman Eddie Murray and picked off Bonnell.
"The first move on Bonnell wasn't even a good one, but he took off for second," Martinez said. "The next batter, [Dave] Collins, walked. Everyone thinks I walked three guys in that inning, and picked them all off. I didn't; I only walked one. Collins was really fast. I made a dummy move, then on the second move, I picked him off. The fans were going crazy."
The next hitter was Willie Upshaw.
"He hit a ground ball to Lowenstein, but he had the range of a dime. He couldn't get to it," Martinez said. "Bobby Cox was screaming at his first-base coach [John Sullivan] to keep Upshaw's foot on the bag. He was screaming that he would send the first-base coach back to the minor leagues if Upshaw got picked off. Willie barely took a lead. I was wondering, 'How am I going to pick this guy off? I've never picked off two guys in an inning, how am I going to do three?'
"I made the best pickoff move I've ever made. The ball was in Eddie's glove. Upshaw didn't even move. He wasn't breaking for first, or for second. He was just standing there. All hell broke loose in the ballpark. I looked at Cox. He had destroyed the cooler in the dugout. I couldn't believe it."
In the bottom of the 10th, Cal Ripken homered to tie the score, then, appropriately, Sakata hit a walk-off three-run homer to win it. When the Orioles closed Memorial Stadium after the 1991 season, they brought back dozens of players to commemorate it. The players ran onto the field and stood at their primary positions. Sakata went behind the plate. The fans got it. They cheered and laughed.
Martinez smiled.
"People always ask me all the time, 'How about those three pickoffs?'" Tippy said. "First question, every time."
Other baseball notes for May 31
In 1970, Walt Williams had five hits in one game. He had one of the best nicknames ever, No Neck Williams, because he had no neck.
In 1920, Edward Bennett Williams was born. Brilliant lawyer, demanding owner of the Orioles. At the podium the night the Orioles won the 1983 World Series, general manager Hank Peters celebrated the win. Williams, seconds later, whispered in his ear during the trophy ceremony, "I'm worried about next year."
In 1962, Joe Orsulak was born. Good player, really good hitter, high school pingpong champion in three states. He once beat Cal Ripken 24 straight games of pingpong. "He wouldn't leave until he won," Orsulak said. "He won the 25th game at 2 o'clock in the morning. Then he went home."
In 1981, Jake Peavy was born. Good pitcher, great guy. He used to yell at himself on the mound: "I try not to yell, I try not to swear, but at seven o'clock every night, I turn into someone different." Dear friend and teammate Adam Dunn once said, "We used to do an over-under on when he's going to yell at himself for the first time in the game. I usually set it at about 5½ pitches. He is a clown."