How a bet on Patrick Mahomes paid for Air Force technician's wedding
KANSAS CITY, Mo. — Nathan Carnahan will soon have the wedding and honeymoon of his dreams, thanks to Patrick Mahomes.
Mahomes' involvement was indirect but he helped nonetheless. Carnahan is paying for his wedding and a subsequent trip to Europe in part with $8,000 he won last year betting on Mahomes to be the NFL's MVP.
My Wedding is this Saturday!

I'm active duty military and don't make a lot of money but Last year I put $200 on Mahomes winning MVP & thanks to him I now have the money to pay for me and @myownisrael wedding and honey moon.

Thank you @PatrickMahomes! pic.twitter.com/8EfQE17i0D

— Nathan Carnahan (@Ncarnahan) September 18, 2019
Smart bet or nah? #PattyMahomies pic.twitter.com/3iPJeeUrCz

— Nathan Carnahan (@Ncarnahan) July 26, 2018
Carnahan, 25, and fiancée, Israel Ritnour, will get married in St. Louis on Saturday and then jet to Spain for a two-week vacation after his $200 bet made before the 2018 season paid off at 40-1.
"We didn't come from rich families," Carnahan said this week. "We're not getting any help from our moms or dads. We're not getting any financial help from family members. So without this bet, [the reception] would have been a couple people and a keg in the backyard and a honeymoon in Arizona. Now we've got a venue and food and a DJ. This helped us afford a real nice wedding instead of a thrown-together thing. And we're going to Spain for our honeymoon."
Carnahan is a surgical technician in the Air Force at Travis Air Force Base in California.
"You know how in the movies where the doctor is, like, 'Scalpel'?" he said. "I'm the guy that finds the scalpel and hands it to him. That's my job."
Carnahan is a Kansas City Chiefs fan and said he was moved to bet on Mahomes heading into his first season as a starter after seeing how little the Chiefs did to repair a leaky defense from 2017.
"Free agency was done and the only thing they really did was bring in Sammy Watkins," he said. "My brain told me, 'Hey, this Chiefs defense is going to be really bad.' They had [Travis] Kelce, Watkins, [Kareem] Hunt at the time and [Tyreek] Hill. I figured if they were going to win 10, 11, 12 games it was because they were scoring 40 points a game.
"Me being a Chiefs fan, I made the biggest bet I've ever made. All my bets had been $10, $20 bets but never anything of real value. But it worked out. It worked out better than I expected, but I guess I expected it a little bit, right?"
Mahomes had a huge season, becoming the second player to throw 50 touchdown passes and for more than 5,000 yards in the same season. Carnahan said he was nervous Drew Brees might be the MVP instead and relaxed only after Mahomes was announced as the winner the night before the Super Bowl.
Carnahan placed his bet with an online bookmaker that accepts a maximum bet of $100. So he gave a friend another $100 to place a second bet on Mahomes.
His only regret now is that he didn't bet more.
"You win some and you lose some," he said. "At least I won the biggest one I've ever made."
Ravens LB Matthew Judon signs $16.3M franchise tender
Baltimore Ravens outside linebacker Matthew Judon signed his $16.3 million franchise tender, the team announced Thursday.
The Ravens have a history of signing their franchise players to long-term deals, and the NFL deadline for tagged players to do so is July 15.
Earlier this month, Ravens general manager Eric DeCosta confirmed that the sides have been talking about an extension and expressed optimism that a deal could eventually be reached. DeCosta said in February that a long-term deal was "something that we would love to get accomplished."
Judon, 27, reached the first Pro Bowl of his four-year career after leading the Ravens with a personal-best 9.5 sacks and recording the fourth-most quarterback hits in the NFL with 33.
The Ravens have traditionally used the tag to buy time to get a long-term deal done. The past five players franchised by Baltimore — cornerback Chris McAlister (2003 and 2004), linebacker Terrell Suggs (2008 and 2009), defensive tackle Haloti Ngata (2011), running back Ray Rice (2012) and kicker Justin Tucker (2016) — eventually got contracts that made them among the highest-paid players at their positions.
"I'd rather have a long-term deal for stability," Judon said in a text to ESPN's Josina Anderson after being tagged in March. "It is what it is. I feel like this is what many of us go through that are facing free agency. At the end of the day, I know I'm playing football next season."
Judon was considered a candidate to get tagged and traded, ESPN's Adam Schefter reported in January. Sources told Schefter that Ravens officials are likely to listen if another team expresses interest in acquiring him.
A fifth-round pick in 2016, Judon was one of three NFL defenders in 2019 to record at least 50 tackles, nine sacks, 30 quarterback hits and four forced fumbles. The others were Shaquil Barrett and T.J. Watt.
Ravens' John Harbaugh wants Lamar Jackson to improve on deep balls
OWINGS MILLS, Md. — What's next for Lamar Jackson after his NFL MVP season?
It's not necessarily more passes. It's more throws downfield.
In Thursday's hour-long online question-and-answer session with season-ticket holders, Harbaugh said one of the keys to Jackson's evolution is taking more advantage of defenses stacking the box against Baltimore.
"Those corners are going to be one-on-one and those safeties are going to be one-on-one against receivers, especially on some downfield throws, and we got to make them pay for it. We absolutely have to make them pay," Harbaugh said. "The ability to make them pay for tilting their defense toward stopping our run game with a really, really efficient passing game. I do believe that's the next step of this offense. I really do believe Lamar is going to take the next step."
Jackson spearheaded the NFL's highest-scoring offense last season, leading the league with 36 touchdown passes and setting the NFL record for rushing yards for a quarterback with 1,206 yards. He became the second unanimous MVP in NFL history and became the youngest quarterback to win the award at 22.
The weakest part of Jackson's game was consistently throwing deep to his wide receivers. On throws that traveled at least 15 yards in the air, Jackson ranked 27th in completions (35) and 22nd in completion rate (43.8%). In the divisional playoff loss to the Titans, Jackson was 6-of-17 (35.3%) on such throws.
Harbaugh believes the passing game has to open up when defenses put extra defenders closer to the line to stop the run.
"We should have guys more open and we should have bigger plays and we should create more opportunities in the passing game because of that run game," Harbaugh said.
Jackson said last month that he didn't think he would be "running a lot" this season, but Harbaugh wouldn't commit to Jackson throwing the ball more on Thursday. Jackson's running ability and the threat of him running is what makes Baltimore's offense so unpredictable, Harbaugh said.
When asked about an "air show" from Jackson this season, Harbaugh indicated there are no plans to shift from a run-heavy attack to a more balanced one.
"I wouldn't say we're going to scrap the run game and I wouldn't say we're going to become a more conventional offense — that's the last thing we want to do," Harbaugh said Thursday. "We didn't change the offense to scrap the idea that we want to cause people problems. We just want to get better at taking advantage of weaknesses."
Titans safety Kevin Byard achieves 'pipe dream' in buying house for his mother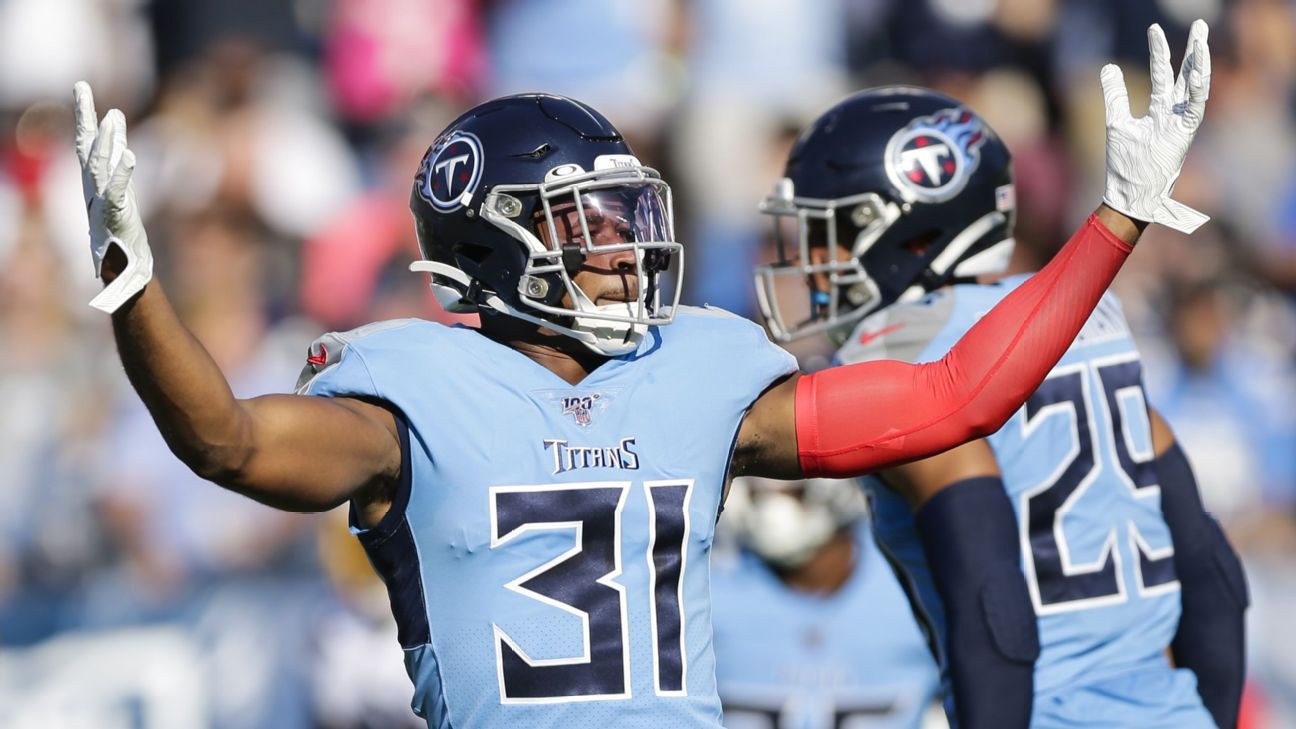 NASHVILLE, Tenn. — Tennessee Titans safety Kevin Byard recently purchased a new house for his mother, Artina Stanley, and shared a picture of the home via social media on Thursday.
"When you come from where I come from, stuff like this is a pipe dream that only a few are able to accomplish," Byard wrote in the post.
Byard has said he faced tough times during his upbringing.
His parents got divorced when he was 14, which led to a move from Philadelphia to Atlanta with his mother, three brothers and two sisters.
He and his older brother had to rush home from high school to help take care of their younger siblings while their mother was working two jobs to make ends meet.
Byard turned to athletics and earned a scholarship to play football at Middle Tennessee State. The Titans selected him in the third round of the 2016 NFL draft. No player has more interceptions (17) than Byard since 2016.
Byard signed a five-year, $70.5 million contract extension with the Titans last summer.