Jays' Mayza drops to knees after injuring elbow
Toronto Blue Jays reliever Tim Mayza left Friday night's 6-5 win over the New York Yankees after dropping to his knees in pain following an awkward pitch thrown far behind Didi Gregorius in the top of the 10th inning.
Mayza clutched his pitching arm and covered his face with his right hand as concerned teammates gathered around him at the mound. He left the field with a team trainer.
The Blue Jays confirmed Mayza had suffered a left elbow injury.
Friday's game marked Mayza's team-high 68th appearance of the year, tied for fourth most in the American League, though he has had at least two days off after his previous four appearances. He is 1-3 with a 4.91 ERA on the season.
Pirates' Pablo Reyes suspended 80 games for positive PED test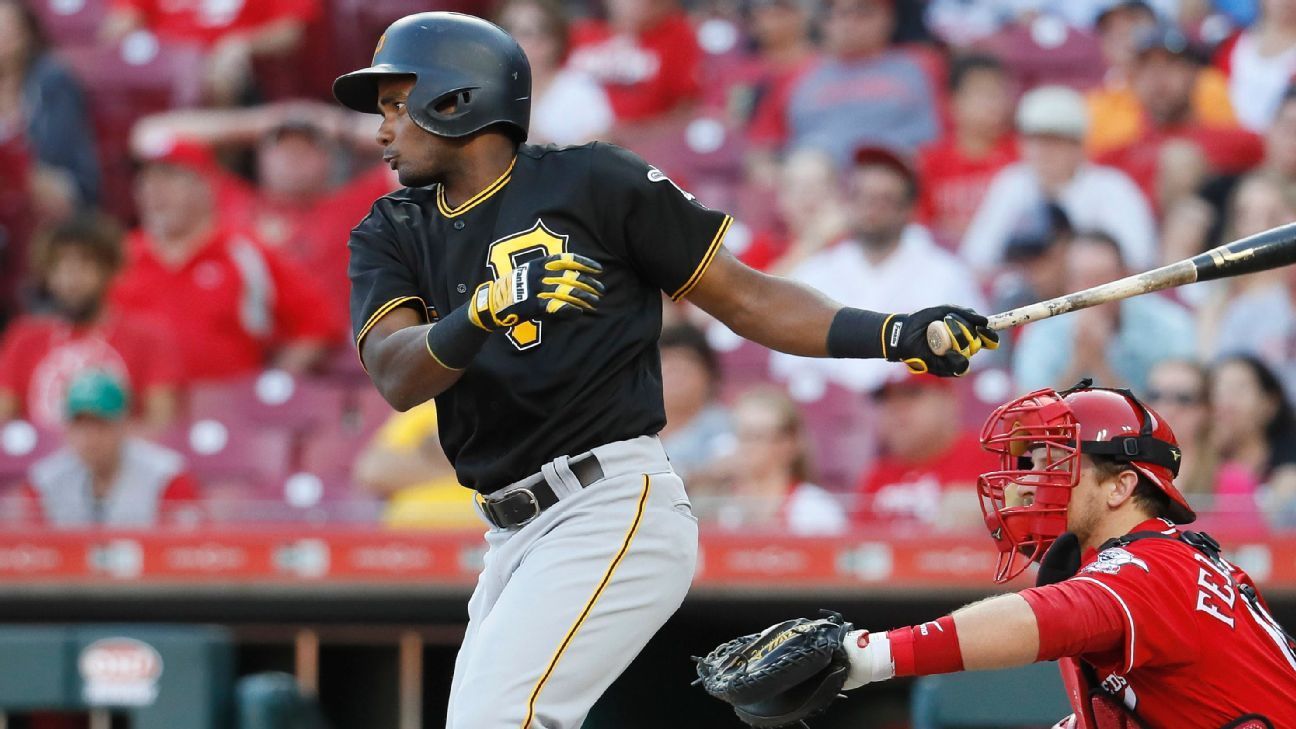 NEW YORK — The Pittsburgh Pirates' Pablo Reyes was suspended 80 games on Wednesday under the major league drug program following a positive test for the performance-enhancing drug Boldenone.
He became the second player in three days suspended for Boldenone, which is sold under the brand name Equipoise and is used commonly on horses. Houston Astros pitcher Francis Martes was suspended for the 2020 season on Monday following a positive test for Boldenone, his second violation of the major league drug program.
Reyes, a 26-year-old outfielder and infielder, made his major league debut in September 2018 and hit .293 with three homers and seven RBIs in 63 plate appearances.
He hit .203 with two homers and 19 RBIs in 157 plate appearances for the Pirates last year and batted .286 with 10 homers and 30 RBIs in 191 plate appearances at Triple-A Indianapolis. He was on the Pirates' 40-man roster before he was designated for assignment on Jan. 9 to clear a roster spot when outfielder Guillermo Heredia was signed. Reyes was sent outright to Indianapolis.
Reyes did not have a statement, the players' association said.
Three players have been suspended this year under the big league program. Colorado Rockies pitcher Justin Lawrence was suspended for 80 games following a positive test for the performance-enhancing substance Dehydrochlormethyltestosterone (DHCMT). Lawrence has yet to make his big league debut.
Athletics' Mike Fiers doesn't want protection, 'can defend myself'
Oakland Athletics pitcher Mike Fiers on Wednesday said, "I can defend myself" and that he doesn't need extra security from Major League Baseball during the 2020 season.
"I don't know how they would," Fiers told The Athletic on Wednesday. "I'm not asking for extra security. I'm here to play baseball and I can defend myself, if anything. We do have National League games and I'm going to have to get into the box [to hit] just like everybody else.
"It's part of the game. If they decide to throw at me, then they throw at me. There's nothing much you can do about it."
MLB commissioner Rob Manfred on Tuesday promised to "take every possible step" to protect Fiers, who revealed to The Athletic in November that the Houston Astros were stealing signs.
"I want to be really clear about this: Mike, who I do not know at all, did the industry a service," Manfred said Tuesday. "I do believe that we will be a better institution when we emerge at the end of this episode, and without a Mike Fiers, we probably would have had a very difficult time cleaning this up. It would have taken longer. … I have a real problem with anyone that suggests Mike did anything other than the right thing."
In its investigation, MLB found that the 2017 Astros used a live feed from a center-field camera to decipher the opposing catchers' signs in real time and deployed a system that involved banging on a trash can to alert their hitters of upcoming pitches.
"I've dealt with a lot in my life," Fiers told The Athletic on Wednesday. "I've dealt with people hating me before. I've dealt with a lot of life problems. It is what it is. And if someone's going to retaliate then by hitting me with a pitch, it's not a big deal."
Aledmys Diaz, Jesus Aguilar, Brian Goodwin win salary arbitration cases
PHOENIX — Houston infielder Aledmys Diaz, Miami first baseman Jesus Aguilar and Los Angeles Angels outfielder Brian Goodwin all won their salary arbitration cases Wednesday, cutting the teams' advantage to 6-4 in decisions this year with three cases remaining.
Diaz was awarded $2.6 million by arbitrators Mark Burstein, Stephen Raymond and Gary Kendellen rather than the $2 million offered by the Astros, which matched Diaz's salary last year.
Aguilar was given a raise from $637,500 to $2,575,000 instead of the Marlins' figure of $2,325,000 in a decision by Jeanne Charles, Steven Wolf and Edna Francis.
Goodwin received a raise from $585,500 to $2.2 million rather than the team's $1.85 million offer. That case was decided by Dan Brent, Melinda Gordon and Elizabeth Neumeier.
Acquired by Houston from Toronto in November 2018, Diaz hit .271 for the AL champions with nine homers and 40 RBIs in 247 plate appearances over 69 games. He was 0-for-9 with a walk in the postseason.
Goodwin hit .262 last year and set career bests with 17 homers and 47 RBIs in 458 plate appearances for the Angels, who claimed him off waivers from Kansas City last year.
Aguilar hit .236 with 12 homers and 50 RBIs in 131 games last season for Milwaukee and Tampa Bay, which acquired him on July 31 for pitcher Jake Faria. He was claimed off waivers on Dec. 2.
Los Angeles Dodgers reliever Pedro Baez had been the only player to win a decision previously this year.
Teams beat Boston pitcher Eduardo Rodriguez, Dodgers outfielder Joc Pederson, Minnesota pitcher Jose Berrios, Milwaukee closer Josh Hader, Atlanta reliever Shane Greene and Colorado catcher Tony Wolters.
A decision is pending for Arizona pitcher Archie Bradley, whose case was argued Tuesday.
Two players remain scheduled for hearings this week: Philadelphia catcher J.T. Realmuto and reliever Hector Neris.