Giants' Cueto dazzles in return from TJ surgery
Johnny Cueto threw a one-hit gem in his first game back for the San Francisco Giants since he had Tommy John surgery last year.
The right-hander struck out four and walked one in five shutout innings, leading the Giants over the visiting Pittsburgh Pirates 5-4 on Tuesday night.
He was relieved by Kyle Barraclough in the sixth after throwing 69 pitches.
"Like it was Opening Day," Cueto said.
Cueto, 33, was 3-2 with a 3.23 ERA in nine starts last season before he was shut down. He is in the fourth year of a six-year, $130 million contract.
"That was a special night for Johnny, just so much hard work and coming back from so much," said Stephen Vogt, who caught Cueto's comeback outing. "Getting to be a small part of that with him was pretty special for me. It's been a long road for him to come back. He was just so happy today — before the game, during the game, after the game you could just tell he was having fun."
Cueto went 1-2-3 in the first on 11 pitches with a strikeout and two groundouts before turning his cap around just for fun and pumping his fists.
He punched his hand into his glove in celebration, chomping his gum all the while.
"That's my game, every time I pitch just try to have fun," he said.
The Associated Press contributed to this report.
D-backs' Marte done for season with back injury
SAN DIEGO — All-Star hitter Ketel Marte has a stress reaction in his back and won't play for the Arizona Diamondbacks again this season.
The team announced the injury Friday night. Marte was leading the National League with 187 hits when he was shut down, batting .329 with 32 homers and 92 RBIs.
Marte, 25, was out of the lineup Wednesday at home against Miami. The outfielder/second baseman underwent a precautionary MRI after leaving Tuesday's game in the fifth inning with back stiffness.
"You can't measure my level of disappointment because he was such an important player to this team, this organization," Diamondbacks manager Torey Lovullo said. "That's obvious. But what I'll focus on is what he meant to this team, the development that he showed over the course of this year. That's all I can look at right now.
"He was a special player, he was a special man, and it's a special story. We're going to remember the year he had because of what he went out there and accomplished."
Dodgers' Hill throws pain-free, to start Tuesday
LOS ANGELES — Dodgers left-hander Rich Hill remains undeterred despite a season in which he missed 12 weeks because of a flexor tendon strain in his pitching elbow and then reinjured his knee last week in the first inning of his return.
Eight days after suffering what was diagnosed as a strained left MCL against the Baltimore Orioles, Hill threw nearly 20 pitches to a handful of teammates Friday afternoon and reported no pain.
He will start against the San Diego Padres on Tuesday, throwing the first two innings, then pitch in the regular-season finale against the San Francisco Giants if all goes well.
Hill, who is less than six months away from his 40th birthday, is still hopeful of helping the Dodgers during the postseason.
"Obviously I'd like that to be as a starter," he said. "I don't know how that's going to be laid out. It's not my call. My thing is just getting ready."
Hill had been toying with the position of his left foot on the rubber in hopes of diminishing the pain in his push-off leg. But the biggest difference, he said, was felt by the brace he sported on his left knee during the session. The pain Hill initially felt was from the breaking up of scar tissue, which subsided quicker this time than it did when he experienced something similar during spring training.
"It took three or four days, and then it started to feel pretty good," Hill said. "I would feel confident to go out there and pitch without the brace, but at the same time I know it's not a very smart idea to go out there and possibly tweak it again."
Dodgers manager Dave Roberts has said his team would be "a little unconventional" with its fourth starter in the postseason, using a combination of relievers rather than one traditional starting pitcher. The strategy was a byproduct of Hill either being unavailable or not properly stretched out by then. But Hill's session offered encouragement, even though the extent to which he can help remains hazy.
Roberts didn't notice Hill compensating for his troublesome elbow or knee.
"He was letting it go," Roberts said. "We don't have any information as far as pitch characteristics, but as far as swings, the fastball was coming out well and the breaking ball had the right shape."
Alonso slugs 50th, now 2 away from Judge's mark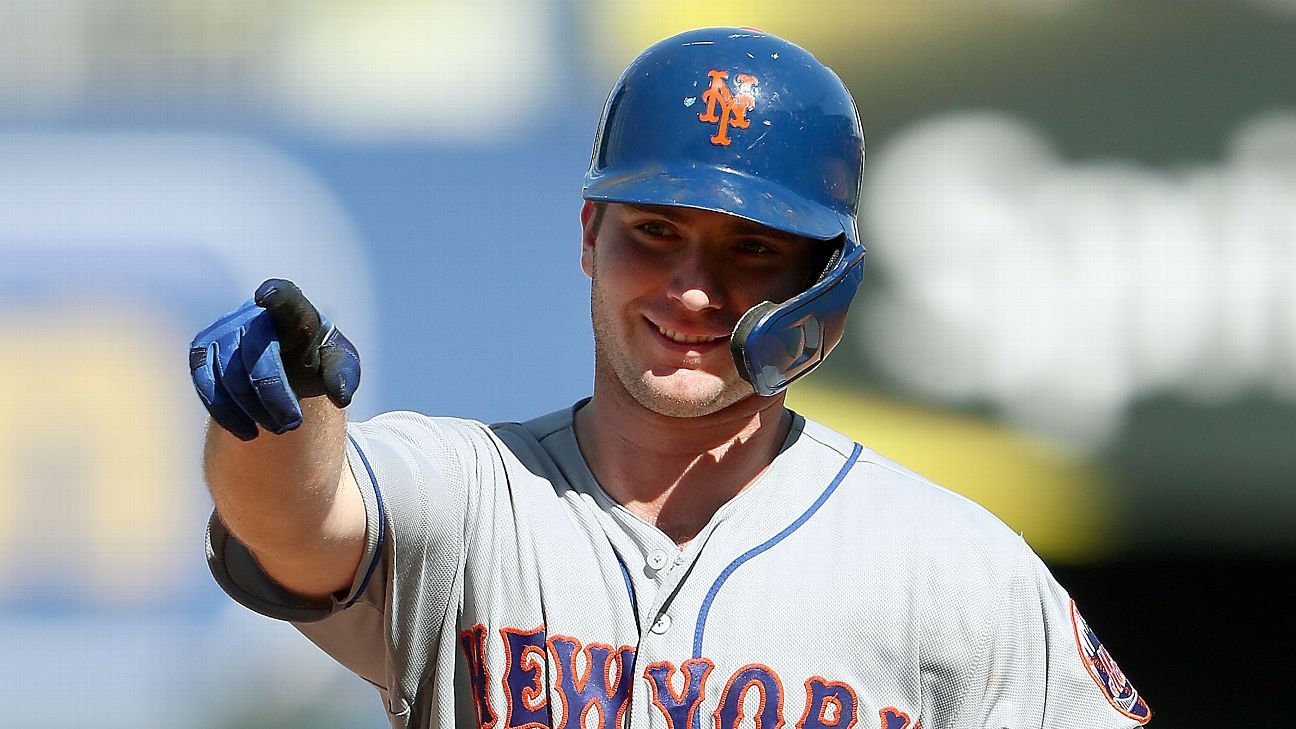 Another night, another powerful statement from Pete Alonso.
The rookie New York Mets slugger on Friday hit his 50th home run of the season, sending a towering two-run shot to deep right-center field to help send the Mets to an 8-1 win against the Reds in Cincinnati.
Alonso continues to chase the rookie home run record. New York Yankees slugger Aaron Juge set it with 52 in 2017, but Alonso is now just two away from tying him, with the remainder of Friday's game and then nine full contests still to go after that.
Reds reliever Sal Romano was the victim Friday, as he watched Alonso crush a 96 mph fastball some 437 feet at Great American Ball Park. It was Alonso's 34th home run of at least 400 feet; the only other players with more than 30 such homers this year are the Los Angeles Angels' Mike Trout (32) and Kansas City Royals' Jorge Soler (31).
At 24 years, 287 days, Alonso is the third-youngest player to hit 50 in a season. Only Prince Fielder (23 years, 139 days) and Willie Mays (24, 137) were younger.
Alonso became the 30th player in major league history to have at least one season with 50-plus homers. The last non-rookie to hit 50 home runs in a season for New York's teams was Alex Rodriguez, who had 54 en route to winning American League MVP in 2007.
It's been a record-setting season already for Alonso. He set the National League rookie home run mark with his 40th more than a month ago. The following week, he set the Mets' franchise home run record with his 42nd.
The Mets are the 21st franchise with a 50-HR hitter and the 12th in the NL. The only NL franchises without one are the Rockies, Dodgers and Nationals.
ESPN Stats & Information contributed to this report.