Gerald McCoy says Warren Sapp 'was' like family before comments – Carolina Panthers Blog
CHARLOTTE, N.C. — Gerald McCoy insists he's over the Tampa Bay Buccaneers giving his No. 93 to Ndamukong Suh a week after he signed with the Carolina Panthers, but his relationship with Hall of Famer Warren Sapp regarding comments about the issue might need some repair.
"Warren Sapp was looked at as my family," McCoy said on Tuesday in preparation of Thursday night's game against his former team at Bank of America Stadium. "I considered him my family. He'd been at my house, met all my family, Facetimed the little ones.
"So, yeah, I considered him my family. He was my mentor at first, and then became my family."
McCoy used the past tense when describing his relationship with Sapp, a seven-time Pro Bowl defensive tackle while with Tampa Bay from 1995-2003.
Asked if Sapp's comments hurt, McCoy shrugged his shoulders.
He did the same thing when asked if he and Sapp had cleared the air.
Sapp blasted McCoy last month after the six-time Pro Bowl defensive tackle indicated the Bucs should have taken his number out of circulation the way they had with Lee Roy Selmon, Derrick Brooks, John Lynch and Ronde Barber.
His reasoning? McCoy never led the Bucs to the playoffs or won a Super Bowl, as Sapp did at the end of the 2002 season.
"He didn't have no chips in his game," Sapp told PewterReport.com in August. "No Defensive Player of the Year — that's what Brooks and that's what Lee Roy Selmon did. Lynch got his name in two damn Ring of Honors. What am I missing here, Gerald? You're talking about something silly. Come on, man — stop. If you're mad, you're mad, but don't put it on the organization that the organization did it. Every NFL team has to move on.
"He's a damn good player. A damn good player. But not even close [to a legend]. You damn sure don't get legendary status or tell somebody to put your jersey up if you don't take 'em to playoff games [laughs] … Not one playoff game. Not even a wild card. I went to nine. We went 5-4."
When asked what his legacy at Tampa Bay was going to be, McCoy said, "I don't know. Ask Warren Sapp. … It's a great question."
As far as facing the Bucs for the first time since signing a one-year deal at Carolina worth $8 million — with a chance to reach $10.25 million with incentives — McCoy insisted it was just another game.
He also said he wished the game was in Tampa Bay so fans could boo him. He won't get that opportunity because the second meeting between these teams in October is being played in London.
As for Suh wearing No. 93, McCoy seems fine with that.
"At first, it bothered me," he said. "I can admit that. The more I think about it, I'm moving on. I still wear my own number [with Carolina]."
And when he retires, McCoy said, he'll retire with No. 93 as a member of the Bucs.
"I'm gonna retire a Buc," McCoy said. "What do they do? One-day contracts? I'm gonna retire a Buc. I've already talked to the owners. We've already established that."
Chargers' Derek Watt creates own path, faces older brother J.J. Watt – Los Angeles Chargers Blog
COSTA MESA, Calif. — Derek Watt might be the Watt brother you've never heard of, but he was the most celebrated as a high school player.
Watt, a fullback for Los Angeles Chargers, is the younger brother of J.J., who plays for the Houston Texans and the older brother of T.J., who plays for the Pittsburgh Steelers. Derek totaled 2,685 rushing yards and 44 touchdowns during his prep career. He also served as the team's kicker and punter, earning Wisconsin Player of the Year and USA Today All-America honors his final season at Pewaukee High School.
"They both say that I was one of, if not, the best high school football players they've ever seen," Watt said.
Of course, fast forward and Derek's football acumen has been eclipsed by the accomplishments of J.J. and T.J. Watt.
J.J. is one of the best players in the NFL, a perennial All-Pro defensive lineman and three-time defensive MVP. T.J., in his third NFL season with the Pittsburgh Steelers, is no slouch either, earning a Pro Bowl invitation as a pass rusher in 2018.
Both J.J. and T.J. were first-round selections; Derek was picked in the sixth round of the 2016 draft.
Derek says he and his brothers fantasized about making it to the NFL while playing football in their backyard. They pretended to play for their favorite team, the Green Bay Packers.
"We just continued to work and work, and finally we've all achieved the dream of getting to the NFL," Derek said. "And now it's just what our story is in the NFL, and how far it can go."
Derek will get an opportunity to play against older brother J.J. for the first time on Sunday (4:25 p.m. ET, CBS). J.J. was nursing a back injury when the Chargers defeated the Texans in Houston three years ago.
The two never shared a football field on an organized team. J.J. was already on his way to college when Derek started high school football at Pewaukee. And by the time Derek arrived at Wisconsin, older brother J.J. declared early for the NFL draft.
• Belichick's notable swaps with every team
• Speeding up Baker key to Browns' offense
• Can Rosen change Dolphins' minds?
• Shurmur at ease with Jones decision
• Can Cam Newton regain his 2011 form?
• Biggest Week 3 injury questions for 32 teams
"He Facetimed me yesterday (Monday) mainly to see my son," said Derek about his older brother, who enjoys spending time with 7-month-old Logan. "He wanted to see his nephew because he's starting to crawl now, so he wanted to see him. But he also was asking what the game plan was looking like this week and that type of stuff, and I'm not giving much away there. He's definitely trying to start the small talk there."
Derek is 2-0 against his brothers in the NFL. Along with beating the Texans three years ago, Derek faced off against T.J. last year in Pittsburgh, a 33-30 win by the Chargers.
The middle brother, Derek is two years older than T.J. and four years younger than J.J. Derek and T.J. played together in high school and at Wisconsin. Derek said he only played a couple snaps on offense last year, so he didn't knock heads with his younger brother often.
The three brothers remain close, communicating daily through group texts. Their parents, mother Connie and father John, will attend the game on Sunday.
"It's very surreal," J.J. said. "Even just being at a meeting and seeing him on the scouting report and flipping on the film and — it's just like any other week, you're watching film but then all of the sudden it's your brother on the film instead of just a fullback.
"It's very cool. I'm not going to try and act like it's not exciting or anything. It's awesome. I mean, we literally played football in the backyard, in the front yard, dreamed about playing the NFL. So, this is going to be very special."
While overshadowed by his talented, pass-rushing brothers, Derek has developed into a good player in his own right at the dying breed of the fullback position.
"As a fullback you're more of an adjuster than anything sometimes," Derek said. "The defense might do something you weren't expecting, and so you've got to make sure that you can still get to your guy and adjust off that. A guy might come free off his block and you've got to put him back on his guy, or just pick up somebody you weren't expecting to block."
Derek was never fit as a pass-rusher, as T.J. said Derek's destiny was to be in the scrum.
"They tried him out (at fullback at Wisconsin) in fall camp and it ended up working out in his favor," T.J. said. "He was more an inside linebacker. He's not an edge guy. He was good in high school. He had a lot of tackles and had a lot of scholarships to play linebacker, so he was no slouch on defense. He's a plugger, just like he is a fullback. He'd be a run-stopping guy."
Now Derek serves as the eyes and ears for current tailback Austin Ekeler, one of his good friends. Ekeler attended Watt's wedding to wife Gabriella last year, and relies on Watt reading the defense on runs when he's in the game.
"It's a grind out here, especially on the practice field," Ekeler said. "So just having a friend out there with you makes you relax. We take a little pressure off each other because you have someone to talk to, put your mind at ease."
Derek is also tied for the team in special teams tackles with Isaac Rochell.
"The best way to describe him is that he's just a football player," quarterback Philip Rivers said about Derek. "He can catch it well, he blocks, he's smart. He just kind of can do a little bit of everything."
Trader Bill – Belichick's most notable swaps with every NFL team
FOXBOROUGH, Mass. — Bill Belichick loves to trade. He has made 167 deals since becoming coach of the New England Patriots in 2000.
Last week's trade that sent receiver Demaryius Thomas to the New York Jets completed the circle for him, as the Jets had been the only team with which the Patriots hadn't struck a deal during Belichick's tenure.
"There was a certain period of time when there's no way this transaction would've happened," Belichick acknowledged, perhaps thinking back to the days when former Patriots assistant Eric Mangini was leading the Jets, or even Belichick's early tenure in New England after abruptly resigning from the Jets.
Even current Jets coach Adam Gase said he wasn't sure how an exploratory call from general manager Joe Douglas to the Patriots might be received.
"When [Antonio Brown] got there, we were kind of in a situation where if we could find someone that had knowledge of this system that could help us — and obviously Demaryius does — we were trying to figure out 'How could we go about this?' To Joe's credit, he was like, 'I'm just going to call them. The worst they could say is no.' When they said 'let's talk,' those guys worked it out."
Now that Belichick has officially struck a trade with every team — and with the Patriots hosting the Jets on Sunday (1 p.m. ET, CBS) — here is one view of the most notable swaps he has made with each team:
AFC East
Buffalo Bills: An easy choice, given how shocking it was he would send quarterback Drew Bledsoe to Buffalo on April 21, 2002, for a first-round draft choice the following season.
Miami Dolphins: The Patriots couldn't cover slot receiver Wes Welker, so they decided to send second- and seventh-round picks to Miami on March 5, 2007, to acquire him. Some thought they paid too much at the time. It turned out to be a bargain.
New York Jets: Only one to choose from — Demaryius Thomas for a sixth-rounder in 2021.
AFC North
Cincinnati Bengals: After New England shipped a second-round pick to Cincinnati for running back Corey Dillon on April 19, 2004, the hard-charging Dillon rewarded the Patriots with a single-season franchise-record 1,635 rushing yards.
Cleveland Browns: Cornerback Jason McCourty was going to be released by Cleveland, but the Patriots traded for him at the last minute on March 15, 2018, to ensure they wouldn't have competition for his services. They gave up a sixth-rounder to get McCourty and a seventh-rounder, which was a shrewd move.
Baltimore Ravens: A draft-day swap in 2003 in which the Patriots landed Baltimore's first-round pick the following year — and turned it into nose tackle Vince Wilfork — was a master stroke.
Pittsburgh Steelers: The third-ever trade made by Belichick, on April 21, 2001, was with the rival Steelers to move down in the second round (from 39 to 50) while picking up a fourth-round pick. The Patriots then wound up using the 50th pick as a chip, along with a sixth-rounder, to move up two spots to select left tackle Matt Light. It was a preview of how Belichick would wheel and deal on draft day.
AFC South
Indianapolis Colts: Trading quarterback Jacoby Brissett for receiver Phillip Dorsett on Sept. 2, 2017, has been a win-win for both teams.
Jacksonville Jaguars: On April 26, 2009, the Patriots acquired a seventh-round pick and a 2010 second-rounder in exchange for a 2009 third-round pick. Considering the seventh-rounder turned out to be Julian Edelman, that's good business. They then used the second-rounder as a chip to move up and draft tight end Rob Gronkowski. Bonanza!
Houston Texans: Ryan Mallett, thought by some media analysts to be a potential starting-caliber quarterback at the time, was dealt for the paltry price of a seventh-round pick on Aug. 31, 2014.
Tennessee Titans: Landing linebacker Akeem Ayers and a seventh-round pick on Oct. 22, 2014, while giving up only a sixth-rounder, brought in an athletic playmaker who contributed to the team's Super Bowl championship that year.
AFC West
Denver Broncos: Shipping running back Laurence Maroney to Denver for a fourth-round pick on Sept. 14, 2010, was a coup because BenJarvus Green-Ellis had taken over the lead rushing duties. A draft-day trade in 2012 to move up in the first round to land linebacker Dont'a Hightower also rates highly.
Los Angeles Chargers: With only two trades to choose from, a 2008 draft-day deal gets the nod, as the Patriots shipped an '08 third-rounder and received an '09 second-rounder and an '08 fifth-rounder. The fifth-rounder was part of a deal to draft special-teams ace Matthew Slater, who has been a pillar in the locker room, and on the field, ever since.
Kansas City Chiefs: Having placed the franchise tag on quarterback Matt Cassel, the Patriots felt they received good value for him by shipping him and Mike Vrabel to Kansas City on Feb. 28, 2009, for a second-round pick (34th overall) that turned into safety Patrick Chung. But the Patriots missed Vrabel's leadership that season.
Oakland Raiders: Trading a fourth-round pick to acquire receiver Randy Moss on April 29, 2007, was a stroke of genius, as Moss revived his career in New England and totaled an NFL-record 23 touchdown receptions.
NFC East
Dallas Cowboys: A 2010 draft-day trade, in which the Patriots moved down from 24 to 27 in the first round, resulted in the pick of safety Devin McCourty. He's been a nine-time captain.
Philadelphia Eagles: After losing Trey Flowers in free agency, the Patriots struck a deal for veteran Michael Bennett and a seventh-round pick on March 14, 2019, giving up only a fifth-rounder in return.
New York Giants: Just one minor 2009 trade on the résumé — a conditional pick for tight end Michael Matthews, who never emerged.
Washington Redskins: Big things were projected when the team acquired defensive tackle Albert Haynesworth for a fifth-round pick on July 29, 2011, but Haynesworth lasted six games.
NFC North
Chicago Bears: In need of a big-bodied nose tackle, the Patriots shopped a fourth-round pick to Chicago for Ted Washington on Aug. 19, 2003, and Washington was a rock in the middle of arguably the best defense in Belichick's tenure. Close behind would be the 2016 trade for tight end Martellus Bennett that involved a draft-pick swap.
Detroit Lions: Getting linebacker Kyle Van Noy and a seventh-round pick on Oct. 25, 2016, in exchange for a sixth-rounder, has been a steal. Van Noy has been a key cog on two Super Bowl championship teams.
Green Bay Packers: Trading wide receiver Terry Glenn to Green Bay on March 8, 2002, in exchange for a fourth-round pick, ended Glenn's headline-filled tenure in New England after he had arrived as a first-round pick in 1996.
Minnesota Vikings: When Randy Moss became a distraction, he was quickly shipped to Minnesota along with a seventh-round pick, in exchange for a third-rounder (Oct. 6, 2010). That was good value considering the situation in New England seemed close to an implosion. A 2013 draft-day trade — in which the Patriots traded their first-round pick (No. 29) in exchange for second-, third-, fourth- and seventh-round picks was a rare 4-for-1 swap (linebacker Jamie Collins Sr. and cornerback Logan Ryan were two of the picks).
NFC South
Tampa Bay Buccaneers: While landing cornerback Aqib Talib for a 2013 fourth-round pick on Nov. 1, 2012, might have a strong case as the top choice, it was the acquisition of running back LeGarrette Blount — in exchange for running back Jeff Demps and a seventh-round pick on April 27, 2013 — that paid more championship dividends.
Atlanta Falcons: On Aug. 31, 2018, the Patriots traded safety Jordan Richards for a conditional seventh-round pick. The conditions were met and the Patriots now have the Falcons' seventh-round pick in 2020.
Carolina Panthers: One of Belichick's trademark moves is trading into the next year's draft to improve his positioning, which he did on April 24, 2010, by shipping a 2010 third-round pick (89th overall) to Carolina for a 2011 second-rounder. The second-round pick ended up being the second pick of the round (33rd overall), a jump of 56 spots for waiting a year. The only problem? The Patriots didn't hit on the pick, selecting cornerback Ras-I Dowling, who never panned out.
New Orleans Saints: Landing defensive tackle Akiem Hicks for tight end Michael Hoomanawanui on Oct. 1, 2015, helped revive Hicks' career, as he's now a force in Chicago.
NFC West
Arizona Cardinals: It was a shocker when the Patriots dealt defensive end Chandler Jones to Arizona on March 15, 2016, getting two draft picks in return that they turned into guard Joe Thuney and receiver Malcolm Mitchell.
San Francisco 49ers: Shipping a 2007 first-round pick (28th overall) to San Francisco for a 2008 first-rounder and 2007 fourth-rounder was a double whammy because the Patriots turned the first-rounder into linebacker Jerod Mayo and traded the fourth-round pick for Moss. But the 49ers did well, too, using the 28th overall pick on offensive tackle Joe Staley. And, of course, there has to be a mention of the shocking trade of quarterback Jimmy Garoppolo for a second-round pick on Oct. 30, 2017, and the acquisition of offensive tackle Trent Brown and a fifth-rounder in exchange for a third-rounder on April 27, 2018.
Los Angeles Rams: It was a "wow" move on April 4, 2018, when the Patriots traded receiver Brandin Cooks for a 2018 first-round pick. The club used the selection on Georgia offensive lineman Isaiah Wynn.
Seattle Seahawks: Deion Branch, twice. It was notable when Branch's holdout in 2006 led to him ultimately being traded to Seattle for a first-round pick on Sept. 11 that year … and then the Patriots traded for Branch on Oct. 12, 2010, when they needed an in-season boost at receiver.
Jets' roster vs. Patriots: 13-132 — and 'hatred' grows with each loss – New York Jets Blog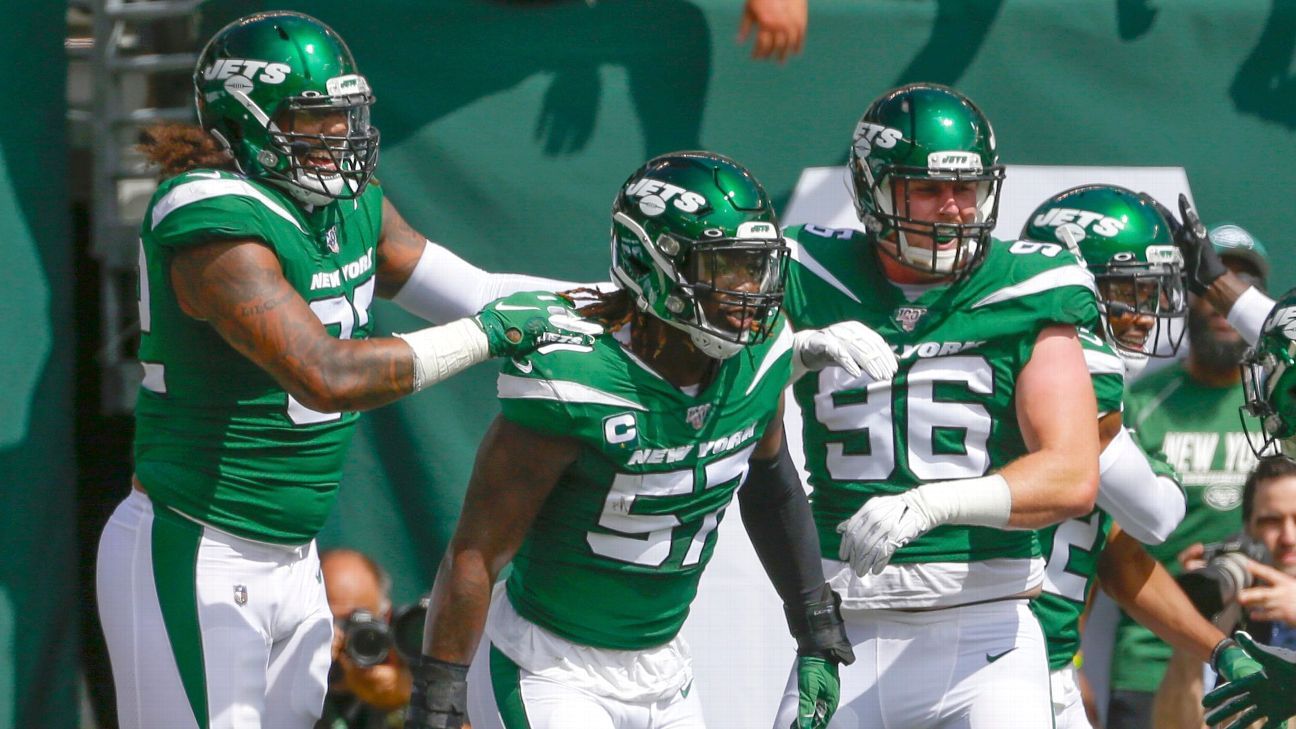 FLORHAM PARK, N.J. — It's an annual tradition. Each autumn, people flock to the New England region to see the colorful foliage. Leaves aren't the only things that fall up there. So do the New York Jets.
The Jets have dropped 10 consecutive regular-season games in the House of Hoodie, a decade of frustration interrupted by one shining moment — their memorable victory over the New England Patriots in the 2010 AFC divisional playoffs. "Can't Wait!" — Bart Scott's celebrated postgame rant — has turned into "Can't Win!"
"It makes your hatred for them a little bit more because it's so one-sided, and you really want to beat them," Leonard Williams said Thursday. "It's really annoying when I think about it."
The Jets' roster is filled with players, young and old, who have suffered Patriots-induced misery throughout their careers. A total of 37 players on the 53-man roster have played at least one game against New England (home or away), either with the Jets or another team. Their aggregate record in those games is 13-132, according to Pro-Football-Reference.com.
Overall, the Jets have lost 14 of their past 16 to the Patriots. Only four players have defeated the Patriots in a Jets uniform — Williams (1-7), Brian Winters (2-6), Bilal Powell (2-7) and Rontez Miles (1-6). Players such as Robby Anderson, Jordan Jenkins, Darryl Roberts and Brandon Shell — all 0-6 — don't know what it's like to defeat a Bill Belichick-coached team.
The Jets (0-2) will try to break the trend on Sunday at 1 p.m. ET (CBS), but it will take an upset for the ages. As of Friday morning, the Jets are listed as a 22-point underdog, the league's largest point spread in six years.
"It's been tough," Anderson said. "Usually, when we play them, it's late in the year. Our hopes are down and we know we're not going to the playoffs, so collectively the players on the team in the past, they were already clocked out. This year is a little bit different. We have the whole year ahead of us. It's early in the year and we're a little more fresh. I'm just itching to get that win."
The past three trips to Gillette Stadium were humiliating, as the Jets were outscored 105-12 — four field goals, no touchdowns. Other than an overtime victory at home in December 2015 — remember Eric Decker's catch in the corner of the end zone? — they have been no match for the six-time Super Bowl champions. The Jets haven't posed a consistent challenge since the early days of the Rex Ryan era — he won three of his first five against the Patriots, including the playoff game.
"Your mentality is, you have to go in there like you're in a fistfight," Ryan said. "That has to be your mentality. I used to tell our guys, 'Don't take any crap off those guys. None. I don't care what that means. By any means necessary.'"
Ryan hated the Patriots' demeanor.
"You know what ticked me off is they thought they were better than you, better than us, not just as a team, but they thought they were doing something special, they were a better organization," Ryan said. "That pissed me off, man. The Patriot Way. I was like, the Jet Way is to beat the hell out of you."
Ryan's successor, Todd Bowles, went 1-7 against the Patriots. Now it's Adam Gase's turn. When he met with the players for the first time in April, he told them he took the job, in part, because of his desire to dethrone the Patriots. As the Miami Dolphins' coach, he defeated Belichick in two of six meetings, so at least he's had a taste of victory.
"I mean, you're talking about a coach that's basically one of the innovators of defensive football," Gase said of Belichick.
Ryan experienced some success because he had "a bunch of guys like me, that wanted to kick their ass." It'll be interesting to see if Gase's team brings that junkyard-dog mentality to the game. Because of injuries and suspensions, the Jets will be down as many as seven starters, including quarterback Sam Darnold. Third-stringer Luke Falk, elevated last week from the practice squad, will make his first NFL start.
It looks bleak, but this will test the Jets' resilience. Gase wants to build a team that can overcome adversity. Sunday could provide more than he would like.
"It's never about talent, it's about executing damn near perfectly against them," said Miles, trying to describe the secret sauce. "They're not a team that's going to beat you with talent and speed. They're stacked this year — they have a good roster — but even in the past, they weren't a more talented roster [compared] to us, but they played sound football."
Steve McLendon (1-8) said, "We can't make any mistakes. Zero. We almost have to play perfect."
Even when the games are close, the Jets usually find a way to lose. When the pressure is on, the Patriots excel. No one knows that better than Brian Poole and John Franklin-Myers, both of whom lost to New England in tight Super Bowls. Poole played for the Atlanta Falcons, Franklin-Myers for the Los Angeles Rams.
"Yeah, it hurt for a while," Franklin-Myers said, looking back at last season's Super Bowl. "But getting a chance to come to this division, I get a chance to play them twice a year. It kind of lights that fire. Now I'm looking forward to playing them because I get that chance at revenge."
If the Jets make this about redemption, they'll be paying back for eternity.