Brewers face key test — Keeping playoff hopes alive without Yelich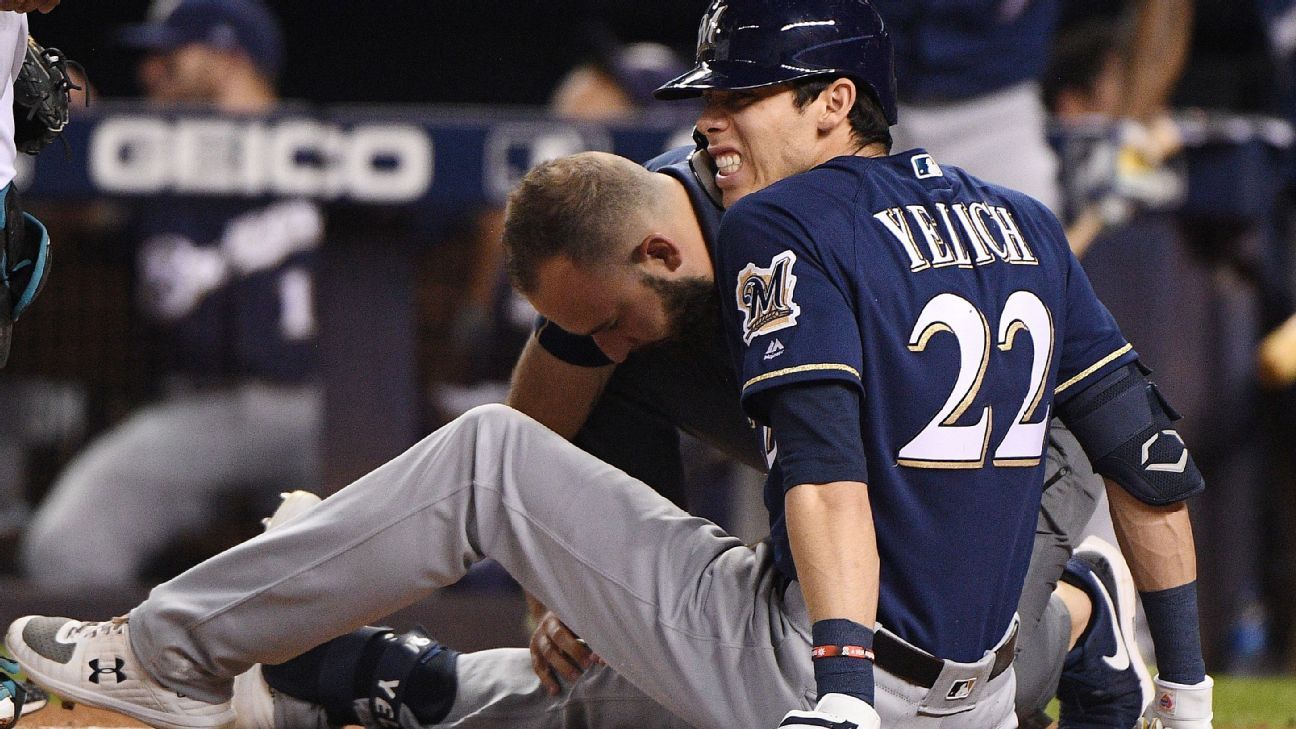 Terrible news from Miami, where the Milwaukee Brewers beat the Miami Marlins 4-3, but announced after the game that Christian Yelich will miss the rest of the season after breaking a kneecap on a foul ball in the first inning. The freak injury came on a 1-1 slider from Elieser Hernandez that Yelich fouled off the top of his right knee. He crumpled to the ground and lay there for a couple minutes before walking off under his own power, but grimacing in pain as he retreated into the clubhouse.
It's a devastating injury for the Brewers, who lose not just their best player, but a player who had a chance to win his second consecutive National League MVP award, as Yelich's season ends with him batting .329/.429/.671 with 44 home runs and 30 stolen bases. His combination of hitting with power, hitting for average and thievery on the bases has made him one of the most exciting players in the sport the past two seasons, an obvious fan favorite in Milwaukee but also one of the faces of the game as a superstar slugger.
The Brewers began the night two games back of the Chicago Cubs for the second wild-card berth and pushed across the winning run in the top of the ninth. Trent Grisham, Yelich's replacement in the lineup, contributed a key double. With closer Josh Hader unavailable, Drew Pomeranz worked around two hits in the bottom of the ninth for his first save.
General manager David Stearns commented after the game on the crushing loss:
David Stearns with the news that Christian Yelich has suffered a fractured right kneecap: pic.twitter.com/HxMVzccDxJ

— Todd Rosiak (@Todd_Rosiak) September 11, 2019
Lorenzo Cain also commented on losing his outfield mate:
Lorenzo Cain said Christian Yelich had tears in his eyes after learning his kneecap was broken, understandably so: pic.twitter.com/MO6dyvsYOk

— Todd Rosiak (@Todd_Rosiak) September 11, 2019
The Brewers are already playing with an injury-riddled lineup. Standout rookie second baseman Keston Hiura, second on the team in OPS, has been out since Aug. 30 with a hamstring strain. Mike Moustakas, who pinch-hit on Tuesday, has had just seven plate appearances since Aug. 26 due to a wrist injury. Cain (knee) and Ryan Braun (back) have been playing through injuries.
Somehow, the Brewers have nevertheless won five in a row — including the final three games of a four-game series against the Cubs — and eight of their past 10. There's not much solace here, but Yelich has missed time this year with recurring back problems and the Brewers are 10-7 when he doesn't start (11-7 if you count Tuesday's win). The Brewers also have the easiest remaining schedule of the NL playoff contenders as they have only one series remaining against a playoff contender (this weekend at St. Louis). They have two more games in Miami and, after the Cardinals series, finish up with the Padres, Pirates, Reds and Rockies.
Still, a makeshift lineup will now be even more makeshift. Travis Shaw started at third base on Tuesday and he's hitting .151. Cory Spangenberg started at second and he has a .273 OBP. Hernan Perez played shortstop and he has a .276 OBP. Cain is hitting just .253/.321/.353. Without their MVP candidate, and minus Hiura and Moustakas, you have to wonder where the runs will come from. At least the Brewers have some depth in the outfield with Grisham — who has hit .263/.324/.455 in 33 games — and Ben Gamel, but they're not going to come close to Yelich's production.
This Brewers team has found a way to overcome adversity, however. Last year, they won their final seven games and nine of their final 10 to force a tie with the Cubs for the NL Central title and then beat the Cubs in the tiebreaker game. This year, they've had to overcome the struggles and injuries in the rotation. Jhoulys Chacin, who started that tiebreaker game a year ago, went from staff ace to getting released in late August with a 5.79 ERA. Brandon Woodruff, their best starter this season, has been out since July 21 with an oblique injury. Corbin Burnes was supposed to be a key part of the rotation, but he's 1-5 with a 9.00 ERA. Then there's reliever Jeremy Jeffress, an All-Star last season who was recently cut loose as well.
Somehow the Brewers have fought through all of this and remained in the playoff race. They're going to need Grisham or Braun or Eric Thames to get on a roll. They need Moustakas back ASAP. Manager Craig Counsell showed restraint in not using Hader on Tuesday after he had pitched Saturday and Sunday against the Cubs, but he's probably going to have ride the dominant lefty a little harder these final two-plus weeks.
On paper, the Brewers have little chance. They've been outscored on the season, their best player is down, they have ground to make up and precious little time left. But don't count them out:
The mood in the #Brewers clubhouse was predictably muted. But that didn't stop a number of players from cheering a Cubs throwing error that allowed the Padres to take a 4-2 lead in San Diego with the game playing on the TVs.

— Todd Rosiak (@Todd_Rosiak) September 11, 2019
As they say, in baseball, anything can happen.
Nationals manager Martinez returning to dugout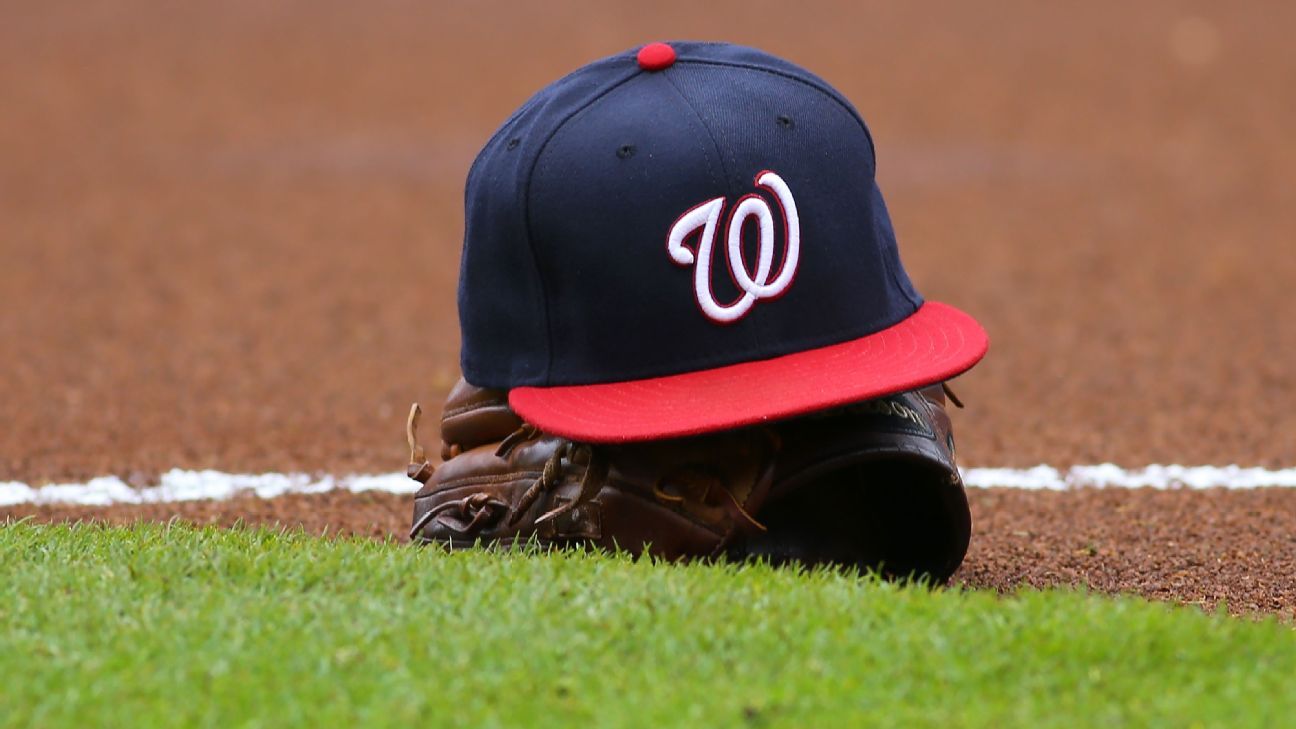 Washington Nationals manager Dave Martinez will be back in the dugout Friday after missing three games following a heart procedure on Monday, the team announced.
Martinez, 54, had a minor cardiac catheterization in Washington after experiencing chest pains during Sunday's home game against the Atlanta Braves. He left in the sixth inning and was taken to a hospital.
Bench coach Chip Hale managed the team during Martinez's absence, with the Nationals winning one of three games in a series with the St. Louis Cardinals.
The Nationals have a 1-game lead over the Milwaukee Brewers for the top wild-card spot in the National League.
The Nationals open a three-series with the Marlins in Miami on Friday.
Sources — Yanks' German won't pitch again in '19
Right-hander Domingo German will not pitch for the New York Yankees again in 2019 following his placement on administrative leave under the joint MLB-MLBPA domestic violence policy, sources told ESPN's Buster Olney on Friday.
German had been placed on administrative leave Thursday following an incident that Major League Baseball learned about Tuesday morning, sources previously told ESPN's Jeff Passan. Despite the lack of a police report detailing the incident, MLB and the players' union agreed the allegations against German warranted placing him on leave amid an investigation, sources said.
Under the joint domestic violence policy, a player can be put on administrative leave for up to seven days, barring a mutually agreed-upon extension between the league and union.
While the case is not settled administratively, sources told Olney that German will miss both the rest of the regular season and the postseason. The Yankees clinched the American League East with a victory over the Los Angeles Angels on Thursday night.
German, who is 18-4 with a 4.03 ERA and 153 strikeouts in 143 innings, had been by far the Yankees' most reliable starter and had helped mitigate the struggles of veterans in the rotation.
Manager Aaron Boone recently said he expected German to be a big part of the team's postseason plans, but Boone said Thursday that the team needed to prepare for the postseason as if German wouldn't be available.
"This is something that, baseball aside, this is a bigger issue, obviously," Boone said. "When you hear the words 'domestic violence,' it's one of those things that stops you in your tracks. I give Major League Baseball and the players' association credit for doing their part in, several years ago, trying to be ahead of this and putting disciplinary action in place, hopefully being part of the solution to what is a problem in our society."
Information from ESPN's Jeff Passan and Marly Rivera and The Associated Press was used in this report.
Blockbuster matchups will rock the playoff races
There are only 10 days left in MLB's regular season, but five playoff spots are still up for grabs. As the hunt for October comes down to a few huge late-season series, we're about to find out who's in and who's out.
Here's what we'll be watching this weekend:
There's still a lot to be decided in the NL playoff chase, with Cardinals-Cubs the big matchup, and Pirates-Brewers and Nats-Marlins also impactful series. Among the four teams fighting for three spots (NL Central, two wild cards), what single factor will have the biggest role in determining who's in and who's out?
Eddie Matz: Washington's schedule. The Cards, Cubs and Brewers all play six games during the final week of the season. Meanwhile, thanks to having no off day and playing a makeup doubleheader, the Nationals are slated for eight games over the final seven days. That'd be tough sledding for any club, but especially so for the Nats, whose bullpen has about as much depth as a kiddie pool. It doesn't help that Washington's competition next week (the Phillies and Indians) is the toughest among this quartet of contenders. If the Nats manage to hang on and make it to the wild-card game, they certainly will have earned it. (But I don't think they're going to earn it.)
Sam Miller: The Brewers' bullpen. The other three teams in the race all have relatively traditional workhorse rotations — each has four starters who will qualify for the ERA title, and the Brewers have none. Rather, like last year, their September success has come with the congealment of the bullpen, pieces picked up throughout the year, or shuffled into new roles, or simply peaking at the right time. This month has been the Milwaukee bullpen's finest, with season-best walk and strikeout rates and a season-best ERA. That's crucial: The Brewers' rotation is built to go four or five innings per start — only two starters have gone deeper than that this month, only two have thrown as many as 90 pitches, and none has gone seven or thrown 100. Milwaukee showed us last year what a hot bullpen can do in short, urgent bursts, and they're trying to do it again, with an almost all-new cast (plus Josh Hader).
David Schoenfield: I'm going with the Cubs' offense — the one currently playing without Javier Baez and that just got Anthony Rizzo back after that sprained ankle — improbably he was on a scooter Wednesday and started Thursday. I mean, how far can Nico Hoerner carry this team on his back? The Cardinals and Nationals also have a little more margin for error, and the Brewers have the easiest schedule, so the Cubs have their backs up against the wall. They will also end the season with six games on the road — where they are a miserable 31-44 this season. They will also be reminded of how the offense tired down the stretch last year. Good luck, boys.
In the AL, the series to watch are Red Sox-Rays, Rangers-A's and the interleague Phillies-Indians matchup (Sunday Night Baseball, 6:30 p.m. ET, ESPN), with Tampa Bay, Oakland and Cleveland in the running for the two wild-card spots. Same question as above: What is the most important factor in the AL playoff race?
Matz: Healed hurlers. The A's have welcomed back stud left-hander Sean Manaea and top prospect Jesus Luzardo. Reigning Cy Young winner Blake Snell and early season breakout star Tyler Glasnow have returned to the Rays. Meanwhile, the Indians haven't been quite as fortunate, as ace Corey Kluber remains sidelined and fellow right-hander Carlos Carrasco has been limited to six outs or fewer since coming back earlier this month. For a Cleveland team currently on the outside looking in, that's suboptimal.
Miller: Caveat: Sometimes really good teams rest their players as they gear up for their playoff assignment, and sometimes really bad teams are, by September, hot or filled with great call-ups. But the schedule gap between the A's and the Rays is about as wide as Oakland could hope for: The Rangers, Mariners and Angels have a combined winning percentage of .441, and half of their good players are out for the year. Meanwhile, the Red Sox, Yankees and Blue Jays are a combined .535. (Cleveland's opponents: .483.) Again, that's not destiny. But baseball games are zero-sum affairs, and every ounce of quality your opponents have is as significant as whatever ounces you, yourself have. It makes it really unlikely the A's could lose this by any method other than total collapse.
Schoenfield: The A's lead the wild-card race and have that easy schedule, so I think they're in. So I'm looking at the Rays and Indians and point to the Tampa Bay rotation … bullpen. As Eddie said, Snell and Glasnow just returned, but Snell went only two innings and Glasnow has gone two and three. That means Kevin Cash has to get a lot of work from his relievers in games those two start. It's remarkable, really: Charlie Morton has been the only constant in the rotation all season. In the bullpen, keep an eye on Nick Anderson. Since he came over from the Marlins, he has pitched 18 innings, given up nine hits, struck out 35 and issued zero unintentional walks.
The Year of the Home Run continues unabated, with the Twins and Yankees on the verge of reaching 300 each. In five words (no more, no less), sum up your feelings on this season's long-ball binge.
Matz: Triples are way more exciting.
Miller: Eras, not players, break records.
Schoenfield: It was fun at first.
---
PICK 'EM TIME
Setting aside Thursday's opener to the four-game Cardinals-Cubs series, which team will take two of three (or three of three) this weekend at Wrigley?
Matz: The Russell-less, Baez-less and Rizzo-less Cubs have been able to get by recently against mediocre competition. The Cards are far from mediocre these days. Therefore, I'll take them.
Miller: Somebody should mention that the Cubs have been invincible at home this year, though I don't really believe that's likely to persist. Still, even regular, non-invincible home-field advantage is significant, and the Cubs are now past Jack Flaherty in this series and get to skip the resurgent Adam Wainwright. So I'll take them against the three worst FIPs in the Cardinals' rotation, without much conviction.
Schoenfield: The Cubs dig down and take two of three weekend games. Because Nico Hoerner. And because we want a four-way tie between the NL Central teams and the Nationals.
Among the players on the seven teams fighting for a playoff spot (Rays, A's, Indians, Nationals, Cardinals, Cubs and Brewers), who will have the most total bases this weekend?
Matz: Drawing the Pirates for the final stretch of a pennant chase/MVP race is like getting the million-dollar question on "Who Wants To Be A Millionaire" when you have all your lifelines left. And your uncle is a writer on the show. And he just had dinner at your house and told you what the million-dollar question (and answer) was going to be for your upcoming episode. Sadly, Christian Yelich is not an option. So I'll take Keston Hiura.
Miller: Baseball is weird and anything can happen, but drawing the Marlins for the final stretch of a pennant chase/MVP race is like getting a Final Jeopardy category on which you did your doctoral research. I'll take Anthony Rendon.
Schoenfield: Funny thing, Nicholas Castellanos is playing these days like the baseball version of Ken Jennings and James Holzhauer. And speaking of the Daily Double, that's what Castellanos hits every day. He's only four doubles shy of becoming the first player since 1936 to reach 60 doubles.
---
TWO TRUE OUTCOMES
Home run hitters
Matz: Yordan Alvarez
Miller: Eugenio Suarez
Schoenfield: Jorge Soler
Strikeout pitchers
Matz: Yu Darvish
Miller: Shane Bieber
Schoenfield: Lance Lynn for the title