Antonio Brown accused of sexual assault in suit
Antonio Brown has been accused of sexually assaulting his former trainer, according to a lawsuit filed Tuesday in the Southern District of Florida.
In the lawsuit, a copy of which was reviewed by ESPN, Brown's former trainer, Britney Taylor, accuses the New England Patriots receiver of sexually assaulting her on three separate occasions in 2017 and '18.
The first alleged incident came in June 2017, with Taylor saying Brown exposed himself and kissed her without consent. A month later, Taylor alleges in the lawsuit, Brown masturbated near her without her knowledge and ejaculated on her back, then later bragged about it in a series of text messages. And then, in May 2018, Taylor alleges that Brown "forced her down onto a bed, pushed her face into the mattress, and forcibly raped her."
Brown's lawyer, Darren Heitner, said in a statement Tuesday night that the receiver and Taylor were involved in a "consensual personal relationship. Any sexual interaction with Mr. Brown was entirely consensual."
Heitner said they will pursue "all legal remedies to not only clear his name, but to also protect other professional athletes against false accusations."
Taylor was a gymnast at Central Michigan, where Brown attended college. According to the lawsuit, they met in a bible-study group at the school and stayed friends, then fell out of touch for several years before reconnecting in June 2017, with Brown hiring her to assist in his physical training.
The alleged incidents have left Taylor suffering "near-daily panic attacks and suicidal ideations," per the lawsuit.
"As a rape victim of Antonio Brown, deciding to speak out has been an incredibly difficult decision," Taylor said in a statement. "I have found strength in my faith, my family, and from the accounts of other survivors of sexual assault."
Brown, a Miami native, was officially signed by the Patriots on Monday after a weeks-long saga with the Raiders that eventually led to his release. He is scheduled to practice for the first time with New England on Wednesday.
Heitner told ESPN's Michael Eaves that he's "not been in contact with the league regarding this lawsuit."
There was no immediate comment from the Patriots or the NFL.
Titans vs. Jaguars – Game Summary – September 19, 2019
| NFL | 1 | 2 | 3 | 4 | T |
| --- | --- | --- | --- | --- | --- |
| Titans | 0 | 0 | | | 0 |
| Jaguars | 14 | 0 | | | 14 |
first Quarter
TEN
JAX

TD

13:02

James O'Shaughnessy Pass From Gardner Minshew II for 7 Yrds, J.Lambo extra point is GOOD, Center-M.Orzech, Holder-L.Cooke.

1 play, 7 yards, 0:05

0
7

TD

6:36

DJ Chark Pass From Gardner Minshew II for 22 Yrds, J.Lambo extra point is GOOD, Center-M.Orzech, Holder-L.Cooke.

6 plays, 62 yards, 3:32

0
14
Data is currently unavailable.
Sources — Owners propose stiffer holdout penalties
In recent collective bargaining talks with the players' union, some NFL owners have proposed changes that would significantly strengthen the penalties for players who hold out in training camp, sources familiar with the negotiations say.
High-profile running backs Ezekiel Elliott of the Cowboys and Melvin Gordon of the Chargers missed all of training camp this summer over contract disputes with their teams. Elliott got a new deal right before the season, while Gordon continues to stay away. Other players, such as Jaguars defensive lineman Yannick Ngakoue, skipped part of training camp over dissatisfaction with their contracts.
Concerned about future holdouts, some owners would like to increase the penalties for players who hold out. Currently, a team can fine a player up to $40,000 for each day of training camp missed and an amount equivalent to one week of the player's salary for each preseason game missed. It's unclear what specific changes the owners are proposing, but one source called some of the suggested changes "draconian." They could include significant increases in fine amounts or, possibly, changes to contract language that allows teams to void or amend contracts in cases of holdouts.
It appears unlikely the NFLPA would agree to changes that would hamper players' abilities to exercise their leverage in contract disputes without some significant financial concessions from the owners. Those could include changes to the revenue split, the minimum spending floor or, possibly, changes to the league's economic structure that would create more favorable ground for players and agents to negotiate more guarantees in contracts.
The owners and players have not held formal negotiating sessions on a new CBA since August, and there are no sessions currently scheduled. NFLPA executive director DeMaurice Smith is making his annual visits to every team, and those visits are scheduled to run through Oct. 10, after which it's expected that player/owner negotiating sessions will resume.
The current collective bargaining agreement expires after the 2020 season.
Giants WR Shepard cleared to play (concussion)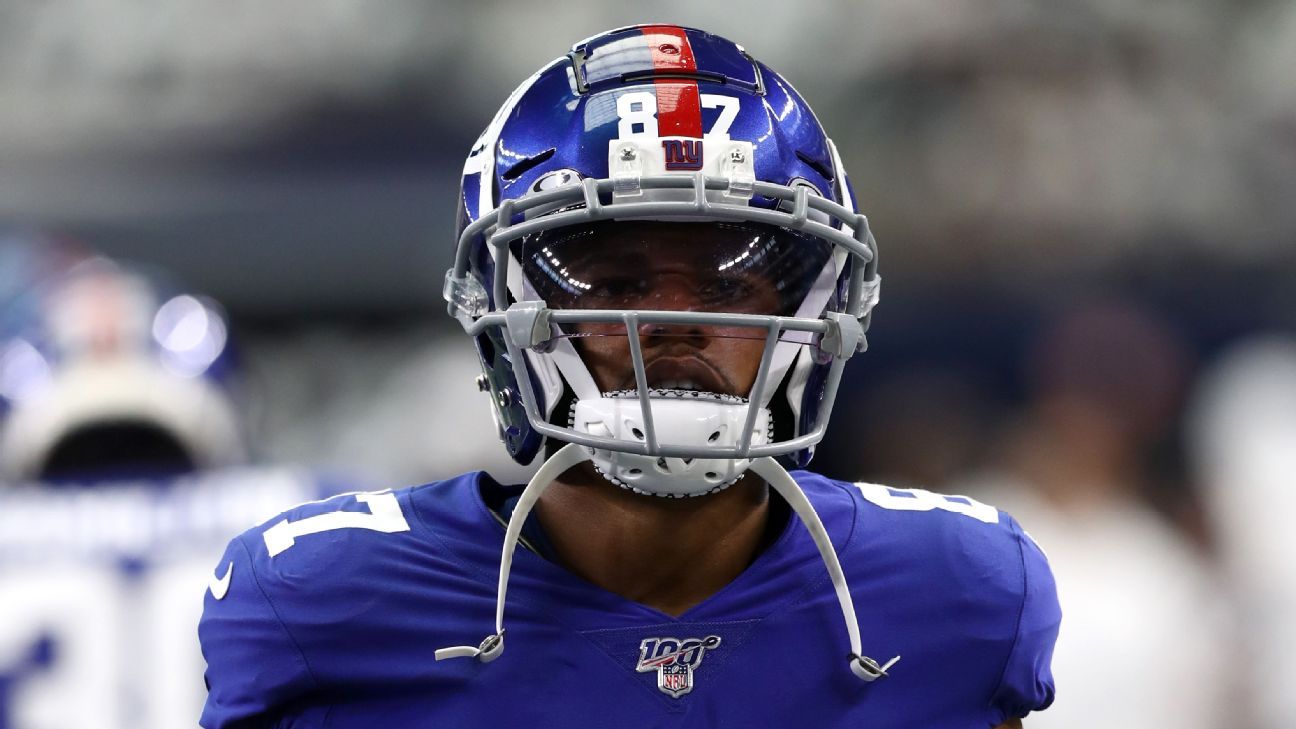 New York Giants receiver Sterling Shepard was cleared from the concussion protocol Thursday and is set to play Sunday at Tampa Bay.
Shepard suffered the concussion in a Week 1 loss to the Dallas Cowboys. He returns just in time for rookie Daniel Jones' first career start against the Buccaneers.
Shepard was listed as a full participant in Thursday's practice.
"He feels good and he had a good day [Wednesday]," coach Pat Shurmur said before Shepard was cleared by an independent neurologist later in the afternoon.
It's welcome news to a Giants receiving corps that hasn't been able to keep players on the field. Cody Latimer is in the concussion protocol, Golden Tate is serving a four-game suspension for violating the NFL's policy on performance-enhancing substances and rookie Darius Slayton has yet to play because of a hamstring injury.
Slayton was listed as a limited participant in Thursday's practice but could return Sunday.
Bennie Fowler, who is second on the Giants with 10 catches this season, didn't practice. He suffered a hamstring injury on Wednesday.
Shepard entered the regular season as the Giants' No. 1 receiver. They signed him to a lucrative contract extension this offseason and were expecting him to help pick up the slack with Odell Beckham Jr. now in Cleveland.
Shepard had six catches for 42 yards in the opener against the Cowboys. He had 66 catches for 872 yards and four touchdowns last season.