Antonio Brown accused of sexual assault in suit
Antonio Brown has been accused of sexually assaulting his former trainer, according to a lawsuit filed Tuesday in the Southern District of Florida.
In the lawsuit, a copy of which was reviewed by ESPN, Brown's former trainer, Britney Taylor, accuses the newly signed New England Patriots receiver of sexually assaulting her on three separate occasions in 2017 and '18.
The first alleged incident came in June 2017, with Taylor saying Brown exposed himself and kissed her without consent at one of his Pittsburgh-area homes. A month later, while at Brown's home in his native Miami, Taylor alleges in the lawsuit, Brown masturbated near her without her knowledge and ejaculated on her back, then later bragged about it in a series of text messages. In May 2018, after a night out at a Miami-area club, Taylor says she went back to Brown's home in Miami to use the bathroom and grab some food, and the receiver "forced her down onto a bed, pushed her face into the mattress, and forcibly raped her."
Brown's lawyer, Darren Heitner, said in a statement Tuesday night that the receiver and Taylor were involved in a "consensual personal relationship. Any sexual interaction with Mr. Brown was entirely consensual."
In a tweet on Tuesday, Heitner said that Brown "will leave no stone unturned and will aggressively defend himself, including all of his rights in countersuits."
Taylor was a gymnast at Central Michigan, where Brown attended college. According to the lawsuit, they met in a Bible study group at the school and stayed friends, then fell out of touch for several years before reconnecting in June 2017, with Brown hiring Taylor to assist in his physical training.
In the lawsuit, Taylor says she believed their relationship was of a "brother-sister" type and acted accordingly.
The alleged incidents have left Taylor suffering "near-daily panic attacks and suicidal ideations," per the lawsuit. She is seeking in excess of $75,000.
"As a rape victim of Antonio Brown, deciding to speak out has been an incredibly difficult decision," Taylor said in a statement. "I have found strength in my faith, my family, and from the accounts of other survivors of sexual assault."
Brown, a seven-time Pro Bowler, spent his first nine NFL seasons with the Steelers before being traded this offseason to the Raiders. After a weeks-long saga with Oakland, he was released Saturday, and he officially signed two days later with the Patriots. He is scheduled to practice with New England for the first time on Wednesday.
There was no immediate comment from the Patriots or the NFL.
Heitner told ESPN's Michael Eaves that he has "not been in contact with the league regarding this lawsuit."
Niners put WR Taylor on IR, add Young to aid OL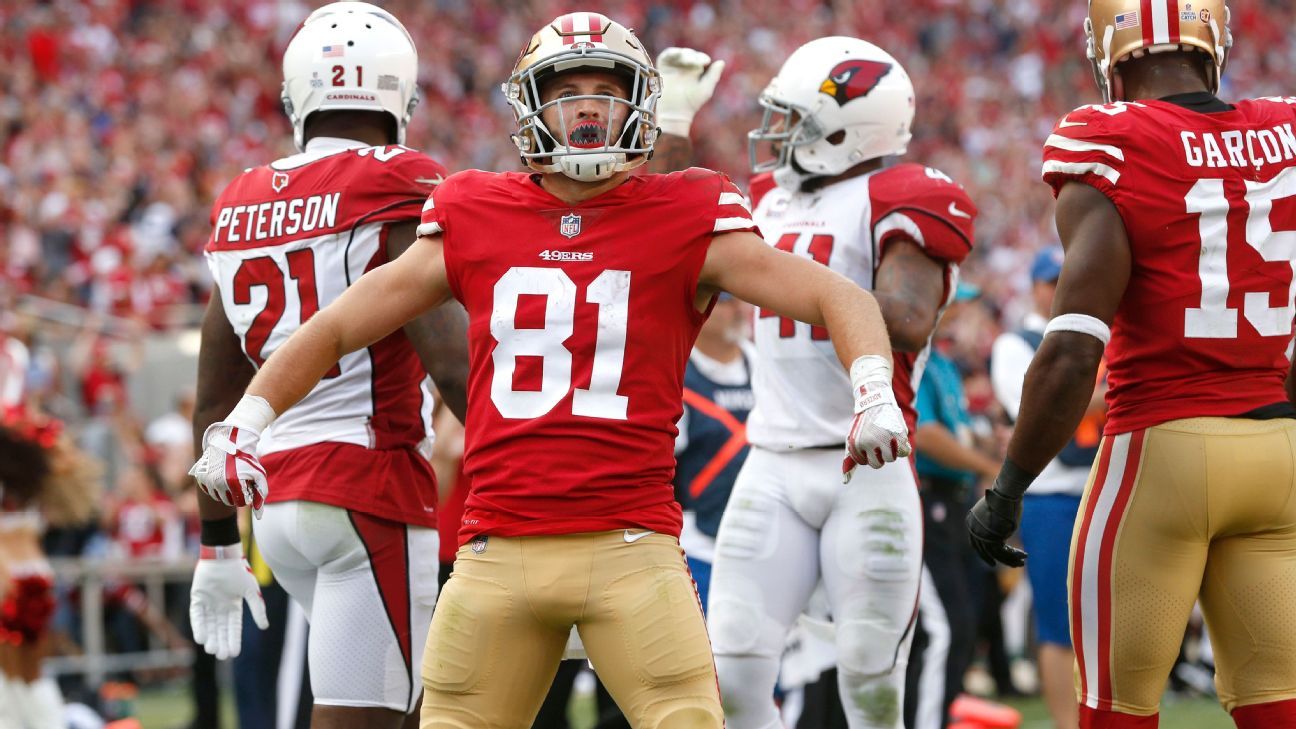 SANTA CLARA, Calif. — With left tackle Joe Staley out for six to eight weeks because of a broken fibula, the San Francisco 49ers added some offensive line depth Friday, signing veteran Sam Young to a one-year deal.
Adding Young came at the surprising expense of wide receiver Trent Taylor, who was placed on the injured reserve list to create a roster spot for Young.
Taylor has been recovering from a Jones fracture, which is a break between the base and the middle part of the fifth metatarsal of the foot that results in pain near the midportion of the outside of the foot, in his right foot since suffering the injury on Aug. 8. He had surgery two days later.
That Taylor has landed on injured reserve comes as a bit of a surprise considering that the team initially expected his recovery to take four to six weeks and as recently as last week coach Kyle Shanahan said that the team was hoping to get Taylor back after next week's bye.
Because he's on injured reserve, Taylor must now miss at least the next eight weeks. Should Taylor be able to recover in that time, he could become one of the team's two players designated to return from injured reserve, though it's not yet clear what his new recovery timetable is. Per league rules, the 49ers do not have to designate Taylor to return now and can monitor his progress over the next couple of months before making a decision.
The loss of Taylor for extended time is a blow for a Niners' offense that was expecting him to play a big role from the slot receiver position. Taylor has 69 catches for 645 yards and three touchdowns in 29 games, though he was limited by a back injury in 2018.
Young, meanwhile, returns to the 49ers after they released him on Aug. 31. He's expected to serve as the backup to rookie Justin Skule, the 2019 sixth-round pick out of Vanderbilt, who is expected to make his first NFL start Sunday against the Pittsburgh Steelers.
In Young, the Niners get some experienced depth behind Skule. Young has played in 88 games with 21 starts in his nine-year career.
Panthers rule out Newton (foot) against Cardinals
CHARLOTTE, N.C. — The Carolina Panthers on Friday officially ruled quarterback Cam Newton out and named Kyle Allen the starter for Sunday's game in Arizona against the Cardinals.
Newton aggravated a sprained left foot in his last outing, a Thursday night loss to Tampa Bay that dropped the Panthers to 0-2. He did not practice all week, working inside with the trainer and going to meetings while wearing a walking boot.
"He's actually coming along well," coach Ron Rivera said Friday on a conference call. "The unfortunate part was last week he was playing on a short week and the foot didn't have time to come back, as far as I understand it. It was pretty sore. It was just one of those things where we have to wait it out and see where it is [next week].
"The one thing we don't want to do is have another setback."
This will be Newton's seventh missed start since he made his NFL debut in 2011 at Arizona. There was no indication on whether Newton would be available for next week's game at Houston.
For Allen, a native of Scottsdale, Arizona, his second career start will be a homecoming. In last year's finale, the then-undrafted rookie out of the University of Houston led Carolina to a 33-14 victory over the New Orleans Saints while Newton was sidelined with a shoulder injury.
This also will be a reunion of sorts for Allen and Cardinals rookie quarterback Kyler Murray. Both were at Texas A&M in 2015 and both transferred to other colleges within a few months of each other, Allen to Houston and Murray to Oklahoma.
Murray went on to become the Heisman Trophy winner and first pick of the 2019 draft. Allen went undrafted after being replaced as Houston's starter in 2017 and forgoing his senior season for the draft.
"It's totally two different paths," Allen said. "It's cool to be back on the field with him. I have a lot of respect for him as a player."
Each quarterback is being counted on to help his team out of an 0-2 hole. While Murray comes in with better credentials and two starts this season, the Panthers are confident Allen can get the job done.
"The best thing I can tell you to do is look at our last game last year," Panthers offensive coordinator Norv Turner said of Allen. "That's the way I would expect him to play. He played at a high level."
Allen completed 16 of 27 pass attempts for 228 yards and two touchdowns with no interceptions to help the Panthers end a seven-game losing streak after a 6-2 start.
Confidence isn't a problem for the 23-year-old. He talked earlier this week about how Roger Staubach, a friend of Allen's father, sent him an autographed picture and how he sent the Hall of Fame quarterback an autographed picture of himself.
When he was 10.
Allen said he's not nervous about the prospects of starting at Arizona's State Farm Stadium, where he never played a down but attended games growing up. "For me, it's weird, but I just look at it as work," Allen said.
Ex-Chargers owner, AFL co-founder Hilton dies
Barron Hilton, the heir to a hotel fortune who was one of the founders of the American Football League, died Thursday in Los Angeles. He was 91.
Hilton was the original owner of the Los Angeles Chargers and went on to become president of the AFL. In 1965, he helped negotiate the merger of the AFL and NFL and the inception of the Super Bowl.
"The happiest days of my life were the days I was involved with the Chargers," Hilton told the Los Angeles Times in 2009.
The AFL was the brainchild of Texas oilmen Lamar Hunt and Bud Adams, who had been spurned in their attempts to get NFL expansion franchises. They decided to start a rival league, contacted other wealthy entrepreneurs and asked them to join in. Hilton was invited to join the "Foolish Club," as the owners called themselves, and put his Chargers in Los Angeles in 1959 before moving them to San Diego in 1961.
Hilton owned the team — originally coached by the Sid Gillman and quarterbacked by Jack Kemp — for six seasons, during which they won the league's Western Division five times and the AFL championship in 1963.
"Simply put, the modern NFL would not be what it is today without the vision of Barron Hilton," Chargers owner Dean Spanos said in a statement. "A founding father and charter member of the upstart AFL's sarcastically dubbed 'Foolish Club,' Barron was a pioneering leader, risk-taking entrepreneur, prolific philanthropist, devoted family man and, of course, anything but foolish.
"… It seems fitting that we celebrate a life extraordinarily well-lived the same year as we recognize the Chargers' 60th anniversary season since without Barron, there would be no Chargers."