— Worth exploring MLB 'mercy rule'
As the Little League World Series hits full steam this weekend, there's at least one rule that New York Yankees manager Aaron Boone wouldn't mind seeing the majors consider.
During a news conference Friday, Boone responded to a question about the idea of Major League Baseball implementing a "mercy rule," saying it would be nice to end a game that had gotten out of hand early rather than go through the motions of completing nine innings.
"If you get to this point after seven innings or whatever, there might be something to that, some merit to that and worth exploring," Boone said of a potential mercy rule. "Because it's not fun to have to put in a position player in that kind of situation."
Boone might have liked to see that option Thursday, when the Yankees turned to rookie designated hitter Mike Ford for two innings of relief amid a 19-5 thrashing by the Cleveland Indians. It was the first time a Yankees position player completed two innings on the mound.
"Sitting in my chair, you worry about hurting someone," Boone said. "You hate throwing up a flag like that, and sitting there and getting kicked in the mouth is no fun."
Boone said he thought a regular-season mercy rule could make sense, in part due to ongoing methods to protect pitchers' usage.
In the Little League World Series, a game is called off if a team leads by at least 10 runs after the fourth inning of the six-inning contest or 15 runs after three innings.
Orioles slugger Chris Davis expects to return to spring form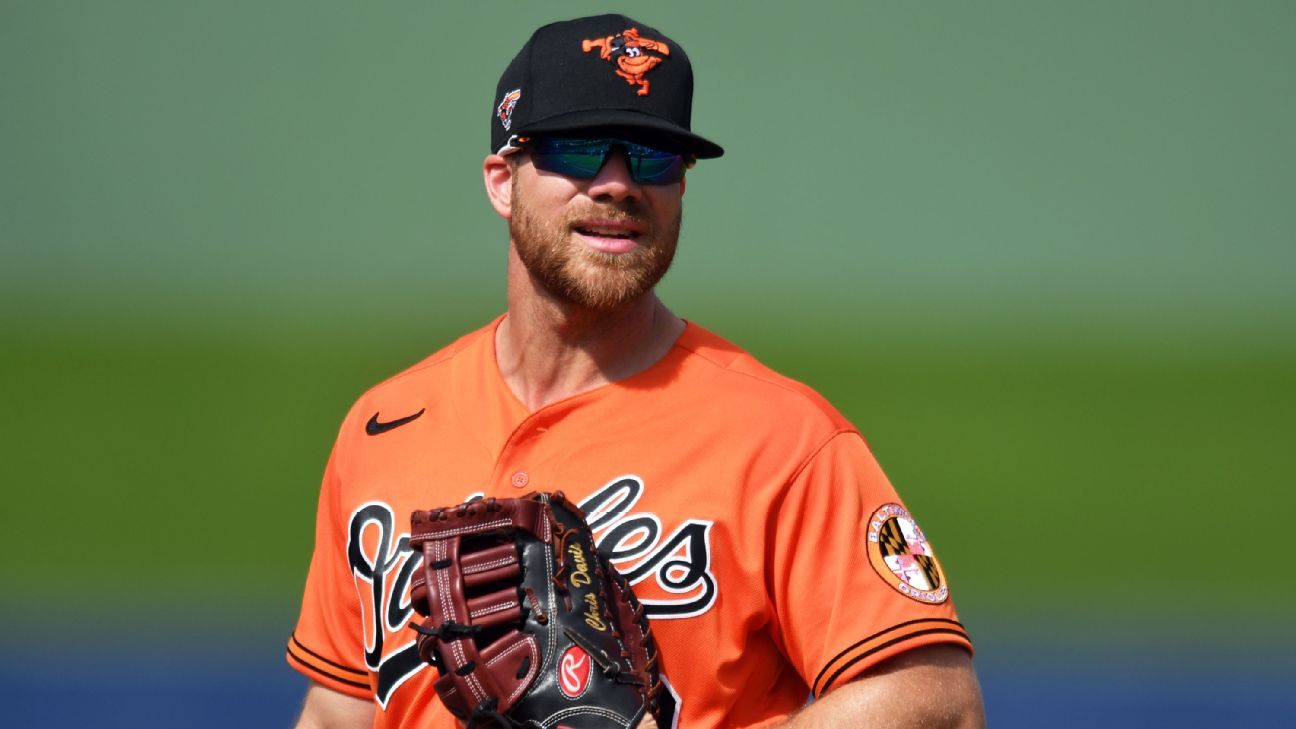 BALTIMORE — Following three straight frustrating seasons that led him to consider retirement, Chris Davis was in the midst of an outstanding spring training when Major League Baseball came to a halt because of the deadly coronavirus.
Now, as the slugger strives to find ways to keep his three daughters amused while confined to his house, Davis remains confident that he's poised to return to the form he displayed before signing a much-publicized and subsequently criticized seven-year, $161 million contract with the Baltimore Orioles.
Davis got that deal after winning his second home run title in 2015. He hasn't been the same since then.
Davis has seen his long ball production dwindle in each of the past three years, down to a paltry 12 in 2019. He finished with batting averages of .215, .168 and .179 over that span while totaling a whopping 526 strikeouts. He closed the 2018 season without a hit in his last 21 at-bats and extended the streak to a record-setting 0-for-54 before finally breaking through last April.
After this past offseason, Davis added 25 pounds of muscle and arrived at camp eager to rebound. And that is exactly what he did, batting .467 with three homers and nine RBIs in 15 at-bats over nine games. Then, COVID-19 sent everyone home with the uncertain feeling of if, or when, the players will return.
"Baseball is obviously a huge part of my life, a huge part of a lot of people's lives, but right now the most important thing is to deal with this virus and put it past us," Davis said Tuesday in a conference call with the Baltimore media. "I'm looking forward to getting things rolling, but right now we're just in that idle waiting period."
The 34-year-old first baseman has been operating in offseason mode, working out in the same fashion as he did during the winter.
"It was nice to see some results and to have a little bit of peace of mind that what I was doing this offseason really worked," Davis said. "For me, that was a positive — confirmation to know that I could come back home and continue what I was doing and not make any adjustments. I feel like I'm still swinging the bat just as well as I was when the games ended, and I look forward whenever we can start back up."
The rebuilding Orioles can only hope that they can count on Davis to regain his power stroke. Though general manager Mike Elias has shaved the payroll and stocked the team with young players, he's got no wiggle room with Davis, who still has three years left with a base salary of $17 million per season.
If all goes as planned, Davis will provide some return on that investment in 2020.
"I honestly feel like I'm still ready to roll right now," he said.
Davis knows Orioles fans can't wait to flock to Camden Yards, even though the team is coming off two straight 100-loss seasons.
"It's been uplifting to hear the amount of people that are just in love with the game of baseball and that they're ready to see guys on the field again," he said. "I know that once we do get everything squared away and get kind of a handle on everything, there are going to be a bunch of smiling faces in the ballpark. I look forward to that day."
Toronto's pro sports teams not impacted by new ban, official says
TORONTO — Toronto's cancellation of all city-led and permitted events through June 30 amid the coronavirus pandemic does not apply to professional sports leagues like the NBA, NHL, MLB or MLS, a spokesman for Mayor John Tory said Tuesday.
Don Peat said the move applies to events that get city permits like parades and festivals, but not sporting events like the Raptors, Maple Leafs, Blue Jays or Toronto FC.
But Ontario already has a province-wide ban of gatherings of more than five people. The province has not said how long that will be in force, though. Toronto city spokesman Brad Ross said games in arenas or stadiums fall under the mass gathering order issued by the province.
"We have cancelled events that are City-led or need permits to the end of June. These are, primarily, events that have been planned or are being planned to give organizers certainty," Ross said.
Tory said the health and safety of residents has to be the priority and said physical distancing is critical. The decision to cancel was made in consultation with Toronto's Medical Officer of Health.
Toronto has at least 628 confirmed cases of the new coronavirus, including eight deaths.
"Many of these events of course involve thousands of people, sometimes hundreds of thousands of people, and it is doubtful that the health environment will be where it needs to be on the original scheduled spring dates if these events are to happen in a healthy safe and stress free way," Tory said.
Information from The Associated Press was used in this report.
Fiancee — A's minor league manager Webster Garrison on ventilator due to coronavirus
OAKLAND, Calif. — Oakland Athletics minor league manager Webster Garrison is hospitalized in Louisiana and on a ventilator due to the coronavirus, according to his fiancee.
Nikki Trudeaux posted her latest update Monday night on social media. She said the 54-year-old former major leaguer still required a ventilator to fight COVID-19 but hadn't declined in his battle.
"He is not getting worse! He is fighting hard and making small milestones," she said.
Trudeaux has been asking for nightly prayers with the hashtag "WebbyStrong."
The A's said Tuesday there were no updates on a minor league staffer — they have not identified him — and said there have not been other confirmed cases within the organization.
Oakland released a a statement during the weekend that "a minor league staff member has tested positive for COVID-19 and is under hospital care."
"We want to extend our sincerest thoughts and prayers to our colleague for a speedy recovery," the team said. "We are committed to providing him and his family with support and care. Every person on our team plays a critical role to our success and we look forward to his return to the field when he is healthy."
Garrison managed the Class A Stockton Ports last season and was expected to manage in the Arizona Fall League this year. He played five games for the A's in 1996, never getting a hit in 10 plate appearances while drawing one walk. He is from Marrero, Louisiana.
Trudeaux described in her posts the heartbreak of being helpless through this.
"This man, my fiancé, Webster Garrison, the love of my life, is on a ventilator in the hospital, fighting for his life, and I can't even be at his side!" Trudeaux said.
For most people, the new coronavirus causes mild or moderate symptoms, such as fever and cough that clear up in two to three weeks. Older adults and people with existing health problems can experience severe illness, including pneumonia and death.