Cowboys' 2,500-mile trip from California to Hawaii a logistical maze – Dallas Cowboys Blog
OXNARD, Calif. — The Dallas Cowboys have played preseason games in Pendleton, Oregon; Roanoke, Virginia; Shreveport, Louisiana; and Canton, Ohio. They have also played in international locales such as London, Mexico City, Monterrey, Mexico, Tokyo and Toronto.
On Saturday they will play their first preseason game in Hawaii when they take on the Los Angeles Rams (10 p.m. ET, NFL Network) at Honolulu's Aloha Stadium.
It will be the 36th neutral-site preseason game in the Cowboys' history, and the first NFL preseason game at the stadium since 1976 when the San Francisco 49ers played the San Diego Chargers.
"I've never been to Hawaii before, so I'm excited to get over there with the guys, do a little team bonding," said Cowboys linebacker Jaylon Smith, who played a game in Ireland while he was at Notre Dame. "But then it's preseason game No. 2 against the Rams."
Dallas wide receiver Michael Gallup was at Colorado State when he played at Aloha Stadium, and he recommends players try the fresh pineapple. But fruit aside, the Cowboys want this to be a business trip.
"We're not going to be there very long, so we're really just there to play. Yeah, it's an important trip for us," safety Jeff Heath said. "We're getting closer to the regular season and you only get so many opportunities to play in these games before it gets real."
Cowboys coach Jason Garrett looks forward to the 2,500-mile trip from Oxnard to Honolulu.
"Hawaii is a magical place. There is a great football tradition there. A lot of great players have come from there," Garrett said. "One of our great players years ago, Mark Tuinei, is from Hawaii and so many others. There is a real tradition of individual guys. The Pro Bowl being over there for so many years, the Hula Bowl was there for so many years. I think it's something we're really excited about doing. It's a little bit different leaving training camp to go to Hawaii to play a game than going back to Dallas. We get all that. But once you get around the logistical part, it's going to be fun to go over there and play a football game and hopefully grow as a team in a great environment."
A lot of work goes into the move
Speaking of logistics, the real work began after Wednesday's practice.
Long after the players were done with their final padded practice in Oxnard, the team's equipment staff was busy packing trucks with gear — blocking sleds, tackling dummies and anything else associated with the team's 21-day stay.
The planning for the staging of camp and the eventual breakdown started in May and culminated Thursday with seven 53-foot trailers making the trek back to Texas.
"They'll leave about 3 o'clock [Thursday] and be in Dallas Friday night," equipment manager Bucky Buchanan said of the trucks.
What made this packing job a little different is that a portion of the gear had to be packed for the plane ride to Hawaii.
"It's a regular road trip for us," Buchanan said. "Everybody thinks we're going to be out of the country but we're not. It's just we're going to be there one extra day than normal during the season. Once everybody got that mindset right, everything's been falling into place."
When the Cowboys and Rams ironed out the details about a preseason game in Honolulu, owners Jerry Jones and Stan Kroenke discussed the possibility of practicing together for two days while on the island but the logistics never worked out.
Beyond the game
Since becoming the Cowboys' head coach, Garrett has used several road tips as learning experiences for his team. In 2014, the Cowboys had a dinner at the Tower of London before playing the Jacksonville Jaguars at Wembley Stadium. The Cowboys made a trip to the 9/11 Memorial in New York City in 2015. Last season, the Cowboys visited the National Museum of African American History and Culture in Washington D.C.
This trip will be no different. Following the Cowboys' walk-through on Friday, they are scheduled to visit the Pearl Harbor National Memorial.
"That will be cool," running back Alfred Morris said. "Seen the movies and studied the history. That will be good."
Once the Cowboys landed in Hawaii, the equipment crew headed to Aloha Stadium to set up the locker room with jerseys hanging in lockers and pads at the ready. Because the Cowboys will hold their walk-through at the team's hotel, the equipment guys will get a little respite.
Immediately following Saturday's game, the Cowboys will fly back to Dallas and the equipment staff will be in action again, making sure the 18,000 pounds of gear gets to the plane. Not long after landing, the Cowboys' equipment crew will head to The Star. Interns will have taken care of the trucks that brought back the gear from Oxnard and have that in place by Sunday. When equipment director Mike McCord, Buchanan and the rest arrive, the focus will be on unpacking from the Rams game.
"Hopefully we'll be done by noontime Monday," Buchanan said.
On Tuesday, the Cowboys will have their first training camp practice at The Star in Frisco, Texas.
Everything will be in order, despite the work it took to get everything home.
"Those guys work their ass off," Heath said. "They're probably some of the hardest workers here. We don't make their job very easy. We try our best to pick up, but it always seems like the locker room will be a mess and the next day it's perfect. We're very thankful for those guys."
What Drew Brees' return means for Saints, Teddy Bridgewater and Taysom Hill – New Orleans Saints Blog
METAIRIE, La. — The New Orleans Saints just got their first win of 2020.
Drew Brees' decision to return for a 20th NFL season ensures that the Saints will remain among this year's top Super Bowl contenders after three straight years of gut-wrenching playoff exits.
But there are plenty of questions to be answered this offseason for a team that is slammed against the salary cap, starting with how Brees' return affects their other quarterbacks.
In a perfect world, the Saints would love to keep all three of their quarterbacks. But coach Sean Payton told ESPN's First Take last month that he thinks it would be "unrealistic" and "very difficult" to do so.
That almost certainly makes Bridgewater the odd man out, since he is an unrestricted free agent and Hill is a restricted free agent. Bridgewater, 27, should draw significant interest on the open market after going 5-0 as New Orleans' starter in 2019 while Brees was sidelined by a thumb injury.
From NFL Live: Multiple teams expect Teddy Bridgewater to have a strong free agency market as a starting or bridge quarterback for a team in transition. Widely expected to be on the move unless Drew Brees retires.

— Jeremy Fowler (@JFowlerESPN) February 17, 2020
It remains to be seen if Bridgewater will receive offers worth $20 million or more per season. But he should certainly get more opportunities than he did last year, when his hometown Miami Dolphins were the only team to offer a starting opportunity and he wound up signing a one-year deal in New Orleans worth $7.25 million plus incentives.
Bridgewater was more solid than spectacular in his five starts, averaging 241 passing yards per game. But he completed 69.7 percent of his passes with nine touchdowns, just two interceptions and a 103.7 passer rating.
And that same formula helped Bridgewater lead the Vikings to the playoffs during his last year as a full-time starter in 2015, when he went 11-5 while averaging 202 passing yards per game with 14 TDs and nine interceptions.
If Brees had retired, the Saints might have wanted to keep Bridgewater as the more proven and experienced option to replace him. But there have been multiple reports suggesting that Payton sees the athletic, versatile Hill as a legitimate franchise quarterback option for the future — despite the fact that he has attempted only 15 career passes, including the playoffs. Now Brees' return will allow the Saints to keep grooming Hill as a possible successor.
Louis Riddick reacts to Drew Brees returning to the Saints for another season, including what it means for Teddy Bridgewater and Taysom Hill's futures.
Hill, 29, will be easier for the Saints to retain since he is a restricted free agent. That means the Saints can match any offer he might sign with another team. And depending on the size of New Orleans' qualifying offer to Hill, teams would have to give up either a first- or second-round draft pick if the Saints don't match the offer. A first-round tender will likely cost somewhere between $4.5 million and $5 million.
If Hill becomes the No. 2 quarterback, the Saints will have to decide how much they can keep using him in his game-changing role as a read-option QB/RB/WR/TE. He was an absolute monster in their playoff loss to Minnesota, completing a 50-yard pass, running the ball four times for 50 yards and catching two passes for 25 yards and a touchdown.
Chances are, the Saints will continue to use Hill in a similar fashion, since he has become so vital to their offense. But they might back off his special-teams snaps, where he has been a force with blocked punts, fake punt conversions, kickoff returns and coverage tackles. They will definitely make it a priority to add a reliable third quarterback to the mix because of the added risk that Hill could get injured.
What will Brees' contract look like?
Brees is still an unrestricted free agent himself. But his negotiations shouldn't be contentious. The last time he was a free agent in 2018, he signed a two-year, $50 million deal that was slightly below market value — with only $27 million guaranteed.
Based on inflation around the league, a similar deal this time around could be worth somewhere between $28 million and $30 million per year. Maybe he'll take even less if he's feeling extra generous. But the biggest "hometown benefit" Brees has granted the Saints in recent years is agreeing to just one year's worth of guaranteed salary so they wouldn't be hamstrung if he suffered a career-ending injury.
The Saints still have to account for $21.3 million in "dead money" against the salary cap from Brees' previous contracts. But they will likely find a way to keep pushing those cap costs into future years through their usual creative bookkeeping methods.
Can the Saints afford everyone else?
Up until now, the Saints have used that creative cap management to keep reloading their roster year after year — re-signing core veterans like Michael Thomas, Cameron Jordan and Terron Armstead to lucrative extensions while still adding a few key free agents.
That's going to get harder and harder now that their spectacular 2017 draft class is eligible for contract extensions. It's possible that we could see holdouts this offseason from guys like running back Alvin Kamara (one year left on his deal), cornerback Marshon Lattimore (two years left) and right tackle Ryan Ramczyk (two years left).
The Saints also need to decide how many of their unrestricted free agents to keep this year (including G Andrus Peat, S Vonn Bell, CB Eli Apple, LB A.J. Klein, DT David Onyemata, CB P.J. Williams and WR Ted Ginn Jr., among others).
And they need to add one or two complementary players to their roster — with a No. 2 receiver among the top priorities.
The good news is that they're still loaded with talent, even if they do absorb a couple of losses. They had a total of 14 players named to either an Associated Press All-Pro team or the Pro Bowl this past season.
Is this Brees' last shot?
Maybe?
Brees' window is closing by the year — not just because of his age, but because the roster may never be this loaded again.
But it's almost impossible to put an expiration date on Brees because of the way he keeps adapting his game so efficiently. No, he doesn't throw the deep ball as well as he used to. But he has made up for that by working relentlessly in the offseason to tweak his mechanics and by making good decisions on the field.
Brees just had the two best passer ratings of his career over the last two seasons (116.3 in 2019, 115.7 in 2018). He has the three best completion percentages in NFL history over the past three years (72.0 in 2017, 74.4 in 2018, 74.3 in 2019). And his interception totals over the past three seasons are among the four lowest of his career (eight in 2017, five in 2018, four in 11 games played last year).
Before his disappointing performance in the playoff loss, Brees had one of the best months of his entire career in December, throwing 15 touchdown passes with no turnovers. He set yet another NFL record by completing 29 of 30 passes in a Week 15 win over the Indianapolis Colts on Monday Night Football.
Brees has long insisted that he thinks he can keep playing at a high level until the age of 45. Until we see him actually walk away or suffer a significant drop-off in performance, it's hard to discount that possibility.
Eagles releasing linebacker Nigel Bradham
The Philadelphia Eagles are releasing veteran linebacker Nigel Bradham, a source tells ESPN's Adam Schefter.
Bradham, 30, was informed of the Eagles' decision on Tuesday afternoon, the source said.
An eight-year veteran, Bradham had 61 tackles and one interception in 12 games last season, his fourth with the Eagles.
Oddsmakers tab Lions, Dolphins as favorites to draft Tua Tagovailoa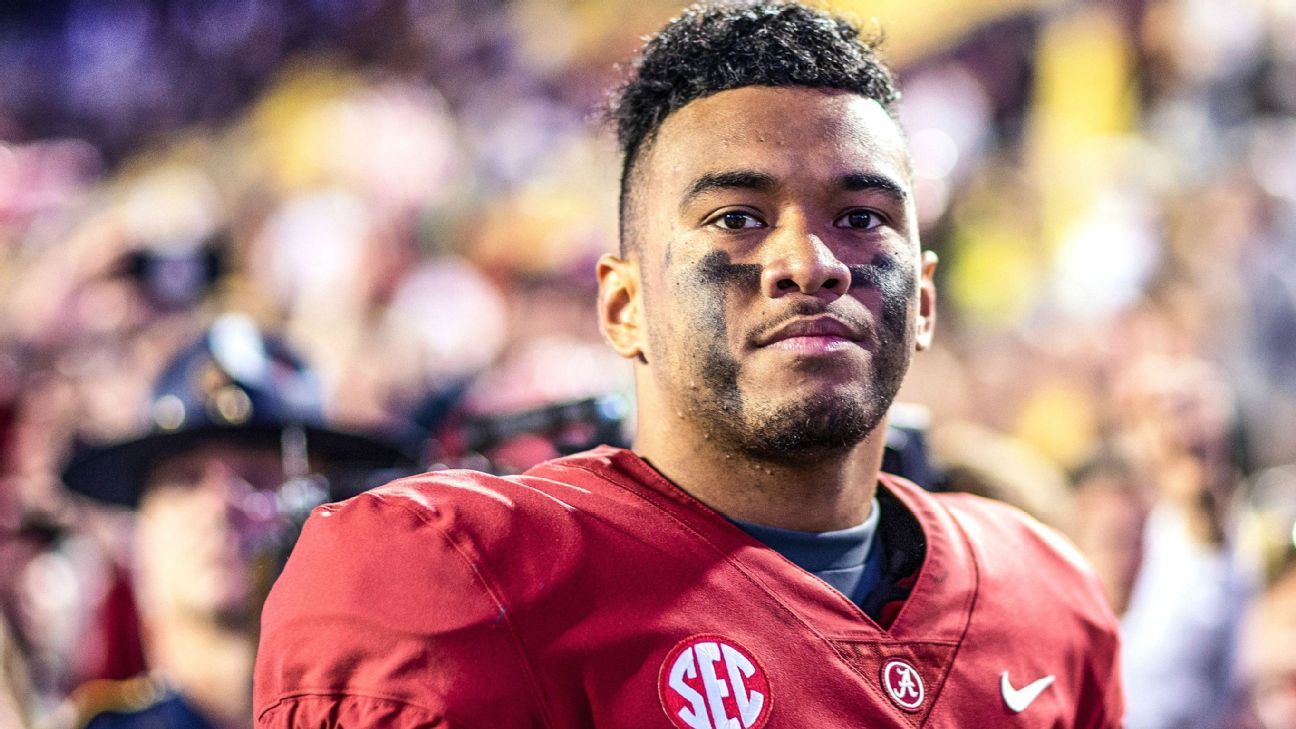 Oddsmakers at Caesars Sportsbook believe the Detroit Lions and the Miami Dolphins are the two most likely landing sports for Alabama quarterback Tua Tagovailoa.
Caesars has the Lions and Dolphins as co-favorites at -110 to land Tagovailoa, who is recovering from a hip injury he suffered in mid-November. Detroit owns the third pick in April's NFL Draft, with Miami at No. 5.
Lions general manager Bob Quinn has denied that the team is shopping veteran starting quarterback Matthew Stafford, but ESPN football analyst Mel Kiper Jr. has Tagovailoa pegged to Detroit at No. 3.
The Los Angeles Chargers (5-2), Cincinnati Bengals (7-1), Carolina Panthers (7-1) and Jacksonville Jaguars (9-1) are next on Caesars' odds to draft Tagovailoa, who could return to football activities in March. Sources told ESPN that recent test results showed his hip has healed and he has good range of motion.
On Tuesday, Caesars also released an over/under on the number of quarterbacks to be drafted in the first round. The line opened at 4.5, with the vigorish shaded toward the under at -150. Kiper has four quarterbacks in his current first-round mock draft.
LSU quarterback Joe Burrow is the overwhelming favorite to go No. 1 to the Bengals. DraftKings sportsbook has Burrow listed at -10,000 to go first overall.
Oregon quarterback Justin Herbert and Washington quarterback Jacob Eason also are currently in Kiper's mock first round. Utah State's Jordan Love, Georgia's Jake Fromm and Oklahoma's Jalen Hurts are other quarterbacks who could receive early consideration.
The NFL Draft will be April 23-25 in Las Vegas.