Cam Newton's arm strength 'night and day' from 2018 – Carolina Panthers Blog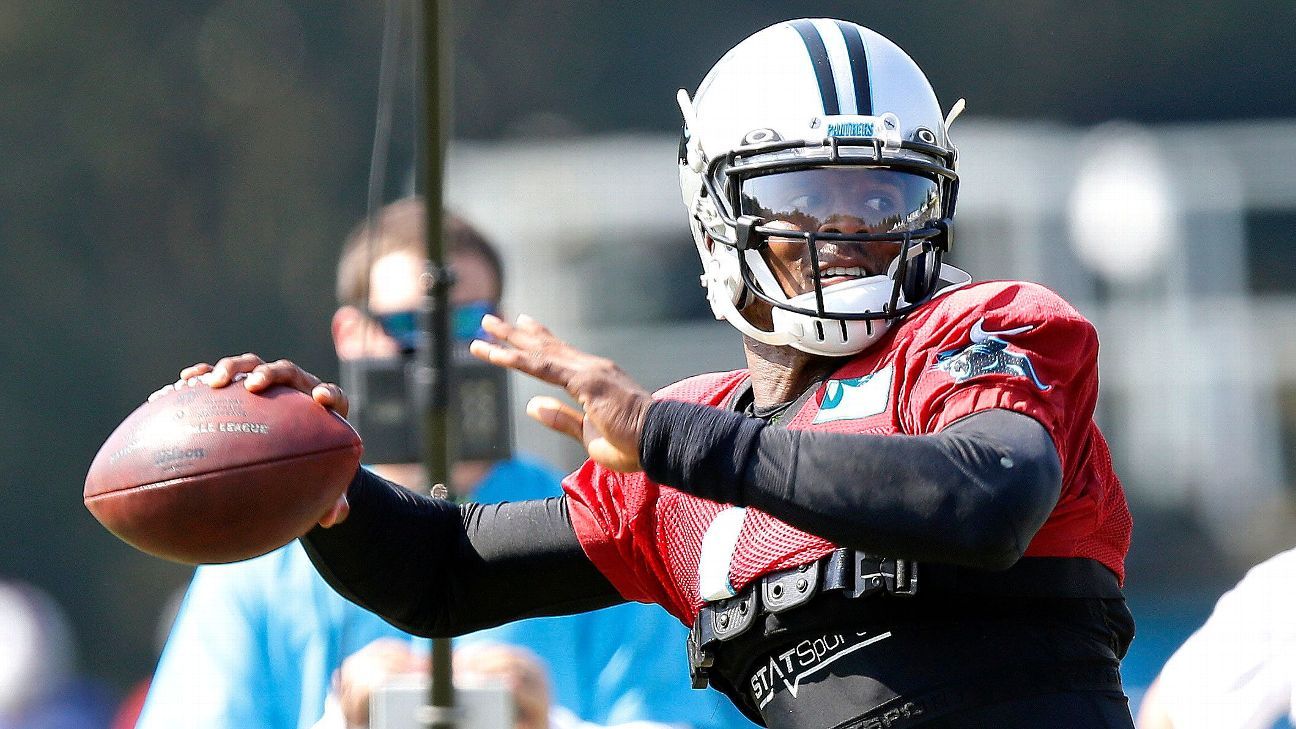 SPARTANBURG, S.C. — The Wofford College portion of training camp was winding down on Wednesday and the energy level had dipped as the temperature soared. That's when Carolina Panthers quarterback Cam Newton unloaded a deep pass to Curtis Samuel.
Touchdown!
As Samuel and fellow wide receiver DJ Moore performed a high-flying hip bump in the end zone, Newton turned to the crowd on the hill and put his hand on his ear to get one last eruption of cheers before the mad rush up Interstate 85 to Charlotte, N.C.
Samuel might have been the MVP of camp with his blazing speed and daily long catch, including one in each of the past two days in joint practices against the Buffalo Bills, but it was Newton's ability to get the ball to the third-year player that will be remembered.
Newton admittedly couldn't throw passes of longer than 30 yards effectively — or without pain — at the end of last season. There was concern after a second shoulder surgery in three offseasons that he might not be 100 percent for start of the 2019 campaign.
This camp ended any doubt about his health.
"It's like night and day," said Buffalo defensive back Captain Munnerlyn, who was with the Panthers last season. "His arm looks a whole lot better now. Man, to see him come back from that injury, I know it's been tough on him.
"To see him come back like he's doing, I expect big things from him."
So do the Panthers, who were 6-2 last season before Newton began having shoulder issues that ultimately led to him being shut down the final two games.
"He just seems healthy, happy and ready to go," Moore said. "I do see some change, as you can see with the deep balls to Curtis. We're just here for the ride with his arm. That's what's going to keep us going."
A year ago, defenses loaded up and dared Newton to throw deep when it became apparent he couldn't. The Panthers couldn't hide that the deep ball had disappeared from their arsenal, having to bring in backup Taylor Heinicke multiple times for Hail Mary passes at the end of a half or game.
Offensive coordinator Norv Turner lamented that part of the offense was missing and how that had an impact on his game plan.
Newton showed in the first practice of camp the arm strength had returned, connecting with Samuel for a pass that carried more than 40 yards. He reinforced it with a 50-yarder to Samuel on Tuesday and then Wednesday's crowd-pleaser.
"Cam, he looked great," Panthers cornerback Donte Jackson said. "He had a great camp. Throwing the ball really well, competing really well, taking care of his body really well. The days he wasn't going, he was still over there working and trying to help us win games.
"We need [No.] 1 to win games."
Newton only spoke to reporters once in three weeks of camp and downplayed his recovery by saying he still was "a work in progress." He talked about the importance of remaining focused on a tighter, more closed throwing motion that the staff hopes will take pressure off the shoulder.
That throwing motion was at its best during Wednesday's practice, when Newton was 5-for-5 in one drill that caught the eye of coach Ron Rivera.
But it wasn't just the deep passes that made this camp valuable to Newton. It was being able to work with the offensive line and receivers on timing, something he couldn't do all offseason while rehabbing.
"That's the most important thing," Rivera said. "He's got to develop that feel for timing, for making things happen. Again, it's really about being familiar."
The Panthers know how good Newton can be when his shoulder is healthy. He completed almost 68% of his passes the first half of last season after averaging 58.5% his first seven seasons.
He was playing, in his words, the best football of his career — better than his 2015 NFL MVP season, when he threw a career-best 35 touchdown passes and rushed for 10 more.
Samuel said it was "very important what Newton did in camp because he showed he could go down the field, not just underneath."
"You've got to be aware of the whole field now," he said.
So is night and day, as Munnerlyn said, accurate?
"If he's going to call it night and day," Rivera said with a smile, "I'm going to go with it and leave it on Captain."
Cowboys release kicker Brett Maher, sign Kai Forbath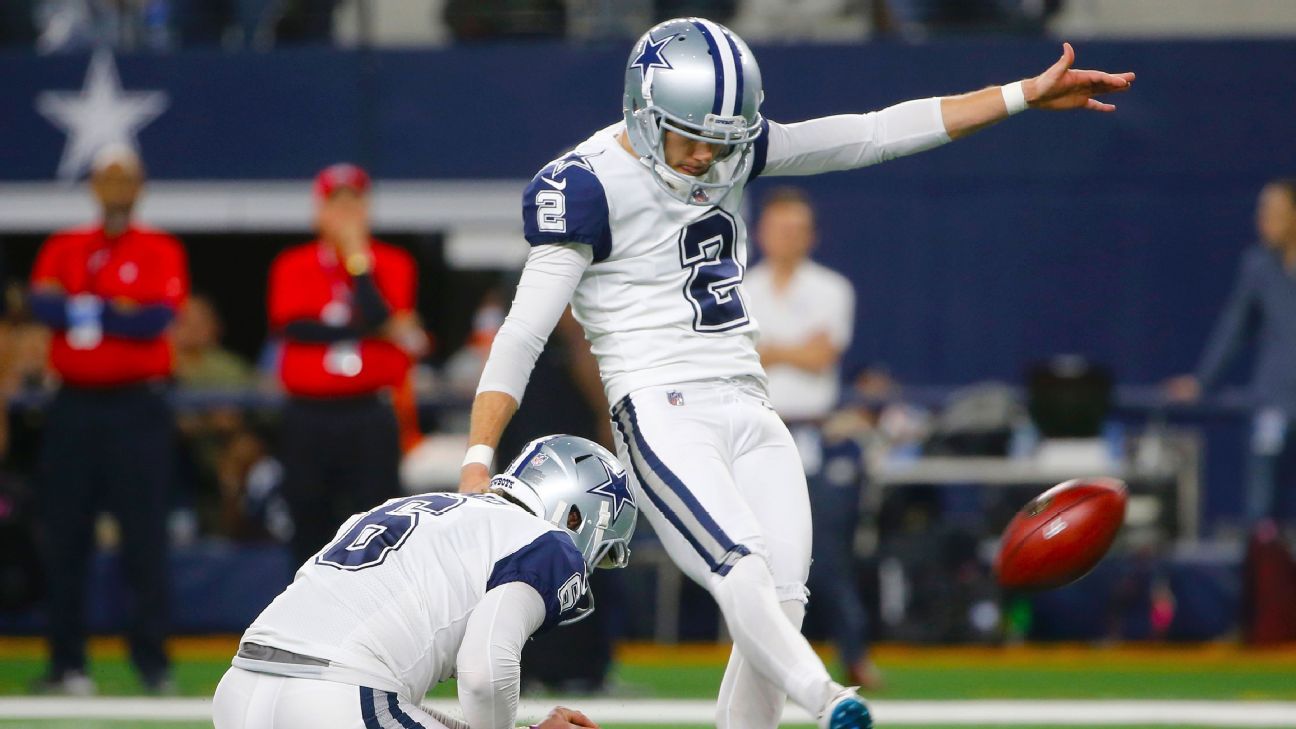 FRISCO, Texas — The Dallas Cowboys have released kicker Brett Maher, who leads the NFL with 10 missed field goal attempts this season, and signed veteran Kai Forbath.
Forbath, 32, was cut last week by the New England Patriots after he subbed for an injured Nick Folk and made one field goal attempt and 1 of 2 point-after tries in a loss to the Houston Texans. Forbath has made 85.8% of his kicks (121 of 141) in a career with five teams.
Forbath was among three kickers the Cowboys worked out on Monday, with the other two being Tristan Vizcaino and Nick Rose. Those two also worked out for the Cowboys last week, in addition to Austin MacGinnis, but the Cowboys opted to stick with Maher then.
In Thursday's loss to the Chicago Bears, Maher missed a 42-yard attempt in the second quarter that would have tied the score at 10.
It was his 10th miss of the season and the most in a season for a kicker in the past four seasons. Maher connected on just 1 of 5 attempts of 40-49 yards this season, which made him one of three kickers in the past 15 years to connect on 20% or worse of those kicks. David Akers went 1-of-6 in 2007, and Martin Gramatica went 1-of-5 in 2004.
For the season, Maher was 19-of-29 on field goals and became the only kicker in NFL history with three makes of at least 60 yards. He hit a 62-yarder last year against Philadelphia and attempts of 62 and 63 yards this season against the Eagles and New York Jets.
His big leg kept giving him multiple chances, but he was unable to make the shorter kicks consistently enough this year after he made 29 of 36 tries last year, including 6 of 7 from 50 yards or more.
Forbath originally signed with the Cowboys as an undrafted free agent in 2011 but had a quadriceps injury that did not allow him to kick, and the team eventually went with another undrafted rookie, Dan Bailey, as its kicker. Bailey went on to become one of the NFL's most accurate kickers before his production fell off, which led to his release in favor of Maher in 2018.
Falcons WR Calvin Ridley out for season with abdominal injury
Atlanta Falcons wide receiver Calvin Ridley posted a message on Instagram that said he is out for the season after suffering an abdominal injury during Sunday's 40-20 win over the Carolina Panthers.
Ridley, who caught five passes for 76 yards and a 15-yard touchdown before exiting the game, put together a stellar second season in the NFL. Ridley finishes the season with 63 receptions, 866 yards and a team-leading seven touchdown catches.
According to ESPN Stats and Info, Ridley's 17 touchdown receptions are the most by any players in his first two seasons since Odell Beckham Jr. caught 25 in 2014 and 2015. The only Falcon with more touchdowns over his first two seasons is Julio Jones with 18.
Ridley isn't the only player the Falcons lost to a season-ending injury in Sunday's game. Starting cornerback Desmond Trufant suffered a broken forearm and will have surgery, a source told ESPN.
With Ridley out of the lineup the last three games, the Falcons will get a chance to take a longer look at some of the other young receivers such as Russell Gage, Olamide Zaccheaus, and Christian Blake. Zaccheaus had a 93-yard touchdown reception from Matt Ryan on his first-career catch against the Panthers.
The 4-9 Falcons travel to San Francisco to face the NFC top-seeded 49ers (11-2) on Sunday. They then host Jacksonville before ending the season at Tampa Bay.
Andy Reid says Chiefs QB Patrick Mahomes doesn't have broken hand
KANSAS CITY, Mo. — Patrick Mahomes should be available to play for the Kansas City Chiefs on Sunday after X-rays on his injured passing hand were negative, coach Andy Reid said Monday.
Reid said Mahomes' passing hand, which was injured when he fell awkwardly early in Sunday's win over the New England Patriots, was "bruised up pretty good, but there's no break in it."
Mahomes played the entire game, and he and Reid said afterward that there was no serious consideration given to removing him from the game. The Chiefs went with more of a shorter passing game after the injury, though Mahomes was able to throw a 48-yard touchdown pass to Mecole Hardman.
"He was having a little tougher time gripping the ball, so we went with a little bit more of a shallow cross game [and] shorter throws," Reid said. "We ran the ball a little more, probably."
Mahomes was 26-of-40 for 283 yards and the touchdown to Hardman. The Chiefs scored only a field goal in the second half.
The Chiefs have clinched the AFC West championship but still have plenty to gain by winning Sunday against the Denver Broncos at Arrowhead Stadium. The Chiefs are one game behind the Patriots for the AFC's No. 2 playoff seed, which includes a first-round bye.
Reid said the Chiefs wouldn't rest Mahomes just because he might not be 100 percent against the Broncos.
"He could still be effective," Reid said. "[The injury] is not an excuse for the second half."