Cam Newton's arm strength 'night and day' from 2018 – Carolina Panthers Blog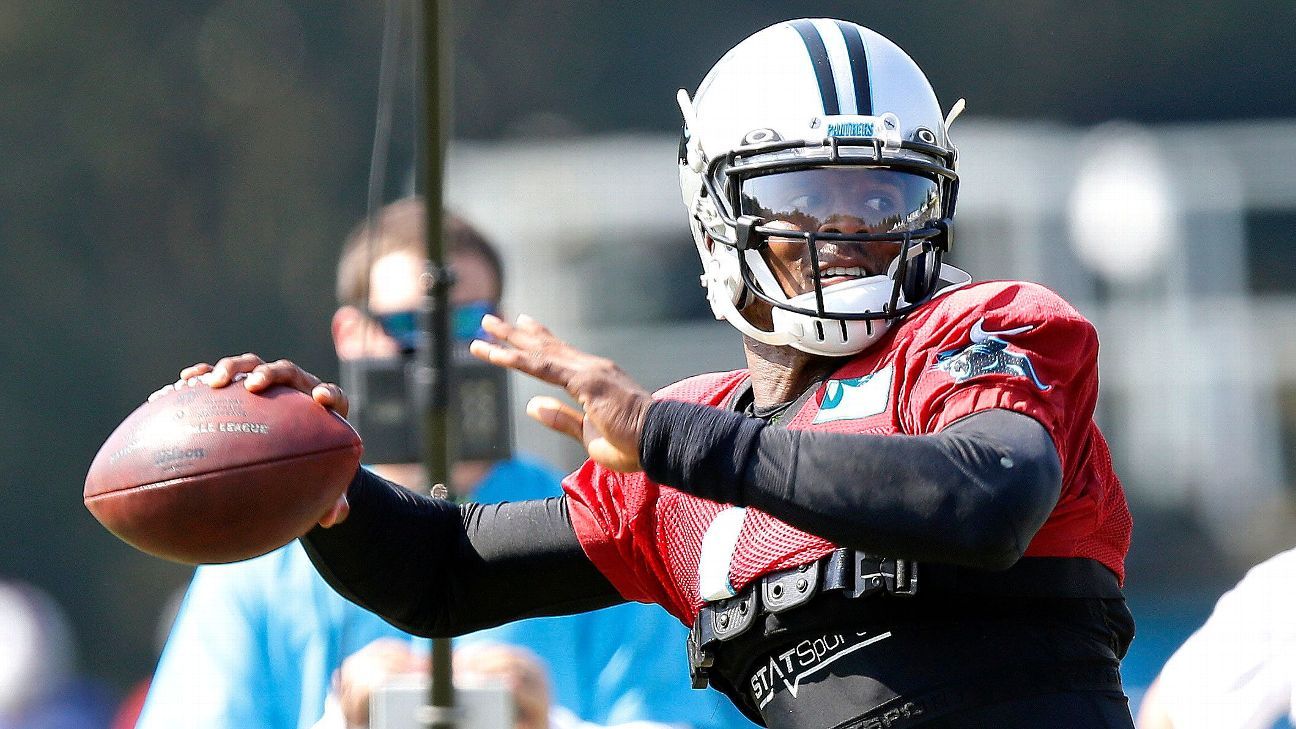 SPARTANBURG, S.C. — The Wofford College portion of training camp was winding down on Wednesday and the energy level had dipped as the temperature soared. That's when Carolina Panthers quarterback Cam Newton unloaded a deep pass to Curtis Samuel.
Touchdown!
As Samuel and fellow wide receiver DJ Moore performed a high-flying hip bump in the end zone, Newton turned to the crowd on the hill and put his hand on his ear to get one last eruption of cheers before the mad rush up Interstate 85 to Charlotte, N.C.
Samuel might have been the MVP of camp with his blazing speed and daily long catch, including one in each of the past two days in joint practices against the Buffalo Bills, but it was Newton's ability to get the ball to the third-year player that will be remembered.
Newton admittedly couldn't throw passes of longer than 30 yards effectively — or without pain — at the end of last season. There was concern after a second shoulder surgery in three offseasons that he might not be 100 percent for start of the 2019 campaign.
This camp ended any doubt about his health.
"It's like night and day," said Buffalo defensive back Captain Munnerlyn, who was with the Panthers last season. "His arm looks a whole lot better now. Man, to see him come back from that injury, I know it's been tough on him.
"To see him come back like he's doing, I expect big things from him."
So do the Panthers, who were 6-2 last season before Newton began having shoulder issues that ultimately led to him being shut down the final two games.
"He just seems healthy, happy and ready to go," Moore said. "I do see some change, as you can see with the deep balls to Curtis. We're just here for the ride with his arm. That's what's going to keep us going."
A year ago, defenses loaded up and dared Newton to throw deep when it became apparent he couldn't. The Panthers couldn't hide that the deep ball had disappeared from their arsenal, having to bring in backup Taylor Heinicke multiple times for Hail Mary passes at the end of a half or game.
Offensive coordinator Norv Turner lamented that part of the offense was missing and how that had an impact on his game plan.
Newton showed in the first practice of camp the arm strength had returned, connecting with Samuel for a pass that carried more than 40 yards. He reinforced it with a 50-yarder to Samuel on Tuesday and then Wednesday's crowd-pleaser.
"Cam, he looked great," Panthers cornerback Donte Jackson said. "He had a great camp. Throwing the ball really well, competing really well, taking care of his body really well. The days he wasn't going, he was still over there working and trying to help us win games.
"We need [No.] 1 to win games."
Newton only spoke to reporters once in three weeks of camp and downplayed his recovery by saying he still was "a work in progress." He talked about the importance of remaining focused on a tighter, more closed throwing motion that the staff hopes will take pressure off the shoulder.
That throwing motion was at its best during Wednesday's practice, when Newton was 5-for-5 in one drill that caught the eye of coach Ron Rivera.
But it wasn't just the deep passes that made this camp valuable to Newton. It was being able to work with the offensive line and receivers on timing, something he couldn't do all offseason while rehabbing.
"That's the most important thing," Rivera said. "He's got to develop that feel for timing, for making things happen. Again, it's really about being familiar."
The Panthers know how good Newton can be when his shoulder is healthy. He completed almost 68% of his passes the first half of last season after averaging 58.5% his first seven seasons.
He was playing, in his words, the best football of his career — better than his 2015 NFL MVP season, when he threw a career-best 35 touchdown passes and rushed for 10 more.
Samuel said it was "very important what Newton did in camp because he showed he could go down the field, not just underneath."
"You've got to be aware of the whole field now," he said.
So is night and day, as Munnerlyn said, accurate?
"If he's going to call it night and day," Rivera said with a smile, "I'm going to go with it and leave it on Captain."
Rodgers to Ravens' Jackson — 'Slide a little bit'
BALTIMORE — Lamar Jackson provided the highlight moment Thursday night when the Baltimore Ravens quarterback faked out one Green Bay Packers defender before leaping over another to reach the end zone for an 18-yard touchdown.
The score was nullified by an illegal block, but it led to a suggestion from Aaron Rodgers after the Ravens' 26-13 win over the Packers.
"I love watching you play, man," Rodgers told Jackson. "That was pretty spectacular."
Rodgers then added, "Have a great season. Slide a little bit."
Jackson smiled, pointed at Rodgers and responded, "I got you, baby."
Jackson's running has been a hot topic since he took over for the injured Joe Flacco last year. In leading Baltimore to the AFC North title, Jackson averaged 17 runs per game and set the NFL single-season record in 2018 for rushing attempts by a quarterback with 147.
In May, owner Steve Bisciotti told Ravens season-ticket holders that he expects Jackson not to run as much, saying, "I think you'll be pleasantly surprised that Lamar is not going to be running 20 times a game."
At the start of training camp, it was brought up with coach John Harbaugh that Cam Newton's career high in rushes for a season was 139. Asked about Jackson, Harbaugh said, "Take the over."
Then Jackson said in early August on "The Rich Eisen Show" that he doesn't expect to carry the ball as much as he did in his rookie season.
During training camp, Jackson has only occasionally run the ball and has been more focused on throwing. With no designed rushes thus far this preseason, Jackson didn't run in the preseason opener but took off twice for 14 yards Thursday night after initially dropping back to pass.
On the nullified touchdown run, Jackson said the four-man rush gave him a running lane and that he had to take it.
"If I am out there in the open field, one on one, I have to make you miss," Jackson said. "That's just me. That's how I always played. If I get tackled by one person, I am mad. I feel like I lost that play, could have gained more yards, could have probably scored. I don't know. If I am not passing, if I do decide to run, I am trying to score a touchdown or get a first down. I am not trying to get two yards and get tackled. That's not how I play."
Harbaugh was asked if he had any concern when he saw Jackson pull the ball down and run.
"What are you going to do? He's going to play," Harbaugh said. "He's going to play football. We're not trying to run him. We're not running those plays. He's in the pocket, and he's staying in the pocket a lot. It's not like he's trying to run, but sometimes … what are you going to do? You can't hold him back forever."
Source — Cardinals CB Alford suffers tibia fracture
GLENDALE, Ariz. — Arizona Cardinals cornerback Robert Alford has a fractured tibia after he was injured during an outdoor practice Tuesday, a source confirmed to ESPN.
A source told ESPN's Adam Schefter that Alford is expected to be sidelined for six to eight weeks.
After Arizona's 33-26 preseason loss to the Oakland Raiders on Thursday night, coach Kliff Kingsbury described the injury as being to Alford's lower leg and said he would miss an "extended amount of time."
NFL Network first reported the nature of Alford's injury.
Alford's absence leaves the Cardinals extremely short-handed at cornerback to start the season. Alford was expected to start opposite eight-time Pro Bowl cornerback Patrick Peterson, but Peterson was suspended the first six games of the regular season for violating the NFL's policy on performance-enhancing drugs.
Alford could be back right around the time Peterson is eligible to return for the Cardinals' Week 7 game against the New York Giants. In the meantime, it's likely that rookie Byron Murphy and Tramaine Brock will be the Cardinals' starting cornerbacks in Week 1 against the visiting Detroit Lions.
The 30-year-old Alford signed a three-year contract worth $22.5 million with Arizona in February.
Dolphins find 'unicorn' with No. 1 WR potential in Preston Williams – Miami Dolphins Blog
TAMPA, Fla. — One Miami Dolphins fan couldn't stop talking about his new favorite player while watching joint practices in Tampa Wednesday. It wasn't a quarterback such as Josh Rosen or Ryan Fitzpatrick, or even cornerback Xavien Howard or possibly running back Kenyan Drake. It was undrafted rookie Preston Williams, a 6-foot-5, 218-pound receiver who has excited the Dolphins fan base, coaches and players this summer.
"Put him up there in the ring of honor with Paul Warfield (Dolphins wide receiver, 1970-74) right now. Ain't no need to wait," the fan wearing an aqua Dolphins shirt yelled out as Williams beat Buccaneers cornerback Vernon Hargreaves for a catch during a one-on-one drill.
Outside of Rosen, Fitzpatrick and Kenny Stills, no Dolphins player has been talked about more than the rookie wideout. Even Howard, who is the Dolphins' best player, has noticed.
"That guy can be special," Howard said. "There's so much room for improvement with him, but he's going to be a No. 1 receiver one day."
"I've been playing against receivers all of my life, so I know what it takes."
Howard does not give compliments often, so his words hold weight.
Williams, 22, has consistently flashed on the field. He had a game-high four catches for 97 yards and drew multiple defensive pass interference calls in the Dolphins' 34-27 preseason win against the Atlanta Falcons.
Williams is already making highlights plays. He's the ultimate jump-ball receiver, but he went viral during the Dolphins-Buccaneers joint practices this week after twice juking a stumbling Tampa Bay cornerback out of his shoes in one-on-ones.
👀 @Thresort 👀#FinsUp pic.twitter.com/ozkoaIXNiZ

— Miami Dolphins (@MiamiDolphins) August 13, 2019
The question for Williams has quickly transitioned from will he make the team (yes, he's a lock) to will he start or get significant playing time from Week 1 (that is yet to be seen). But Howard's words of elite receiver potential grow with every catch Williams makes.
"This is a talented young receiver," coach Brian Flores said. "To get to a No. 1 status is, he's got a long way to go, but does he have that potential? I would say he does and it's up to him to do the things he has to do to reach that potential. We'll help him though."
Did we just become best friends?
Outsiders were introduced to the Josh Rosen-Williams connection last Friday night. Late in the second quarter, Rosen delivered a nice ball to Williams — who made a diving one-handed (left hand!) grab, beating 6-foot-2 Falcons cornerback Jordan Miller for a 36-yard reception. The crowd erupted and the catch went viral on the Internet.
"If you make plays, people notice," Williams said.
Josh Rosen with the pass ✅
Undrafted rookie Preston Williams with the one-handed grab ✅

(via @NFL)pic.twitter.com/RGVTGIS2y2

— ESPN (@espn) August 9, 2019
This isn't a case of first-time interactions turning into an instant bond. Rosen and Williams played together at The Opening 7-on-7 football camp in Oregon in 2014. Williams often smiles when thinking about all the touchdowns he's caught from Rosen in the past.
The QB-WR pair are a great match. Rosen is a gunslinger at heart who plays the game with trust and rhythm. Williams is a big-body, big-play threat who loves catching 50/50 balls.
"Preston will go get the ball, so you've got to give him those opportunities," Rosen said. "He's an unbelievable athlete. He's got a great attitude. He works really hard, and I think he's got a really high ceiling. It's just about how hard he works, and I'm right there in the boat with him.
Williams added: "We're both young, so we're learning together. Me and Josh still got a lot of growing to do. We'll keep working every day, during practice and after practice."
Work ethic is one area where Williams has impressed the Dolphins. He's regularly one of the last players off the field getting extra work on the Jugs machine. He also spent the break between spring workouts getting pointers from former NFL receiver Brandon Marshall and working out with Saints quarterback Teddy Bridgewater.
.@Thresort at @HardRockStadium #elevator @MiamiDolphins pic.twitter.com/CAsLtozRHE

— Jason Jenkins (@jasonljenkins) August 10, 2019
Unicorn season
Take a gander at Williams' social media accounts and you'll realize he's obsessed with unicorns. Why? He says he sees himself in the mythical creature. His game might be catching others by surprise, but that's just because they don't see it often he says.
"Uni — unique. Unicorns are unique horses. You haven't seen a unicorn before," Williams said. "People say I run like a horse. I agreed, but I run like a unique horse though. I'm unnoticeably fast. I got good game sleep. I'm unique."
The Dolphins have a suddenly deep receiver crew with Stills, DeVante Parker (who says he sees a lot of himself in Williams), Albert Wilson, Jakeem Grant, Williams, Isaiah Ford, Brice Butler and Allen Hurns.
How did Williams land in Miami? Williams was arrested in 2017 because of a domestic dispute with a woman who identified as Williams' girlfriend at the time. Williams pled guilty to a harassment charge in 2018. He wasn't invited to the NFL scouting combine because of the 2017 arrest. He was considered by some as a potential first-round player out of Colorado State, but off-the-field issues along with a bad pro day performance led him to go undrafted.
Dolphins assistant general manager Marvin Allen, co-director of player personnel Adam Engroff and regional scout Lenny McGill kept track of Williams throughout the draft. The Dolphins had high evaluations of Williams throughout the process and were active in pursuing him as it became clear he might go undrafted
"He's worked extremely hard really since he got here, post-draft. He's big, he's fast, he's got good hands, he's tough, and he's really worked every day to get better," Flores said. "We tell him to block in the run game, he blocks in the run game, play more downhill on your end cuts, he does that."
From earlier, Preston Williams 1-on-1 battles with Vernon Hargreaves. Each side got a win. pic.twitter.com/k3ueRtiQqX

— Cameron Wolfe (@CameronWolfe) August 14, 2019
The next question will be how the Dolphins get Williams on the field? His fellow receivers know it's only a matter of time before he's catching touchdowns with the starting offense. The Dolphins even gave him a shot at punt returner in practice this week.
Williams might benefit if Wilson and Grant are eased into regular-season action as they recover from injuries. But eventually there will be a lot of receivers in the kitchen ready to eat. That's a problem the Dolphins hope to have in 2019 and beyond.
"He's a first-round talent," Stills said of Williams. "He's going to be somebody to deal with in this league for a long time."