Diamondbacks' Ray exits game with back spasms
DENVER — Arizona Diamondbacks left-hander Robbie Ray left in the third inning against the Colorado Rockies with spasms in his lower back.
Ray took the mound in the bottom of the third Wednesday before being visited by manager Torey Lovullo. After a brief meeting, Ray slowly walked toward the dugout with the team trainer. Ray struck out two, walked two and allowed one run over two innings. He threw 45 pitches.
The 27-year-old Ray was replaced by right-hander Matt Andriese.
Ray is 10-7 with a 3.99 ERA this season.
Cubs continue skid after Kimbrel's blown save
CHICAGO — The Cubs are seeing their season slip away in heartbreaking and dramatic fashion as they lost their fourth consecutive one-run game at Wrigley Field on Saturday, after closer Craig Kimbrel gave up back-to-back, ninth-inning home runs, on back-to-back pitches.
Kimbrel, 31, entered the game against the St. Louis Cardinals holding onto an 8-7 lead before Yadier Molina hit his first pitch, a 97 mph fastball, out to left field. Paul DeJong did the same, moments later, hitting another fastball out.
"I feel like I made two competitive pitches that I wanted to and they went out," Kimbrel said after the game. "It's frustrating. It's the only thing I can say."
The ending is becoming all too familiar for the Cubs and Kimbrel. He also gave up a game-winning home run to Matt Carpenter in Game 1 of the series on Thursday, breaking a 2-2, 10th-inning tie. In just 23 appearances since signing with the Cubs in June, Kimbrel has given up nine home runs, a career high for one season.
"We had the right guy there at the end," manager Joe Maddon said. "You talk about two shots to the jaw, and they got the win."
Watch Craig Kimbrel discuss the two home runs hit off him on back-to-back pitches in the Cubs' 9-8 loss to the Cards on Saturday. Video by Jesse Rogers
The Cubs will have to wonder if Kimbrel was ready for the moment, considering he was on the injured list until Thursday with right elbow soreness. The team deemed him ready after a 16-pitch simulated game a couple days earlier, but three home runs given up in less than two innings of work might say something different.
"I feel great right now," Kimbrel said. "I just didn't get the results I wanted. The results I need to have to do my job. Moving forward I have a good feeling I will."
Maddon added: "He was already in one game. He's had ample time to get it back together. It was kind of surprising…That was the right time for him. There was nothing wrong with his arm strength."
Kimbrel is signed on for two more seasons after this one, so concern may grow about his performance, if indeed he is healthy. But the here-and-now is the only thing that matters for the Cubs at the moment. It was a crushing defeat in a week of them, even though they fought back several times in Saturday's four-hour, 24-minute marathon. But whatever can go wrong has, as the Cubs dropped their fifth consecutive game and are reeling from injuries and blown saves.
"Craig's a Hall of Fame closer," first baseman Anthony Rizzo said. "He's got a track record for a reason. He puts in the work. We all see it. He's an amazing guy in the clubhouse. We have his back. It's tough. I know he feels bad, but he's a competitor and he's a champion and he'll bounce back."
It's been 47 years since the Cubs lost four consecutive one-run games, but they'll have to put that all behind them if they have any chance at a fifth consecutive postseason appearance. Saturday's game will be a tough one to get over. Chicago's chances to make the playoffs dropped from 77 percent at the end of play on Monday to 13 percent following Saturday's loss, according to FanGraphs.
"I'm feeling for Craig right now more than anything," Maddon said.
Braves' new world — Loftier goals than NL East title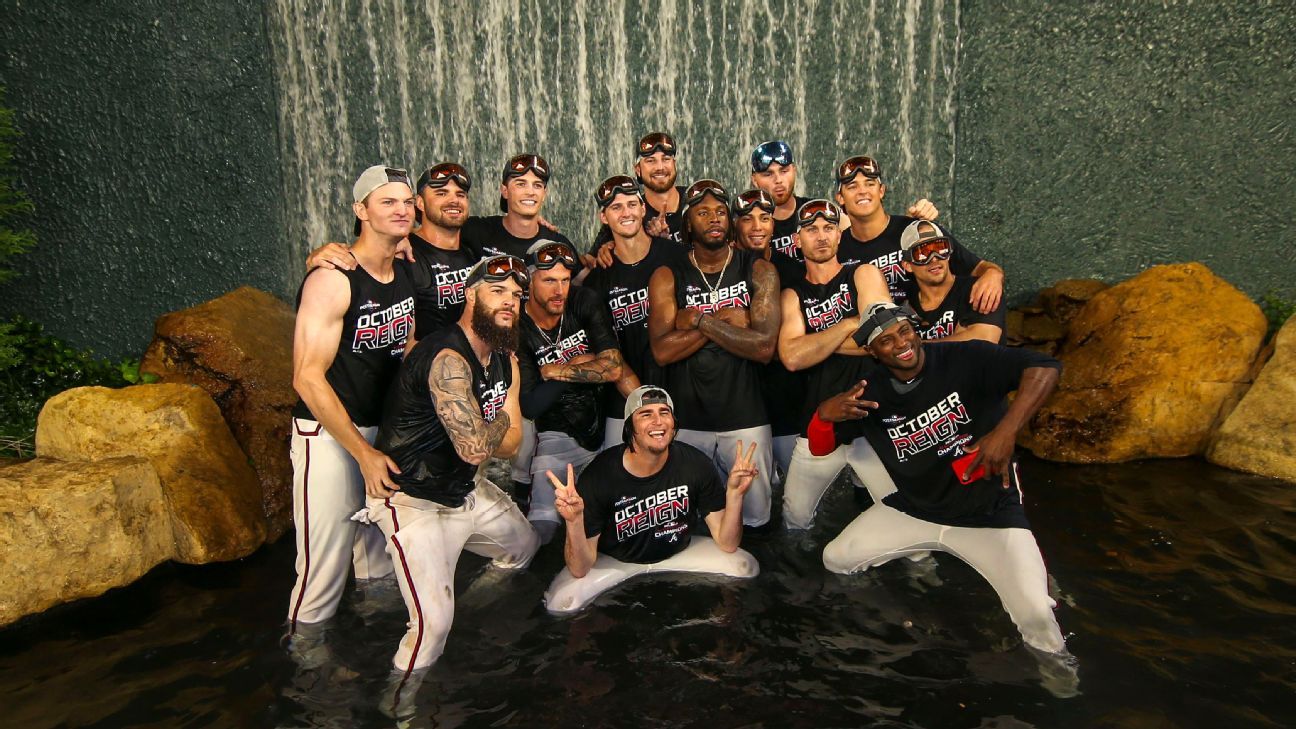 ATLANTA — One year ago, just winning the NL East was enough for the rebuilding Atlanta Braves.
Now manager Brian Snitiker and general manager Alex Anthopoulos expect more.
Even as players celebrated their second straight division title with beer and bubbly on Friday night, focus shifted.
"Our first goal was to win the East and we did, and I think now that's not good enough," Snitker said Saturday. "I think our guys know they're capable of a lot more than that. The goal now is the big prize. We feel like we have a team that can do that. We are deep enough, strong enough. I think that is a realistic goal, not just to want to get in but to win the whole thing."
After Friday night's clinching 6-0 win over the Giants, Anthopoulos stood outside the clubhouse doors while the rowdy celebration continued inside.
The GM didn't allow himself to be sprayed. He was looking ahead to the Division Series starting Oct. 3.
"Kind of by design," Anthopoulos said when asked how he stayed dry. "Hopefully we're doing this after the DS and that's when I'm going to be wet."
The Braves haven't won the World Series since 1995 at Atlanta-Fulton County Stadium, two ballparks ago. They have lost nine straight playoff series since sweeping Houston in the 2001 NL Division Series, including last year's four-game loss to the Los Angeles Dodgers.
Atlanta's only regulars in Saturday night's lineup were Ronald Acuna Jr., Josh Donaldson and Dansby Swanson. Others, including Freddie Freeman and Ozzie Albies, were rested.
Donaldson likely will not start on Sunday. Snitker acknowledged it may be more difficult to hold out Acuna, who is chasing a 40-40 season.
Swanson, however, feels he needs at-bats after missing a month with a foot injury.
"I need to play," Swanson said. "I missed enough time. I'm still looking for ways to kind of find that groove and get back to where I was before. Each day I'm working to get better and I need the at-bats to continue to boost myself in the right direction."
"I told the guys I feel like we knocked on the door last year. Now we're going to try to kick that sucker in."

Brian Snitker, Braves manager
Swanson said the offseason additions of Donaldson and catcher Brian McCann plus re-signinh Nick Markakis put the Braves in position to be a more viable postseason contender.
"I think as soon as the season was over last year everyone was excited to come back and get to work," Swanson said. "With the additions of J.D. and Mac and having Nick come back really put us in a good position to really win consistently and to be able to do it in a multitude of ways."
Acuna (41 homers), Freeman (38) and Donaldson (37) have led Atlanta's deep lineup. Freeman's 120 RBIs led the majors entering Saturday's games. Acuna led the NL with 126 runs and 37 stolen bases.
"I told the guys I feel like we knocked on the door last year," Snitker said. "Now we're going to try to kick that sucker in."
'Animated' Boone ejected for arguing strike zone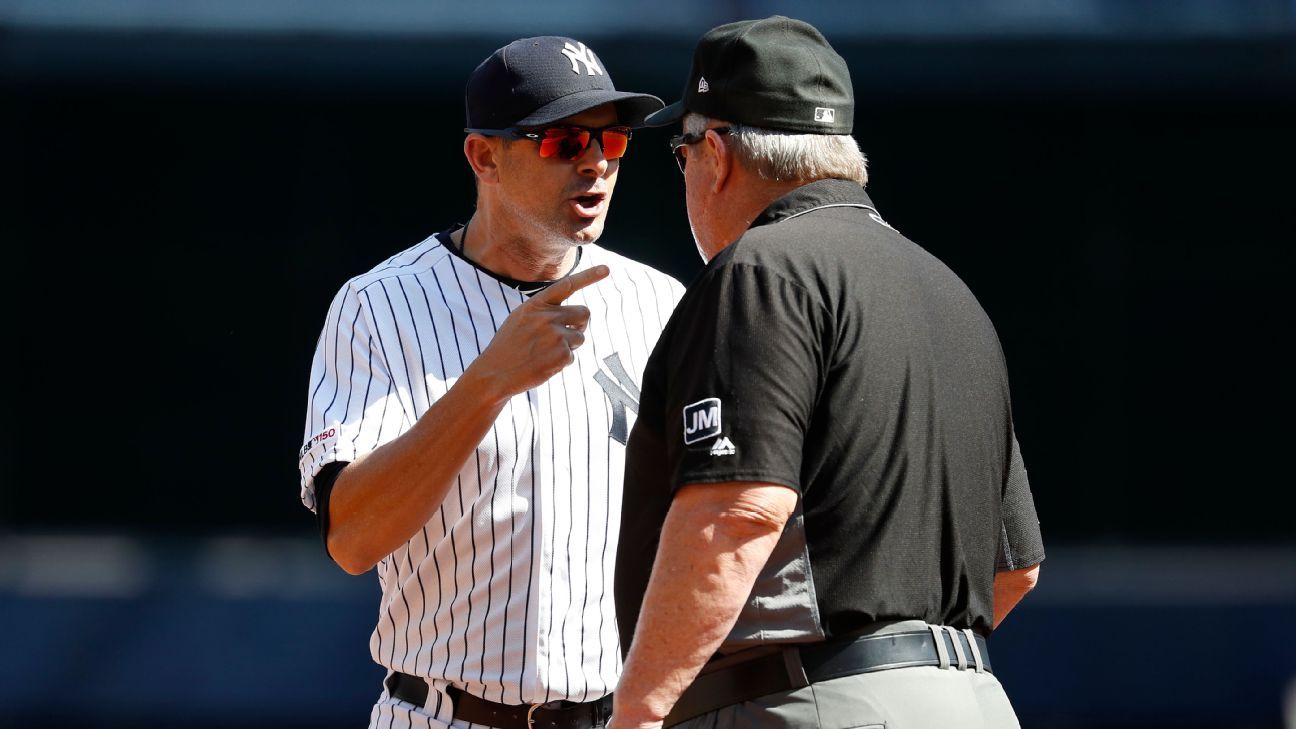 NEW YORK — Yankees manager Aaron Boone clashed Saturday with another rookie umpire, and this time, veteran crew chief Joe West stepped in.
Boone was ejected by West, umpiring at third base, for arguing balls and strikes during a 7-2 win over the Toronto Blue Jays.
New York slugger Giancarlo Stanton struck out looking at three low strikes from rookie T.J. Zeuch for the final out of the first inning. Stanton argued briefly with plate umpire Jeremie Rehak — an injury replacement from Triple-A — before heading back to the dugout.
Boone, meanwhile, shouted profanities from the bench, and West signaled his ejection from across the field. Rehak also booted Yankees hitting coach Marcus Thames during the exchange.
"I was just upset within an at-bat where G's coming back and I felt like there were a few in there in his at-bat where it kind of got taken away, so I just got animated," Boone said. "The bottom line is I probably wasn't going to get thrown out from Jeremie. I was starting to walk away and the confrontation happened with Joe."
Boone's interactions with umpires have been well-documented this year, and he's been tossed five times. The most notable was an exchange with rookie ump Brennan Miller in July when TV mics capture Boone repeatedly calling his players "savages." That tirade went viral, and New York players routinely wear T-shirts commemorating the rant.
"I like to think I'm always in control of my emotions," Boone said. "There's times that I'm going to fight and I think it's necessary. As hard as we are on our guys about controlling the strike zone and how much we demand of them in that regard, it's something I'm passionate about and I'm going to fight. I don't want our guys leaving the strike zone."
New York was also peeved with West over his strike zone Friday night, when Brett Gardner argued forcefully after a called strike in the ninth. Boone said that disagreement wasn't a factor Saturday.