Should running back Damien Williams' early injury concern Chiefs? – Kansas City Chiefs Blog
ST. JOSEPH, Mo. — Damien Williams said he spent the offseason preparing for his role as a full-time featured back for the Kansas City Chiefs.
Williams, 27, enters the season as an RB1 for the first time in his career and said he has been focused on things like nutrition and hydration — things that will keep him healthy during a long season.
The early returns, though, are not encouraging. Williams missed most of the first two weeks of Chiefs training camp because of a sore hamstring. He returned to practice late last week but didn't play in Saturday night's preseason opener against the Cincinnati Bengals.
Williams regained his spot as the Chiefs' No. 1 back on Monday when they returned to camp. But his lack of availability so far illustrates how the Chiefs are taking a chance on the unknown by counting on Williams.
"There's a certain challenge that comes with that [job]," coach Andy Reid said. "That's a tough position to play. You have to prepare yourself on and off the field."
Williams played well late last season after taking over the Chiefs' lead back role when they released Kareem Hunt. But many backs have proved they can handle the load for a short period of time. Fewer can handle the demands of a physically and mentally draining job over the longer term.
"It's a good early reminder that the little things like stretching and hydration really matter," general manager Brett Veach said of Williams' early camp injury. "Those are things elite-level players do away from the field.
"It's just a matter of acclimating his body to that kind of workload. He has to figure out the stuff away from the field: diet, extra treatment and things like that. Sometimes when you're a guy that has been a role player your entire career, you don't get a lot of wear and tear. There's not a lot of need to stay in the training room and there's not a lot of need to watch exactly what you're putting in your body. Now all of a sudden you're talking 16, 18, 20 carries a game over the course of a 16- and hopefully a 19-game season, that will take a toll on you."
Williams said he's learning how to acclimate.
"I had to change my eating habits," he said. "I actually did this thing where they draw your blood and tell you what's actually necessary for you. I kind of just picked up the workload when I'm working out, doing a little more, doing a little extra because you know even though this is my sixth year I've never had the role of the starter or have had to take the bulk of the reps.
"I learned I'm allergic to spinach. I can't eat spinach, obviously. It's cool to just kind of learn what you can and can't eat and what I've been eating thinking, 'this is good,' but it's not good for my body type."
Last season Williams rushed for 256 yards on 50 attempts (5.1 yards per carry) and had four touchdowns. He also rushed for 129 yards and a score in a divisional-round playoff win over the Indianapolis Colts. Now he has to prove he can sustain it. The Chiefs are comfortable Williams is mentally tough enough to make the leap.
"There's no question about his desire," Veach said. "He's one of the toughest guys on our offense. He just has to make sure he knows that wanting to be that guy on the field, there's another part to that. So I'd say when he has his helmet on, he's ready for this. When he takes it off, that's when he's going to have to grow. To go through the violence and the amount of hits he's going to take, it's a lot different than what he's used to."
The Chiefs have alternatives. They signed veteran Carlos Hyde, who was the starter in Williams' absence. They brought back Darrel Williams from last season. They drafted Darwin Thompson, who has played well in camp and in the preseason game against the Bengals (five rushes for 22 yards, one catch for 29 yards and a TD).
Each figures to have a role as the season progresses. But offensive coordinator Eric Bieniemy said the Chiefs would be patient with Damien Williams.
"He's the starter," Bieniemy said. "We need to make sure than Damien continues to do the things he needs to do in order to help himself be ready when called upon."
OT Jason Peters, LB Nigel Bradham among 6 Eagles ruled out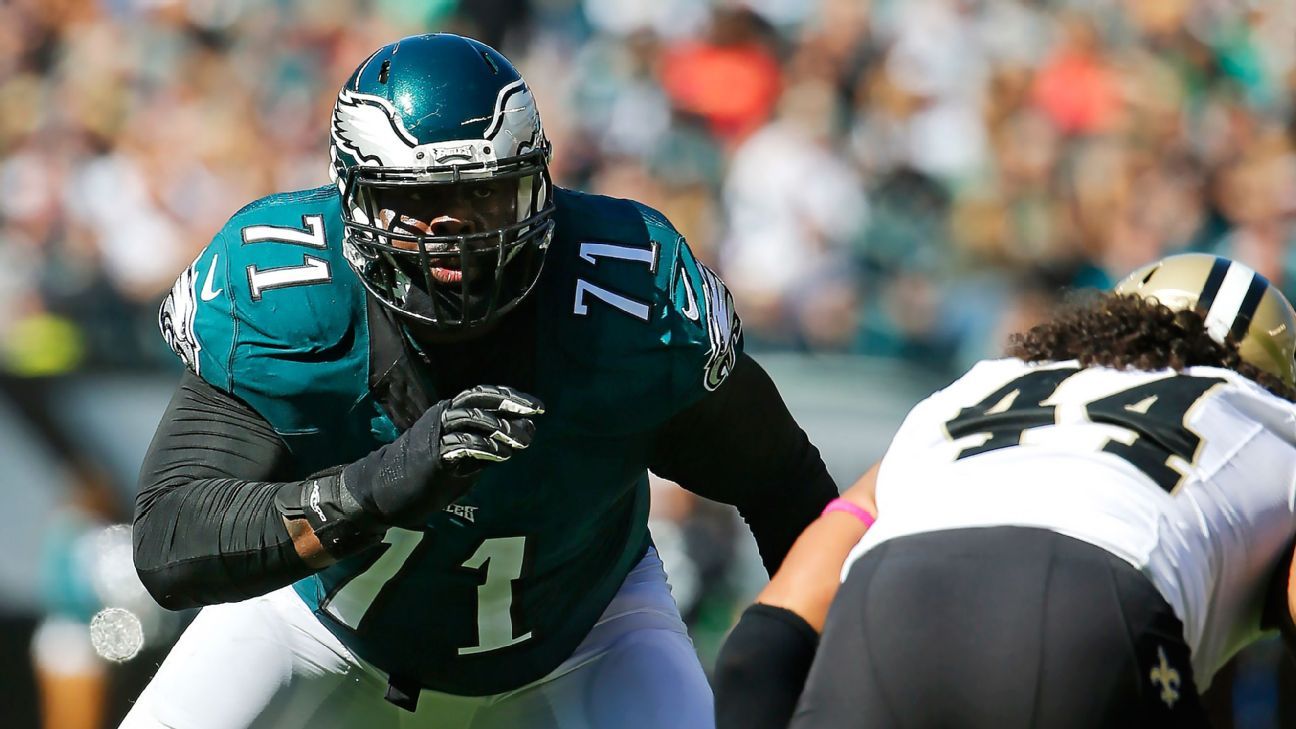 PHILADELPHIA — Wide receiver DeSean Jackson, offensive tackle Jason Peters and linebacker Nigel Bradham headline a large group of Eagles players who have been ruled out for Sunday night's game at the Cowboys.
The Eagles are, however, getting one notable piece of their secondary back in corner Jalen Mills.
Defensive tackle Tim Jernigan, cornerback Avonte Maddox and running back Darren Sproles have also been ruled out.
This will be the fifth straight game that Jackson has missed since suffering a Grade 2 abdominal strain against the Atlanta Falcons in Week 2. He appeared on the practice field Friday, working off to the side with the head trainer.
"With this injury, it's tricky. He wants to be 100%, we want him to be 100%, so I'm not going to push him, I am not going to rush him," coach Doug Pederson said. "I want him to feel and be the DeSean that we know he's capable of being before we put him back out there."
Peters exited last week's game against the Minnesota Vikings with what Pederson described as an "extensive" knee injury. Rookie first-round pick Andre Dillard will make his first start Sunday and will be charged with stopping edge rusher Robert Quinn, who has five sacks on the season.
The absence of Bradham means the Eagles will be down two starting linebackers after releasing Zach Brown earlier in the week.
Mills, meanwhile, will play in his first game in almost a year. He suffered a foot injury against the Jacksonville Jaguars last October and has had a slow climb back. Despite the long layoff, Mills expects to start against Dallas.
The secondary needs all the help it can get. Philadelphia ranks 29th in passing yards per game allowed (280) and is coming off a loss to Minnesota in which it yielded 333 yards and four touchdown passes to Kirk Cousins.
Mills and Ronald Darby are set to be the starters, Pederson said. Darby (hamstring) was limited at practice this week and is listed as questionable.
Cowboys DE DeMarcus Lawrence to Eagles coach Doug Pederson — 'We ready'
FRISCO, Texas — Doug Pederson's "we're gonna win that football game," comment on WIP on Monday has not been much of a topic of discussion inside the Dallas Cowboys locker room as they get ready to play the Philadelphia Eagles Sunday, but defensive end DeMarcus Lawrence will not forget it.
"Tell him to come on. We ready," Lawrence said. "Can he play the game? So he might want to shut his ass up and stay on the sideline. He can't play the game for them. The Eagles got to play them and he's supposed to sit on the sideline and do whatever he wants to do. But he can't play the game for them so we'll see."
Lawrence called Sunday's game a "must win," with the Cowboys on a three-game losing streak, referring back to last year when the Cowboys had a slow start to the season.
"We done seen hell and dug out of the pits of it," Lawrence said. "We was 3-5 last year and y'all were asking these same questions. Like, what is it to fear? Like, we all men. We already know what we got to do. We're going to go and show it and prove it."
Lawrence is no stranger to strong comments. Leading into last year's meeting against the New Orleans Saints, he said, the Cowboys defense had to "choke their ass out," and the Cowboys responded with a 13-10 win.
Lawrence, who missed the offseason program and training camp because of shoulder surgery performed a few days after signing a five-year, $105 million contract in April, has 2.5 sacks this season and playing just 63.2 percent of the snaps. He played in 71.8% last year and will play more Sunday.
"You don't got to worry about this week," Lawrence said. "Doug Pederson already done called us out, so y'all know what it is. Thank y'all."
Source — Chiefs get 'best-case scenario' on MRI results for Patrick Mahomes
The Kansas City Chiefs received a "best-case scenario" for quarterback Patrick Mahomes after an MRI showed no damage other than a dislocated right kneecap, an NFL source told ESPN's Adam Schefter on Friday.
Mahomes suffered a right patellar dislocation during the second quarter of Thursday night's 30-6 road win over the Denver Broncos, sources told ESPN. Prior to the MRI, the team believed Mahomes would miss at least three games, sources said.
Chiefs coach Andy Reid on Friday said he didn't have results of the MRI, but a source told Schefter that the results of the MRI were "good."
Reid said the evaluation of Mahomes was ongoing.
"I just know what I know: The kid had the MRI, and we don't have all the information," Reid said. "That is what I can give you. I am trying to tell you what is real. Once I get all the information, we will give you everything that kind of happened and what's going on here … the whole deal. We don't hide that."
The NFL's reigning MVP was injured during a quarterback sneak on fourth down with just over nine minutes remaining in the first half. As medical staff attended to him on the field, it appeared Mahomes' knee was straightened and popped back into place.
A cart came onto the field, apparently to take Mahomes for treatment. He was instead helped off the field by a couple of trainers. Players from both teams came by to offer encouragement.
Mahomes, 24, soon left for the locker room, walking under his own power but with a limp.
Chiefs players understood the severity of Mahomes' injury after his kneecap popped out of place.
"He was saying, 'It's out, it's out,'" guard Laurent Duvernay-Tardif said. "Nobody really understood what he meant at that time, and then we saw it. … That's when we started panicking. Not panicking, but seeing that he was not all right."
Duvernay-Tardif, a medical school graduate, said he didn't need any particular knowledge to immediately realize the seriousness of Mahomes' injury.
"Everybody could have known something was wrong," Duvernay-Tardif said.
Veteran Matt Moore, who joined the Chiefs (5-2) late in the preseason after backup Chad Henne broke his right ankle, replaced Mahomes. He threw a 57-yard touchdown pass to Tyreek Hill and completed 10 of 19 passes for 117 yards.
"He is a pro and has done a nice job," Reid said Friday of Moore. "Hard to be a relief pitcher. He has done it before. There's a certain way to prep for that. He understands that. It paid off for him.
"The best part is we didn't have to change up a lot of things. Hard thing to do is if one backup comes in and you have to change the whole offense. We didn't have to do that for him."
The Chiefs next play the visiting Green Bay Packers on Oct. 27.
"[The NFL] doesn't slow down for anyone or anything," said Reid, who coached the Philadelphia Eagles to the NFC Championship Game in 2002 after losing starting quarterback Donovan McNabb for six games late in the season. "The NFL keeps rolling, will still have games. If you are in the league and you are a player, you are expected to step up and play.
"… There's no looking back. Everything is looking forward in this league. Very seldom can you look back, and those that do are normally out of the league. When you are in it, you are only as good as your next game."