Manuel, 75, back in Phils' dugout as hitting coach
The Philadelphia Phillies have hired former manager Charlie Manuel as the team's new hitting coach after relieving John Mallee of his duties, the team announced Tuesday.
Manuel, 75, last managed the Phillies in 2013. He is the franchise's winningest manager with a 780-636 mark, leading the team to a 2008 World Series championship and five straight division titles.
Since the All-Star break, the Phillies rank last in the National League in batting average (.240), RBI (109) and extra-base hits (82), and the team's .705 OPS ranks ahead of only the Marlins during that span.
Manuel will assume his new role immediately, the team said. He has previously twice served as a hitting coach for the Cleveland Indians, with whom he also was manager from 2000 to 2002.
After he was fired by the Phillies, Manuel was brought back into the fold as a senior adviser to general manager Ruben Amaro in 2014.
The Phillies are just two games back in the National League wild card race. They trail the Atlanta Braves by nine games in the NL East standings through Monday.
Paxton, Hicks answer call in Yankees' season-saving win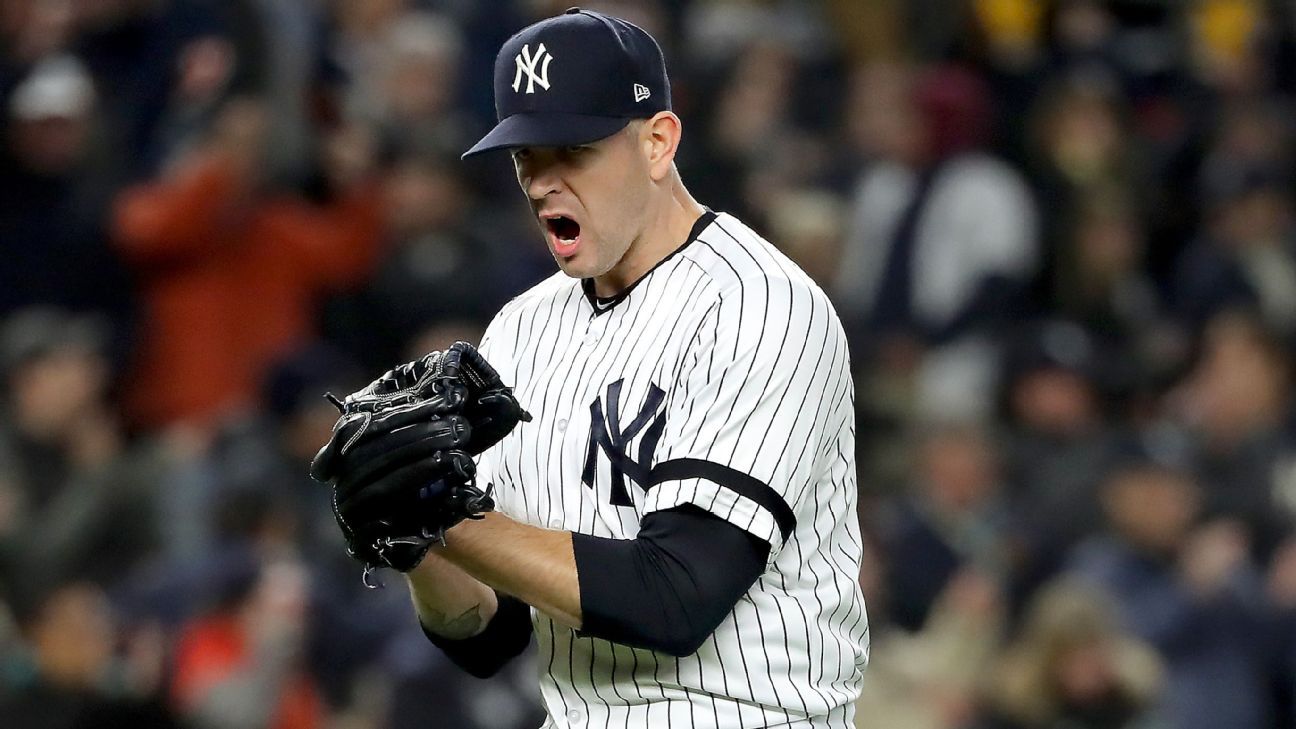 NEW YORK — The New York Yankees will live to play another day in the American League Championship Series after a bit of first-inning magic secured a 4-1 victory over the Houston Astros in Game 5 to send the MLB playoffs series back to Texas.
The Bronx Bombers' bats woke up after a three-game slump, with DJ LeMahieu and Aaron Hicks hitting two first-inning home runs against Astros ace Justin Verlander to build a three-run lead they would never relinquish. It was the first time that Verlander, 4-0 in seven previous October starts against the Yanks, gave up two home runs in the first inning in his postseason career.
"It was just a really good string of at-bats together against Justin, probably the best time to hopefully get to him is early," said manager Aaron Boone. "With DJ (LeMahieu) going out there and getting into one and then (Aaron) Judge and Gleyber (Torres) finding the chalk down there. And then (Aaron) Hicks, the same thing, and he was able to clip him. It was huge to get off to that start, especially after they scored a run in the first inning."
LeMahieu hit a leadoff home run on Verlander's second pitch of the evening to make it a tie game after the Astros had taken an early 1-0 lead on a wild pitch by starter James Paxton with runners on the corners. It was just the second time in 28 career postseason starts that Verlander allowed a leadoff home run, his first since Game 1 of the 2012 ALDS to Coco Crisp.
Hicks followed with a three-run shot off the 36-year-old 2019 Cy Young favorite, the most runs he's ever allowed in a single inning in the postseason. Verlander surrendered four runs in a single game for just the eighth time in 29 postseason outings. Even more incredibly, it was the first time that the Yankees have ever hit two first-inning home runs in a postseason game, no small feat considering it came in their 405th playoff game.
It was imperative for the Yankees to set the tone early against Verlander, who then went on to pitch a one-hit shutout over the next six innings, striking out nine batters.
"It was a good feeling. We needed a good start," said LeMahieu, whose first-inning home run was the first leadoff homer by a Yankee in the postseason since Derek Jeter's in Game 3 of the 2009 ALCS. "I was just trying to get on base, hit something hard and get things going and put a pretty good swing on it. We had a tough top of the first inning. Like always, just trying to get things going. But we really needed to get it going today."
"That was the game plan, to strike early," Hicks said. "Get some good pitches to hit early in the count and try to be aggressive towards him early in the game, and we were able to score four off of him."
Hicks certainly didn't look like a hitter who hadn't taken regular at-bats since early August. The outfielder went from missing more than two months of play with a strained flexor in his right elbow, pondering whether he'd need to undergo Tommy John surgery, to being the Yankees' hero in a do-or-die game against the best team in the American League.
"It has a lot to do with the people that helped me get here; the staff down there at the minor league complex really got me going, giving me whatever I needed; all the stuff to get me prepared for the postseason," Hicks said, giving credit to the Yankees coaches in Tampa, Florida, where he spent a good part of his rehab. "And then when I got here, obviously playing in the games is the adrenaline, it's being able to compete and wanting to compete and be here is kind of what's got me here."
A single by Aaron Judge and a double by Gleyber Torres gave Hicks a pair of baserunners to work with when he struck his blow off the right-field foul pole. The Yankees had been hitless in their last 15 at-bats with runners in scoring position — their longest such streak all season — prior to Hicks' home run.
"Hicks' home run was huge; DJ's too, from the leadoff spot. To start with a home run is a huge opportunity for us, and against a really good pitcher like Verlander," Torres said. "It was really important to get to Verlander in that first inning because you saw what he can do when he settled down. We never thought about this as an elimination game and we tried to attack early and made good contact. The way we did things was very important, we stayed patient and did what we needed to."
The Yankees would have never reduced the Astros' lead in the best-of-seven series to 3-2 without a stellar performance by Paxton, who gave them six stellar innings to combine with the bullpen to hold the Astros' potent offense to just one run after being outscored 12-4 in the previous two games in the Bronx.
"That's why we got him. That's why we made the trade for him, to get a guy like that," said Judge of Paxton, who was acquired from the Seattle Mariners in November last year. "He's the best left-handed pitcher in the game. In any big game we've had all year long, he's always stepped up for us. That's what he did. He wanted to rebound from his last start of the postseason and he did that tonight. He commanded the zone; kept them off balance all night."
"Paxton was great, he did exactly what we expected of him today," said catcher Gary Sanchez, who continued to struggle offensively, hitting now just .100 (2-for-20) with 11 strikeouts in the ALCS. "I think that was one of his best games of the year, at one of the biggest moments of the season for us."
Paxton admittedly felt the intensity of the moment in the first inning, which led to the game's first run, but was able to settle down to give up just four hits over his six innings while striking out nine Astros. Reliever Zack Britton came to Tommy Kahnle 's rescue in the seventh, getting the last two outs with two runners on base before working a perfect eighth inning. Closer Aroldis Chapman pitched the ninth to record his second save of the postseason.
"Nerves were huge, but that's all part of it. My goal was to go out there and give it everything I had for my team," Paxton said. "I wasn't ready to go home yet, so I wanted to go out and give my team everything I had and just battle away. And that's what I did out there, and it worked out. I was taking it one pitch at a time, and just grinding and giving everything I had out there."
One loss away from elimination, slowing things down and using every moment is where the Yankees are at. It has taken them to a Game 6. Now they just have to grind their way to a Game 7.
Astros and Yankees to feature bullpens in ALCS Game 6
NEW YORK — Astros manager AJ Hinch had not formulated his full pitching plan for Game 6 of the ALCS when he sat at the podium for his postgame news conference on Friday. But he did shed light on the pitcher everyone was wondering about: Astros ace Gerrit Cole will not start on Saturday, meaning Game 6 will be a bullpen game.
The Yankees are turning to their bullpen as well, with manager Aaron Boone saying ace Luis Severino will start Game 7 instead of pitching on short rest Saturday.
New York dinged Houston's Justin Verlander for four runs in the first inning and made them stand up in a 4-1 win in Game 5 at Yankee Stadium, keeping its season alive. The Astros still lead the ALCS 3-to-2.
The win sent both teams back to Houston for a quick-turnaround game made necessary by a rain-out on Wednesday. Neither manager discussed a possible Game 6 pitching plan until after the contest and even then, both said their full strategies were unsettled. However, Hinch said that Cole, his Cy Young candidate who has not lost a start since May 22, will not get the call in what would have been the first start on three days rest during his career.
When asked if he knew who would start in Game 6, Hinch said,"No, we'll talk about it on the plane ride home." When asked for more detail, Hinch clarified that it would be a bullpen game and that Cole would not start.
"I said it would be a bullpen game tomorrow, and I'm unlikely to use Cole, correct," Hinch said, in uncharacteristically brief commments.
Meanwhile, Boone also didn't know the identity of his Game 6 starter, but he does know Severino will go in Game 7 if the Yankees win on Saturday.
"Sevey will start in Game 7," Boone said.
Both managers will in effect be choosing an extra day of rest for their next starter over an aggressive decision to tab one to pitch on short rest on Saturday.
While we don't know either team's definitive plan for Saturday, both managers had announced plans to use a bullpen day in Game 4, originally scheduled for Wednesday. The game was postponed until Thursday, pushing Game 5 to Friday, which was originally slotted to be a travel day. Hinch alluded to the possibility of using rookie Jose Urquidy in Game 4 and even the possibility that the bullpen outing for the hard-throwing right-hander could become something more like a start.
"I may say I'm doing a bullpen game, and Urquidy goes out there at some point during the game and I give him five or six innings," Hinch said earlier in the week. "I'm not sure that (bullpen game label) would really apply. At the same time, (my) hope is I wouldn't have to use nine pitchers. That's not often ideal, because what if the game goes 10, 11, 12, 13 innings. Unexpected things happen in regular games let alone bullpen games."
In addition to Urquidy, Hinch has Brad Peacock in his ALCS bullpen. Peacock was used as both a starter and reliever during the season, He appeared in Friday's game, throwing one inning and eight pitches in relief of Verlander. Peacock was the only reliever Hinch used, so he will enter Saturday's game with a fulyl rested bullpen.
While Boone's relievers didn't carry a heavy-as-usual load on Friday, a number of his relievers have appeared in multiple games during the series. However, Boone did not use key relievers Adam Ottavino or Chad Green in Game 5, while lefty Zack Britton was the only New York reliever to reach double digits with his pitch count (18).
"We'll just do our best to piece it together," Boone said.
Cole shut out the Yankees over seven innings in the Astros' Game 3 win on Tuesday, a game in which he out-pitched Severino. Hinch's decision on whether to start Cole on short rest was not clear-cut but it's likely that Houston's lead in the series made the possibility of a bullpen game more palatable.
The Astros, with the strong starting trio of Verlander, Cole and Zack Greinke, have used a traditional pitching approach during the postseason so far. The Yankees on the other hand have relied heavily on the bullpen all season and through the playoffs.
New York entered the game with 51 percent of their innings this postseason coming from the bullpen. Only one team (the 1984 Padres) have made the World Series with its relievers handling at least half the workload. Ironically, on the eve of a rare full-fledged bullpen day between two teams in a high-stakes series, Yankees reliever threw just 35 pitches on Friday, their lowest total this October.
Astros vs. Yankees – Live Game – October 18, 2019
CC Sabathia said the reception he got from fans was the main reason he got so emotional as he walked off the field for the final time in his career after suffering a shoulder injury in Game 4 of the ALCS. And despite the pain and the eventual Yankees loss, he says he feels blessed and at peace with how he went out. "I threw until I couldn't anymore."