Winningest coach-athlete duos in sports history
Tim Duncan spent his entire 19-year career with the San Antonio Spurs — and this week, he came out of retirement to join the team's coaching staff as an assistant coach.
"It is only fitting, that after I served loyally for 19 years as Tim Duncan's assistant, that he returns the favor," said Spurs head coach Gregg Popovich.
Popovich joined the Spurs organization in 1996, then Duncan was drafted by San Antonio as the first overall pick of the 1997 NBA draft.
The player-coach duo went on to win five NBA championships together, in 1999, 2003, 2005, 2007 and 2014. Duncan, now 43, retired after the conclusion of the 2015-16 season. Popovich is 70 years old and still going strong.
So that got us thinking: What other duos have dominated sports? And it got us thinking even further: With Popovich and Duncan on an already stacked coaching staff that includes Becky Hammon, is this officially the start of a new dominating era for Spurs basketball?
---
Long-term winningest player and coach duos (10-plus seasons)
Ryan Giggs and Alex Ferguson (21 seasons and 13 Premier League titles): If you've been knighted by the Queen of England, you're clearly a sports legend. Sir Alex Ferguson racked up one heck of a résumé throughout his 26-year tenure with Manchester United, winning a total of 38 trophies — including 13 Premier League titles, five FA Cups and two Champions League titles. During those 26 years, Ferguson had star midfielder Giggs on his squad, who spent his entire professional career in sheer dominance with the Red Devils (1990-2014).

Tom Brady and Bill Belichick (19 seasons and six Super Bowls): Do we even need to remind you of these two? They've spent 19 seasons together and won six Super Bowls — including the most recent one in February. Fans of the New England Patriots hope that Brady (41 years old) and Belichick (67) never say goodbye to football.

Derek Jeter, Mariano Rivera and Joe Torre (12 seasons and four World Series): Arguably one of the best MLB managers of all time, Torre led the New York Yankees to glory, winning four World Series in five seasons: 1996, 1998, 1999 and 2000. Having Jeter — aka "Mr. Clutch" — at shortstop and Rivera, the greatest closer in baseball history who was just inducted into the Baseball Hall of Fame, didn't hurt either.

Franco Harris and Chuck Noll (12 seasons and four Super Bowls): The Steelers brought glory to Pittsburgh in the 1970s, and running back Harris was a huge part of that, winning four Super Bowls in six years (1975, 1976, 1979 and 1980). The late Noll spent his entire head-coaching career — 23 years — at the helm of the Steelers, and his four Super Bowl victories rank second behind Belichick's six for most by an NFL head coach.

Terry Bradshaw and Chuck Noll (14 seasons and four Super Bowls): Noll also was lucky to have an all-time great quarterback on his team during the Steelers' run. In his 14 seasons with Pittsburgh, Bradshaw helped the team win four Super Bowl titles.

Kobe Bryant and Phil Jackson (11 seasons and five NBA championships): The face of the Los Angeles Lakers franchise — still — is undoubtedly Kobe Bryant. He spent all 20 years of his basketball career with L.A. and helped the Lakers to win five NBA championships. The last NBA team to three-peat? The Lakers, in 2000, 2001 and 2002. Bryant, still with head coach Jackson, also won again in 2009 and 2010.

Joe Montana and Bill Walsh (10 seasons and three Super Bowls): "Joe Cool" set quite a few records during his 14 seasons with the San Francisco 49ers. With Walsh as the head coach for 10 of them, Montana won four Super Bowls (1982, 1985, 1989 and 1990) and was named Super Bowl MVP three times. After Super Bowl XIX in 1985, in which Montana defeated Dan Marino and the Miami Dolphins, Walsh (rightly so) declared: "Joe Montana is the greatest quarterback today, maybe the greatest quarterback of all time."

Otto Graham and Paul Brown (10 seasons and seven NFL championships): Brown not only founded the Cleveland Browns, but he had a coaching career that spanned 25 seasons with them. Before the Browns joined the NFL in 1950, the team won four All-America Football Conference championships. Then, Brown and Graham won three NFL championships together, in 1950, 1954 and 1955.

Bill Russell and Red Auerbach (10 seasons and nine NBA championships): The paring of Russell and Auerbach helped create what could be called professional sports' greatest dynasty, combining to win nine NBA titles with the Boston Celtics, first in 1957 and then every year from 1959 to 1966. Russell — who also won two titles as a player-coach after Auerbach retired — was so dominant that the NBA renamed the NBA Finals MVP trophy after him in 2009.
---
Short-term winningest player and coach duos (Five or fewer seasons)
---
Duos too good to leave out but didn't fit in either category
Wayne Gretzky and Glen Sather (nine seasons and four Stanley Cups): Sather brought Gretzky to the Edmonton Oilers in the 1980s, and a glorious hockey dynasty was born. "The Great One" and Sather helped lead the Oilers to four Stanley Cup championships (1984, 1985, 1987 and 1988) and forever changed the face of hockey.




Bart Starr and Vince Lombardi (nine seasons, six NFL championships and two Super Bowls): If the trophy you get when you win a Super Bowl is named after you, there is a clear reason why. Lombardi led the Green Bay Packers to six NFL Championships (1956, 1961, 1962, 1965, 1966 and 1967). The team also won the first two Super Bowls ever, in 1967 and 1968, with Starr at the helm. Starr was not selected by the Packers until the 17th round of the 1956 NFL draft, but he clearly was a success with the team, playing with them until he retired after the 1971 season.

Michael Jordan and Phil Jackson (eight seasons and six NBA Championships): How can you talk about greatness without referencing MJ and Phil? With Jackson as head coach, the Chicago Bulls made the playoffs every season from 1987 to 1998, winning the NBA championship with Jordan six times (1991, 1992, 1993, 1996, 1997 and 1998). Jordan, perhaps the greatest basketball player ever, also won the NBA Finals MVP every year the Bulls won it all.

Joe DiMaggio and Joe McCarthy (eight seasons and five World Series): As general manager, McCarthy led DiMaggio and the "Bronx Bombers" to seven World Series championships (1932, 1936, 1937, 1938, 1939, 1941 and 1943). And for someone who spent his entire 13-year career with the same team, center fielder DiMaggio is sure glad he did so with the Yankees. DiMaggio ended up winning nine World Series (1936, 1937, 1938, 1939, 1941, 1947, 1949, 1950 and 1951) with the Yankees, but he served in World War II, causing him to miss the 1943, 1944 and 1945 seasons.
NFL probing Patriots video crew at Bengals-Browns
Cincinnati Bengals coach Zac Taylor said Monday that the NFL is investigating whether the New England Patriots were videotaping in the press box Sunday's game against the Cleveland Browns.
Taylor was asked by longtime Bengals radio analyst Dave Lapham about rumors that "the Patriots had a videographer up in the Bengals' press box area, working with an advance scout that was taping video of the Bengals' sideline" at his news conference.
"I'm aware that there was an incident," Taylor said. "But I know the league is investigating it, so I've got no comment on it."
A league source told ESPN's Adam Schefter that the incident in question involved a Patriots scout who was being filmed while working on a team feature called "Do Your Job." The video crew was credentialed by the Browns to shoot video in the press box and their PR person was aware, the source says.
An official for the Bengals, who were playing at Cleveland on Sunday, saw a member of the video crew wearing a Patriots shirt and alerted the league, which confiscated the video, according to the source.
In 2007, the Patriots were punished by the NFL for videotaping the New York Jets' defensive playcalls on the sideline during a 2007 game at Giants stadium, won by New England 38-14. The Patriots were forced to forfeit their first-round draft pick in 2008 and coach Bill Belichick was fined the maximum amount of $500,000. The Patriots also were ordered to pay $250,000 for the scandal, which was dubbed "Spygate" by the media.
The Patriots (10-3) play at the Bengals (1-12) on Sunday.
Bengals — NFL looking into if Patriots taped sideline
Cincinnati Bengals coach Zac Taylor said Monday that the NFL is investigating whether someone from the New England Patriots was videotaping the team's sideline during Sunday's game against the Cleveland Browns.
Taylor was asked by a reporter at his news conference Monday about the alleged activities by a Patriots employee and said, "I'm aware that there was an incident.
"But I know the league is investigating it, so I've got no comment on it."
Cowboys release kicker Brett Maher, sign Kai Forbath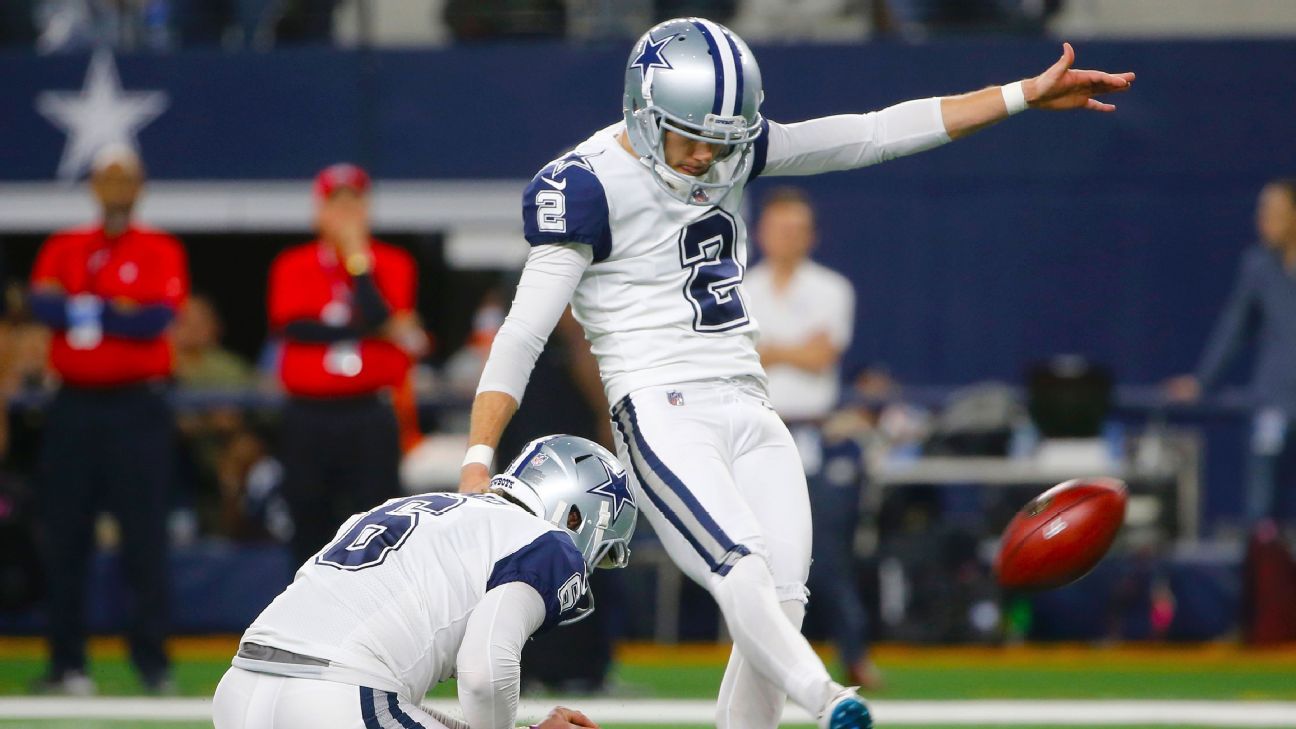 FRISCO, Texas — The Dallas Cowboys have released kicker Brett Maher, who leads the NFL with 10 missed field goal attempts this season, and signed veteran Kai Forbath.
Forbath, 32, was cut last week by the New England Patriots after he subbed for an injured Nick Folk and made one field goal attempt and 1 of 2 point-after tries in a loss to the Houston Texans. Forbath has made 85.8% of his kicks (121 of 141) in a career with five teams.
Forbath was among three kickers the Cowboys worked out on Monday, with the other two being Tristan Vizcaino and Nick Rose. Those two also worked out for the Cowboys last week, in addition to Austin MacGinnis, but the Cowboys opted to stick with Maher then.
In Thursday's loss to the Chicago Bears, Maher missed a 42-yard attempt in the second quarter that would have tied the score at 10.
It was his 10th miss of the season and the most in a season for a kicker in the past four seasons. Maher connected on just 1 of 5 attempts of 40-49 yards this season, which made him one of three kickers in the past 15 years to connect on 20% or worse of those kicks. David Akers went 1-of-6 in 2007, and Martin Gramatica went 1-of-5 in 2004.
For the season, Maher was 19-of-29 on field goals and became the only kicker in NFL history with three makes of at least 60 yards. He hit a 62-yarder last year against Philadelphia and attempts of 62 and 63 yards this season against the Eagles and New York Jets.
His big leg kept giving him multiple chances, but he was unable to make the shorter kicks consistently enough this year after he made 29 of 36 tries last year, including 6 of 7 from 50 yards or more.
Forbath originally signed with the Cowboys as an undrafted free agent in 2011 but had a quadriceps injury that did not allow him to kick, and the team eventually went with another undrafted rookie, Dan Bailey, as its kicker. Bailey went on to become one of the NFL's most accurate kickers before his production fell off, which led to his release in favor of Maher in 2018.