Nats' Turner hits for another cycle against Rockies
WASHINGTON — The Rockies bring out the best in Trea Turner.
On Tuesday night, the Nationals shortstop hit for the cycle during Washington's 11-1 win over Colorado, the second time in his career that he's accomplished the feat versus the Rockies. According to the Elias Sports Bureau, he's just the third player in MLB history to hit for the cycle multiple times against the same team. Fred Clarke of the Pittsburgh Pirates had two cycles against the Reds (1901, 1903), and Christian Yelich did it twice last year, also against Cincinnati.
Turner led off the bottom of the first with a solo home run against Colorado starter Peter Lambert. In the second inning, he grounded a single off Lambert for a single. Facing Lambert again in the fifth, Turner hit a liner down the right field line that glanced off Charlie Blackmon's glove and rolled into the corner for a triple. After grounding into an inning-ending double play against lefty reliever Sam Howard in the sixth, Turner came up in the seventh against righty Jairo Diaz and laced an RBI double to the gap in right-centerfield.
Turner is the 26th player in major-league history to hit for multiple cycles in his career. He previously did it on April 25, 2017 at Coors Field. In 18 career games against Colorado, the 26-year old speedster is now batting .386 with 16 extra-base hits.
Of the 10 cycles that the Rockies have now allowed in their history, Turner's is the first one to be accomplished away from Coors Field.
Earlier this season, Turner missed six weeks due to a fractured right index finger that he suffered as the result a hit-by-pitch. In 60 games with Washington this year, he's hitting .286 with eight home runs and 20 stolen bases.
Breaking down the Yankees' historic domination of the Orioles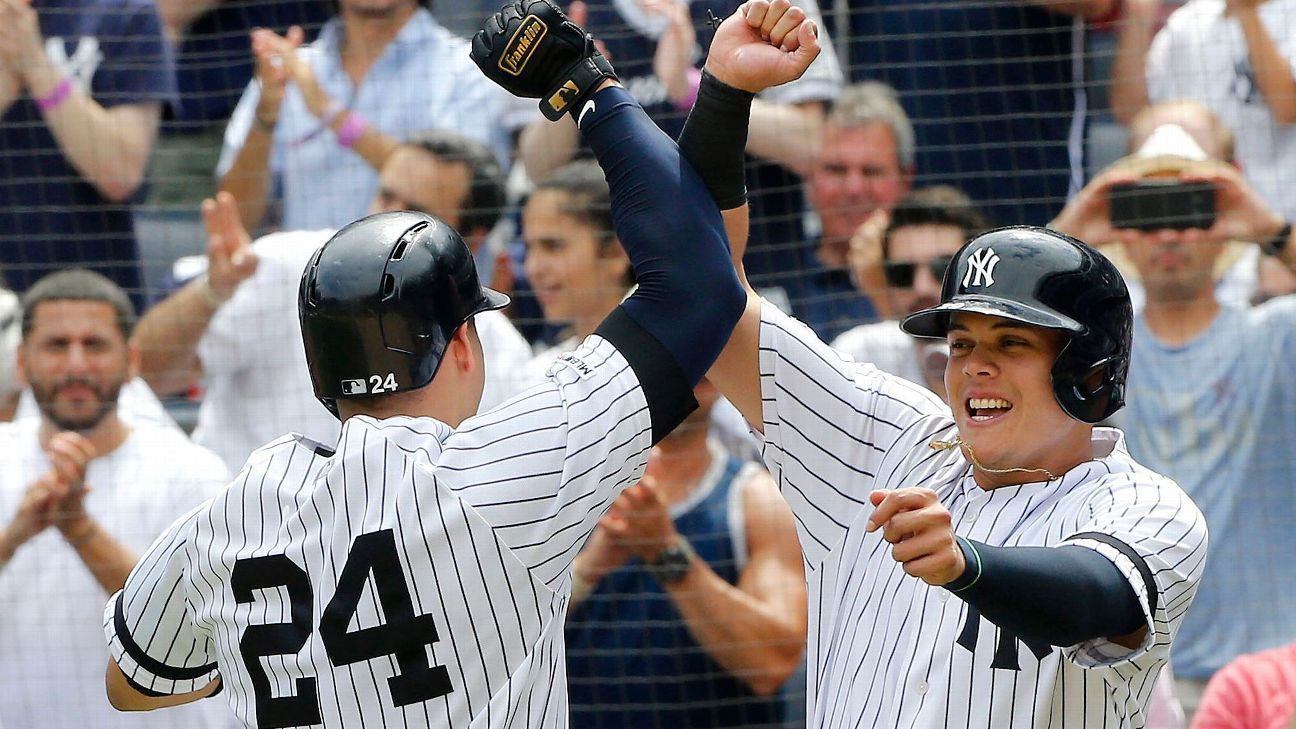 This has been the Dream Team versus Angola, the 49ers versus the Broncos, Pujols versus Lidge, Reagan versus Mondale.
The Yankees beat the Orioles 6-5 on Wednesday, finishing their season showdown with 16 consecutive victories and a 17-2 overall record. Along the way, the Yankees hit .303 against the Orioles, averaged 7.95 runs and mashed 61 home runs — shattering the previous record for home runs against one team in a season.
Yes, it was a trouncing. Since teams started playing 19 intradivision games in 2001, this matches the best record for one team against another:
2019 Yankees vs. Orioles: 17-2
2013 Indians vs. White Sox: 17-2
2013 Rangers vs. Astros: 17-2
2006 Athletics vs. Mariners: 17-2
(In an earlier era, the 1986 Mets went 17-1 against the Pirates and the 1974 Braves went 17-1 against the Padres.)
The Yankees outscored the Orioles by 68 runs, their largest run differential against one opponent since 1956 (when they outscored the Washington Senators by 68 runs). Their total of 151 runs is the second highest for one team against an opponent in the divisional era (since 1969):
2017 Yankees vs. Orioles: 154 runs
2019 Yankees vs. Orioles: 151 runs
2002 Diamondbacks vs. Rockies: 146 runs
2016 Cubs vs. Reds: 143 runs
(Thanks to Michael Bonzagni of ESPN Stats & Information for research help.)
With the season series mercifully over, I thought it would be fun to look back at 10 of the top highlights (not so much fun for Orioles fans):
April 4: Gleyber Torres went 4-for-4 with two home runs, a double and four RBIs in an 8-4 Yankees victory. The Orioles actually jumped out to a 3-0 lead in the first inning off James Paxton, but the Yankees would rally behind four home runs. Torres homered off Alex Cobb in the third and hit a three-run shot off Mike Wright in the sixth.
April 6: Clint Frazier hit a three-run homer with two outs in the eighth inning to lift the Yankees to a 6-4 victory. Aaron Judge mashed two home runs off Dylan Bundy. Frazier's winner came off a 2-2 slider from Miguel Castro and dropped the Orioles to 4-4 on the season. "I just love the fight in our guys," Orioles manager Brandon Hyde said. "We've just had a couple tough pitches out of the pen recently." Oh, Brandon, little do you know what would unfold the rest of the season.
April 7: The Yankees mashed seven home runs in a 15-3 victory. Gary Sanchez hit three of them and Frazier had two more. The Yankees had not hit seven home runs in a road game since May 30, 1961, when Mickey Mantle and Roger Maris both went deep twice at Fenway Park.
May 15: The Yankees swept a doubleheader by scores of 5-3 and 3-1, hitting four home runs in the opener and one in the nightcap. All four in Game 1 came off David Hess, including two from Torres, who added another homer in the second game. "It's too many home runs. It's embarrassing," Orioles catcher Austin Wynns said. Hess would end up going 0-3 against the Yankees while serving up 13 home runs in 20 innings.
May 20: The Orioles led 7-6 entering the top of the ninth, but after a tying sacrifice fly, Sanchez belted a three-run home run off Mychal Givens to give the Yankees a 10-7 victory. It was a comedy of errors for the Orioles leading up to Sanchez's home run. Dwight Smith Jr. made a bad throw in the seventh when he fell for a fake tag-up, Joey Rickard threw to the wrong base in the ninth inning, Smith chucked the ball past the plate on the sac fly and catcher Pedro Severino misplayed a foul pop that preceded Luke Voit's two-out walk ahead of Sanchez's home run. Good times. "We are Yankees," Torres explained after the game. "We have a history, you know what I mean?"
(Maybe this is a good time to point out that the Orioles have won an AL East title more recently than the Yankees. Baltimore won in 2014 and the Yankees haven't won since 2012.)
May 22: The Yankees hit five home runs, including four off Dan Straily, in a 7-5 win. Torres went deep twice. At this point in the season, Torres had 12 home runs — 10 against the Orioles. "There's definitely a pitching plan," Hyde said of his team's approach with Torres. "It's definitely not to throw the ball in the middle part of the plate."
Aug. 5: The score was tied 6-6 in the top of the eighth when Mike Ford hit a go-ahead home run off Paul Fry. Three batters later, Mike Tauchman hit a two-run blast, his second of the game, as the Yankees went yard five times in a 9-6 win. All the home runs overshadowed Jonathan Villar's hitting for the cycle for the Orioles. At this point, the Yankees had hit 32 home runs at Camden Yards — a major league record for a visiting team. They would hit six more the next day and five more the day after that, finishing with 43.
Aug. 7: Kyle Higashioka went deep twice, Gio Urshela went deep twice and Cameron Maybin added a fifth home run in 14-2 rout. The two-homer games by Higashioka and Urshela made it 11 Yankees who had homered at least twice in a game against the Orioles. (Yes, that's another record for one team against another.) "We've had a lot of guys coming through for us here," Aaron Boone said in the understatement of the year.
Aug. 12: The Yankees swept another doubleheader, winning 8-5 (four home runs) and 11-8 (three home runs). Torres hit one in the first game and two more in the second. When he came up with runners at first and second in the eighth inning, the Orioles simply issued an intentional walk. Hey, you can see the reasoning: Torres had hit 13 home runs against the Orioles. "I just kind of had enough," Hyde said. "We're making him look like a first-ballot Hall of Famer." Torres would finish .394/.467/1.045 in 18 games against the Orioles with those 13 home runs and 20 RBIs, leaving Orioles announcer Gary Thorne at a loss for words:
Aug. 14: Sanchez hit the only home run in the final game between the teams, and the Yankees held on for the victory. Sanchez finished with 10 home runs in 14 games against Baltimore. "The funny thing is that we're not thinking about records or anything like that," Sanchez said. "We're trying to go out there and have good at-bats." Bundy summed up how the Orioles felt about things: "We don't have to play them anymore, so I guess that's a good thing."
Hamels rocked as Manuel's return spurs Phils
PHILADELPHIA — One reunion got off to a great start, while another was anything but impressive, as new Philadelphia Phillies hitting coach Charlie Manuel saw his lineup score 11 runs on Wednesday — eight of them against former Phillies star Cole Hamels.
Hamels got a hero's welcome back to Philadelphia then promptly got rocked, failing to record an out in the bottom of the third inning while giving up nine hits and two walks as the Phils beat the Chicago Cubs, 11-1. The standing ovation he received when he came to the plate in the top of the third didn't feel so great after giving up four runs.
"I'm thankful to the fans for their support but when you get your butt kicked, for two straight innings, I'm a little focused on that," Hamels said. "You can't keep putting up games like I've done the last two games. That's not the person I am and those aren't the expectations I hold on myself."
Hamels has totaled five innings and 12 runs over his last two starts, not long after coming off the injured list for an oblique issue. He says his mechanics are off, but perhaps Manuel's familiarity with his former ace had something to do with it. The 75 year old former World Series winning manager was hired by his old team on Tuesday to be their hitting coach for the playoff push.
"It's surprising," Hamels said of Manuel's return to the dugout. "He loves baseball and he's pretty good at it.
"He has a really good perspective. I have the utmost respect for him … he was like a dad to us. You never want to disappoint him. He was such a good inspiration, even when you give up eight runs, or when you're 0 for 5 with 5 punch outs, he knew how to get you right the next day."
Whether or not Manuel had a chance to suggest any changes to players who'd been struggling at the plate, his mere presence in the dugout sparked a crowd that has long had a soft spot for the man who manged the 2008 championship team. The fans could be heard chanting "Charlie! Charlie! Charlie!" chants throughout the game at Citizens Bank Park.
"There was an incredible energy in the ballpark and rightfully so," Phillies manager Gabe Kapler said of Manuel, who replaced John Mallee after the team let him go on Tuesday. "Charlie has earned that kind of adulation over a long period of time.
"He certainly adds to that loose, relaxed vibe. He's laid back, he believes in our hitters. I think he's going to make sure that our hitters know that. And our hitters looked like they believed in themselves today. It's no surprise. He's a great influence on our group."
Hamels was certainly thinking of his own situation in praising Manuel. Ironically, it's what he learned under Manuel that might help the lefthander moving forward.
"It takes the tough love, from Philly, is what taught me how to do it," Hamels said of overcoming adversity.
Wednesday's loss dropped the Cubs into a tie for first place with the St. Louis Cardinals but technically they're the second wild card team right now, just .001 percentage point behind St. Louis. The Phillies are two games back of the wild card and have taken the first two games of the series — which means no matter what happens in the finale on Thursday the Cubs have gone winless over their last 12 road series.
Manuel's Phillies helped continue a woeful trend for the visitors as now their starting pitching is showing leaks. Righty Kyle Hendricks gave up seven in his last start and veteran lefty Jon Lester is just one start removed from giving up nine earned runs – one more than Hamels' performance.
"I guess we're both competing who can suck the most," Hamels said sarcastically. "We don't expect to put up these type of numbers, especially every five days. These are the types of numbers you might put up once a season."
Bryce Harper homered twice for Philadelphia, but said Manuel wasn't responsible for the toe-tap he added while in the batter's box to help improve his timing at the plate. Harper said he didn't really interact with Manuel much during the game.
"I took him a cup of water because he was working so hard and everyone was [chanting] his name," Harper said. "But that was about it. I think Charlie's never seen a homer that he didn't like. It's fun to have him."
Pirates vs. Angels – Game Recap – August 14, 2019
ANAHEIM, Calif. — Albert Pujols had two hits and three RBIs Wednesday and set the major league record for career hits by a foreign-born player, leading the Los Angeles Angels to a 7-4 victory over the Pittsburgh Pirates.
Pujols had an RBI single in the 4th inning. His 3,167th hit moved him past fellow Dominican Republic native Adrian Beltre (3,166) and into sole possession of 15th place for career hits.
Luis Rengifo also drove in two runs for the Angels, who snapped a three-game home losing streak. Dillon Peters (3-1) allowed two runs in six innings while striking out six after an erratic start.
Melky Cabrera and Elias Diaz each had an RBI for the Pirates, who failed to complete a three-game sweep of the Angels. Pittsburgh has not won three in a row since July 1-3, against the Chicago Cubs.
Chris Archer (3-9) allowed four runs, three earned, in five innings, and his streak of starts without a win reached 12 games. It is the longest such span in Archer's eight-year career.
The Angels scored four runs in the fourth inning to erase a two-run deficit. Los Angeles moved in front on Rengifo's double to left field. The Pirates' Bryan Reynolds overran the ball when it dropped in, and it bounced all the way to warning track. Rengifo kept running, rounding third and sliding headfirst into home to give the Angels a two-run lead.
The 39-year-old Pujols drove in Los Angeles' first run with his record-setting single. David Fletcher followed with an RBI double that tied the game at 2-all.
Pittsburgh pulled within 4-3 in the seventh inning. Diaz scored from third when Erik Gonzalez hit into a double play.
Pujols put the Angels ahead 6-3 with a two-run single in the eighth inning. Rengifo drove in Pujols to make it 7-3.
Diaz had an RBI single in the ninth inning for the final margin of victory.
The Pirates jumped out to a 2-0 lead in the first inning. Peters loaded the bases with no outs with a walk and hitting two batters. Josh Bell hit into a double play that scored Kevin Newman, and Cabrera had an RBI single to right that made it 2-0.
STILL WAITING
The Pirates' last series sweep came June 21-23 against San Diego, and they have not won every game in a road series since May 17-19 at the Padres. They have swept two road series this season, the other coming when they took two games at Detroit on April 15-16.
TRAINER'S ROOM
Pirates: C Jacob Stallings was scratched from the starting lineup because of a migraine. … RHP Jameson Taillon will miss the 2020 season after undergoing Tommy John surgery for the second time.
Angels: RHP Noe Ramirez (viral infection) was recalled from the injured list Wednesday and served the first game of a three-game suspension for hitting Astros OF Jake Marsinick with a pitch on July 16.
UP NEXT
Pirates: RHP Joe Musgrove (8-11, 4.71 ERA) will start in the opener of a three-game series against the Cubs at home on Friday. Musgrove is 0-1 in two starts against the Cubs this season, but has not allowed an earned run in 9 1/3 innings.
Angels: LHP Andrew Heaney (1-3, 4.89) gets the nod in the first game of a four-game series against the Chicago White Sox on Thursday. Heaney is 1-2 with a 5.13 ERA in five home starts this season.