Nationals' Scherzer on track for Thursday return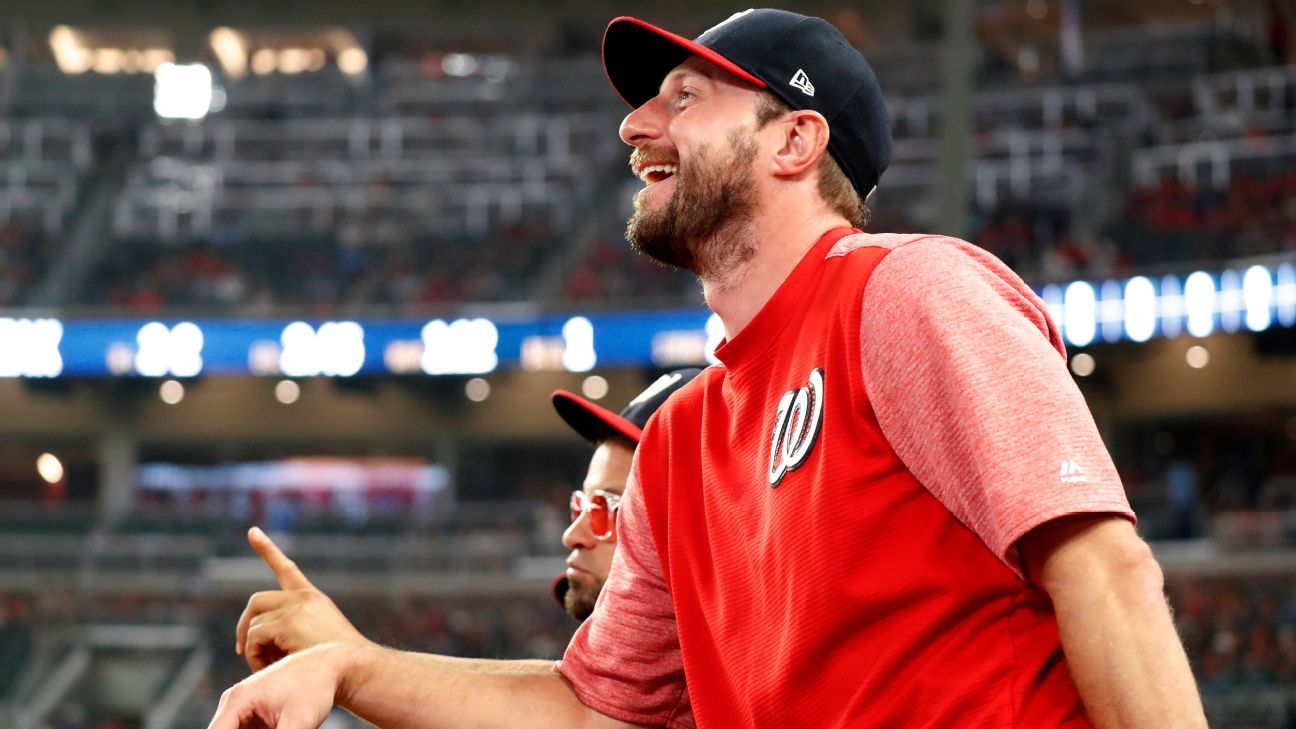 WASHINGTON — Nationals ace Max Scherzer is expected to return from the injured list Thursday.
"He felt good today," manager Davey Martinez said of Scherzer, who threw a bullpen session Monday prior to the opener of a four-game series between the Nationals and Rockies getting rained out. That contest has been rescheduled as part of a doubleheader on Wednesday, with the finale coming Thursday afternoon.
Assuming Scherzer doesn't suffer any setbacks between now and then, he would take the hill in the finale.
Scherzer has been dealing with an inflamed bursa sac below his right shoulder and has not pitched since July 6, when he tallied 11 strikeouts over seven scoreless innings against the Kansas City Royals. One week later, the Nats placed him on the injured list, retroactive to July 10.
On Tuesday, Martinez said the Nationals considered the calendar for the remainder of the regular-season schedule, as well as the postseason, before landing on Thursday as the likely return date for Scherzer.
"We actually sat down and looked at the schedule, and that's basically how we came up with Thursday," said the Nats' second-year skipper. "I went all the way 'til the wild-card game. I'm hoping that we're not the wild-card team. But we sat down and mapped everything out from that day."
Washington began the day 6.5 games behind the first-place Atlanta Braves in the National League East, and in possession of the top wild-card spot in the NL. If Scherzer is able to go on Thursday, he would then line up to start in all three of his team's remaining series against the Braves, as well as in Washington's lone remaining series against the third-place Phillies. He'd also be in position to take the mound in a potential NL wild-card game.
A three-time Cy Young winner, Scherzer has been one of the game's most durable hurlers, having made at least 30 starts in all 10 of his full seasons since debuting in 2008. Since signing a seven-year, $210 million contract with the Nationals prior to the 2015 season, the 34-year-old righty had made only one other trip to the injured list, in August of 2017.
This season, Scherzer is 9-5 with a 2.30 ERA. In 129.1 innings, he has recorded 181 strikeouts, most in the National League. In June, prior to hitting the shelf, he went 6-0 with a 1.00 ERA and was named the NL Pitcher of the Month.
Keon Broxton returns to Brewers after whirlwind year
The Milwaukee Brewers have signed outfielder Keon Broxton to a minor league contract with an invitation to major league training camp.
Broxton returns to Milwaukee after playing for the Baltimore Orioles, Seattle Mariners and New York Mets in 2019.
His nomadic year began with a trade from the Brewers to the Mets in January, then he was dealt again to the Orioles in May. Baltimore waived him in July, and he finished the season in Seattle.
Broxton hit .167 with six home runs and 16 RBIs in 204 at-bats last season. He is a career .209 hitter with 39 home runs and 95 RBIs in five major league seasons.
Baseball's quietest man will be the reason for many Hall of Fame speeches
That Harold Baines is now one of the more pivotal figures in the history of the Hall of Fame voting is beyond improbable, because he would never, ever advocate for himself, publicly or privately. Baines is reserved and polite, a man who would have continued to live with the utmost dignity in a good life even if he had never been called by Cooperstown.
But his election last winter, championed by Chicago White Sox owner Jerry Reinsdorf and former manager Tony La Russa, changes everything about qualifying for induction. The new threshold might as well be called the Harold Baines Standard that all candidates will be measured against, including the group that will be considered by a special committee this weekend.
Royals sign former All-Star Trevor Rosenthal to minor league deal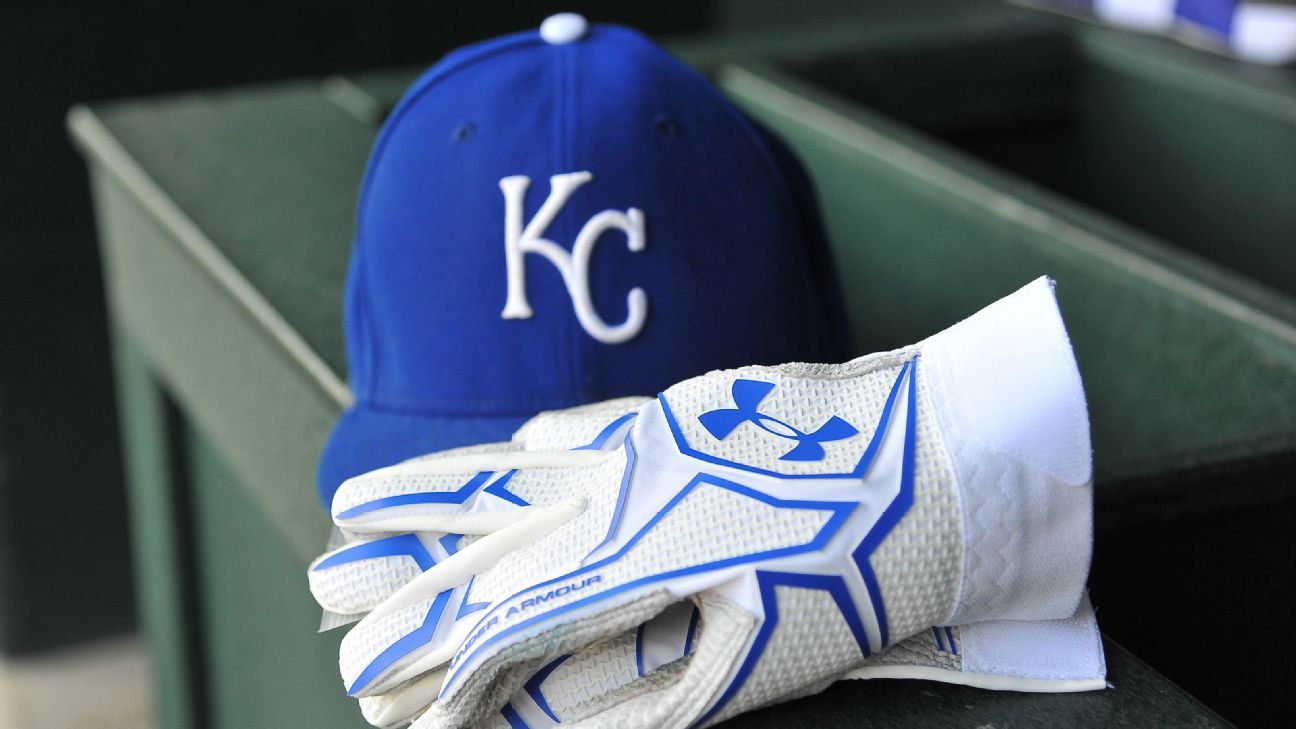 KANSAS CITY, Mo. — The Kansas City Royals signed former All-Star reliever Trevor Rosenthal to a $2 million minor league contract that includes an invitation to big league spring training and up to $2.25 million in bonuses if he makes the major league roster.
The 29-year-old Rosenthal was dismal with the Detroit Tigers and Washington Nationals last season, going 0-1 with a 13.50 ERA in 22 appearances. It was a far cry from his 2015 form, when Rosenthal had a 2.10 ERA and 48 saves while helping the St. Louis Cardinals to a 100-win season and the NL Central title.
Rosenthal will be reunited with new Royals manager Mike Matheny, who was the manager in St. Louis during his best seasons.
Rosenthal has 121 saves and a 3.45 ERA in seven big league seasons. He also was part of the 2013 Cardinals team that lost to the Boston Red Sox in the World Series.