Chiefs coach Reid 'comfortable' with Hill's return
ST. JOSEPH, Mo. — Coach Andy Reid indicated the Kansas City Chiefs would welcome back star wide receiver Tyreek Hill when full-squad training camp begins on Saturday.
"We're comfortable with Tyreek coming back here and we look forward to bringing him back here and having an opportunity to get back to doing what he loves to do," Reid said Tuesday at Missouri Western State University, where the Chiefs will begin a three-day mini-camp for quarterbacks and rookies. "We have the trust in Tyreek and we're going to go forward in a positive way.
"I've had a chance to talk to him, on the phone, in person. I spent quite a bit of time with him, actually. He's remorseful that he's had to go put all of us through what we went through and he had to go through. That's a sensitive situation. He wants to get back and he wants to do what he needs to do to be a father and to be a player here. He's very conscious of that."
The Chiefs suspended Hill in April from its offseason program, including all practices, after a Kansas City TV station released audio of Hill and his fiancée discussing the abuse of their son. Hill had been under investigation by the Johnson County (Kan.) District Attorney's office for allegations of child abuse, but the prosecutor indicated in April that Hill would not be charged.
The NFL announced Friday that Hill would not be suspended in conjunction with the incident and was cleared to participate with the Chiefs when training camp begins.
"He'll have a little catching up to do," Reid said. "We put in a few new things. He and Patrick (Mahomes) have worked together and the receiving core is very close and they've all been together. I'm sure they're catching him up on stuff. But until you get out there and do it you haven't done it so there will be a few new things for him."
Mahomes wasted little time in throwing to Hill. He said he threw to Hill on Friday after learning Hill would not be suspended.
"He's in an excited mindset, I guess you would say," Mahomes said. "He's ready to be out here and be a part of the guys and get to enjoy this. You always stay in touch with your teammates, with guys you've built relationships with. We stayed in touch with him as much as possible … and it was good to welcome him back now and be a part of the team and (we) can build the team we want to build.
"He's obviously a great football player and more than that he's a good friend of mine and someone I work with a lot. So I'm excited to have him back out here with us and building that chemistry even more."
Seahawks rule out Jadeveon Clowney vs. Panthers
RENTON, Wash. — The Seattle Seahawks have ruled out defensive end Jadeveon Clowney for Sunday's game against the Carolina Panthers.
Already dealing with a core-muscle injury since Week 10, Clowney missed practice Wednesday and Thursday with an illness and returned Friday as a limited participant. The team initially listed him as questionable before downgrading him to out.
The Seahawks (10-3) could be down a pair of pass-rushers against the Panthers (5-8). Ezekiel Ansah, who missed the Seahawks' Sunday night loss to the Rams with a neck injury, is questionable to play at Carolina and will be a game-time decision.
Cornerback Shaquill Griffin (hamstring) and tight end Luke Willson (hamstring) are also questionable and will be game-time decisions.
With Mychal Kendricks (hamstring) out again, rookie third-round pick Cody Barton will make his second straight start at strongside linebacker.
Prior to Clowney being ruled out, coach Pete Carroll said the defensive end had been "pretty sick" this week but sounded hopeful he'd be OK by Sunday. Several Seahawks players have gotten sick since the week of Thanksgiving.
Clowney is tied for the team lead with three sacks this season and ranks fifth in the NFL in ESPN's pass rush win rate at 25.1%. He missed the team's win over Philadelphia in Week 12 because of his core-muscle injury, which is something he said he'll have to manage for the remainder of the season after deciding to put off surgery.
Wide receiver Tyler Lockett (shin) was listed as a full participant Wednesday and Thursday.
49ers' D.J. Jones going on injured reserve with ankle injury
SANTA CLARA, Calif. — The injury toll for the San Francisco 49ers coming out of last week's win against the New Orleans Saints continues to climb.
Niners coach Kyle Shanahan on Friday said defensive tackle D.J. Jones will land on injured reserve Saturday with an ankle injury, ending his season.
Jones was already playing on an injured ankle and suffered a high sprain on his other ankle against the Saints, Shanahan said. Jones played through the injury but it was discovered to be more serious upon further testing.
"That was what was pretty impressive," Shanahan said. "That's why we were somewhat optimistic about it. He did it early in the game, too, maybe the first drive. But that's why we were optimistic. But after they looked in there and stuff, it was too bad and it was going to be more likely eight weeks."
While Jones doesn't get the acclaim of the Niners' other three starting defensive linemen, he has been an integral piece of the group, doing the dirty work by taking on double-teams and stuffing the run.
Jones started all 11 games in which he appeared this season, posting 23 tackles and two sacks. He previously returned from spraining his other ankle.
Jones joins cornerback Richard Sherman (hamstring), defensive end Dee Ford (hamstring), cornerback K'Waun Williams (concussion) and center Weston Richburg (patellar tendon) among those who suffered injuries against the Saints and will miss at least this week's game.
Strong safety Jaquiski Tartt (ribs) and defensive lineman Jullian Taylor (elbow) have also been ruled out due to previous injuries.
Richburg is out for the season, while Sherman and Ford are being viewed as week-to-week.
Shanahan said the nature of hamstring injuries usually means anywhere from two to four weeks, and Sherman said Thursday he could have played this week if necessary and is aiming to return sooner rather than later.
Taking Jones' spot on the roster is defensive lineman Kentavius Street, who will be designated to return from injured reserve on Saturday.
Street was a 2018 fourth-round draft pick out of North Carolina State, but he has yet to appear in a game for the Niners. He sat out last season after tearing his ACL in the pre-draft process and then had a setback this year when he was forced to have arthroscopic surgery on his knee, landing on injured reserve.
The 49ers opened Street's practice window last week and feel good enough about him to activate him for Sunday's game against the Atlanta Falcons. Street had played inside and outside for the Niners, but he is focused on inside now given the opportunities for snaps there.
"Ideally, he's probably more of an inside guy," defensive coordinator Robert Saleh said. "Of course, rotation and injuries will always dictate where he plays, but we feel like he's got a chance to be a pretty good football player on the inside, whether it's at the nose or 3-technique. Working to make sure he gets as much work at that as possible, but understanding that with the attrition that we've been having at the D-line, that we may have to flex him if he gets those opportunities."
With Jones out, the Niners will look to a rotation including Street, Sheldon Day and Solomon Thomas to fill the void, with Arik Armstead also capable of moving inside.
Dolphins sign WR DeVante Parker to 4-year contract extension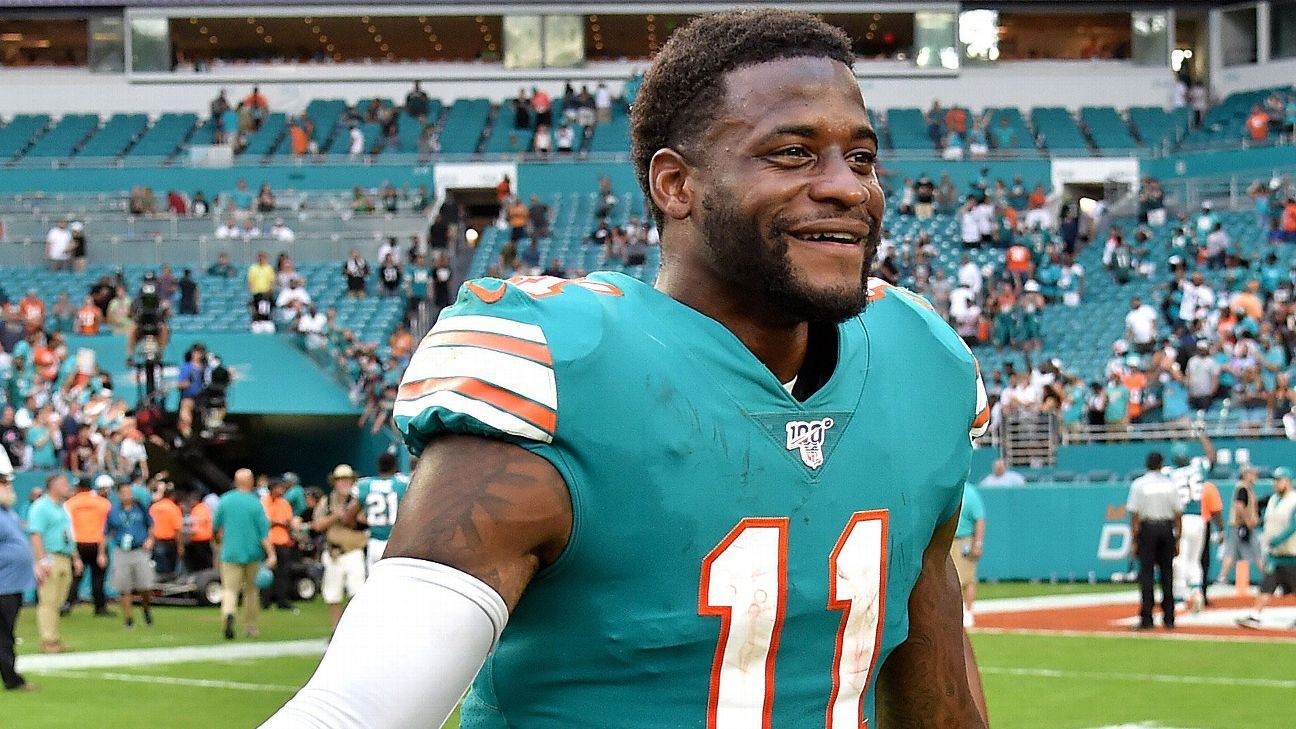 DAVIE, Fla. — The Miami Dolphins have signed receiver DeVante Parker to a four-year extension through the 2023 season, the team announced Friday evening.
Parker's four-extension is worth up to $40 million with an $8 million signing bonus and $20 million guaranteed, according to a source.
In his fifth year in the league, Parker is in the midst of his breakout season. He has a career-high 882 receiving yards and six touchdowns this season, and maybe most importantly he hasn't missed a game yet for the first time in his NFL career.
"My desire was to have DeVante remain a member of the Dolphin family and we are excited for the future in Miami," agent Jimmy Gould said in a statement.
The Dolphins offense has centered around Parker since Preston Williams went on injured reserve in early November. Parker has established a strong connection with quarterback Ryan Fitzpatrick, who has called him the "most consistent part of our offense."
Playing 16 games and reaching 1,000 receiving yards were two of Parker's individual goals this season. Parker is 118 receiving yards shy of his first 1,000-yard season, something that is important to him.
"It would be amazing to get it. I've never had it since high school," Parker said. "The team is No. 1, but everybody has goals, and that definitely is one of mine."
In March, Parker signed a new two-year deal with a team option for 2020. It was essentially a prove-it deal coming off the worst season of his career in 2018. He responded by taking care of his body with better eating and hydration, acupuncture and weekly massages.
The Dolphins coaching staff led by Brian Flores gave Parker a clean slate. Receivers coach Karl Dorrell told him stories of his experience with Pro Bowl receiver Brandon Marshall and challenged Parker to be the player he was coming out of Louisville.
Parker did that, and he's felt more comfortable than ever in the Dolphins' new scheme.
"Staying healthy was my top goal," Parker told ESPN last week. "That has helped change everything. These coaches believed in me. They gave me a second chance when they didn't have to. I hope I can be here a long time."
Parker, Miami's first-round pick in 2015 (14th overall), is rewriting his narrative after four seasons full of injuries and inconsistency. He's finally showing the potential that made him so tantalizing and the Dolphins rewarded him for it.