Real-life Crash Davis retires after walkoff blast
For Cody Decker, his 204th minor league home run was a walk-off blast in every sense of the word.
Yes, the two-run shot gave the Triple-A Reno Aces a 10-9 walk-off win Friday night, but the 32-year-old first baseman also chose that moment to walk off into the sunset, stealing a page from the script for the movie "Bull Durham."
Decker, a real-life Crash Davis, retired as the active home run leader in the minor leagues.
Cody Decker has announced his retirement.

The active @MiLB home run king went the best way he knew how – a walk-off bomb!

Congrats on an amazing career, @Decker6. pic.twitter.com/v2ZSJCxC7F

— Reno Aces (@Aces) July 7, 2019
"I never really knew I'd get the chance to do it," Decker told TahoeOnStage.com about the fact he retired after hitting a game-winning homer. "It was a really special night and one of the best of my career, something I'll never forget. The fact I got to share it with these teammates, you can't beat it."
Drafted by the San Diego Padres in the 22nd round in 2009, Decker played 1,033 games over 11 seasons for 13 teams, retiring with a .260 batting average and 645 RBIs to go with his 204 homers. He hit .240 with seven homers and 21 RBIs for Reno — the Arizona Diamondbacks' affiliate in the Pacific Coast League — this season
Decker's major league career consisted of eight games with the Padres in 2015 when he went 0-for-11 with one RBI.
The time in the minors, though, provided memories for a lifetime. None, though, may top the memories provided by his final at-bat and trip around the bases.
"That moment coming off the field is something I never knew would happen," Decker told TahoeOnStage.com. "Getting all those hugs at home, then having a curtain call from the fans. It wasn't just the fans which is amazing, it was my teammates on the top step both giving me a standing ovation."
Chicago Cubs agree to 1-year contract with reliever Dan Winkler
CHICAGO — The Chicago Cubs and reliever Dan Winkler agreed Friday to a one-year contract that pays $750,000 in the majors.
The 29-year-old right-hander is 8-2 with two saves and a 3.68 ERA in 117 relief appearances over five seasons with Atlanta. He was 3-1 with a 4.98 ERA in 27 outings for the Braves last year before getting traded to San Francisco for pitcher Mark Melancon on July 31. Winkler spent the rest of the season in the minors.
The Cubs went 84-78 and missed the playoffs for the first time since 2014.
Winkler gets a $200,000 if he's in the minors. He can earn $750,000 in performance bonuses for games pitched: $50,000 each for 30 and 35, $75,000 apiece for 40 and 45, $100,000 each for 50 and 55, and $150,000 apiece for 60 and 65.
Yankees GM rappels building, gets fan's message on Gerrit Cole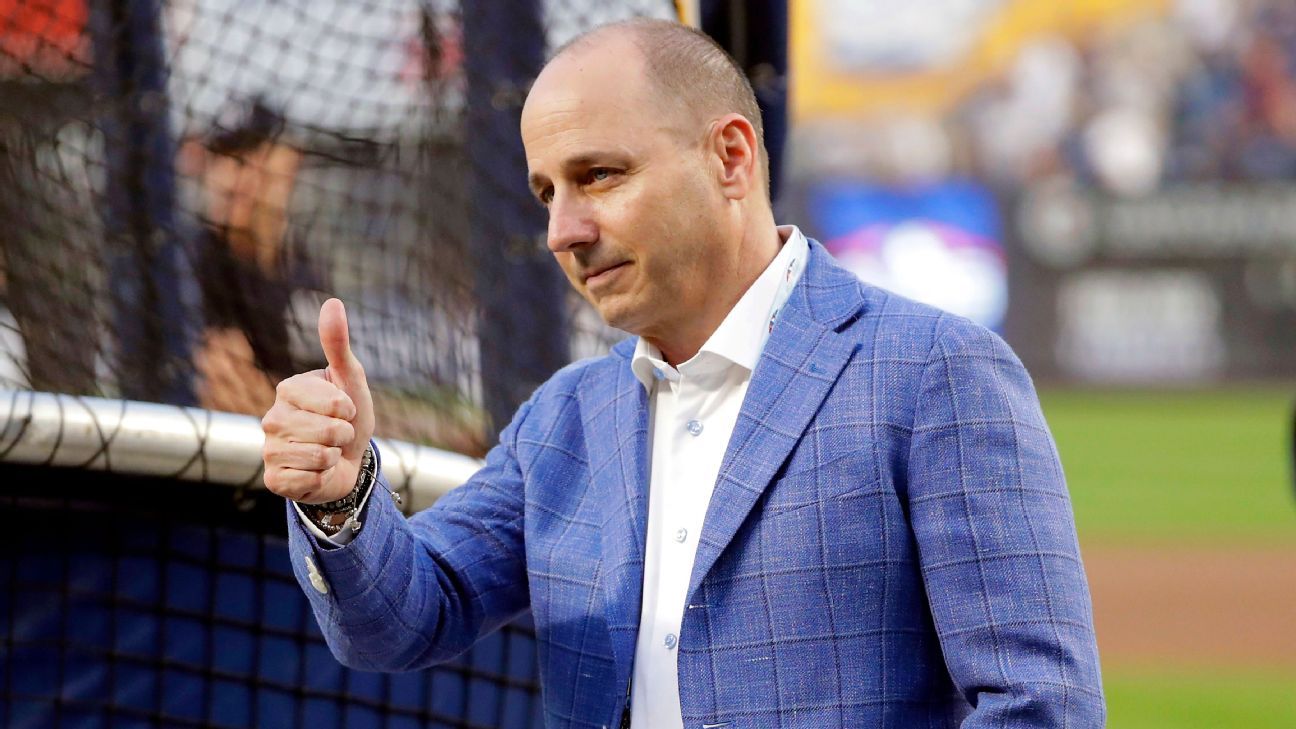 STAMFORD, Conn. — While Brian Cashman was descending the outside of a building Friday, the New York Yankees general manager came across a message taped to a 10th-floor window from a fan: Please sign Gerrit Cole.
Cashman, whose rappelling adventure has become a holiday tradition, confirmed he met with Cole in California on Tuesday and spoke with another free-agent pitcher, Stephen Strasburg, the following day.
"It was a great opportunity, clearly it was very public, that we met with Gerrit Cole and Strasburg while I was on the West Coast," Cashman said. "At least, that's who you all are aware of so far. Who knows who I met with?"
The Yankees have made signing Cole their clear offseason priority and have ownership-level approval to offer him a record-setting deal, sources familiar with their plans told ESPN's Jeff Passan on Thursday.
Cole and Strasburg are the top pitchers on the free-agent market. The Yankees would like to add an ace to a rotation that already includes Luis Severino, Masahiro Tanaka, James Paxton and J.A. Happ.
Along with Cashman, assistant GM Mike Fishman, manager Aaron Boone, new Yankees pitching coach Matt Blake and former Yankees pitcher Andy Pettitte made the trip to speak with both pitchers, who are represented by Scott Boras.
The Yankees' fondness for the 29-year-old Cole, whose fantastic 2019 season with the Houston Astros set him up to smash David Price's record $217 million contract for a pitcher, was only reinforced during the meeting, sources told ESPN.
New York and the Los Angeles Angels, a team similarly smitten with Cole and in even greater need of pitching, are preparing for a bidding war that executives expect will reach well beyond $250 million, according to sources. The Los Angeles Dodgers' interest in Cole is acute as well, though they are also considering bids for Strasburg and third baseman Anthony Rendon, sources told ESPN.
Cashman offered little about possibly signing either pitcher, declining to discuss how much the Yankees might spend.
"I think it was an important part of the process for them," Cashman said. "It sounds like they have met with many teams, and obviously I can't predict the future or the timing of their futures; only really they control that."
Cole was 20-5 with an American League-best 2.50 ERA and a big league-high 326 strikeouts this year for the AL champion Astros. He was originally drafted by the Yankees with the 28th overall pick in 2008, but he declined to sign a contract and opted to attend UCLA.
Strasburg was the MVP of the World Series for the Washington Nationals and was the first overall pick in the 2009 draft.
Cashman will return to California for the baseball's winter meetings, which begin Monday. First, he'll attend Sunday's Heights and Lights, where he will dress as an elf and again descend the Landmark Building.
"I'll be flying back out after this event and in the meantime staying engaged," said Cashman, who declined to say if another meeting with either pitcher was planned.
"I'm open to do clearly whatever, as always, is important for the Yankees. If there are certain steps that need to be taken, or conversations on the phone, like any club we are fully prepared to do what's necessary."
The Associated Press contributed to this report.
What's next for the teams that lose the Gerrit Cole sweepstakes?
The day Gerrit Cole picks his next team will be a holiday for some team's fan base, for some team's front office. That team — maybe the Yankees, maybe the Angels or the Dodgers or the Giants — will have locked down a staff ace for most of the next decade, the best pitcher on the planet (currently) at the absolute apex of his career.
But the other teams will get a call from agent Scott Boras in which he says, in so many words: Gerrit is moving in another direction. That will be a hard moment, a hard day, and the losing bidders will have to quickly pivot.
It won't be easy. As one general manager asked the other day, "Where are all these teams going to find the starting pitching they need?"
It's not only the Yankees, Angels and Dodgers who need starting pitching. The White Sox are pushing to add two veteran starters. The Reds need help, and so will the Nationals if Stephen Strasburg doesn't re-sign. The Phillies, Mets, Blue Jays, Red Sox, Padres and others are looking for starting pitchers.
This is where the losers in the Cole bidding could turn: