Cody Decker's retirement does Crash Davis proud
For Cody Decker, his 204th minor-league home run was a walkoff blast in every sense of the word.
Yes, the two-run shot gave the Triple-A Reno Aces a 10-9 walkoff win Friday night, but the 32-year-old first baseman also chose that moment to walk off into the sunset, stealing a page from the script for Bull Durham.
Decker, a real-life Crash Davis, retired as the active home run leader in the minor leagues.
Cody Decker has announced his retirement.

The active @MiLB home run king went the best way he knew how – a walk-off bomb!

Congrats on an amazing career, @Decker6. pic.twitter.com/v2ZSJCxC7F

— Reno Aces (@Aces) July 7, 2019
"I never really knew I'd get the chance to do it," Decker said of retiring after a game-winning homer, according to TahoeOnStage.com. "It was a really special night and one of the best of my career, something I'll never forget. The fact I got to share it with these teammates, you can't beat it."
Drafted by the Padres in the 22nd round in 2009, Decker played 1,033 games over 11 seasons for 13 teams, retiring with a .260 batting average and 645 RBIs to go with his 204 homers. He hit .240 with seven homers and 21 RBIs for Reno, the Arizona Diamondbacks' affiliate in the Pacific Coast League, this season
Decker's major league career consisted of eight games with the Padres in 2015 when he went 0-for-11 with one RBI.
The time in the minors, though, provided memories for a lifetime. None, though, may top the memories provided by his final at-bat and trip around the bases.
"That moment coming off the field is something I never knew would happen," Decker told TahoeOnStage.com "Getting all those hugs at home, then having a curtain call from the fans. It wasn't just the fans which is amazing, it was my teammates on the top step both giving me a standing ovation."
Yankees GM descends from building, gets fan message on Gerrit Cole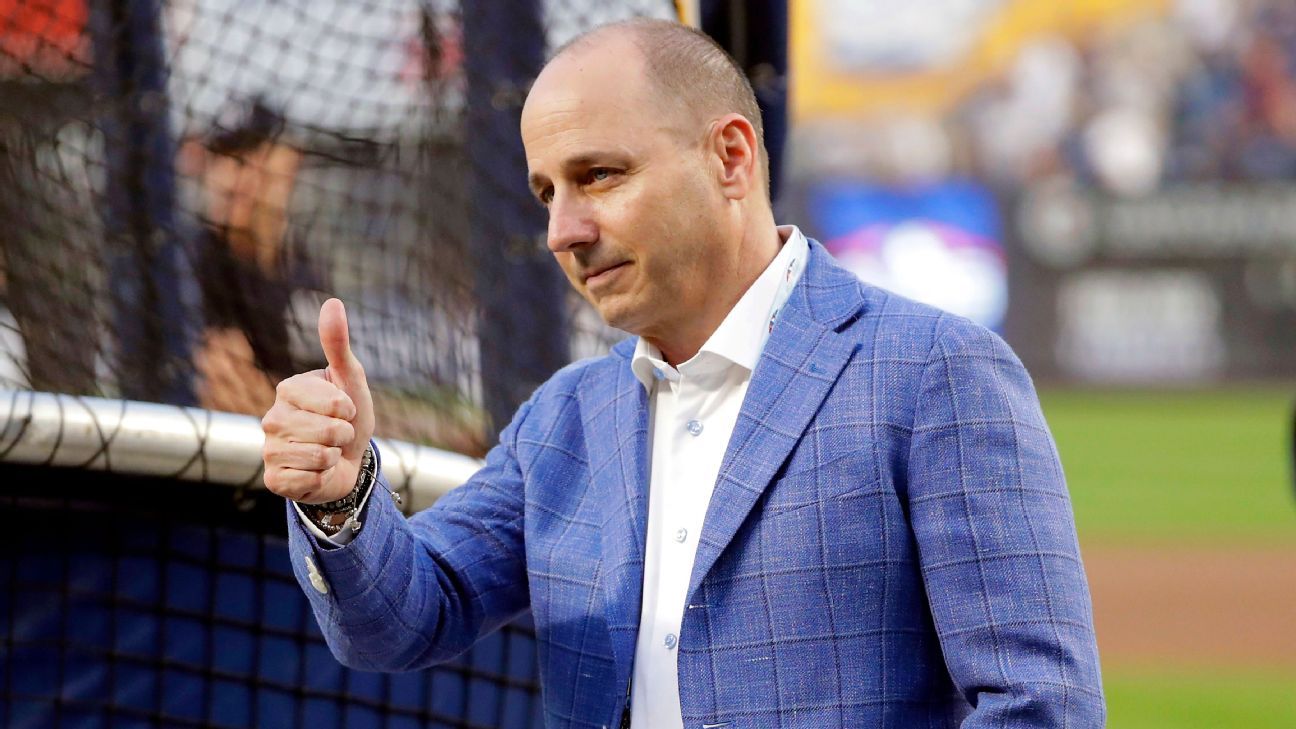 STAMFORD, Conn. — While Brian Cashman was descending the Landmark Building on Friday in preparation for a holiday celebration this weekend, the New York Yankees general manager came across a message taped to a 10th-floor window from a fan: Please sign Gerrit Cole.
Cashman confirmed he met with Cole in California on Tuesday and spoke with free-agent pitcher Stephen Strasburg the following day.
"It was a great opportunity, clearly it was very public, that we met with Gerrit Cole and Strasburg while I was on the West Coast," Cashman said. "At least, that's who you all are aware of so far. Who knows who I met with?
The Yankees have made signing Cole their clear offseason priority and have ownership-level approval to offer him a record-setting deal, sources familiar with their plans told ESPN's Jeff Passan on Thursday.
Cole and Strasburg are the top pitchers on the free-agent market. The Yankees would like to add an ace to a rotation that already includes Luis Severino, Masahiro Tanaka, James Paxton and J.A. Happ.
Along with Cashman, assistant GM Mike Fischman, manager Aaron Boone, new Yankees pitching coach Matt Blake and former Yankee pitcher Andy Pettitte made the trip to speak with both pitchers, who are represented by Scott Boras.
The Yankees' fondness for the 29-year-old Cole, whose fantastic 2019 season with the Houston Astros set him up to smash David Price's record $217 million contract for a pitcher, was only reinforced during the meeting, sources told ESPN.
New York and the Los Angeles Angels, a team similarly smitten with Cole and in even greater need of pitching, are preparing for a bidding war that executives expect will reach well beyond $250 million, according to sources. The Los Angeles Dodgers' interest in Cole is acute as well, though they are also considering bids for Strasburg and third baseman Anthony Rendon, sources told ESPN.
Cashman offered little about possibly signing either player, declining to discuss how much the Yankees might spend.
"I think it was an important part of the process for them," Cashman said. "It sounds like they have met with many teams, and obviously I can't predict the future or the timing of their futures, only really they control that."
Cole was 20-5 with an AL-best 2.50 ERA and a big league-high 326 strikeouts this year for the AL champion Astros. He was originally drafted by the Yankees with the 28th overall pick in the 2008 MLB Draft, but he declined to sign a contract and opted to attend UCLA.
Strasburg was the MVP of the World Series for the Washington Nationals and was the organization's first overall pick in the 2009 draft.
Cashman will return to California for the baseball's winter meetings, which begin Monday. First, he'll attend Sunday's Heights and Lights, where he will dress as an elf and again descend the Landmark Building.
"Obviously, I'll be flying back out after this event and in the meantime staying engaged," said Cashman, who declined to say if another meeting with either pitcher was planned.
"I'm open to do clearly whatever, as always, is important for the Yankees. If there are certain steps that need to be taken, or conversations on the phone, like any club we are fully prepared to do what's necessary."
The Associated Press contributed to this report.
Rays' Blake Snell strongly reacts to Tommy Pham trade on Twitch
Tampa Bay Rays left-hander and former Cy Young winner Blake Snell had an immediate and strong reaction when he apparently learned about his team's reported trade of outfielder Tommy Pham to the San Diego Padres.
"We gave Pham up for Renfroe and a damn slapd— prospect?" Snell said during a Twitch stream early Friday morning in a moment that was captured and shared on social media.
Second baseman Xavier Edwards was the prospect referred to by Snell. Edwards, along with outfielder Hunter Renfroe and a player to be named later, is headed to Tampa Bay from the Padres in exchange for Pham and two-way prospect Jake Cronenworth, sources familiar with the deal told ESPN's Jeff Passan on Thursday night.
Edwards is an athletic middle infielder with excellent bat-to-ball skills who is a favorite among evaluators. In July, ESPN's Keith Law ranked him as the Padres' No. 5 prospect and the No. 46 prospect in all of baseball.
The full recording of the video game live stream is not available on Twitch, but Snell reportedly acknowledged overreacting later on and said he didn't know anything about Edwards.
"I'm not trying to belittle a minor leaguer," Snell later said during the live stream, according to Yahoo Sports. "It's just super rude toward that guy. That kid didn't deserve me calling him a slapd—, let's be honest. … Tommy's the man, bro. It's just hella stupid."
In another clip posted to social media, Snell said his primary issue was giving up Pham, who hit .273 with 21 home runs and 68 RBIs in 2019.
"I'm more just upset that we gave away a huge piece of our team," Snell said. "He was the swag of our team. He lifted a lot of our position players up with just his presence and made other guys more swaggy."
Snell's Twitch account has nearly 300 videos and more than 9,400 followers.
Source — Nationals agree to deal with World Series hero Howie Kendrick
Howie Kendrick, who capped the Nationals' improbable run to their first World Series title last season with a Game 7 home run, has reached an agreement on a one-year, $6.25 million deal to return to Washington, a source told ESPN's Jeff Passan on Friday.
Steady-handed, versatile and battle-tested, Kendrick came through at the biggest moments of the Nationals' October run, peaking with his go-ahead, two-run homer off Houston Astros reliever Will Harris in the seventh inning of Game 7.
Kendrick's grand slam off Los Angeles Dodgers pitcher Joe Kelly broke a 10th-inning tie in the decisive Game 5 of the National League Division Series — just the second extra-inning slam in postseason history. He was the MVP of the NLCS, hitting .333 with four doubles and four RBIs as the Nats swept the St. Louis Cardinals.
The 36-year-old Kendrick's first full season with Washington ended early in 2018, when the left fielder tore his right Achilles tendon while retreating to catch a fly ball against the Dodgers on May 19.
"There's no point in being mopey about it," he said at the time. "It won't heal as fast. So the happier I am, the faster I'll heal."
After making a tweak to his swing by boosting his launch angle and getting his hands a little lower before coming through the zone, Kendrick returned this year to hit .344 with 17 home runs and 62 RBIs in 121 games. He set career highs in batting average, on-base percentage and home runs.
Kendrick didn't play a full season, missing time in August with a strained left hamstring, and the Nats primarily used him against left-handers, against whom he hit .376/.421/.615.
In 13 major league seasons with the Los Angeles Angels, Dodgers, Philadelphia Phillies and Nationals, Kendrick is a .294 hitter with a .768 OPS. He was primarily an infielder for Washington in 2019 after playing left field, second base, first base and other positions throughout his career.