What's behind Xander Bogaerts' breakout season
BOSTON — The same story has been written about the 2019 Red Sox countless times. Inconsistency, inconsistency and inconsistency have been the buzzwords surrounding the defending World Series champions, and for much of Thursday night, things looked much the same. Just a day after avoiding slipping back to .500 with a Mookie Betts walk-off walk, Boston found itself in a tight hole quickly in the series finale against the Texas Rangers after David Price left the game after four outs, allowing six runs.
But the Red Sox did what they haven't done very often this season, chipping away at the big lead. When third baseman Rafael Devers returned to the dugout after his fifth-inning homer tied up the game at 6-6, shortstop Xander Bogaerts felt like he was due for something, especially after he'd told his aunt before the game that he'd try to hit a homer for her birthday.
"I'm due for one," Bogaerts told Devers. "I might come up clutch later in the game."
And just as promised, he delivered a seventh-inning, 389-foot solo shot that sailed over the Green Monster, sealing the Red Sox's 7-6 victory and a series split with Texas.
"I said it and I did it," Bogaerts said. "It's not like I was looking for a home run in that specific at-bat and you probably think I'm a magician now."
Game after game, in a season full of frustration, Bogaerts has been the biggest source of consistency for the Boston lineup, making major strides at the plate this season, hitting .295/.379/.531 with 19 doubles and 14 homers, on pace to hit 32 dingers, which would be a career high. Entering Thursday's game, the Red Sox shortstop led baseball in hits (29) and was tied for seventh in RBIs (18) in the seventh inning or later, and his 2.8 fWAR was second-best among shortstops. The 26-year-old isn't just coming into his own. He's thrust himself into the conversation of being the best shortstop baseball.
"He's a huge part of our offense regardless of whether he's hot or not," Red Sox manager Alex Cora said. "He's a complete player. He bought into the concept of trying to hit .330 going the other way and doing damage. And all of a sudden, he's hitting .290-.300, all of those home runs, all of those doubles. I'm very happy for him. He's a guy who keeps working at his craft and keeps getting better. I'm glad we made that commitment early in the season with him."
In late March, Bogaerts and the Red Sox agreed to a six-year, $120 million contract that solidified the Aruba native's future in Boston. The extension, according to family members, took a lot of pressure off Bogaerts' shoulders, cementing his family's financial security instead of waiting for free agency after the season. Members of Bogaerts' family have seen him grow from an anxious 20-year-old playing in the World Series into a more patient man, and literally has brought that patience to the plate with a career-high walk rate of 12.2 percent.
"It's not like when I'm hitting I'm like, 'Oh, I got money already.' I would say it's much more relaxed than having to play the year out," Bogaerts said. "I don't know how that would've been because I'm not in that situation, but I think it would have been a little tougher playing without one and the way we started as a team, there could've been a lot of chatter, this and that. But I think it definitely helps knowing I was going to stay here for a long time hopefully."
Xander's twin brother, Jair, who spent time in the Red Sox and Cubs organizations, noticed a difference in his brother's demeanor immediately after the contract was signed, sealed and delivered. Xander had long been the antsy kid who just wanted his future settled. For the first time since Xander arrived in majors, Jair saw his brother play like he did in the minors, when he was a consensus top-two prospect in baseball. Loose and easy-going.
"We knew there was gonna be more production and numbers," Jair said. "We knew once the contract got out of the way, he would be this guy. He's putting up numbers, star-type numbers. But [in his career] he hasn't been Batman. He's Robin."
For much of his tenure in Boston, Bogaerts felt satisfied to sink into the background, putting in his work and doing his job in the field. During the young shortstop boom in the last decade, featuring stars like Carlos Correa of the Houston Astros and Francisco Lindor of the Cleveland Indians, Bogaerts has flown a bit under the radar.
As more and more players younger than him began coming up from the minor leagues, the Red Sox shortstop recognized his standing in the clubhouse was changing, especially with his headline-grabbing contract. Bogaerts has taken Devers under his wing, which Cora partially credits for the third baseman's breakout first half. Michael Chavis credits Bogaerts in helping ease his transition to second base, a new position for the Boston rookie.
It's all made him realize that being Robin is no longer good enough.
"You could put it like that," Bogaerts said with a laugh after hearing his brother's comparison. "I feel a sense of responsibility. It comes with the territory. I got a lot of money, and if the team is feeling that type of way about you, you should own up to the responsibilities."
Nats' Turner hits for another cycle against Rockies
WASHINGTON — The Rockies bring out the best in Trea Turner.
On Tuesday night, the Nationals shortstop hit for the cycle during Washington's 11-1 win over Colorado, the second time in his career that he's accomplished the feat versus the Rockies. According to the Elias Sports Bureau, he's just the third player in MLB history to hit for the cycle multiple times against the same team. Fred Clarke of the Pittsburgh Pirates had two cycles against the Reds (1901, 1903), and Christian Yelich did it twice last year, also against Cincinnati.
Turner led off the bottom of the first with a solo home run against Colorado starter Peter Lambert. In the second inning, he grounded a single off Lambert for a single. Facing Lambert again in the fifth, Turner hit a liner down the right field line that glanced off Charlie Blackmon's glove and rolled into the corner for a triple. After grounding into an inning-ending double play against lefty reliever Sam Howard in the sixth, Turner came up in the seventh against righty Jairo Diaz and laced an RBI double to the gap in right-centerfield.
Turner is the 26th player in major-league history to hit for multiple cycles in his career. He previously did it on April 25, 2017 at Coors Field. In 18 career games against Colorado, the 26-year old speedster is now batting .386 with 16 extra-base hits.
Of the 10 cycles that the Rockies have now allowed in their history, Turner's is the first one to be accomplished away from Coors Field.
Earlier this season, Turner missed six weeks due to a fractured right index finger that he suffered as the result a hit-by-pitch. In 60 games with Washington this year, he's hitting .286 with eight home runs and 20 stolen bases.
Padres vs. Mets – Game Recap – July 23, 2019
NEW YORK — Robinson Cano hit three home runs, breaking loose from a season-long slump in a huge way and leading Jason Vargas and the New York Mets over the San Diego Padres 5-2 Tuesday night.
The 36-year-old Cano drove in all five runs and went 4-for-4. Vargas pitched one-hit ball for six shutout innings, possibly enhancing his trade value.
Cano began the day batting just .243 with six homers in his first season with the Mets. Yet before the game, manager Mickey Callaway expressed confidence that Cano would produce, putting him in the category of "Hall of Fame hitters."
Cano homered three times in a game for the first time in his career. It was just the third three-homer game ever by a Mets player at home — Lucas Duda and Kirk Nieuwenhuis both did it in July 2015.
After singling in the first, Cano made it 1-0 in the fourth with his first home run at Citi Field since early April.
Cano hit a two-run homer off Chris Paddack (6-5) in the sixth and a two-run shot in the seventh off Logan Allen — both drives sailed into the second deck.
Of Cano's nine homers this year, five have come since the All-Star break. This was his 23rd career multihomer game and first since 2017 with Seattle.
Yoenis Cespedes was the previous Mets player to hit three homers, doing it in 2017. The feat has been accomplished by 13th different Mets players, with Cespedes doing it twice.
Vargas (5-5) put on a pitching clinic, getting the San Diego hitters to consistently flail.
The 36-year-old left-hander gave up only a single to Eric Hosmer in the fifth, struck out eight and walked three. Rookie Fernando Tatis Jr. struck out three times and Manny Machado swung at a strike three that bounced.
Several scouts were at Citi Field, and no doubt the performance Vof argas piqued their interest as the July 31 trade deadline approaches.
Vargas' hardest fastball was clocked at 84.6 mph — Paddack's slowest changeup came in a tick faster 84.7.
The anticipated showdown between rookie stars Pete Alonso and Paddack didn't amount to much — the slugging Alonso walked twice and grounded out against the young fireballer.
Edwin Diaz relieved with two on in the ninth and got his 22nd save in 26 chances, giving up an RBI double to Tatis before retiring Manuel Margot on a lineout with two on to end the game.
TRAINER'S ROOM
Padres: LHP Adrian Morejon "should be available" to pitch in relief during this three-game series, manager Andy Green said. The 20-year-old Cuban made his major league debut Sunday at Wrigley Field, giving up one run and three hits in 2 1/3 innings. Green said the Padres would consider using him as an opener over the weekend at home vs. the Giants.
Mets: Major league batting leader Jeff McNeil was hit in the right elbow by a Paddack pitch in the fifth. McNeil was checked by a trainer and stayed in. … RHP Zack Wheeler (shoulder impingement) threw batting practice on the field and could be activated Friday to pitch against the Pirates. "I'm 100%. Ready to go," he said. Callaway said Wheeler, who last started on July 7, will be on a pitch count of 75-85 pitches. Wheeler (6-6, 4.69 ERA) has been the subject of trade rumors leading up to the July 31 deadline. "Last year was the same way," he said.
UP NEXT
Padres: RHP Dinelson Lamet (0-2, 5.14 ERA) makes his fourth start of the season. He won his major league debut in 2017 at Citi Field and went 7-8 overall, then missed last year after Tommy John surgery.
Mets: RHP Noah Syndergaard (7-4, 4.36) is 4-0 in his past nine starts.
Nationals' Scherzer on track for Thursday return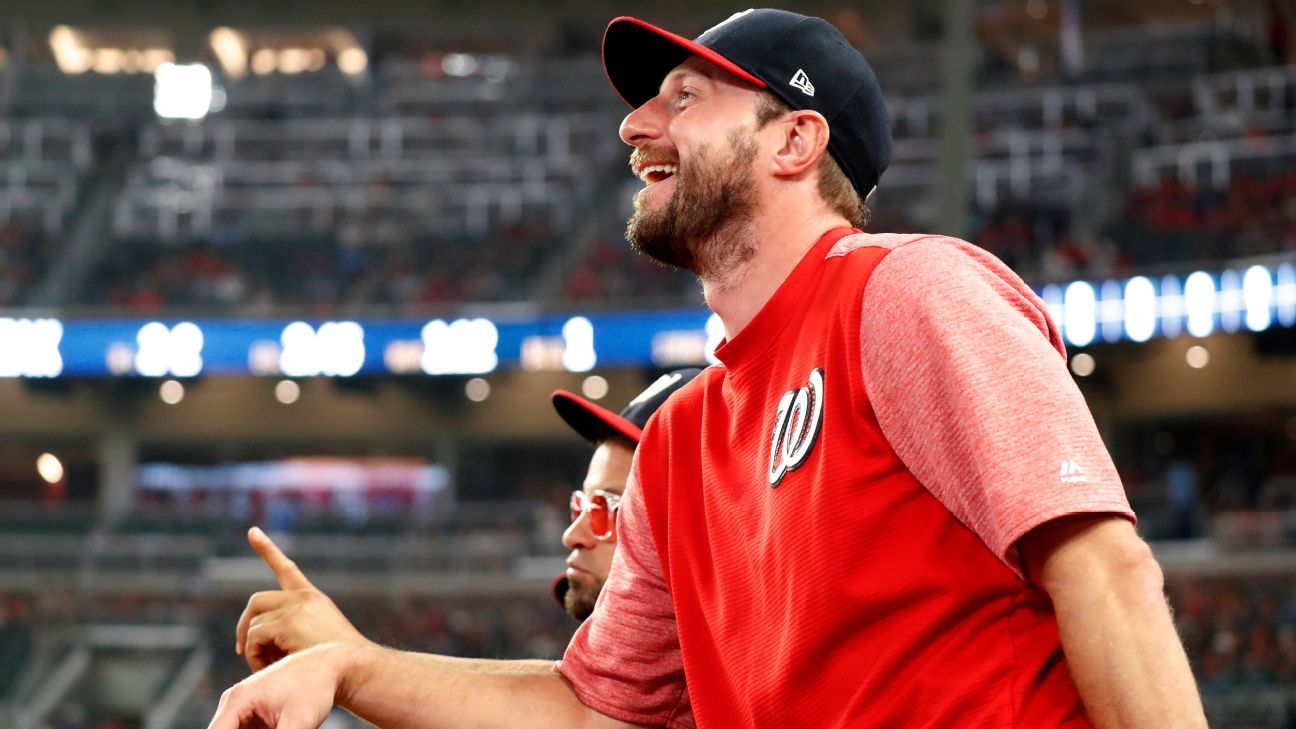 WASHINGTON — Nationals ace Max Scherzer is expected to return from the injured list Thursday.
"He felt good today," manager Davey Martinez said of Scherzer, who threw a bullpen session Monday prior to the opener of a four-game series between the Nationals and Rockies getting rained out. That contest has been rescheduled as part of a doubleheader on Wednesday, with the finale coming Thursday afternoon.
Assuming Scherzer doesn't suffer any setbacks between now and then, he would take the hill in the finale.
Scherzer has been dealing with an inflamed bursa sac below his right shoulder and has not pitched since July 6, when he tallied 11 strikeouts over seven scoreless innings against the Kansas City Royals. One week later, the Nats placed him on the injured list, retroactive to July 10.
On Tuesday, Martinez said the Nationals considered the calendar for the remainder of the regular-season schedule, as well as the postseason, before landing on Thursday as the likely return date for Scherzer.
"We actually sat down and looked at the schedule, and that's basically how we came up with Thursday," said the Nats' second-year skipper. "I went all the way 'til the wild-card game. I'm hoping that we're not the wild-card team. But we sat down and mapped everything out from that day."
Washington began the day 6.5 games behind the first-place Atlanta Braves in the National League East, and in possession of the top wild-card spot in the NL. If Scherzer is able to go on Thursday, he would then line up to start in all three of his team's remaining series against the Braves, as well as in Washington's lone remaining series against the third-place Phillies. He'd also be in position to take the mound in a potential NL wild-card game.
A three-time Cy Young winner, Scherzer has been one of the game's most durable hurlers, having made at least 30 starts in all 10 of his full seasons since debuting in 2008. Since signing a seven-year, $210 million contract with the Nationals prior to the 2015 season, the 34-year-old righty had made only one other trip to the injured list, in August of 2017.
This season, Scherzer is 9-5 with a 2.30 ERA. In 129.1 innings, he has recorded 181 strikeouts, most in the National League. In June, prior to hitting the shelf, he went 6-0 with a 1.00 ERA and was named the NL Pitcher of the Month.