What's behind Xander Bogaerts' breakout season
BOSTON — The same story has been written about the 2019 Red Sox countless times. Inconsistency, inconsistency and inconsistency have been the buzzwords surrounding the defending World Series champions, and for much of Thursday night, things looked much the same. Just a day after avoiding slipping back to .500 with a Mookie Betts walk-off walk, Boston found itself in a tight hole quickly in the series finale against the Texas Rangers after David Price left the game after four outs, allowing six runs.
But the Red Sox did what they haven't done very often this season, chipping away at the big lead. When third baseman Rafael Devers returned to the dugout after his fifth-inning homer tied up the game at 6-6, shortstop Xander Bogaerts felt like he was due for something, especially after he'd told his aunt before the game that he'd try to hit a homer for her birthday.
"I'm due for one," Bogaerts told Devers. "I might come up clutch later in the game."
And just as promised, he delivered a seventh-inning, 389-foot solo shot that sailed over the Green Monster, sealing the Red Sox's 7-6 victory and a series split with Texas.
"I said it and I did it," Bogaerts said. "It's not like I was looking for a home run in that specific at-bat and you probably think I'm a magician now."
Game after game, in a season full of frustration, Bogaerts has been the biggest source of consistency for the Boston lineup, making major strides at the plate this season, hitting .295/.379/.531 with 19 doubles and 14 homers, on pace to hit 32 dingers, which would be a career high. Entering Thursday's game, the Red Sox shortstop led baseball in hits (29) and was tied for seventh in RBIs (18) in the seventh inning or later, and his 2.8 fWAR was second-best among shortstops. The 26-year-old isn't just coming into his own. He's thrust himself into the conversation of being the best shortstop baseball.
"He's a huge part of our offense regardless of whether he's hot or not," Red Sox manager Alex Cora said. "He's a complete player. He bought into the concept of trying to hit .330 going the other way and doing damage. And all of a sudden, he's hitting .290-.300, all of those home runs, all of those doubles. I'm very happy for him. He's a guy who keeps working at his craft and keeps getting better. I'm glad we made that commitment early in the season with him."
In late March, Bogaerts and the Red Sox agreed to a six-year, $120 million contract that solidified the Aruba native's future in Boston. The extension, according to family members, took a lot of pressure off Bogaerts' shoulders, cementing his family's financial security instead of waiting for free agency after the season. Members of Bogaerts' family have seen him grow from an anxious 20-year-old playing in the World Series into a more patient man, and literally has brought that patience to the plate with a career-high walk rate of 12.2 percent.
"It's not like when I'm hitting I'm like, 'Oh, I got money already.' I would say it's much more relaxed than having to play the year out," Bogaerts said. "I don't know how that would've been because I'm not in that situation, but I think it would have been a little tougher playing without one and the way we started as a team, there could've been a lot of chatter, this and that. But I think it definitely helps knowing I was going to stay here for a long time hopefully."
Xander's twin brother, Jair, who spent time in the Red Sox and Cubs organizations, noticed a difference in his brother's demeanor immediately after the contract was signed, sealed and delivered. Xander had long been the antsy kid who just wanted his future settled. For the first time since Xander arrived in majors, Jair saw his brother play like he did in the minors, when he was a consensus top-two prospect in baseball. Loose and easy-going.
"We knew there was gonna be more production and numbers," Jair said. "We knew once the contract got out of the way, he would be this guy. He's putting up numbers, star-type numbers. But [in his career] he hasn't been Batman. He's Robin."
For much of his tenure in Boston, Bogaerts felt satisfied to sink into the background, putting in his work and doing his job in the field. During the young shortstop boom in the last decade, featuring stars like Carlos Correa of the Houston Astros and Francisco Lindor of the Cleveland Indians, Bogaerts has flown a bit under the radar.
As more and more players younger than him began coming up from the minor leagues, the Red Sox shortstop recognized his standing in the clubhouse was changing, especially with his headline-grabbing contract. Bogaerts has taken Devers under his wing, which Cora partially credits for the third baseman's breakout first half. Michael Chavis credits Bogaerts in helping ease his transition to second base, a new position for the Boston rookie.
It's all made him realize that being Robin is no longer good enough.
"You could put it like that," Bogaerts said with a laugh after hearing his brother's comparison. "I feel a sense of responsibility. It comes with the territory. I got a lot of money, and if the team is feeling that type of way about you, you should own up to the responsibilities."
Padres get Tommy Pham, Jake Cronenworth from Rays for Hunter Renfroe
The San Diego Padres, intent on winning in 2020, have finalized a trade for outfielder Tommy Pham and two-way prospect Jake Cronenworth from the Tampa Bay Rays in exchange for outfielder Hunter Renfroe and prized second-base prospect Xavier Edwards.
The Rays also received a player to be named later.
The trade, which the sides officially announced Friday upon the completion of medical reviews, sends Pham, who turns 32 in March, to a Padres team in need of an offensive catalyst who gets on base. The Padres, who had the fifth-lowest on-base percentage in the majors last season, already acquired outfielder Trent Grisham and second baseman Jurickson Profar in trades this winter and are expected to continue dealing to alleviate an outfield glut as the winter meetings approach this week, sources said.
"We tried to address every area of our ball club, and we feel we're improved at this point," Padres manager A.J. Preller said.
Tampa Bay, which bowed out to the Houston Astros in a tight five-game division series this season, will get Renfroe and Edwards, an athletic middle infielder with excellent bat-to-ball skills who is a favorite among evaluators.
For the better part of a year, Renfroe, 27, has been part of Padres trade talks, with his sub-.300 career on-base percentage a red flag for teams. But his prodigious power, well-above-average defense, elite throwing arm and four years of club control were strong selling points for the Rays.
After buying low on Pham in a deal with the St. Louis Cardinals, the Rays sold relatively high, as he will earn more than $8 million in arbitration this season and become a free agent after 2021. Still, the Padres, in win-now mode, see Pham as a strong enough upgrade to warrant giving up a high-floor, higher-ceiling prospect such as Edwards.
Preller said the Padres have had their eyes on Pham and Cronenworth for a few seasons. He said he likes Pham's "fire" and "pitch-to-pitch grind."
Pham told the Tampa Bay Times via text message that he was "a little sad" to be leaving the Rays.
"I enjoyed my time as a Ray," Pham said. "My teammates helped me open up and have fun as a professional. I'm gonna miss going to battle with that group of guys."
Edwards was No. 46 on ESPN insider Keith Law's midseason top 50 prospects list. Although he hasn't developed power in his first two minor league seasons, Edwards has top-end speed and will play almost all of the 2020 season at 20 years old. The Rays could play him at shortstop, though a scout who saw Edwards multiple times this season says he believes he could be a Gold Glove-caliber second baseman.
To complete the deal, the Padres and Rays both dipped into their farm systems, which are considered the two best in baseball. Cronenworth, who turns 26 in January, is one of the more interesting prospects in baseball, even if he is not as highly regarded as Edwards. He can play second base, shortstop and third, though he spent most of 2019 at shortstop in Triple-A, where he hit .334/.429/.520. Cronenworth also pitched in seven games, six of them as an opener, and finished the year with a 0.00 ERA, though he walked eight in 7⅓ innings.
He could break camp with San Diego as a versatile back-of-the-roster player for a team in need of a turnaround.
After a frustrating 2019 in which they finished 70-92 and were in last place in the National League West, the Padres fired manager Andy Green, hired Jayce Tingler and have taken an aggressive tack to reflect owner Ron Fowler's mandate to win next season.
The Associated Press contributed to this report.
Chicago Cubs agree to 1-year contract with reliever Dan Winkler
CHICAGO — The Chicago Cubs and reliever Dan Winkler agreed Friday to a one-year contract that pays $750,000 in the majors.
The 29-year-old right-hander is 8-2 with two saves and a 3.68 ERA in 117 relief appearances over five seasons with Atlanta. He was 3-1 with a 4.98 ERA in 27 outings for the Braves last year before getting traded to San Francisco for pitcher Mark Melancon on July 31. Winkler spent the rest of the season in the minors.
The Cubs went 84-78 and missed the playoffs for the first time since 2014.
Winkler gets a $200,000 if he's in the minors. He can earn $750,000 in performance bonuses for games pitched: $50,000 each for 30 and 35, $75,000 apiece for 40 and 45, $100,000 each for 50 and 55, and $150,000 apiece for 60 and 65.
Yankees GM rappels building, gets fan's message on Gerrit Cole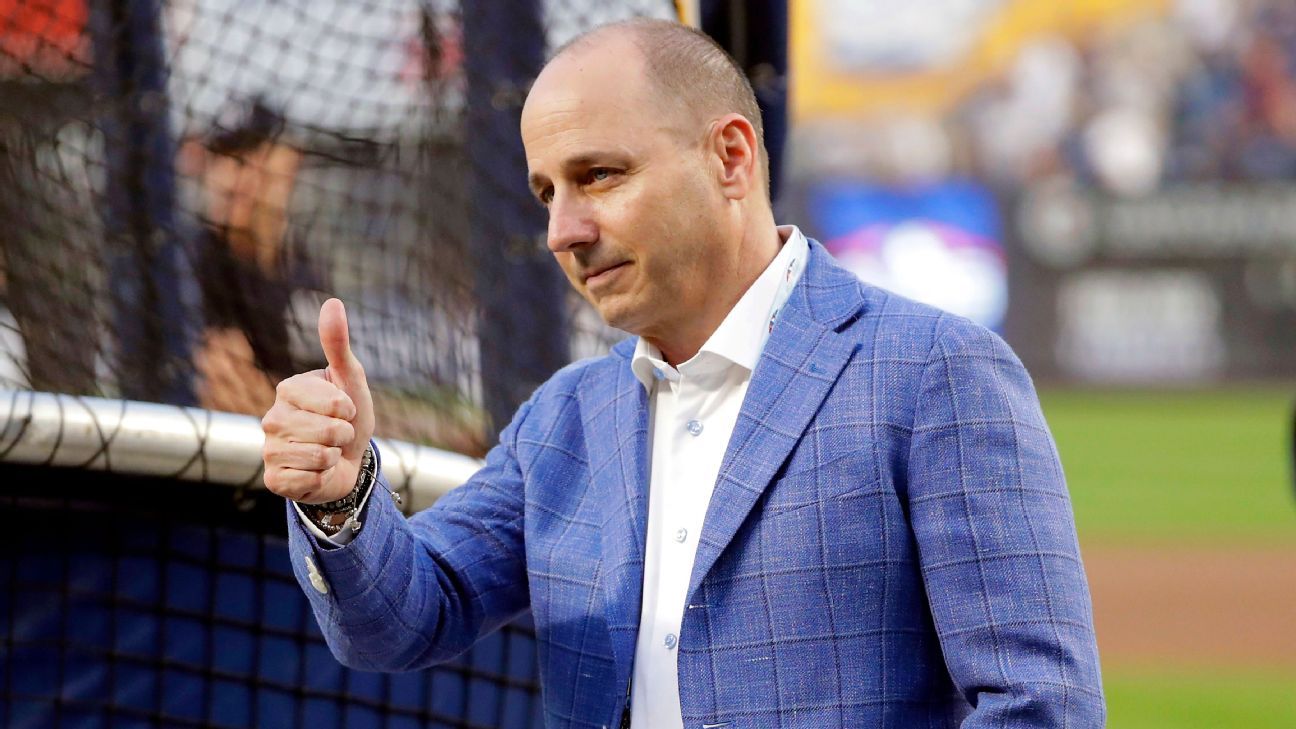 STAMFORD, Conn. — While Brian Cashman was descending the outside of a building Friday, the New York Yankees general manager came across a message taped to a 10th-floor window from a fan: Please sign Gerrit Cole.
Cashman, whose rappelling adventure has become a holiday tradition, confirmed he met with Cole in California on Tuesday and spoke with another free-agent pitcher, Stephen Strasburg, the following day.
"It was a great opportunity, clearly it was very public, that we met with Gerrit Cole and Strasburg while I was on the West Coast," Cashman said. "At least, that's who you all are aware of so far. Who knows who I met with?"
The Yankees have made signing Cole their clear offseason priority and have ownership-level approval to offer him a record-setting deal, sources familiar with their plans told ESPN's Jeff Passan on Thursday.
Cole and Strasburg are the top pitchers on the free-agent market. The Yankees would like to add an ace to a rotation that already includes Luis Severino, Masahiro Tanaka, James Paxton and J.A. Happ.
Along with Cashman, assistant GM Mike Fishman, manager Aaron Boone, new Yankees pitching coach Matt Blake and former Yankees pitcher Andy Pettitte made the trip to speak with both pitchers, who are represented by Scott Boras.
The Yankees' fondness for the 29-year-old Cole, whose fantastic 2019 season with the Houston Astros set him up to smash David Price's record $217 million contract for a pitcher, was only reinforced during the meeting, sources told ESPN.
New York and the Los Angeles Angels, a team similarly smitten with Cole and in even greater need of pitching, are preparing for a bidding war that executives expect will reach well beyond $250 million, according to sources. The Los Angeles Dodgers' interest in Cole is acute as well, though they are also considering bids for Strasburg and third baseman Anthony Rendon, sources told ESPN.
Cashman offered little about possibly signing either pitcher, declining to discuss how much the Yankees might spend.
"I think it was an important part of the process for them," Cashman said. "It sounds like they have met with many teams, and obviously I can't predict the future or the timing of their futures; only really they control that."
Cole was 20-5 with an American League-best 2.50 ERA and a big league-high 326 strikeouts this year for the AL champion Astros. He was originally drafted by the Yankees with the 28th overall pick in 2008, but he declined to sign a contract and opted to attend UCLA.
Strasburg was the MVP of the World Series for the Washington Nationals and was the first overall pick in the 2009 draft.
Cashman will return to California for the baseball's winter meetings, which begin Monday. First, he'll attend Sunday's Heights and Lights, where he will dress as an elf and again descend the Landmark Building.
"I'll be flying back out after this event and in the meantime staying engaged," said Cashman, who declined to say if another meeting with either pitcher was planned.
"I'm open to do clearly whatever, as always, is important for the Yankees. If there are certain steps that need to be taken, or conversations on the phone, like any club we are fully prepared to do what's necessary."
The Associated Press contributed to this report.