Source — Chiefs, PK Butker reach $20M extension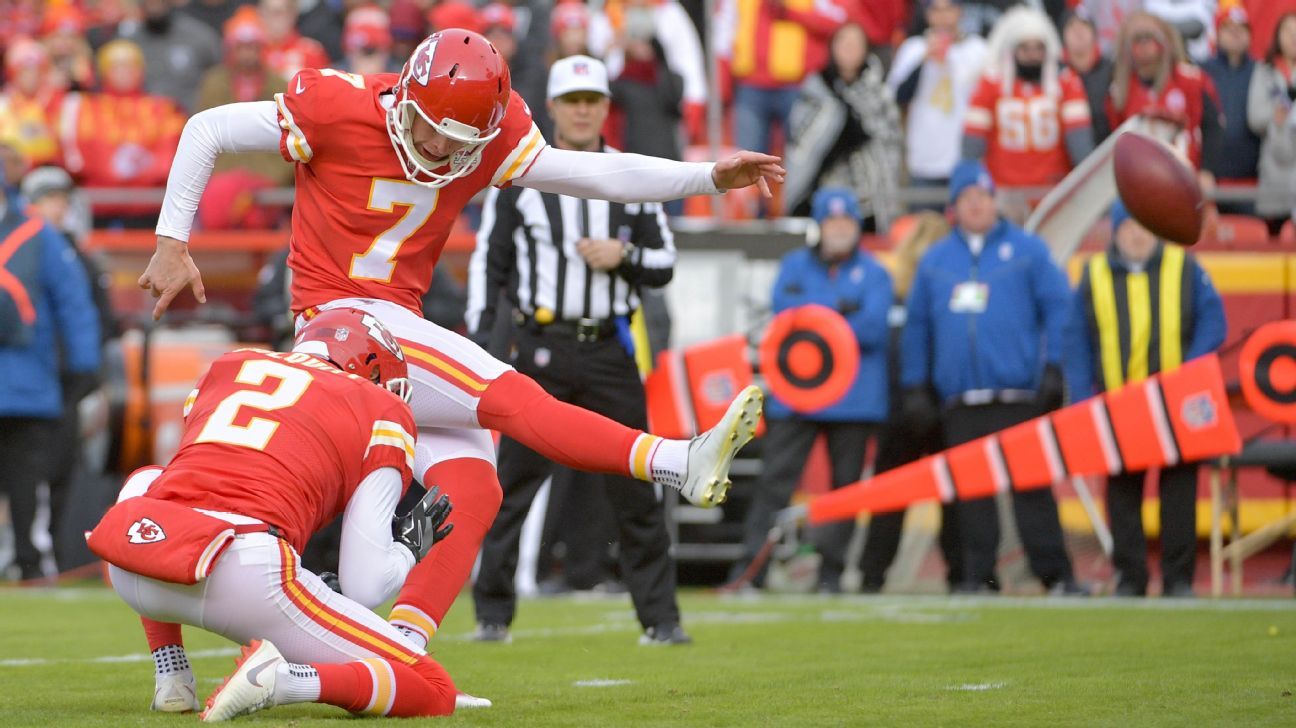 KANSAS CITY, Mo. — Harrison Butker's first two seasons with the Kansas City Chiefs were good enough to make him one of the highest paid kickers in the NFL.
The Chiefs and Butker agreed to terms of a five-year contract extension worth about $20 million, a source confirmed to ESPN on Thursday. The $4 million annual average on the extension would tie him for eighth among the league's highest paid kickers.
NFL Network was the first to report terms of the deal.
Justin Tucker of the Baltimore Ravens is the highest paid kicker at $5 million per year.
Most of the other highest paid kickers are, like Tucker, at least 30 years old. Butker won't turn 24 until July.
But his first two NFL seasons have been good enough to put him among the NFL's best. Butker made a 43-yard field goal with four seconds left to beat the Washington Redskins in his 2017 debut and has been equally impressive ever since.
Butker has made 62 of 69 field goal attempts since joining the Chiefs. His 90 percent success rate is ninth best in the league for kickers with at least 10 attempts.
Kyler Murray shows composure despite throwing three picks in rebound performance – Arizona Cardinals Blog
GLENDALE, Ariz. — Arizona Cardinals quarterback Kyler Murray threw perhaps his worst interception as an NFL quarterback in the fourth quarter of Sunday's 23-17 loss to the Pittsburgh Steelers.
It was fourth-and-2 from the Steelers 6 with about 12:33 left in the game. Arizona was down 10. The analytics said go for it on fourth down. Popular belief said kick a field goal and come within a touchdown.
Simulate your own scenarios and check out the latest playoff picture. Playoff Machine »
• Full schedule » | Standings » | More »
Murray looked for tight end Maxx Williams but threw a pass right into the waiting arms of Steelers outside linebacker T.J. Watt. Drive over. No points.
But Murray quickly showed how strong his mental game is, even when his passing game was off Sunday.
On his next drive, Murray threw perhaps his best ball of the game, a 24-yard pass, right over Steelers safety Terrell Edmunds' outstretched arms, and right into the hands of running back David Johnson for a touchdown that pulled the Cardinals within 20-17 with 6:49 left.
A week after the Cardinals turned in their worst performance of the season, a game in which Murray said was the most lopsided loss of his life, Murray showed yet again he has what it takes to play in the NFL, but this time from a different standpoint. He's already proven he can throw, run and direct an offense. And even if he threw three interceptions Sunday — two of which were ugly and costly, while the third was a desperation play in the final seconds of the game — he was able to shake them off and move on to the next play.
Coach Kliff Kingsbury has said time and time again this season that Murray's mental fortitude impressed him. Murray showed it Sunday afternoon in what amounted to a road game for the Cardinals inside their own stadium.
Steelers fans dominated the crowd, waving their Terrible Towels, booing the Cardinals during warmups loud enough that one would've thought it was the Cardinals fans booing the visitors.
And Murray was able to keep his head despite being sacked five times and unable to find running lanes on designed runs.
Describe the game in two words: Bad mistakes. The Cardinals made too many bad mistakes throughout Sunday's game, whether it was defensive pass interference plays by Byron Murphy, the missed tackle by Patrick Peterson, the interceptions by Murray or the facemask penalty on Terrell Suggs. They all contributed in some way to Arizona being unable to take control of Sunday's game.
Promising trend: David Johnson was back. The running back had 53 yards from scrimmage on Sunday, his most since the 102 he had against the Atlanta Falcons on Oct. 13.
Bold prediction for next week: Johnson will see his playing time increase. He played 19 snaps against the Steelers and will see that increase next week against the Browns.
Rebuilding Raiders' playoff flirtation was fun while it lasted – Oakland Raiders Blog
OAKLAND, Calif. — Welp, that should be a wrap.
The Oakland Raiders' run to a playoff spot, as unlikely as it seemed at the start of the season, is all but done, courtesy of a 42-21 loss to the Tennessee Titans on Sunday in the penultimate game at the Oakland Coliseum. The Raiders, who lost their third straight game, fell to 6-7, while the Titans, one of two teams the Raiders were chasing for the sixth and final playoff spot in the AFC, improved to 8-5.
The Raiders were a feel-good story when they sat at 6-4 and rode a three-game winning streak in this latest rebuilding season, but injuries and ineffectiveness the past month have turned the tide.
Describe the game in two words: Opportunity lost. Yeah, you could have used this descriptor in previous losses against the Texans and Jets, but those were road games. The Raiders were essentially playing a playoff game at home against the Titans.
Biggest hole in the game plan: Did the defense forget how to arm tackle, especially the secondary? Time and time again in the first half, Raiders defensive backs looked unwilling or unable to wrap on their tackles, and the Titans would take off for big gains. And that's not counting the lack of coverage on several big pass plays, most notably the 91-yard TD pass from Ryan Tannehill to A.J. Brown on which cornerback Daryl Worley was caught sleeping. Brown finished with five catches for 153 yards and two TDs and running back Derrick Henry had 103 yards rushing and two scores on 18 carries for Tennessee. Oakland's defense simply could not get off the field.
QB breakdown: Derek Carr showed some of that 2016 spunk on a 15-yard scramble up the middle on the second play of the second half and, well, that was it. Again, quarterbacks get too much of the credit when things are going well, too much blame when things go south. Although there are holes all over the roster, Carr has not been able to elevate the rest of the team. He finished with 263 passing yards in completing 25 of 34 attempts with two TD passes, a 49-yarder to receiver Rico Gafford and a 1-yarder to rookie tight end Foster Moreau. But throwing the ball away on fourth-and-goal from the 2-yard line, trailing by three touchdowns late? That seems … strange.
Pivotal play: Carr taking a sack on third-and-2 at the Tennessee 43-yard line for a 4-yard loss with 11:18 to play in the third quarter. It was the initial drive of the second half and the Raiders were driving with the score tied at 21. Oakland could not right itself and the defense, as noted before, simply could not contain the Titans.
Silver lining: With rookie running back Josh Jacobs out with a right shoulder injury (he said on social media this week he had been playing with a fracture since Week 7) DeAndré Washington and Jalen Richard acquitted themselves fairly well. The Mighty Mites combined for 81 yards rushing on 21 carries, with Washington scoring on an impressive 14-yard run to give the Raiders a 7-0 lead. And they did it without right tackle Trent Brown, out with a pectoral injury.
Chiefs clinch division title in New England, though Pat Mahomes injures hand
FOXBOROUGH, Mass. — The Kansas City Chiefs wore the T-shirts and ball caps they had ready for the occasion after they clinched their fourth consecutive AFC West championship with Sunday's 23-16 victory over the New England Patriots.
But not all the news was favorable for the 9-4 Chiefs afterward. Quarterback Patrick Mahomes was scheduled to have X-rays after injuring his passing hand early in the game.
"It doesn't feel great right now," said Mahomes, who played the whole game and threw for 283 yards and a touchdown. "It's something you play with. In this sport you're going to get hurt. You're going to bang something. For me, it's about going out there and competing and relying on my teammates to help me out when maybe I'm not feeling 100 percent."
Mahomes landed awkwardly after throwing a pass and being hit. Mahomes still managed to throw a 48-yard touchdown pass to Mecole Hardman, but the Chiefs didn't score after taking a 23-7 lead with a field goal six minutes into the third quarter.
"I just kind of hit the ground weird when I was kind of throwing that ball away and got hit," he said. "I got tackled right as I threw it away. I knew something was wrong but I didn't know for sure and I tried to fire that next pass and it didn't look too pretty. So kind of let the trainers look at it. They gave me the 'Good to go.' So I went out there, battled, figured out ways to throw the ball across the middle, maybe not shoot those longs shots I usually throw."
Mahomes said he never asked to come out of the game, and coach Andy Reid said it was never a consideration to take him out.
"We think it's OK," Reid said. "We'll see how it goes. It was hard for him to grip the ball and do the things he needed to do. But he powered through it. … He kept messing with that hand. I could tell he wasn't gripping it all that well."
Winning the AFC West was cause for celebration for the Chiefs, who will play at least their first playoff game at Arrowhead Stadium. They would also get a first-round playoff bye if they can make up one game through the rest of the regular season on the 10-3 Patriots.
The Chiefs had never won back-to-back division championships in their history until the current streak, though they had won 10 such titles in their first 56 seasons.
But there was also a been-there, done-that feel to winning the AFC West. The Chiefs had bigger things in mind for this season after advancing to the AFC championship game and losing to the Patriots in overtime last season.
Defensive end Frank Clark was among Chiefs players who in the locker room after the game wore a T-shirt that read, "The West is Not Enough."
"We haven't done [anything] yet," said safety Tyrann Mathieu, in his first season with the Chiefs. "It seems like the Chiefs win the division every year. The goal is to get back to where we were last year and win that game. So we still have big goals out there."