Brewers vs. Astros – Game Recap – June 12, 2019
HOUSTON — Mike Moustakas hit a two-run homer during Milwaukee's three-run 14th inning, and the Brewers struck out 15 times against Houston ace Justin Verlander before rallying for a 6-3 victory over the Astros on Wednesday night.
Christian Yelich started the 14th with a single against rookie Cionel Perez (1-1) for Milwaukee's first hit since the ninth. After Ryan Braun lined out, Moustakas hit a drive to right for his 21st homer.
Jesus Aguilar added a pinch-hit RBI single as Milwaukee won for the fifth time in six games despite striking out a season-high 24 times. Braun, Yasmani Grandal and Eric Thames also went deep for the Brewers, and Adrian Houser (2-1) pitched two scoreless innings for the victory.
Verlander set a career high for K's while allowing three runs in seven innings. The 2011 American League Cy Young Award winner led the way as Houston set a franchise record for strikeouts, surpassing its previous record of 23 during a 15-inning game on May 31, 2003, against the Chicago Cubs.
Verlander joined Randy Johnson as the only pitchers in Astros history with at least 15 strikeouts and no walks in a game, according to ESPN Stats & Information research. (Johnson had 16 strikeouts against the Pittsburgh Pirates on August 28, 1998.)
Houston had a 3-2 lead before Thames connected in the seventh inning for Milwaukee's third homer off Verlander. It was Thames' ninth of the season.
Each team had late chances to go in front.
Jake Marisnick singled off Houser with one out in the 13th. Marisnick stole second base, but Houser retired Josh Reddick and Alex Bregman to end the threat.
Pinch hitter Myles Straw walked leading off the Houston 10th, but was caught trying to steal second base. He was initially called safe, but the Brewers challenged the call and it was overturned. Josh Hader walked Tyler White, but Marisnick grounded into a double play to end the inning.
Singles by Yelich and Moustakas left runners at first and third with one out in the ninth. But Roberto Osuna struck out Grandal and Thames to escape the jam.
Verlander surrendered solo drives to Braun in the first and Grandal in the second before settling into a groove. He retired 17 of 18 after Grandal's 15th homer, with Milwaukee's only baserunner coming on a double by Thames to start the fifth.
Verlander, who had fanned 14 four times in his career, struck out eight of his final 10 batters, including the side in the sixth.
Milwaukee's Brandon Woodruff also yielded three runs and four hits in seven innings.
The Brewers led 2-0 before the Astros scored three times in the fourth. Robinson Chirinos singled in Yuli Gurriel before Tony Kemp doubled in two runs.
ANNIVERSARY
Verlander got the start on the 12th anniversary of his first career no-hitter, a 4-0 victory over Milwaukee. Brewers manager Craig Counsell led off in that one and finished 0-for-4 with two strikeouts.
TRAINER'S ROOM
Brewers: RHP Jhoulys Chacin (lower back strain) will come off the injured list to start against San Diego on Monday.
Astros: 2B Jose Altuve (leg fatigue) and OF George Springer (hamstring) are both improving and manager AJ Hinch said they could both start rehabilitation assignments sometime this weekend. … C Max Stassi (knee soreness) is scheduled to begin a rehabilitation assignment Thursday.
UP NEXT
Brewers: Milwaukee is off Thursday before Zach Davies (7-0, 2.41 ERA) starts in the opener of a three-game series at San Francisco on Friday night. Davies allowed three runs in five innings in a 5-3 win over Pittsburgh in his most recent start.
Astros: Following an off day, Houston hosts Toronto on Friday night in the first of three games. Gerrit Cole (5-5, 3.72 ERA) is scheduled to start. Cole yielded three runs — one earned — and struck out a season-high 14 in seven innings but did not factor in the decision in a 4-3 win over the Orioles in his most recent start.
The Associated Press contributed to this report.
Giants seek pitching, but few signs Madison Bumgarner returning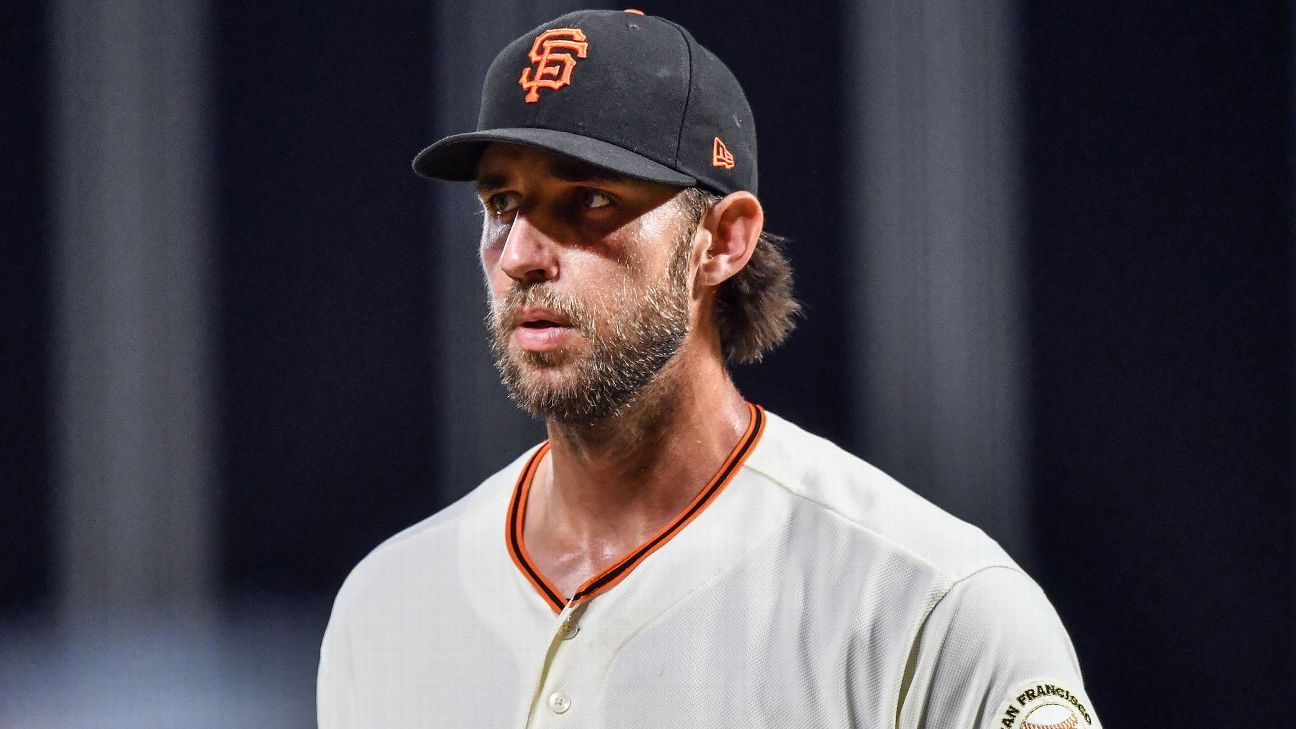 SAN DIEGO — The San Francisco Giants would sure like to add a pitcher at this week's winter meetings.
It just might not be Madison Bumgarner.
San Francisco president of baseball operations Farhan Zaidi plans to meet with agents for the free agent left-hander, but there are few signs the Giants are ready to commit big money to him for the long haul.
"We're in contact with his representatives and expect to meet with them here," Zaidi said Monday. "We are in touch with them. We will meet with them in person at some point here."
Bumgarner was perhaps the biggest reason San Francisco won a third World Series over five years in 2014 and earned MVP honors from the Fall Classic. He hasn't been quite so dominant since. The 30-year-old may seek a deal similar to Zack Wheeler, who finalized a $118 million, five-year deal with the Philadelphia Phillies on Monday.
"I would expect us to add at least one starting pitcher here and by here I don't mean necessarily in San Diego, but there's a good chance we do that," Zaidi said. "We're having multiple conversations on that front. Pitching is a big priority here for us as it is for a lot of teams. It has been a major focus for us leading up to this and I expect us to be busy this week."
When the season ended, Bumgarner had prepared for the fact his tenure in San Francisco could be over. The Giants are looking to move forward with a younger roster and smaller payroll while trying to build back into a consistent contender.
Many figured Bumgarner would be gone by the All-Star break, but Zaidi opted not to trade him. Bumgarner called the constant speculation "just noise." The Giants exercised his $12 million contract option for 2019, the final year in a $35.56 million, six-year deal he signed in April 2012 that included $12 million club options for both 2018 and '19.
Bumgarner drew a rousing standing ovation before lining out as a pinch-hitter against Clayton Kershaw in San Francisco's 9-0 season-ending loss to the Dodgers. Retiring manager Bruce Bochy wanted to give him a final hurrah.
San Francisco's big lefty tipped and waved his batting helmet in every direction to acknowledge the fans in what might have been his final moment in a Giants uniform.
Bumgarner went 9-9 with a 3.90 ERA over 34 starts after injuries cut short his two previous seasons.
Shohei Ohtani's bullpen impresses new Angels pitching coach
SAN DIEGO — Japanese two-way sensation Shohei Ohtani of the Los Angeles Angels has resumed throwing bullpen sessions, and new pitching coach Mickey Callaway is impressed.
Ohtani got back on the mound last week and pitched a bullpen in front of Callaway in Anaheim on Monday, general manager Billy Eppler told reporters at the winter meetings.
Eppler shared the contents of a text message he received from Callaway: "Shohei looked pretty darn good today. He does it very easy and we worked on some things in regards to his tempo. Everything synced up very well. I like this guy."
Eppler said he didn't know how many pitches Ohtani threw Monday but that he threw 25 during one session last week.
Ohtani had Tommy John surgery after the 2018 season and didn't pitch in any games in 2019. He did start a throwing program last season, with bullpen sessions before certain games. He had season-ending surgery on his left knee in mid-September.
Ohtani was used as the designated hitter last season, batting .286 with 18 home runs and 62 RBIs in 425 plate appearances.
He was 4-2 with a 3.31 ERA in 10 starts as a rookie in 2018. He also hit .285 with 22 home runs and and 61 RBIs.
Theo Epstein confident in imminent Kris Bryant grievance ruling
SAN DIEGO — Chicago Cubs president Theo Epstein is confident in the pending outcome of star third baseman Kris Bryant's service time grievance and doesn't believe it's impacting any trade discussions for the team.
"We're fairly confident in what the outcome is going to be, but the timing is a bit frustrating," Epstein said from the winter meetings on Monday. "It would be nice to know. We're at the winter meetings, and there hasn't been a ruling. I understand these things take time. It's not going to be more than a couple weeks away, but it would be nice to have that final confirmation."
Bryant, whose name has surfaced in trade rumors this offseason, contends he should have started the 2015 season with the big league club, allowing him to become a free agent after the 2020 season. Instead, the team sent him to the minors out of spring training, then brought him up 10 days later due to an injury, allowing them to keep him an extra year and making him a free agent after the 2021 season. The union filed a grievance on Bryant's behalf with the sides finally presenting their case this offseason.
If the arbiter rules in his favor, Bryant would be granted free agency after next year — immensely affecting his trade value.
"We're operating with what our understanding of what the likely outcome will be and moving forward that way," Epstein said. "I don't think we look for the whole service time structure to be upended in any one ruling."
The Cubs have vowed to make changes to their team, which features four key players up for free agency at the same time, after the 2021 season. Epstein said he won't force anything but admitted some turnover might be in order after missing the playoffs in 2019 and losing out on the division the year before.
"We can benefit from some change in certain areas," Epstein said. "There are a lot of promising leads [potential trades] out there."
A decision on the grievance isn't expected until the New Year, a source told ESPN.