Tyrann Mathieu wasted no time in becoming face of Chiefs' defense – Kansas City Chiefs Blog
KANSAS CITY, Mo. — When the Kansas City Chiefs held a news conference recently to introduce new defensive end Frank Clark, the player who showed up first to publicly welcome him wasn't one of their long-time veterans. It was another new arrival, safety Tyrann Mathieu.
That may have been a small gesture on Mathieu's part, but it was telling nonetheless. Mathieu signed with the Chiefs in March, but he's already the face of their heavily renovated defense.
The Chiefs were an overtime loss to the New England Patriots in last season's AFC Championship Game away from reaching the Super Bowl, a failure directly traced to their faulty defense. They overhauled the defensive coaching staff and base system, and acquired as many as seven new regulars to try to make quick and dramatic improvement.
Mathieu, along with Clark, is one of the key pieces in the rebuilding effort, and he isn't wasting time trying to get the turnaround started. He embraced the defensive leadership role that was vacated earlier in the offseason when the Chiefs released safety Eric Berry. They also parted with another vocal veteran, linebacker Justin Houston.
"I've always been quiet, for the most part, especially any time I've come into a new environment," said Mathieu, who joined the Chiefs after five seasons with the Arizona Cardinals and one with the Houston Texans. "Obviously, you'd like to have respect for the people around you.
"But for me, it's about obviously embracing the guys around me and believing in them but knowing that there's a certain direction we want to go in and everybody can't lead you in that direction so a lot of the guys on our side of the ball, we have to really follow somebody in the right direction. Hopefully, I can lead those guys in that direction."
We got ourselves a new vocal leader in the secondary.

🗣 @Mathieu_Era pic.twitter.com/N6yOHPFdXo

— Kansas City Chiefs (@Chiefs) May 21, 2019
The Chiefs aren't shy about allowing him to take that role. Indeed, they liked his leadership skills from his time with Arizona and Houston, one reason he was signed to a three-year, $42 million contract.
"You can acquire as many great players, as many talented players as you'd like," general manager Brett Veach said. "But until you have a catalyst to make it go, things will never work out the way you want. [Mathieu] was the catalyst that we had to have."
Quarterback Patrick Mahomes said, "I think if you meet him you see the mentality and the leadership that he has just by being himself. I think that's a huge thing that he's going to bring to this team. He's going to come in with the mentality of, he wants to be great, he wants to be known, [he wants] the Kansas City Chiefs to be known as a great defensive team, a team that can shut people down. He brings that mentality as he walks through the locker room and I think that's going to be something that we will utilize this year."
It's not unusual for a high-dollar free agent to become a significant and immediate presence for his new team off the field as well as on it. But many such players find it takes time to find their place in the new locker room. The Chiefs' major free-agent addition last year, wide receiver Sammy Watkins, acknowledged recently that he was more of a locker room observer.
Mathieu hasn't had such reservations but rather has jumped right in.
"We're really trying to build a defense with an attitude," he said. "Anytime you can have 10, 11 guys with a chip on their shoulder, with an edge, a certain kind of presence, a certain kind of attitude, a kind of swagger, you can create a collective identity.
"We've got a good group, a young group. As long as me, as a leader, gets everybody to buy in, I think we'll be all right."
End Alex Okafor, linebackers Damien Wilson and Darron Lee, cornerback Bashaud Breeland and safety Juan Thornhill join Mathieu and Clark as new defensive players who will have significant roles this season. Chiefs coach Andy Reid is holding Mathieu up as the example for how he wants those players and others to work.
"The way he plays, the way he goes about his profession here, for young guys it's invaluable [to see]," Reid said. "Here you bring in a veteran player that does it the right way. … He's going to go out and he's going to attack it and study and take the leadership role, handle it the way you're supposed to handle it on and off the field.
"He's kind of fun to be around. He's [all] business. He shares that with the guys around him. He has those instincts [and] you can't teach that part. That's what he's had. He had it in college and he's had it in the NFL. He works hard every snap and that's infectious. Along with Frank [Clark] being Frank and going 100 miles per hour every snap, that kind of stuff is contagious."
Mathieu said he's seen teammates respond positively to him at his previous stops.
"When I went to Houston last year, I really just went there not just trying to be a leader in particular," he said. "I was just being myself. A lot of guys, they feed off me. … I'm extremely prideful in what I do. I think a lot of guys take heed of that. They look up to that.
"It will be my job to come in here, try to give some direction, try to give guys some motivation [and] some inspiration and then be an every-day factor. I want to be the same guy I am in the weight room that I am on the football field. I want to … help the young guys, help my teammates, help everybody be confident and make everybody feel like they're special."
Le'Veon Bell doesn't regret bowling trip — 'I wasn't a distraction until now'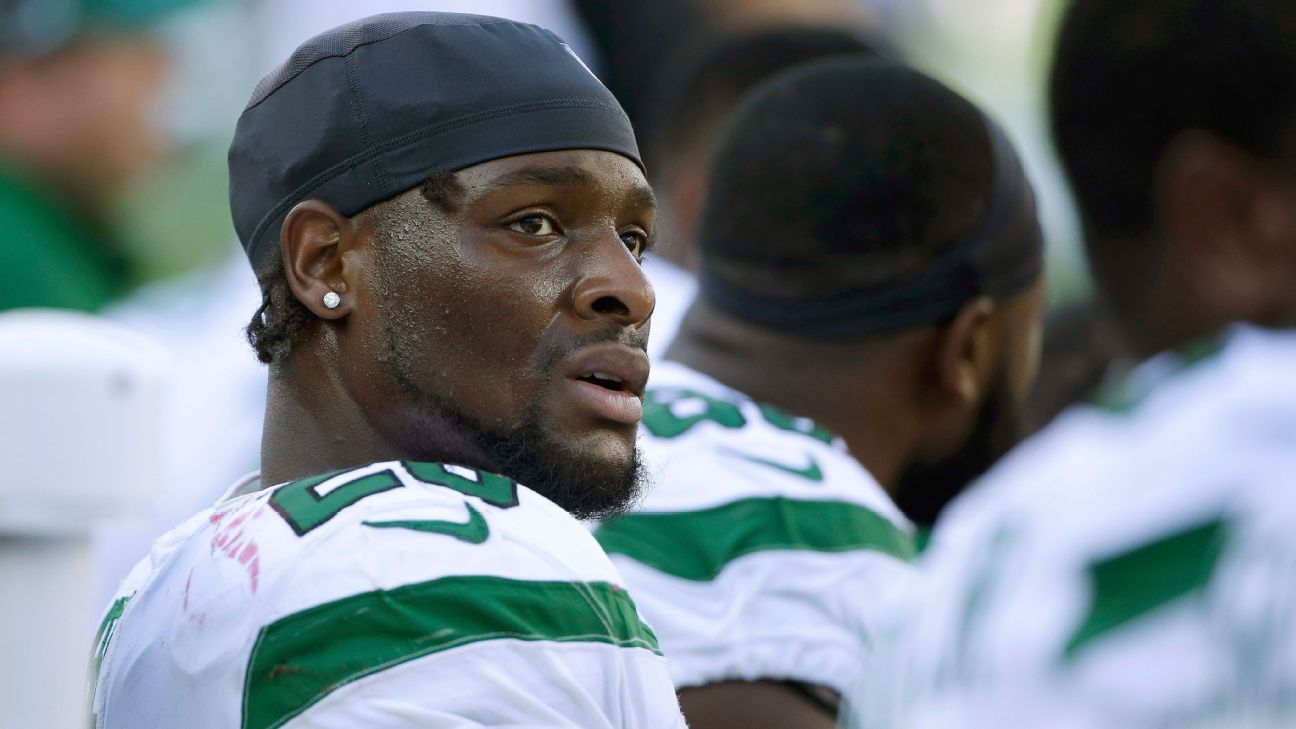 FLORHAM PARK, N.J. — A flu-stricken Le'Veon Bell went bowling last Saturday night and the result was a split.
New York Jets coach Adam Gase said Tuesday the star running back's late night on the lanes was a bad optic for Bell and the organization, considering he was too sick to play in Sunday's game.
Bell responded later Tuesday, showing no remorse and claiming his only regret was that he was spotted in public. He joked about it, noting he bowled a career-high 251 "coming off the flu."
"I don't feel bad about what I did," Bell said. "I didn't break any rules. I wasn't a distraction until now."
This became more than a bowling story.
Bell added layer of intrigue to his closely scrutinized relationship with Gase, claiming he feels under-utilized in the offense. This wasn't the first time he voiced his opinion on the matter, but these were his most strident comments of the season.
Asked if he has been afforded the opportunity to thrive, Bell replied, "Honestly, no. I think that's just being in a new system, with new guys up front, a new coaching staff. I'm with a new organization. Everything kind of takes time, I understand that. That's why I've always been patient.
"But to be honest with you, no. I feel like when I do, I'll be back to what people are used to seeing."
Bell battled the flu last week and missed two practices, plus the Saturday walkthrough. At 5 p.m. Saturday, the Jets announced Bell had been ruled out for their game against the Miami Dolphins. More than five hours later, he was spotted at a bowling alley in Boonton, New Jersey, first reported by the New York Post.
Bell watched the game from a private box at MetLife Stadium. Gase got wind of the bowling episode late Monday night.
Gase said he won't discipline Bell because no team rules were violated, but he acknowledged it was a bad look.
"Yeah, I'd say so," Gase said.
Bell, wearing bright orange pants, bowled with family and friends from 10:30 p.m. to 1 a.m., when the alley closed.
"That wasn't his fault that we said he's still contagious," Gase said. "I mean, that's what the doctors told him. I'd rather him not be [bowling]. I'd rather him be at home, getting better. But that will be a conversation we have."
They spoke late Tuesday about the incident. According to Bell, Gase reminded him about the perception it created.
Stephen A. Smith disagrees with Le'Veon Bell's decision to go bowling after being ruled out by the Jets with the flu.
Asked if he plans to impose a penalty, Gase said, "What am I going to discipline him for? I can't tell him, 'You have to stay in your house.'"
Bell gave his side of the story, saying he wanted to play but that he had dropped nine pounds.
"They weren't sure about my energy and hydration, so they held me out of the game," Bell said. "But they advised me to get out of the house and move a little bit. I had a lot of family and friends there because they were expecting me to play. Everybody was at my house, just kind of looking at me. I felt better, I felt a lot better, so we went out bowling and had fun."
Bell has regained some of the weight and is expected to play Thursday night against the Baltimore Ravens.
"Yeah, he'd better," Gase said. "We're out of guys."
Bilal Powell, who replaced Bell last week and rushed for 74 yards (a team-high for the season), likely will miss the game because of an ankle injury. He also has the flu.
This has been a disappointing season for Bell, who arrived with big expectations after signing a four-year, $52.5 million contract in March. He hasn't rushed for more than 70 yards in a game, and his numbers for the year are the worst of his career — 589 yards, a 3.2 average and three touchdowns. He's second on the team with 55 catches.
Bell seemed particularly frustrated after the Jets' Week 13 loss to the Cincinnati Bengals, a game in which he rushed only 10 times. Gase was opposed to signing Bell, sources said, prompting speculation that he's trying to reduce his role.
After New York's Week 8 loss to the Jacksonville Jaguars, Bell was so frustrated that he approached Gase and they talked it out. Bell said he's done talking about it.
"I don't like to keep harping on the same thing," he said. "I said what I said. We had the conversation. That was that. I'm not about to have the same conversations over and over. We both understand each other. As time goes on, things will get better."
Ravens QB Lamar Jackson (quad) says he's playing Thursday night
OWINGS MILLS, Md. — Baltimore Ravens quarterback Lamar Jackson said he will play Thursday night against the New York Jets despite being limited the past two practices with a quad injury.
"I feel great. I feel good. I'm 100 [percent]," Jackson said after Tuesday's practice. "I'm going to be out there Thursday night."
After having a slight limp Monday, Jackson looked much better during the media viewing portion of Tuesday's practice. He moved well while dropping back for passes and didn't appear to be concerned with a leg injury, horsing around with wide receiver Marquise Brown.
On Monday, coach John Harbaugh said Jackson's injury wasn't serious but he considered him day-to-day.
There were no team drills during the media viewing period Tuesday, so it's unknown how many reps Jackson took. It didn't sound like the MVP front-runner expects to be limited for Thursday's game.
"I'm playing to win the game," Jackson said. "If I have to be out there all four quarters, that's what it's going to be."
Jackson made the point to say he was injured in the pocket and not when he was running with the ball. He acknowledged that teams are targeting his legs more the past two games.
Asked if teams are trying to injure him, Jackson said, "I don't know. We're playing football. It's an aggressive game. They're trying to make a tackle and I'm trying to make them miss."
Safety Earl Thomas III said refs need to pay attention to where defenders are hitting Jackson and protect him more.
"I'm not saying they're trying to hurt Lamar, but they're definitely going at his legs more than they were doing at first," Thomas said.
The Ravens (11-2) can clinch their second straight AFC North title by beating the Jets (5-8).
Source — Eagles lose WR Alshon Jeffery for season due to foot injury
PHILADELPHIA — Philadelphia Eagles wide receiver Alshon Jeffery will miss the rest of the season with what coach Doug Pederson called a "significant" foot injury, a source confirmed to ESPN's Adam Schefter.
Jeffery was taken to the locker room on a cart during the second quarter of Monday's 23-17 win over the New York Giants. He was not contacted on the play, but left the field limping before throwing down his helmet and entering the medical tent. He then sat in the front seat of a cart that headed into the tunnel.
The injury left Carson Wentz with just two active receivers for the rest of the game: JJ Arcega-Whiteside and Greg Ward. With Nelson Agholor still dealing with a knee injury, the Eagles are expected to make a move at receiver in the near future. They have three receivers on their practice squad, including Marken Michel, who had a strong offseason for the Eagles. Michel is the brother of Patriots running back Sony Michel.
"We're going to work through that today and try to get something in place here pretty quick, and we're back on the field [Wednesday]," Pederson said.
Jeffery finished the season with 43 catches for 430 yards and four touchdowns.
Eagles offensive lineman Lane Johnson, meanwhile, is week-to-week with an ankle injury, Pederson said. Halapoulivaati Vaitai replaced him at right tackle Monday and appears to be the leading candidate for the job moving forward.
NFL Network first reported that Jeffery would miss the rest of the season.