D-backs SP Weaver exits with forearm tightness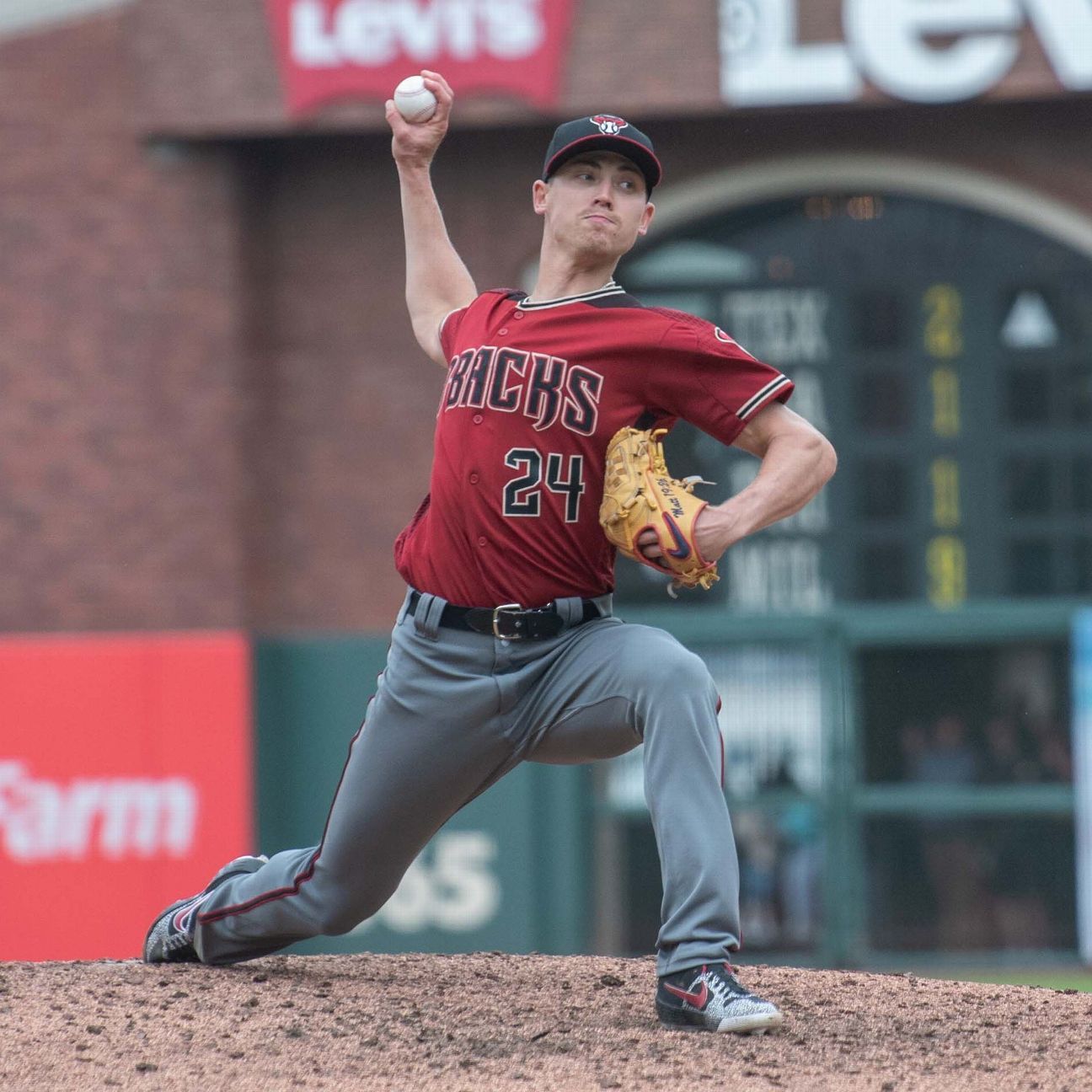 Arizona Diamondbacks starting pitcher Luke Weaver exited Sunday's 6-2 win over the San Francisco Giants with forearm tightness after pitching five innings of six-hit ball.
Diamondbacks manager Torey Lovullo said the severity of Weaver's injury wasn't immediately known.
"We're going to obviously continue to evaluate him," Lovullo said. "He may be potentially a little banged up right now. If that's the case, it'll be an opportunity for somebody else to step up."
Weaver said he left the game for precautionary reasons. He felt the cold weather may have been a factor in the injury. Arizona had a 6-1 lead when he left the game.
"With the conditions, and how the game was shaping up, I just felt like in my best interest going forward, play it safe," Weaver said.
The 25-year-old right-hander said he experienced discomfort throwing his changeup. He felt his mechanics were a bit off.
"I felt like I was rushing, so sometimes you just put your arm in a spot that's just a little bit funky," Weaver said.
Weaver spent his first three years in the majors with the St. Louis Cardinals, before being traded along with Andy Young and Carson Kelly to the Diamondbacks for Paul Goldschmidt.
Weaver's sporting a career-best 3.14 ERA in 57 1/3 innings pitched so far this season.
The Associated Press contributed to this report.
Buster Olney's top 10 second basemen
If you'd like a peek into the future of catching once the electronic strike zone is implemented, just consider how quickly second base has changed since the rules against aggressive slides was adopted in 2016.
Back then, one skill separated good second basemen from the bad ones — the ability to take a throw with a runner bearing down, quickly transferring the ball from glove to hand and then firing an accurate throw to first to perhaps complete a double play. When fielders moved from other positions to second base, this was what almost all of them found to be the greatest challenge — learning how to do this adeptly.
But because of what is known as the Chase Utley rule, there is little value attached to this practiced flurry of hands and feet because the middle infielders almost never get dumped anymore.
Increasingly, teams treat second base much the way they do first base — as a spot to mine offensive potential through matchups. In yesterday's series piece, it was mentioned that the Dodgers deployed 10 different players at first. The volume was almost as high for L.A. at second: Enrique Hernandez, Max Muncy, Gavin Lux and Chris Taylor were among the eight second basemen deployed by Dave Roberts, at the helm of one of baseball's best and most progressive teams.
The Brewers provided a classic example of where the position stands with their handling of second base in 2018. After acquiring Mike Moustakas, they shifted Travis Shaw to second base, a position at which Shaw had played exactly zero innings professionally. But Milwaukee wanted a way to shoehorn Moustakas and Shaw into the lineup, rather than choose between the two, so Shaw learned how to play big league second base … in the big leagues.
He started 36 games in that spot as the Brewers surged to win the NL Central, and in 2019, it was Moustakas who made the move to second, for 359⅔ innings. Milwaukee reached the playoffs again with some new middle infielders getting significant time at a spot where, generally, high-caliber defense was once a priority.
Dodgers' Cody Bellinger ready for 'once-in-a-lifetime' season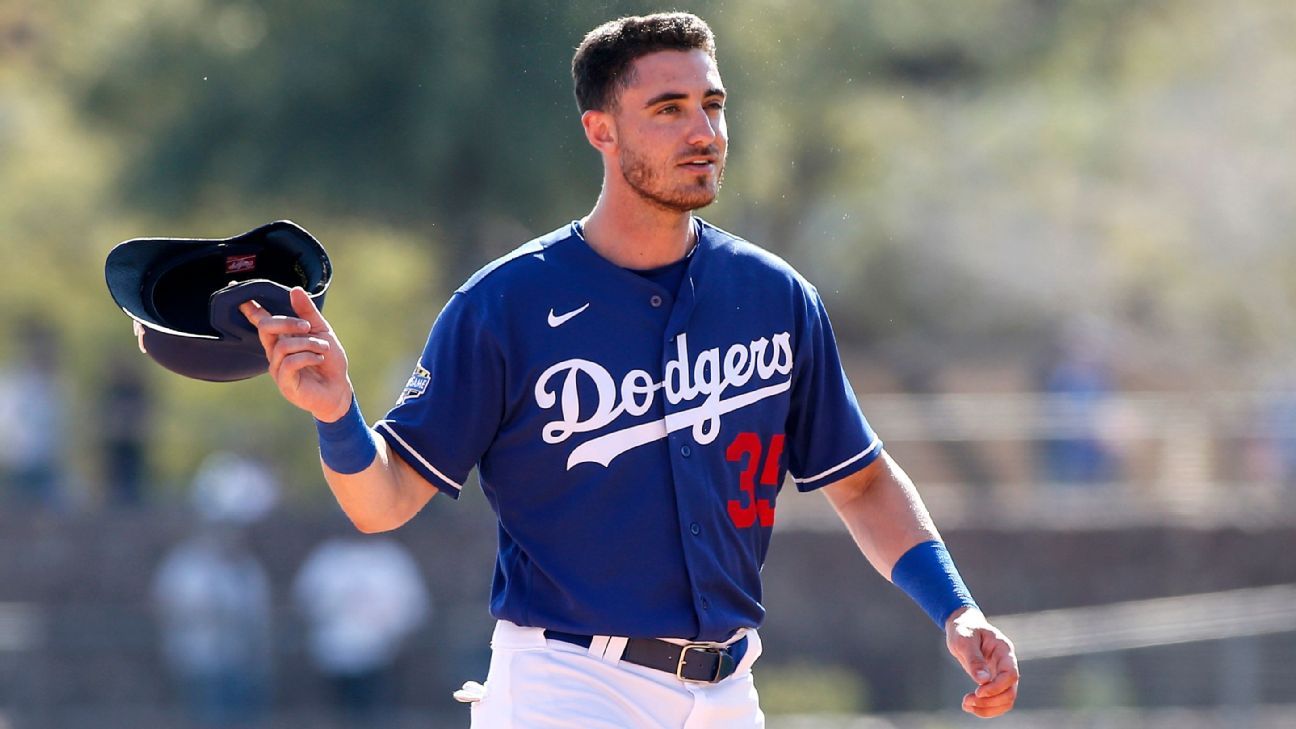 LOS ANGELES — Cody Bellinger is healthy, his mind is right and he's ready for whatever baseball's shortened 60-game season brings.
Bellinger is looking to pick up where he left off after a stellar performance for the Los Angeles Dodgers in 2019. The reigning National League MVP batted .305 with 47 homers and 115 RBIs for the NL West champions last year.
"Everything is going to be so weird this year. It's going to be fun," he said Thursday on a video conference call. "It could be a once-in-a-lifetime thing, so I'm just taking advantage of what we got."
What the Dodgers have in addition to Bellinger's offensive power is Mookie Betts, the 2018 American League MVP with Boston. He joins a team that led the NL with 279 homers last year, but lost to Washington in the division series.
Bellinger, who turns 25 on Monday, isn't putting pressure on himself to repeat last season's statistics.
"I just want to focus on what I've got to do in order to be good. I'm understanding that a little more," he said. "Just go out and be as consistent as I can, fine-tune the things that make me really good."
Bellinger was the NL Rookie of the Year in 2017, and then struggled the following year before rebounding in 2019.
"It was tough sledding for Cody for quite some time coming off that rookie campaign, and you start wondering, 'Was it real?' You question the confidence, the mechanical piece," manager Dave Roberts said. "Everything he does now is with conviction and intent. There's a talent component, but also there's a process and preparation component that sometimes you have to struggle to understand the value of it."
Bellinger spent the last few months working out in his home state of Arizona after spring training came to a halt in March because of the coronavirus pandemic. He focused on fine-tuning his swing.
"I just got to work on it in a stress-free environment," he said. "Just minor things I think about throughout the year. Figuring out why I was so good and remembering the feeling and not getting too caught up on last year. You're always evolving. I feel really good with where I'm at this year. It could be a blessing in the long run."
Bellinger and Roberts said hitters' concerns about the new batter's eye in the renovated outfield pavilions at Dodger Stadium are being addressed. First baseman Max Muncy hurt his left ring finger after he said he couldn't see a pitch that hit him earlier in the week.
"It was a little low," Bellinger said, "and the seats weren't blocked off, so if there were fans there, the pitcher's arm would potentially come out of the stands."
Roberts said the batter's eye "is still a work in progress" that may involve changing the paint scheme to matte from gloss, among other things.
During the first week of summer camp, Bellinger has gotten used to drinking out of his own cooler, not having teammates on either side of his locker and having everyone hear what the players say on the field in an empty stadium. Coming from Arizona, where masks in public were not always mandatory, he's had to don one in California, where they are required.
"I don't think it's a hassle to wear a mask," he said. "If your breath stinks, it sucks. But it just means you brush your teeth a little more."
Game notes
RHP Tony Gonsolin showed up at camp for the first time Wednesday, appearing on the field in uniform for an evening intrasquad scrimmage. He was one of seven players absent from camp earlier in the day. Roberts said Thursday he could not discuss the reason for Gonsolin missing the first week of camp and the reliever has not yet been made available to media. With LHP David Price choosing not to play this season, Gonsolin might have a shot at the rotation.
2020 MLB season at a glance — Opening Day schedule, previews, picks and more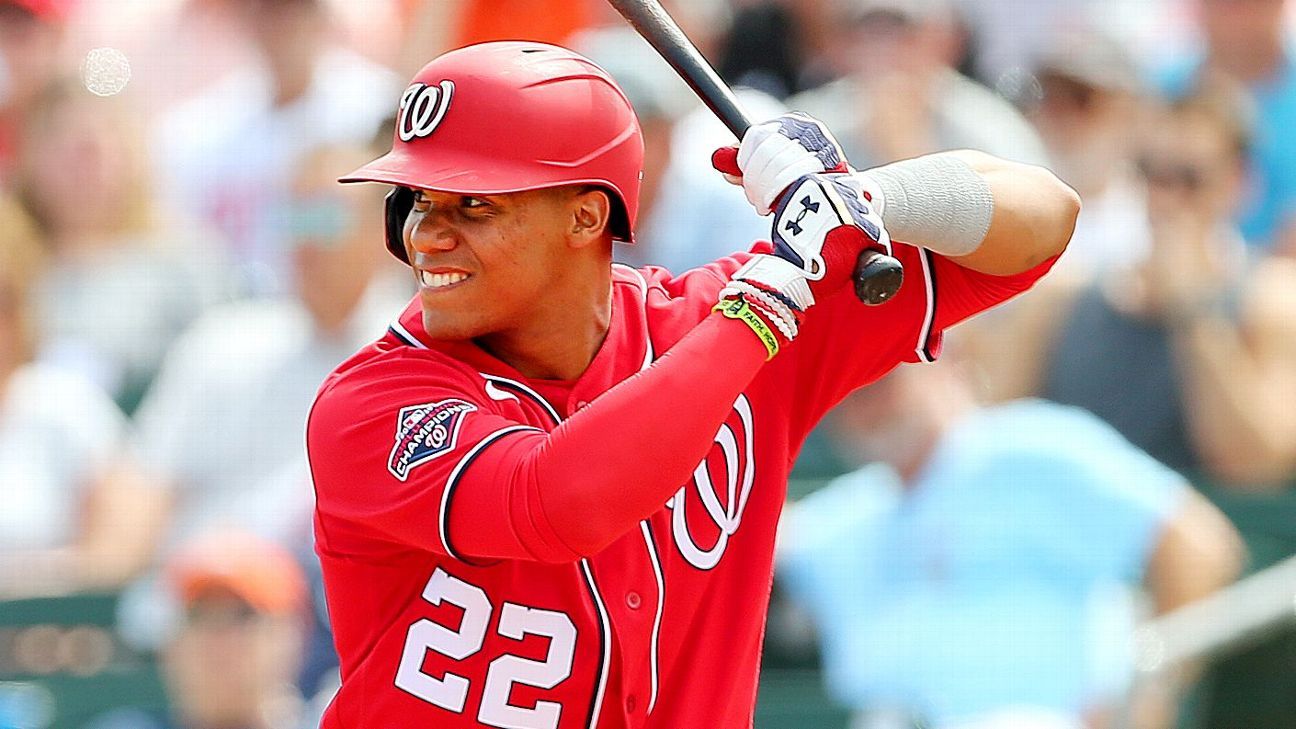 The 2020 MLB season is nearly here — four months later than originally planned.
While this season will be reduced to 60 games, and there will be no fans in attendance at least initially, because of the shutdown forced by the coronavirus pandemic, teams are in camp preparing for Opening Day on July 23 and 24.
Here's a look at the Opening Day schedule for every team, plus previews, predictions and more as the long-awaited ballgames approach.
Opening Day schedule
All times ET
July 23
Yankees at Nationals, 7 (ESPN)
Giants at Dodgers, 10 (ESPN)
July 24
Braves at Mets, 4 (ESPN)
Tigers at Reds, 6:10
Blue Jays at Rays, 6:40
Brewers at Cubs, 7 (ESPN)
Marlins at Phillies, 7:05
Royals at Indians, 7:10
Orioles at Red Sox, 7:30
Rockies at Rangers, 8:05
Twins at White Sox, 8:10
Pirates at Cardinals, 8:15
Mariners at Astros, 9:10
Diamondbacks at Padres, 9:10
Giants at Dodgers, 9:40
Angels at A's, 10 (ESPN)
Schedule reaction:

Doolittle: Schedule winners and losers
• Schoenfield: Series we can't wait to see
• Complete sortable MLB schedule
Previews, predictions

Doolittle: Can 60 games determine MLB's best team?
• 60-game predictions: Who will thrive, struggle?
• What 60-game MVPs of past tell us about 2020
• A .400 hitter? What 60-game stats could look like

Buster Olney's top 10 at every position

Universal DH Power Rankings