D-backs SP Weaver exits with forearm tightness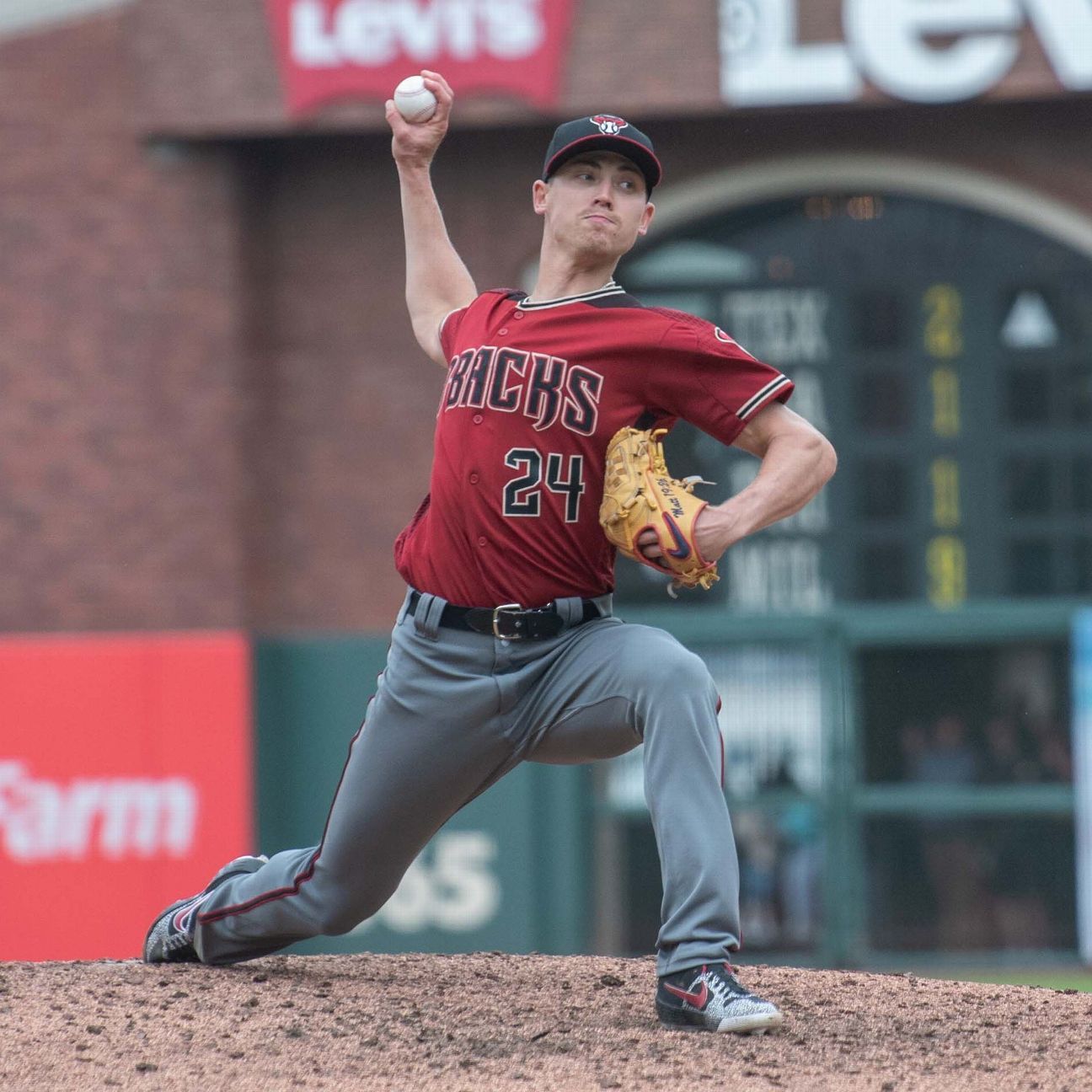 Arizona Diamondbacks starting pitcher Luke Weaver exited Sunday's 6-2 win over the San Francisco Giants with forearm tightness after pitching five innings of six-hit ball.
Diamondbacks manager Torey Lovullo said the severity of Weaver's injury wasn't immediately known.
"We're going to obviously continue to evaluate him," Lovullo said. "He may be potentially a little banged up right now. If that's the case, it'll be an opportunity for somebody else to step up."
Weaver said he left the game for precautionary reasons. He felt the cold weather may have been a factor in the injury. Arizona had a 6-1 lead when he left the game.
"With the conditions, and how the game was shaping up, I just felt like in my best interest going forward, play it safe," Weaver said.
The 25-year-old right-hander said he experienced discomfort throwing his changeup. He felt his mechanics were a bit off.
"I felt like I was rushing, so sometimes you just put your arm in a spot that's just a little bit funky," Weaver said.
Weaver spent his first three years in the majors with the St. Louis Cardinals, before being traded along with Andy Young and Carson Kelly to the Diamondbacks for Paul Goldschmidt.
Weaver's sporting a career-best 3.14 ERA in 57 1/3 innings pitched so far this season.
The Associated Press contributed to this report.
Astros' Cole gets 'good news' on hamstring tests
CHICAGO — It seems that any alarm bells ringing after Houston Astros starter Gerrit Cole was a last-minute scratch from Game 2 of a doubleheader on Tuesday in Chicago can be silenced — that is, if encouraging tests results after an examination of his hamstring prove to be accurate.
"We got some good news back today that it's not super serious," Cole said. "So we'll just take it day-by-day right now and kind of see how it responds to some treatment and some rest. Then get back out there as soon as we can."
Cole, the American League leader in strikeouts, noticed the discomfort while warming up before his scheduled start in the visiting bullpen at Guaranteed Rate Field.
"Finishing my delivery on the first handful of pitches during the first bullpen yesterday, just had some discomfort kind of getting to the ball," Cole said. "I just wasn't 100 percent ready to go at that point. I wasn't just able to ramp it up. I warmed up well on flat ground. It was just kind of bizarre. It just kept grabbing."
Cole, 28, has been one of the AL's top hurlers the past couple of seasons, his first with Houston. This season, he is 14-5 with a 2.87 ERA and a league-leading 226 strikeouts. With Houston in a busy part of its schedule and trying to work around Monday's rainout in Chicago, Cole's injury was ill-timed.
"It's frustrating to be in a stretch when we don't have any off days," Cole said. "It's frustrating to be in the back end of a doubleheader. The bullpen's had to pick us up. I don't know. If you could pick the least ideal time for that to happen, this would probably be it."
Before the game, Astros manager A.J. Hinch declined to name a starting pitcher for Houston's contest on Saturday in Oakland but said Cole would not pitch that day. Still, Cole will accompany the team to the Bay Area, and he said it is possible that he could start near the end of the four-game series.
"I don't think it's been ruled out, but I really haven't had that conversation yet with the manager," Cole said. "Kind of informed him of what the doctors have told us — that the severity is not bad. We'll just kind of take it one day at a time."
All in all, the mild nature of Cole's injury appears to be good news for one of baseball's hottest teams and prime World Series threats. Cole said his doctors wouldn't go so far as to call the injury a strain. All signs point toward a brief absence.
"When I spoke to the doctor, he didn't use that word," Cole said. "He was just encouraged by what he saw. The recovery, barring any setbacks, along with the way I'm feeling, should be pretty quick."
Cardinals vs. Royals – Live Game – August 14, 2019
STL

KC
Hitters
H-AB
AB
R
H
RBI
BB
K
#P
AVG
OBP
SLG
1-3
3
0
1
0
0
0
17
.306
.360
.488

1st: Merrifield grounded out to second.
3rd: Merrifield lined out to right.
5th: Merrifield singled to shallow center.

0-3
3
0
0
0
0
0
6
.260
.334
.410

1st: Gordon grounded out to second.
3rd: Gordon grounded out to first.
5th: Gordon grounded into fielder's choice to second, Merrifield out at second.

1-3
3
0
1
0
0
2
10
.285
.364
.558

1st: Dozier reached on infield single to shortstop.
3rd: Dozier struck out swinging.
6th: Dozier struck out swinging.

0-1
1
0
0
0
2
1
15
.260
.349
.554

1st: Soler walked, Dozier to second.
4th: Soler struck out looking.
6th: Soler walked.

0-3
3
0
0
0
0
0
9
.270
.310
.414

1st: Cuthbert grounded out to second.
4th: Cuthbert lined out to center.
6th: Cuthbert grounded into double play, shortstop to second to first, Soler out at second.

2-2
2
0
2
0
0
0
9
.176
.268
.313

2nd: O'Hearn singled to right.
4th: O'Hearn doubled to right center.

0-2
2
0
0
0
0
0
6
.215
.255
.312

2nd: Starling grounded into double play, third to second to first, O'Hearn out at second.
4th: Starling grounded out to shortstop.

1-2
2
0
1
0
0
1
8
.235
.291
.353

2nd: Viloria doubled to deep center.
5th: Viloria struck out swinging.

0-2
2
0
0
0
0
0
11
.222
.263
.289

2nd: N. Lopez fouled out to left.
5th: N. Lopez grounded out to shortstop.
Cardinals Due Up
Balls
Strikes
Outs
Cardinals Defense
Royals Defense
ON BASE:1B: Base empty2B: Base empty3B: Base empty
Data is currently unavailable.
Pirates' Taillon to miss '20 season after TJ surgery
PITTSBURGH — Pittsburgh Pirates starting pitcher Jameson Taillon will miss the 2020 season after undergoing reconstructive surgery on his right elbow for a second time.
The team said the right-hander underwent Tommy John surgery on Tuesday in New York. The club initially hoped Taillon, who hasn't pitched since May 1, would only need surgery on his right flexor tendon. During the operation, Dr. David Altchek determined Taillon also needed surgery to repair the ulnar collateral ligament in the elbow.
This is the second Tommy John surgery for the 27-year-old Taillon. He also had the procedure in April 2014 while still in the minors. He missed the 2015 season with a sports hernia before returning in 2016, making his major league debut later that year.
Taillon went 2-3 with a 4.10 ERA in seven starts for Pittsburgh this season. He complained of pain in his right forearm following his start against Texas on May 1. The team shut him down for nearly two months. He returned to throwing in late June before complaining of pain again in late July.