Bart Starr was the toughest football player who ever lived
Nearly four years ago, when I visited Bart Starr in his Birmingham, Alabama, home, he did not remember the five NFL championships he had won, or the Green Bay Packers coach, Vince Lombardi, he had won them for. He could not place Brett Favre or Aaron Rodgers, even though he studied Rodgers closely through the DirecTV package his wife and high school sweetheart, Cherry, had bought him as a Christmas gift.
Starr even asked me if I had played for Lombardi, the former coach at my New Jersey high school. We shared a small laugh over that before I brought up the 1967 Ice Bowl, one of football's most iconic games settled by one of football's most iconic players. Starr did not remember anything about that either.
The then-81-year-old former quarterback had suffered multiple strokes, a heart attack, four seizures, and significant brain damage within the previous year, and some doctors could not believe he was still alive. During one stay in the hospital, a doctor told Cherry her husband likely would not make it through the night. Bart woke up the next morning in much better shape.
He lost his memory long before he lost his life Sunday at 85. But Starr never lost his dignity while he reminded the world, in his last great comeback, that he was the toughest NFL player who ever lived.
When we think of old-school toughness on the football field, we often think of big and vicious hitters, fire-breathing defenders who played through injury and enjoyed cutting skill-position players in half. Chuck Bednarik, Ray Nitschke and Dick Butkus. Mean Joe Greene, Jack Tatum, Jack Lambert and Mike Singletary.
But at 6-foot-1, 196 pounds, the gentlemanly Starr made the most difficult championship play under the most difficult circumstances in a game that never should have been played. With the ball at the 1-yard line at Lambeau Field, down three points to the Dallas Cowboys with 16 seconds to go, Starr ignored his frozen hands and body, the subhuman Green Bay conditions (the wind chill was minus 48 degrees), and the fact that he was an aging, athletically-challenged quarterback who had already been sacked by Dallas eight times. Starr asked to keep the ball in a huddle with Lombardi, who ordered him to push it across the goal line. "And then let's get the hell out of here," the coach cried.
Starr scored, of course, behind Jerry Kramer's famous block on Jethro Pugh, and afterward his wife was stunned by the severe swelling in his face. No NFL player had ever been asked to give more on a single drive or a single play. Starr would be named Super Bowl MVP for a second straight time two weeks later, and he never again managed a winning record as a starter.
He would endure profound tragedy in his life, losing his son Bret to cocaine addiction at age 24 in 1988, when he found his boy's body on the floor of his home. Only Starr didn't quit, because he would never quit on anything. He was a fighter, the son of a tough-love World War II veteran and Air Force master sergeant who lost his favorite child, Hilton, to tetanus when the boy was 11, and who didn't think Bart would amount to much. Starr was the 200th overall pick in the 1956 NFL draft, a non-prospect who was benched during his final, winless season at Alabama and who was only drafted in the 17th round because the school's basketball coach had a connection with the Packers' front office.
Starr played 10 postseason games for Lombardi, and he won nine of them. He willed himself into the Hall of Fame; no quarterback has ever been drafted as late as Starr and still made it to Canton.
After the strokes and seizures, Starr tried to will himself back to health. Cherry and his personal aide and nursing assistant would wrap their arms around him and, on a count of three, lift him out of his chair and get him going through his day. He underwent stem-cell treatments, and rigorous exercise sessions with his trainer, Brian Burns, who kept reminding the old quarterback of his greatness to motivate him to keep a scheduled farewell appearance at Lambeau in 2015 for the halftime unveiling of Favre's retired No. 4.
Starr barely survived a bronchial infection in late summer to make that trip, and his trainer saw considerable gains in his physical and mental capacities. "I ask him what his number was, and he says, 'Fifteen,'" Burns told ESPN.com at the time. "I ask him who he played for, and he says, 'Vince Lombardi.' I ask him what position he played, and he says, 'Quarterback.' One time he said, 'Linebacker,' and we got a good laugh over that. But he's made incredible progress. He is really coming back."
On a desk in Starr's study stood a captioned photo with the Lombardi quote, "Perfection is not attainable, but if we chase perfection we can catch excellence." By all accounts, the quarterback didn't just chase perfection on the field. Strangers from all over would show up at his Green Bay doorstep, and Starr was forever willing to pose for their pictures or even invite them inside. As a young boy at Packers training camp, Bart Jr. asked his old man why he had just spent so much time signing autographs for so many fans.
"Everybody who wants an autograph will get one as long as I'm not holding up the team," Starr explained to his son. "One thing you have to remember: These are the individuals who make this team possible."
Starr was the individual player who made Lombardi's dynasty possible. In the end, Cherry, his wife of 65 years, never stopped pushing him forward. She helped feed him and transport him from one appointment to the next. Even on nights when sundown syndrome dramatically altered his serene disposition, Bart asked Cherry to play him Il Divo's rendition of "Unchained Melody" before he fell asleep. Starr once asked her to promise she would play that song at his wedding. He meant to say his funeral, and his wife wouldn't stop teasing him about that.
Cherry believes that football contributed to her husband's decline; she saw too many concussive hits, and too much postgame pain, to think otherwise. His fingertips remained pale in later years, she thought, because of what he put himself through in the Ice Bowl. But Bart was not a man defined by regret, even if he had trouble finishing a sentence in the hours I spent with him in his home.
On exit that day in 2015, I told Starr that I thought he was the toughest man to play in the NFL.
He looked at the floor, as if the compliment embarrassed him. "Well," he responded, "I've been the luckiest football player ever."
Go look at the film of the Ice Bowl. When it came to Bryan Bartlett Starr, luck had absolutely nothing to do with it.
Sources — Saints, DE Jordan reach $52.5M deal
Four-time Pro Bowl defensive end Cameron Jordan and the New Orleans Saints reached agreement on a three-year contract extension that will contractually tie the two sides together for the next five seasons, through 2023, sources tell ESPN.
Jordan's extension — engineered by agent Doug Hendrickson of Wasserman and the Saints' vice president of football administration, Khai Harley — is a three-year, $52.5 million deal with a max of $55.5 million that includes over $42 million in guaranteed money, per sources.
Jordan, who turns 30 on July 10, wanted financial security now, and the Saints wanted to keep one of their top players and leaders happy, with the team trying to ensure that he finishes his career in New Orleans. He now has five years and a maximum value of $74 million left on his deal after Tuesday's extension.
Jordan wouldn't confirm he had agreed to a contract extension Tuesday but discussed how important it was to him to play for just one team in his career.
"My goal is to win a Super Bowl here. Then my goal will be to win another Super Bowl. I've always said that New Orleans has become my home," Jordan said Tuesday. "My kids are in New Orleans. I'll be in New Orleans 'til they decide they don't want me no more. … My dad [Steve Jordan] played for the Vikings for 13 years. I always said I want to be with the same team for the rest of my career."
The first-round pick in 2011 had two years left on a five-year extension that he signed in 2015 worth between $55 million and $60 million.
But that deal was signed before Jordan became the player he is now: a first-team All-Pro in 2017 with 13 sacks and a second-team All-Pro in 2018 with 12 sacks. It was signed before he established himself as one of New Orleans' core leaders in the locker room and in the community. And it was signed before the NFL's elite edge rushers started getting paid almost as much as quarterbacks.
The Chicago Bears' Khalil Mack is averaging more than twice as much as Jordan, at $23.5 million per year. DeMarcus Lawrence and Frank Clark also joined the $20 million club this year.
ESPN's Mike Triplett contributed to this report.
Carroll expects Kendricks on the field this season
RENTON, Wash. — Seattle Seahawks coach Pete Carroll said the team believes linebacker Mychal Kendricks will be available this season despite his ongoing insider trading case.
The 28-year-old Kendricks pleaded guilty last September to insider trading, then signed a one-year deal with the Seahawks a week later while Bobby Wagner and K.J. Wright were injured. One source familiar with the situation said in October that Kendricks could be facing 30 to 37 months in prison — as had been reported — based on federal guidelines and the amount of money involved in his case.
"We do expect him to be on the team this year," Carroll said Tuesday as the Seahawks began their mandatory minicamp.
Kendricks' sentencing has been postponed multiple times for reasons that remain unclear.
"There's not much that I can say that's going to be proper at this time," Carroll said. "Everything's moving along and he's real optimistic about how things are going. But really not too much to report. I can't tell you much more than that."
The Seahawks brought Kendricks back on a one-year, team-friendly deal that reflected the uncertainty over his situation. He received no signing bonus and no guaranteed money. The $4.5 million base value of his deal includes $2 million in per-game active roster bonuses plus two bonuses worth $250,000 apiece that are tied to Kendricks reporting to training camp and being on the 53-man roster in Week 1. He could make an additional $1 million in incentives tied to playing time and sacks, bringing the max value of the deal to $5.5 million.
According to the Securities and Exchange Commission complaint, a Goldman Sachs investment banking analyst illegally fed Kendricks information in 2014 about corporate acquisitions that his bank was advising before those deals were publicly announced. The complaint alleges that those tips helped Kendricks make about $1.2 million in illegal profits by purchasing securities in four companies that were about to be acquired.
Kendricks said in a statement that while he didn't fully understand the details of the illegal trades, he knew it was wrong and that he "wholeheartedly" regretted his actions.
He appeared in three games for Seattle before serving an eight-game NFL suspension. His season ended in his first game back because of leg and knee injuries that landed him on IR.
Kendricks has returned to practice from those injuries. Carroll said he recently hurt his pectoral muscle in the weight room but did not describe that as a serious issue.
If he is indeed available this season, the Seahawks will have a surplus of starting linebackers. They re-signed Wright, whom Kendricks had replaced on the weakside last season. All-Pro middle linebacker Wagner is under contract for another season, as is Barkevious Mingo, who started on the strong side in Carroll's 4-3 defense last season.
Carroll has said the Seahawks plan to get Kendricks on the field at the same time as Wagner and Wright and that this could be the best group of linebackers he has had in his nine seasons in Seattle.
Packers weighing options with safety Josh Jones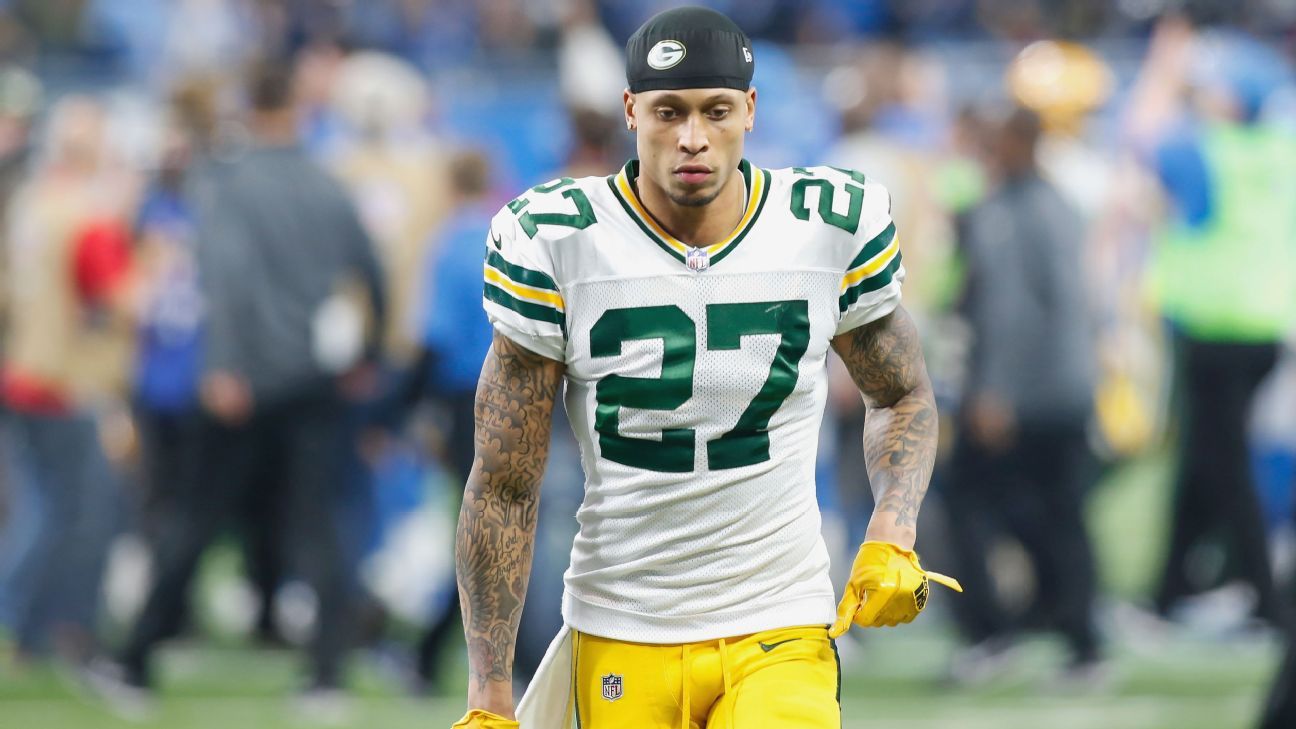 GREEN BAY, Wis. — If the Green Bay Packers trade or release safety Josh Jones, it won't be because that's what the former second-round pick wants. That's how general manager Brian Gutekunst is playing it.
"I think it's more about what our team desire is, and right now we're kind of working through that," Gutekunst said Tuesday. "But he's a very talented player. He's shown that on the field at the times. We'll go along and see where it goes."
Jones reported for the start of the Packers' mandatory minicamp, which opened Tuesday, but did not practice. Gutekunst said he was held out because of a hamstring injury, but it's possible the Packers don't want to put Jones on the field because if he were to get hurt, they would have trouble trading him or cutting him.
A source told ESPN last month that Jones wanted the Packers to trade him or let him go, and that's why he left the team during the middle of the voluntary offseason program.
The Packers could have fined Jones had he not reported for this week's minicamp. When asked Tuesday where things stand, Jones told ESPN: "I have no idea. All of those conversations are left up to my agent and Brian."
Added Gutekunst: "Obviously Josh wasn't here in the voluntary session. He got back yesterday. It was good to see him, get him in the building. Dealing with a little bit of a hamstring. But there's been constant communication with us and Drew [Rosenhaus], his agent, so we're kind of going from there."
Jones, the 61st overall pick in the 2017 draft, has not found a consistent role for the Packers. The safety has been used at times as an inside linebacker in the dime defensive package. He has started 12 games in his two years but didn't become a starter last season until late in the year.
The Packers opened last season with former undrafted rookie Kentrell Brice and Ha Ha Clinton-Dix at safety. Even after Clinton-Dix was traded midway through last season, Jones was bypassed for a starting job when the Packers moved Tramon Williams from cornerback to safety. It wasn't until after Brice sustained an ankle injury in Week 10 that Jones finally got his first start of the season in Week 11.
Since then, the Packers signed former Chicago Bears safety Adrian Amos to a four-year, $36 million contract in free agency and drafted safety Darnell Savage Jr. at No. 21 overall.
"We've been in constant communication," Packers coach Matt LaFleur said. "I think we're on the same page in terms of what the expectations are and where [Jones] fits with us. We certainly want him a part of what we're doing moving forward.
"I think he's a versatile guy. He can fill a lot of roles, especially in [coordinator Mike] Pettine's defense where we're going to play multiple defensive backs and put these guys all over the place. I think he's a talented young player that I think can help us."
Jones said he reported for minicamp because it's mandatory. "I'm also a part of the Green Bay Packers," he said, "so that's why I came."
It's unclear what role Jones would play if the Packers kept him on the roster this season.
"I've been here the past two years, but that's not up to me," Jones said.
When asked whether he thinks his best opportunity would be with another team, Jones said: "I don't know. I really don't know. I don't know what the good Lord has planned for me. I don't know what path he's going to lead me down. Whether that's here or there or anywhere, I know that I'm going to thrive."