Cubs' Russell acknowledges 'long road' in return
Chicago Cubs infielder Addison Russell returned from suspension on Wednesday, striking out in his first at-bat to a chorus of boos and a smattering of applause in his first game in a big league uniform since Sept. 19.
He finished the night 0-for-3 with a walk in Chicago's 3-2 walk-off win over the Miami Marlins in 11 innings.
Russell, 25, was suspended 40 games in September for violating the league's domestic abuse policy after an investigation into allegations of emotional, verbal and physical abuse made by his ex-wife, Melisa Reidy.
Russell, who started at second base on Wednesday, served the final 28 games of his suspension at the beginning of this season and went through league-mandated counseling as well as his own therapy.
"I've just improved overall," Russell said before Wednesday's game. "Better relationships and communication with my teammates and family and friends. Just overall, I feel like I'm a better person.
"Hearing from my family and friends and also teammates that I've improved is a lot of assurance for me. And just continuing my therapy, as well. I know I'm making great strides. It's a long road ahead. There is no finish line, but I'm committed to this."
The Cubs tendered a $3.4 million contract to Russell in December on the condition he follow all league- and team-mandated guidelines for rehabilitation. The Cubs have repeatedly said they want to be part of the solution as it concerns Russell and the "plague" of domestic abuse in society.
"This does not represent the end of the road or an accomplishment in any way," Cubs president of baseball operations Theo Epstein said Wednesday. "But there has been progress. And not just taking Addison's word for it. I've remained in touch with the people who are important to him, people who are in his orbit, including Melisa. I've received a lot of positive testimony about Addison's growth to this point, his coping skills, his emotional control, his communication skills, his engagement as a father."
Russell's return has been a controversial topic in Chicago. He was asked if winning back the fans was a goal.
"I think that's a huge step along the way," he said. "The goal — I can't tell you what the big goal is — but I can tell you that I just need to hit small goals. And then, over time, reflect and then look and see how far I've come, and then just keep going forward."
Negative fan reaction is a reality that Russell is likely to have to deal with, perhaps for the rest of his career.
"If there is an additional burden on him, additional scrutiny on him or other things he has to deal with, I think that's just part of the process," Epstein said. "That's not unfair."
Russell was asked how people will know he is being sincere in his rehabilitation and overall improvement.
"I don't think I'm a good actor," Russell said. "I don't think you can fake what's true in your heart. And what's true in my heart is to be a better person."
Russell's return was supposed to come next week, after another few games in Triple-A. It was moved up because Ben Zobrist was placed on the restricted list and set to take a leave of absence for personal reasons.
Meanwhile, current closer Pedro Strop was placed on the 10-day injured list with a Grade 2 strain in his left hamstring. The Cubs activated lefty Mike Montgomery from the IL to take Strop's place on the roster.
Manager Joe Maddon said he'll use several different arms to close while Strop heals up. But the ninth inning will be the least-watched thing on Wednesday as Russell wears a Cubs uniform for the first time since the end of his suspension for domestic abuse.
"I'm happy I have this second opportunity," Russell said. "I'm looking forward and still improving as a person."
Dodger Stadium now largest coronavirus testing site in California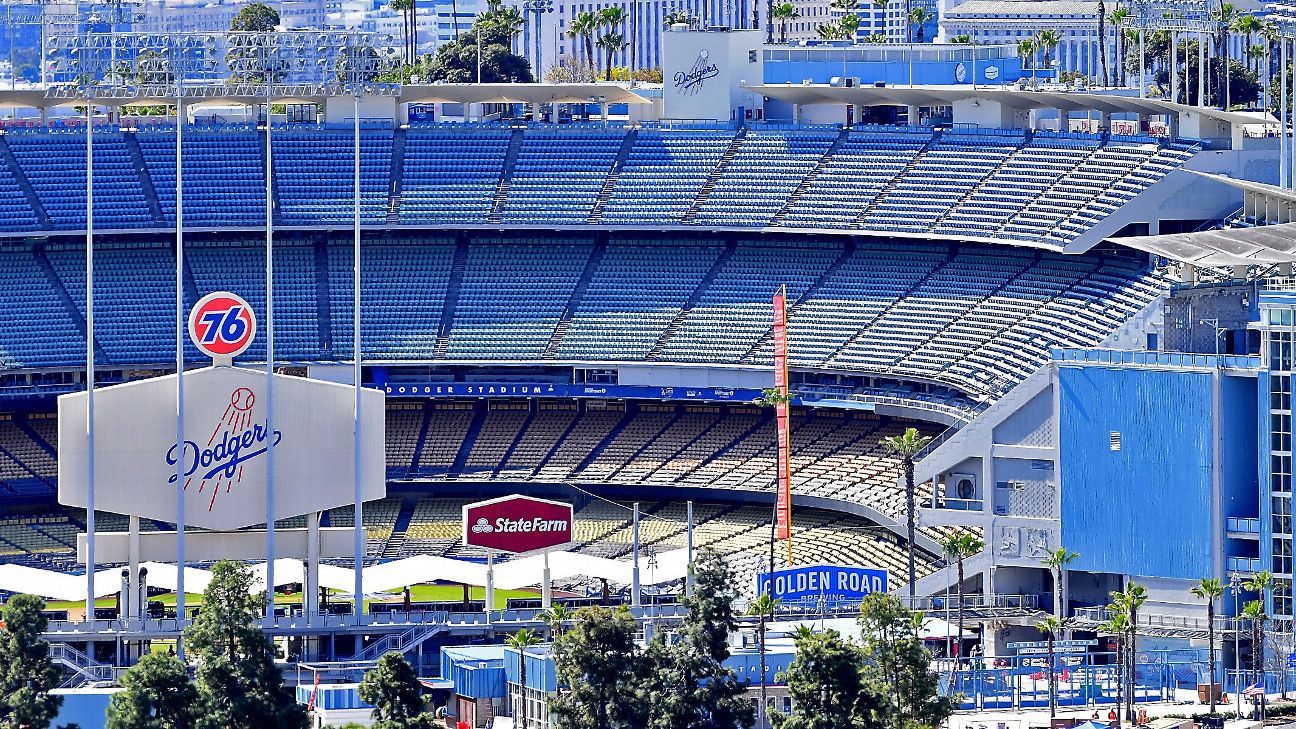 LOS ANGELES — Dodger Stadium, which has hosted nearly 20 million fans over the past five seasons, opened as a coronavirus testing facility that is considered to be the largest in the state of California.
The drive-through testing site has the capacity to test 6,000 people daily, Los Angeles Mayor Eric Garcetti said Tuesday from a lectern. Tests will be conducted from the stadium parking lot, with large video monitors explaining the process in hopes of maximizing efficiency.
Garcetti worked in collaboration with Dodgers president Stan Kasten and will also partner with the L.A. Fire Department and the nonprofit Community Organized Relief Effort to operate the site.
Roughly 60 staff members will be on hand to help, Garcetti said, adding that Los Angeles is now testing an average of 15,000 people a day. Dodger Stadium's testing capacity is three times greater than any other site in Los Angeles County.
The ballpark is also open to injured Dodgers players for treatment, as is the team's spring training facility in Phoenix.
Dodgers to implement salary cuts to avoid furloughs or layoffs
The Los Angeles Dodgers have informed their full-time employees that they will not impose furloughs or layoffs due to the coronavirus pandemic, but instead will begin a system of tiered salary cuts beginning on June 1, sources told ESPN.
The Associated Press has previously reported that the Dodgers are projected to lose $232 million this year, making them the second-hardest-hit team in the league behind the New York Yankees, who are projected to lose $312 million, due to the pandemic.
The Dodgers informed hundreds of their employees in a Zoom call Tuesday afternoon that the salary cuts — which will range from 0 to 35% or more for top executives — are being made to save jobs and prevent furloughs, sources said. Employees were told salary reductions will affect only full-time employees making over $75,000 a year.
Most of baseball's 30 teams have pledged to pay their full-time employees through the end of May. But that commitment has softened as the shutdown has continued.
ESPN's Alden Gonzalez reported Tuesday that the Oakland Athletics will furlough almost all of their amateur and professional scouts and about three-quarters of their player development employees. That's on par with the furloughs announced by Los Angeles Angels of Anaheim on May 19, in their player development and scouting departments, as well as minor league staff beginning in June.
The Miami Marlins, Cincinnati Reds, Tampa Bay Rays and A's had previously announced they would implement furloughs and/or layoffs.
MLB commissioner Rob Manfred has said baseball will lose $4 billion in revenue this season, and he has given the teams permission to cut payroll.
Sources — Athletics to have furloughs, salary cuts
The Oakland Athletics, feeling the financial crunch of a 2020 season that has yet to get off the ground, have implemented a system of furloughs and salary reductions that will impact the majority of their baseball-operations department, sources told ESPN on Tuesday.
Professional scouts will be furloughed next week and amateur scouts will be furloughed shortly after the June 10-11 draft. In addition, about three-quarters of the A's player-development staff is believed to be bracing for furloughs, which typically run through the end of October, industry sources said. Layoffs have not been implemented, but baseball-operations employees who were not furloughed will face pay reductions.
The A's, who are reportedly past due on the annual $1.2 million rent payment for their stadium, joined the Los Angeles Angels and the Miami Marlins among teams that have instituted wide-ranging furloughs as a cost-cutting measure amid the financial difficulties caused by the coronavirus pandemic.
The Los Angeles Dodgers, however, will instead implement a system of tiered salary cuts for those making more than $75,000, sources told ESPN's Ramona Shelburne.
Major League Baseball presented its first economic proposal to the MLB Players Association on Tuesday, marking the beginning of what is expected to be a prolonged, contentious negotiation. The hope is that both sides can come to an agreement so that the regular season can begin in early July, though games will be played without fans.