Cubs' Russell acknowledges 'long road' in return
Chicago Cubs infielder Addison Russell returned from suspension on Wednesday, striking out in his first at-bat to a chorus of boos and a smattering of applause in his first game in a big league uniform since Sept. 19.
He finished the night 0-for-3 with a walk in Chicago's 3-2 walk-off win over the Miami Marlins in 11 innings.
Russell, 25, was suspended 40 games in September for violating the league's domestic abuse policy after an investigation into allegations of emotional, verbal and physical abuse made by his ex-wife, Melisa Reidy.
Russell, who started at second base on Wednesday, served the final 28 games of his suspension at the beginning of this season and went through league-mandated counseling as well as his own therapy.
"I've just improved overall," Russell said before Wednesday's game. "Better relationships and communication with my teammates and family and friends. Just overall, I feel like I'm a better person.
"Hearing from my family and friends and also teammates that I've improved is a lot of assurance for me. And just continuing my therapy, as well. I know I'm making great strides. It's a long road ahead. There is no finish line, but I'm committed to this."
The Cubs tendered a $3.4 million contract to Russell in December on the condition he follow all league- and team-mandated guidelines for rehabilitation. The Cubs have repeatedly said they want to be part of the solution as it concerns Russell and the "plague" of domestic abuse in society.
"This does not represent the end of the road or an accomplishment in any way," Cubs president of baseball operations Theo Epstein said Wednesday. "But there has been progress. And not just taking Addison's word for it. I've remained in touch with the people who are important to him, people who are in his orbit, including Melisa. I've received a lot of positive testimony about Addison's growth to this point, his coping skills, his emotional control, his communication skills, his engagement as a father."
Russell's return has been a controversial topic in Chicago. He was asked if winning back the fans was a goal.
"I think that's a huge step along the way," he said. "The goal — I can't tell you what the big goal is — but I can tell you that I just need to hit small goals. And then, over time, reflect and then look and see how far I've come, and then just keep going forward."
Negative fan reaction is a reality that Russell is likely to have to deal with, perhaps for the rest of his career.
"If there is an additional burden on him, additional scrutiny on him or other things he has to deal with, I think that's just part of the process," Epstein said. "That's not unfair."
Russell was asked how people will know he is being sincere in his rehabilitation and overall improvement.
"I don't think I'm a good actor," Russell said. "I don't think you can fake what's true in your heart. And what's true in my heart is to be a better person."
Russell's return was supposed to come next week, after another few games in Triple-A. It was moved up because Ben Zobrist was placed on the restricted list and set to take a leave of absence for personal reasons.
Meanwhile, current closer Pedro Strop was placed on the 10-day injured list with a Grade 2 strain in his left hamstring. The Cubs activated lefty Mike Montgomery from the IL to take Strop's place on the roster.
Manager Joe Maddon said he'll use several different arms to close while Strop heals up. But the ninth inning will be the least-watched thing on Wednesday as Russell wears a Cubs uniform for the first time since the end of his suspension for domestic abuse.
"I'm happy I have this second opportunity," Russell said. "I'm looking forward and still improving as a person."
Mariners' Mitch Haniger likely needs core muscle surgery, GM says
SEATTLE — Mariners outfielder Mitch Haniger is expected to miss the start of the regular season and likely needs to undergo core muscle surgery, general manager Jerry Dipoto said Thursday.
Haniger suffered the injury during one of his offseason workouts earlier this week. Dipoto said the latest setback is tied to Haniger's injury issues from last season.
Haniger missed the final 3½ months of the season after suffering a ruptured testicle and then experiencing back issues during his recovery. Haniger was limited to 63 games and batted .220 with 15 homers and 32 RBIs.
A year earlier, Haniger was an All-Star after hitting .285 with 26 homers and 93 RBIs with an OPS of .859.
Dipoto said the hope is that Haniger's recovery will take about six to eight weeks following the surgery. He could be ready to join the major league club sometime in late April.
Major League Baseball to sponsor U.S. Olympic softball team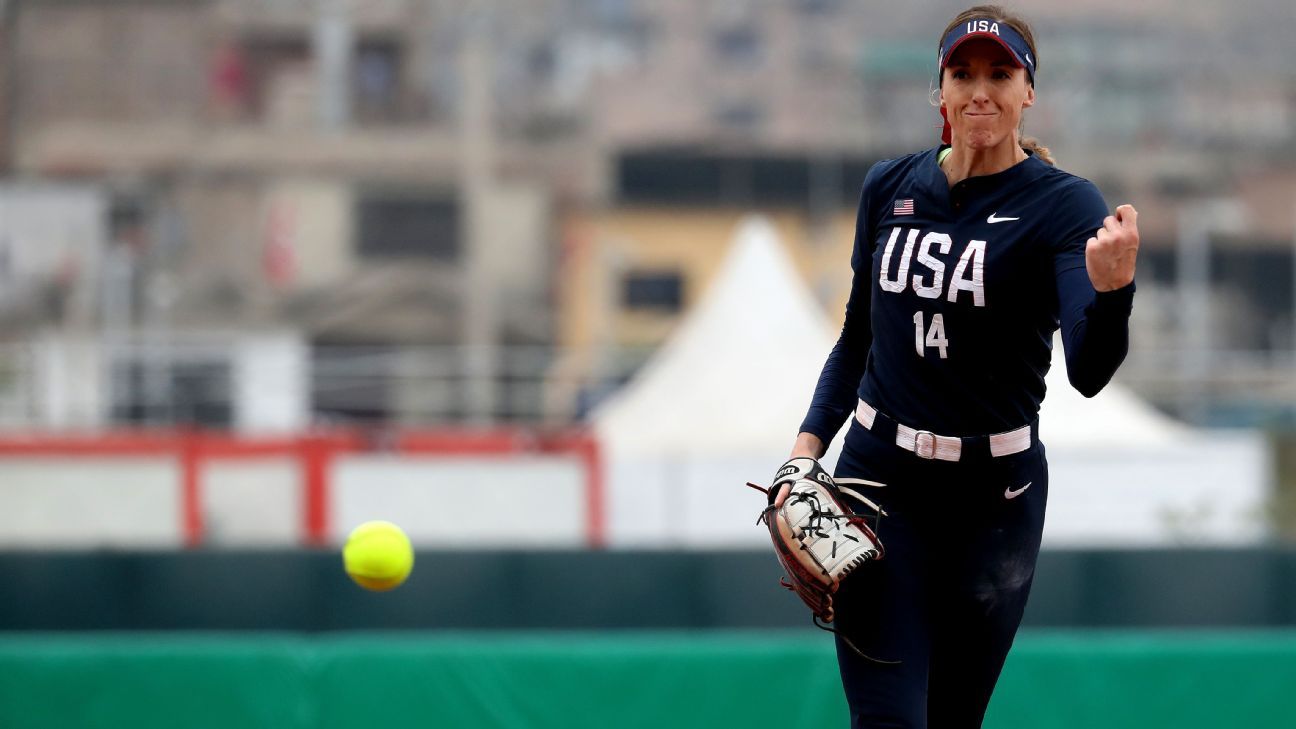 NEW YORK — Major League Baseball is using its financial muscle to support the U.S. women's softball team, which already is assured a spot in the Tokyo Olympics while the American men's baseball team struggles to qualify.
MLB announced an agreement Thursday to become the presenting sponsor of the women's "Stand Beside Her" tour, a slate of exhibition games leading up to the Olympic tournament from July 22-28.
"We're both bat and ball sports. Even though we're not the same sport, there are so many similarities that you just can't ignore," said Kim Ng, MLB's senior vice president for baseball operations. "It was important for us to make sure that they have this acknowledgment and recognition of their ability and their talent."
Softball began as an Olympic sport for the 1996 Atlanta Games. The U.S. won gold medals in 1996, 2000 and 2004 with players that included Dot Richardson, Jennie Finch and Jessica Mendoza, then lost to Japan in the 2008 gold medal game.
Baseball and softball were dropped for the next two Olympics, then restored for this year, when the U.S. and Japan will be joined by Australia, Canada, Italy and Mexico for games in Fukushima and Yokohama but not Tokyo. The sports are likely to be dropped for 2024 in Paris but could return four years later in Los Angeles.
The U.S. men's baseball team stumbled in its first attempt to qualify, wasting a ninth-inning lead against Mexico in the final game of the Premier12 tournament in November and losing in the 10th. The U.S. has two more chances to join Israel, Japan, Mexico and South Korea in the Olympic field: an Americas tournament in Arizona from March 22-26 and a final tournament in Taiwan from April 1-5.
MLB is not allowing players on 40-man big league rosters to compete in qualifying, and few top pitching prospects were at the November tournament.
Softball has no such issues. The Olympics are the sport's highest-profile event.
"The platform for us is 10 times bigger," American outfielder Haylie McCleney said. "For us, it's a great opportunity for people that have never watched softball before, people that have only followed it at the collegiate level, to really see how fun our game is to watch, how pure it is. If people are baseball fans, I guarantee they're going to love softball because it's pretty much just a faster game — it's shorter, it's quicker, it's more entertaining to watch, in my opinion."
The 2008 gold medal softball game took 1 hours, 45 minutes — less than half the 3:45 average for this year's World Series.
As part of the deal with MLB, the softball team's official training facility will be at the Jackie Robinson Training Complex in Vero Beach, Florida, the old Dodgertown spring training camp.
MLB Network will include programming from the tour, which currently starts Feb. 4 in Tampa, Florida, and has about three dozen stops.
The U.S. women's soccer team has attracted huge television audiences. MLB sees softball as an opportunity for the sport's growth.
"These are world-class athletes," Ng said. "Because we have not been in the Olympics for the last 12 years, they just haven't had that stage. So it's really important at this point that we show as much support as we can for them."
Pros and cons of trading Mookie Betts, Kris Bryant, Francisco Lindor, Nolan Arenado
With nearly all of the top free agents off the market, four of the game's biggest stars have been attached to trade rumors this offseason. Nolan Arenado, Mookie Betts, Kris Bryant and Francisco Lindor would be welcome additions to any team. Over the past four years, each member of that group ranks in the top 10 in FanGraphs wins above replacement. Last season, the group averaged more than 5.0 fWAR, with Lindor's very good 4.4 mark the lowest of the bunch.
We should acknowledge that the team trading one of these players would do so as a cost-saving measure designed to trim payroll, and thus would be expected to be worse in 2020. Given that the Red Sox, Cubs and Indians are all clear contenders, and the Sox and Cubs are two of the wealthiest teams in the game, these are unusual circumstances lacking in sound logic. However, if the team owner is calling for a reduction in payroll, then perhaps trading a star player close to free agency might be the best way to achieve that and get better in the near future, even if it isn't 2020.
Parting with any of these stars would be an incredibly difficult decision, but with the caveat above, here is an argument for and against trading each of the four.