Bucs to pick up option on CB Hargreaves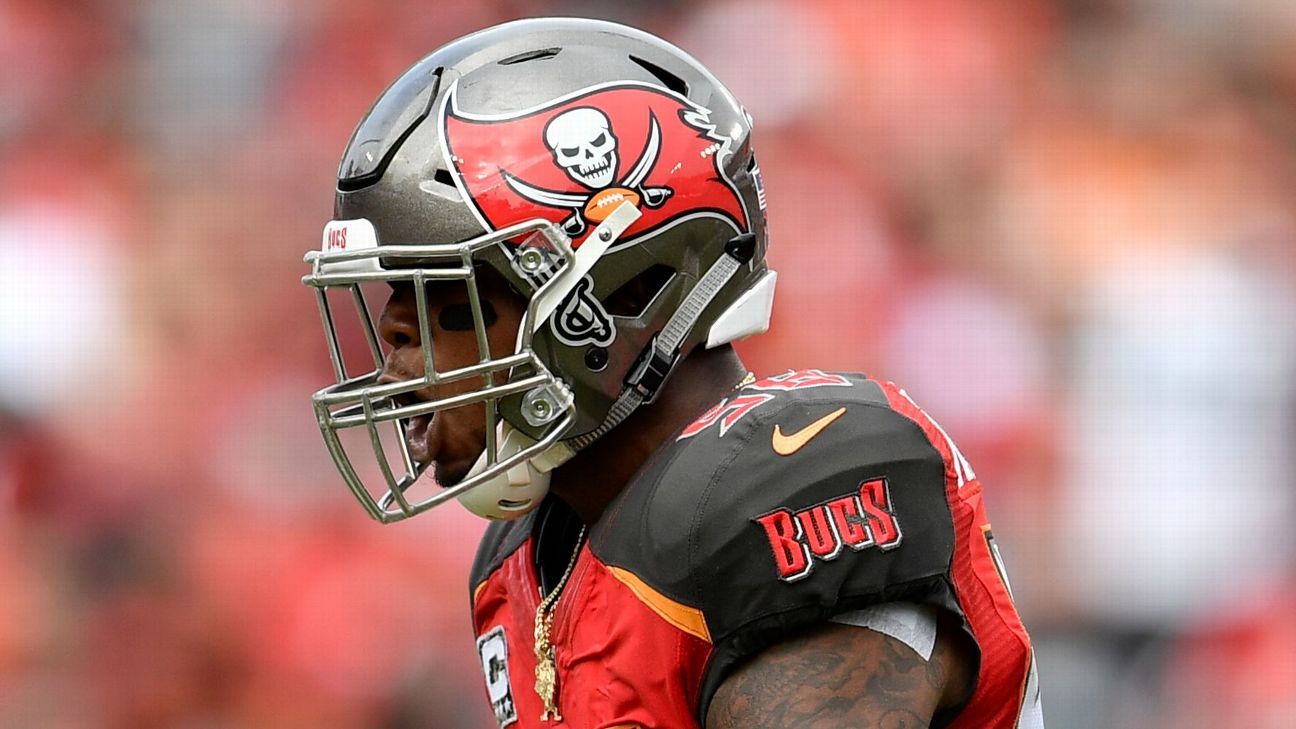 TAMPA, Fla. — The Tampa Bay Buccaneers are picking up the fifth-year option on cornerback Vernon Hargreaves, the team announced Wednesday night. It will keep him with the club through 2020 and earn him $9 million.
The deadline to pick up fifth-year options for 2016 NFL draft picks is May 3. Hargreaves was the 11th overall pick that year and the third cornerback selected, behind Jalen Ramsey and Eli Apple.
Though injuries have limited Hargreaves to 10 games over the past two seasons, and he struggled playing off-coverage under former defensive coordinator Mike Smith, new head coach Bruce Arians has expressed confidence in his potential in Todd Bowles' scheme, which will allow Hargreaves to return to his preference of press-man coverage.
"I think Vernon has all the talent in the world, he works hard, is smart," Arians said at last month's owners meetings, pointing to injuries as a culprit for some of Hargreaves' stumbles. "Why can't he be successful? He's just gotta stay healthy."
Hargreaves is now the 10th member of the 2016 draft class to have his fifth-year option picked up, along with Jared Goff, Joey Bosa, Ezekiel Elliott, Ronnie Stanley, DeForest Buckner, Sheldon Rankins, Laremy Tunsil, Keanu Neal and William Jackson.
Texans' Watt engaged to soccer player Ohai
Houston Texans linebacker J.J. Watt announced his engagement to professional soccer player Kealia Ohai on Sunday night.
Watt, 30, posted photos of the proposal to his social media accounts.
The couple first confirmed they were dating in October 2016.
Ohai, 27, is the captain of the Houston Dash in the National Women's Soccer League and has made three appearances for the United States women's national team.
Her sister, Megan, is married to Watt's former Texans teammate Brian Cushing.
Court rules against Bucs for BP spill damages
NEW ORLEANS — A federal appeals court has ruled that the Tampa Bay Buccaneers are not entitled to damages from BP for the 2010 Deepwater Horizon oil spill.
At issue were the accounting practices the team used to argue that the 2010 spill caused the team's revenues to fall. The Bucs had sought $19.5 million in damages.
On Friday, the 5th U.S. Circuit Court of Appeals upheld a district court's decision against the team.
The court found that the Bucs' revenue in May-June 2010 was not significantly lower than its revenue during that same span a year later. In order to qualify for damages, it had needed to show that its revenues rebounded by at least 10 percent in 2011.
The team's stadium is about 360 miles southeast of the site of the spill.
Pats' Watson says he faces 4-game suspension
FOXBOROUGH, Mass. — New England Patriots tight end Benjamin Watson wrote on Facebook Sunday that he is facing a four-game suspension for a failed test in March of the NFL's substances policy.
Watson, who had originally planned to retire after the 2018 season, explained the situation in detail on Facebook.
"After my contract expired last March, I told my doctors I was finished playing, went through a series of medical tests and was prescribed Bio Identical Testosterone Cypionate to assist in healing my body and mind," he wrote.
"On March 29, nine days after I started therapy, I was randomly tested under our substance policies. I complied out of habit, never thinking in the moment I'd want to come back. In late April, some clubs expressed interest in me playing and after much deliberation and prayer, I decided I wanted to return. Considering myself previously retired, I had forgotten all about my test in March until I got a letter on May 3rd saying my results were positive. I was devastated and for obvious reasons did not want to proceed.
"At that point I knew my decision to return to play would include a four-game suspension and I immediately discussed this new development with the clubs."
The Patriots signed Watson to a one-year, $3 million contract on May 9.
"I am excited and thankful to return to New England but very disappointed that I will not be able to play and contribute immediately," the 38-year-old Watson wrote on Facebook.
"This is not how I would want to enter a new locker room and attempt to earn my role on a new team. However, I respect the regulations that have been collectively bargained to promote fairness on the field of play and accept the discipline associated with my infraction."
The Patriots are in transition at tight end after the retirement of Rob Gronkowski, and Watson is a top option to fill his void.
Watson will be heading into his 15th season in the NFL. He had 35 catches for 400 yards and two touchdowns playing for the Saints last season.