X-rays negative on Bellinger's knee after HBP
LOS ANGELES — Los Angeles Dodgers outfielder Cody Bellinger, baseball's hottest hitter to begin the season, exited shortly after absorbing a pitch to his right knee in Monday's 4-3 win over the Cincinnati Reds.
Manager Dave Roberts said after the game that X-rays on Bellinger's knee came back negative. Roberts said he expects the typical soreness and stiffness for Bellinger on Tuesday, but didn't yet have an update on his status.
Bellinger was plunked by a 96 mph fastball from Luis Castillo in the bottom of the third. He remained in a crouch position while being checked on by team trainers, limped slowly to first base, then remained in the game after a light jog up the right-field line.
The next half-inning, Alex Verdugo replaced Bellinger in right field.
Bellinger drove in the Dodgers' first run in the bottom of the first, giving him 22 RBIs in 18 games to go with a league-leading nine home runs. His slash line is .433/.513/.925.
Boone tossed, directs profane rant at rookie ump
NEW YORK — Yankees manager Aaron Boone went on a profane rant Thursday after rookie umpire Brennan Miller called Brett Gardner out on strikes in the second inning of a doubleheader opener against Tampa Bay.
Miller, umpiring behind the plate for the fifth time in a major league game, called Aaron Judge out on strikes following DJ LeMahieu's leadoff double in the first.
Gardner batted in the second after Gio Urshela's tying, two-run homer and was called out on a 1-2 pitch.
Gardner returned to the dugout, slammed his bat into the bat rack nine times, then eight times into the dugout roof. Microphones caught Boone's yelling the pitch was outside mixed with profanities to Miller, an International League crew chief who made his big league debut April 20 as a call-up umpire.
Miller said, "I heard you, Aaron," and when Boone persisted, the umpire ejected him. Boone then ran out and kept up the argument, getting close to Miller's face and clapping his hands for emphasis.
"My guys are f—— savages in that f—— box, right? And you're having a piece of s— start to this game. I feel bad for you, but f—— get better," Boone said, going on to repeat his thoughts several times. He told Miller to "tighten it up right now, OK?"
Boone was ejected for the third time this season and the seventh time in two years as a big league manager.
Dodgers fuming after Phils' Neris curses them out
The Dodgers are irate with Philadelphia Phillies reliever Hector Neris, who celebrated his save against them Thursday with a fist pump and then a staredown into the Los Angeles dugout.
"Neris got the save and looked right into our dugout and screamed as loud as he could, 'F— you!,'" first baseman Max Muncy told reporters after the game.
The Dodgers stayed in the dugout watching Neris. On the broadcast, it appeared that catcher Russell Martin shouted to the pitcher that they meet somewhere.
"I think we played this series the right way, played it straight," Dodgers manager Dave Roberts said. "To look in our dugout and to taunt in any way, I think it's unacceptable. Look in your own dugout."
Neris had given up a solo homer to center fielder Alex Verdugo and ended the game with a long fly ball out by third baseman Justin Turner, securing a 7-6 win and a split in the four-game series.
Neris is facing a three-game suspension for throwing at Dodgers first baseman David Freese on Tuesday after giving up a three-run homer. He is playing until his appeal is heard.
He told reporters that Thursday's celebration was "just emotions."
"It's a great win for my team and just I let my emotion get out," he said.
Muncy thought there was more to it than that.
"He's blown about eight saves against us over the last two years," Muncy said. "I guess he was finally excited he got one. Whatever."
Neris has a loss and a blown save in three appearances against the Dodgers this year. He has allowed three home runs, four hits, one walk and has struck out two batters. Last season, in one appearance, he allowed three hits and a run in a third of an inning.
Catch-22 — Reds scramble to fill spot after injuries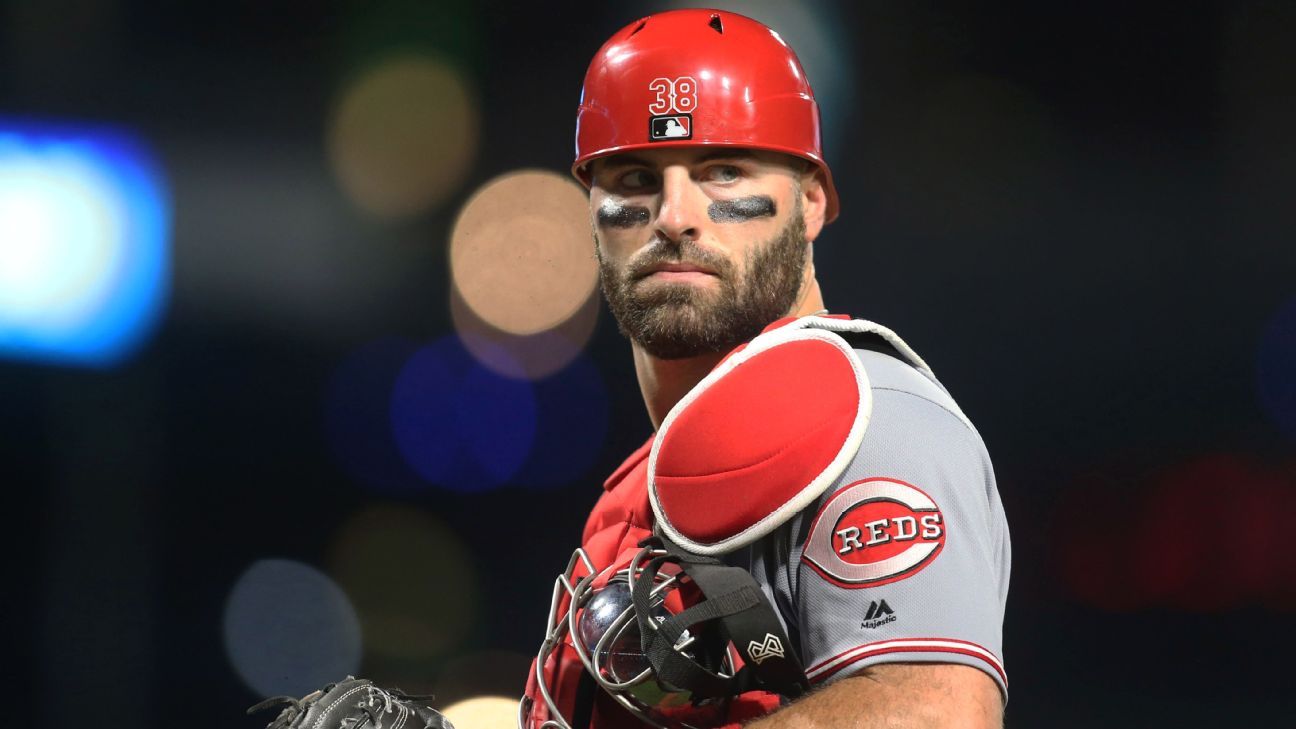 CINCINNATI — The Reds are down to their fourth and fifth catchers after placing two more on the injured list Thursday.
Curt Casali went on the 10-day injured list with a right knee sprain that manager David Bell said could keep him out for as long as a month. Casali is expected to spend two weeks wearing a brace.
Kyle Farmer was placed on the seven-day concussion list after taking two foul balls off his mask in the ninth inning of Tuesday's game against the Cubs in Chicago.
Gold Glove catcher Tucker Barnhart has been out since June 28 with a right oblique strain.
Juan Graterol was promoted from Triple-A Louisville and rushed to Chicago to start Wednesday's day game. The Reds shored up the position on Thursday by signing Ryan Lavarnway, one day after he was released by Yankees.