Eli Manning figures Giants will draft QB of future
EAST RUTHERFORD, N.J. – Eli Manning expects his potential successor to be added to the roster later this month. He is under the impression that the New York Giants will select a quarterback in this year's NFL draft.
The Giants have the sixth and 17th overall picks in the first round later this month. They've met and seen all the top quarterbacks in recent weeks.
Even Manning sees where this could be heading.
"Yeah, I figure the Giants are going to get a young quarterback. So, I understand that," Manning said Monday on a day when Ohio State quarterback Dwayne Haskins was making his Top 30 visit at the team's facility and the Giants began their offseason workout program. "I still have to do my job and I'll do my part. And my job as I see it is to go out there and play quarterback and win football games. That is what I'll do."
Haskins' visit is scheduled to stretch into Tuesday. Oklahoma's Kyler Murray and Drew Lock were also at the Giants facility last week.
Coach Pat Shurmur had told ESPN in recent weeks that they intended to have all the top quarterbacks visit. That group included Duke's Daniel Jones and West Virginia's Will Grier.
Giants ownership explained at the NFL annual meetings that they would like to come out of the draft having addressed the quarterback position. Manning is 38 years old and in the finald year of his contract.
But the value of the Giants' picks has to align with the grade on the quarterback. It makes it more likely the Giants could land a quarterback at pick No. 17 than 6.
"I would like to come out of this draft with a quarterback but here is the thing: Show me what the grades are," co-owner John Mara said recently. "What is the value there? If the top quarterbacks are graded towards the bottom of the first round or even the second round I'm not going to insist we take him at No. 6 or even No. 17. Show me what the value is. That has always been our philosophy on that. The worst thing you can do is try to force the issue and then you end up with a quarterback that isn't worth taking at that particular spot.
"Would we love to have a quarterback coming out of this draft, yes. But only if we have a conviction about him."
Manning understands part of his role this season could be working alongside another young quarterback. It's nothing new. The Giants drafted Davis Webb in the third round two years ago and Kyle Lauletta in the fourth round last year. Webb is now on the Jets.
While Manning doesn't necessarily view his job as being a mentor, it doesn't mean he won't be willing to help. Webb has consistently raved about working alongside the two-time Super Bowl winner. Manning abides by the lead-by-example philosophy.
"That's just kind of part of being a quarterback," he said. "Enjoy putting in the extra effort and work to get everybody up to speed and help young guys when they're trying to learn a new offense."
Manning's concentration now is on being a good teammate and getting the team ready to win football games. He told the Giants immediately after the season about his desire to continue playing even after a rough season. That came during what general manager Dave Gettleman described as a "no-holds barred" meeting.
Manning said he wasn't told about his fate by Gettleman and coach Pat Shurmur until the last month or so. That is when the Giants made their intention of having him return as the starter clear.
Nobody seems all that concerned that it's the final year of Manning's deal and ownership wants to take a wait-and-see approach with his future.
"I don't feel the need to talk to him about his contract," Shurmur said. "Eli does a great job of staying in the moment. He was here today and we got going. He is excited to get into this, the second year of our system and build on what we did the last half of the season. Eli is really terrific at staying in the moment. Right now, it is offseason training. Just trying to get comfortable with his receivers and try and master his decisions. I think that is where he is at. I don't feel the need to talk about that with him."
Manning admitted his concern is with the present, not the past or the future. Having been in the league for 16 years, he wasn't even surprised by the recent trade of star wide receiver Odell Beckham Jr., which he claims to have found out about on TV when it came scrolling across the ticker and texts started crowding his inbox.
He apparently won't be surprised by addition of a quarterback in this year's draft either.
Broncos LB Davis expected to miss 3-4 weeks
ENGLEWOOD, Colo. — Denver Broncos linebacker Todd Davis, who started 16 games last season and has started all but three games over the past three seasons, is expected to miss three to four weeks with a partial tear in his calf muscle.
Davis suffered the injury in the final team period of Thursday's practice — the first on-field work of Broncos training camp. Davis was carted to the locker room and limped in with the team's medical staff.
The sixth-year linebacker was taken for a magnetic resonance imaging (MRI) exam after practice.
Davis is the only every-down player at inside linebacker for the Broncos, given he usually stays on the field when the team goes to the nickel package — five defensive backs. The Broncos use the nickel the majority of the time.
Davis led the team in tackles last season, with 114, and played 78.2 percent of the defensive snaps (842 plays). At linebacker only Von Miller and Bradley Chubb played more at 844 snaps for 78.4 percent of the defensive snaps.
"Todd, I feel like he is one of the most vocal leaders on this team, not just the defense," Chubb said Thursday. "He is one of those guys that sometimes last year in the game I'm like, 'Hey Todd, what I got right here?' And he just always knows what he's doing, always reliable, always making the right calls and he's a huge part of the defense."
Haynesworth discharged amid search for kidney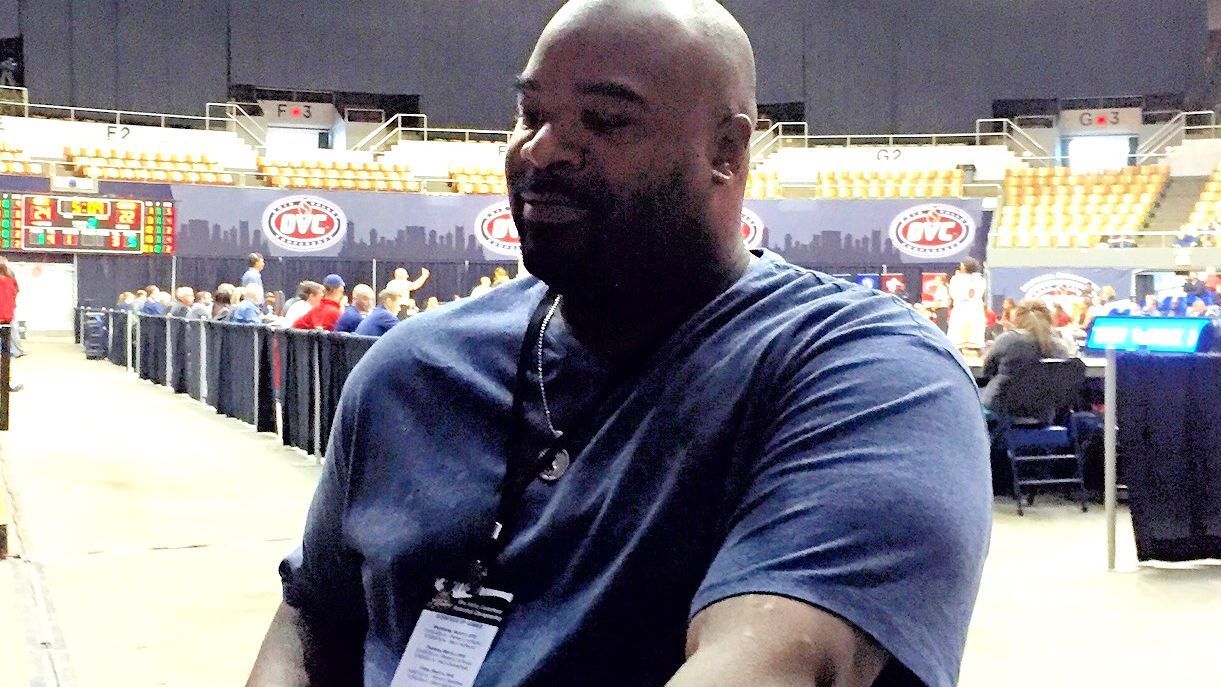 NASHVILLE, Tenn. — Former Tennessee Titans All-Pro defensive lineman Albert Haynesworth has recovered enough to receive treatment outside a hospital as his search for a new kidney continues.
The 38-year-old Haynesworth posted an update Thursday on Instagram of his first dialysis treatment outside the hospital, thanking staff at Williamson Medical Center for draining more than 12 pounds of fluids from in and around his lungs.
Haynesworth also thanked everyone supporting him through his ordeal. He also calls those who have reached out to see if they could be a kidney donor his new family, saying words can't describe his feelings for people willing to share such a blessing.
Vanderbilt University Medical Center had more than 1,000 calls and offers to donate a kidney or ask about the process within the first day of Haynesworth sharing news on July 10 that his kidneys had failed due to disease. Haynesworth wrote in his post that the hospital will be in touch with a blood test to see whether the would-be donor is a match.
Haynesworth played 10 seasons in the NFL, including the first seven with the Titans who selected him No. 15 overall in the 2002 draft out of the University of Tennessee. He also played for Washington, New England and Tampa Bay.
He was selected as an All-Pro after the 2007 and 2008 seasons and had 30 1/2 sacks in 123 games.
Flacco hyped about fresh start — 'I've got a lot left'
ENGLEWOOD, Colo. — As Denver Broncos quarterback Joe Flacco finished his first training camp practice with his new team Thursday, he made it clear he sees his 12th season in the league as a fresh start, a second chance and a potential "take that" season all in one.
It was the first time Flacco entered an NFL training camp as anything other than the starting quarterback for the Baltimore Ravens. The 34-year-old veteran, however, has big plans after a pre-draft trade led him to join the Broncos.
Has the change rejuvenated him?
"It's tough to say that without almost putting yourself down for the last couple years of your career," Flacco said. "There is an energy about coming here and an excitement that I feel being with this new team and getting another chance of being a starting quarterback. I don't think you can ever take that for granted. … I'm definitely excited about it."
Broncos president of football operations/general manager John Elway has consistently said he likes to acquire veteran players with chips on their shoulders — as he has shown with Peyton Manning, DeMarcus Ware and Aqib Talib in previous seasons. Elway, who sent a fourth-round pick to the Ravens in the trade, believes that Flacco can be another potential success story.
"Any time you get traded midway in your career or two-thirds of the way through your career, you've got something to prove," Elway said Wednesday.
Flacco was replaced by Lamar Jackson after suffering a hip injury in November and didn't get the starting job back after he returned.
"Yeah, there's no doubt [I've got something to prove]," Flacco said. "Listen, I think I've got a lot left in the tank. And I feel like I can do a lot more than I've shown in my 11-year career. I'm excited about that."
Also excited is receiver Emmanuel Sanders, who has come up with a new nickname for the veteran quarterback.
"Flacco's a baller," Sanders said Thursday. "I think we're going to be OK. I like the way he spins it. … I call him, 'Pretty Boy' Flacco. That's his name. He's just smooth."
Although the Broncos used a second-round draft pick on quarterback Drew Lock, coach Vic Fangio and Elway have each said that Flacco is the unquestioned starter. Flacco took all of the work with the first-team during the first on-field work session of training camp Thursday.
Flacco said his family has settled into the Denver area and joked his daughter has already decked herself out in plenty of Broncos gear. He also joked when asked about a conversation with Elway and Lock during practice.
"I grew up watching John Elway," Flacco said. "And while we're kind of colleagues now on the field, there's still that little bit of kid in you — man, John Elway's standing right next to you. So you try to act as normal as possible and shoot the breeze. … I think it's a really cool opportunity.
"Listen, I know John's the man around here. Hopefully there's room for a couple more people."