Bengals RB Walton facing charges for 3rd time
Cincinnati Bengals running back Mark Walton surrendered to police on Thursday and is facing four charges, including a felony charge of carrying a concealed weapon, following Walton's third off-the-field incident this year.
According to court records, he is facing misdemeanor charges of resisting an officer without violence, marijuana possession and reckless driving, in addition to the felony charge. All charges are related to an incident that occurred in Miami on March 12.
The Miami Herald reported that police officers attempted to pull Walton's car over because it was speeding and weaving in and out of traffic. Walton pulled the car over in front of a house and officers ordered him to the ground as he was exiting the car. Walton began to run and was subdued with a stun gun, but he dislodged the prongs and escaped, according to the report.
Officers reportedly searched the car and found 14 grams of marijuana and a legally purchased 9 mm carbine rifle with fully loaded clips.
This is the third incident for Walton in 2019. He was charged with battery on Feb. 16. In that incident, Walton allegedly grabbed a phone from his neighbor during an argument in a parking garage. His hearing for that charge is currently scheduled for April 8.
He was also charged with misdemeanor possession of marijuana on Jan. 16. He has a hearing scheduled for June 5 for that charge.
Walton was also arrested in 2016 on drunk driving charges when he was 19. Those charges were later dropped, and Walton's attorney told reporters that Walton was the victim of a setup.
Walton, 22, was selected by the Bengals out of Miami in the fourth round of the 2018 draft. Walton played mostly on special teams and carried the ball only 14 times in 2018, rushing for 34 yards, an average of 2.4 yards-per-carry.
A statement from the Bengals said the team is currently gathering information and offered no further comment at this time.
Bowlen, longtime Broncos owner, dies at age 75
Pat Bowlen, the longtime owner of the Denver Broncos, died late Thursday night at his home in Denver, his family announced. He was 75.
Bowlen had been suffering from Alzheimer's disease.
"We are saddened to inform everyone that our beloved husband and father, Pat Bowlen, passed on to the next chapter of his life late Thursday night peacefully at home surrounded by family," his family said in a statement that was released through the team. "His soul will live on through the Broncos, the city of Denver and all of our fans."
Bowlen purchased the Broncos in 1984, and the team went on to reach the Super Bowl seven times under his ownership, winning the title in 1997, 1998 and 2015.
Bowlen stepped away from the Broncos' day-to-day operations in 2014. He will be inducted into the Pro Football Hall of Fame in August.
Strong side 'good spot' for LB Griffin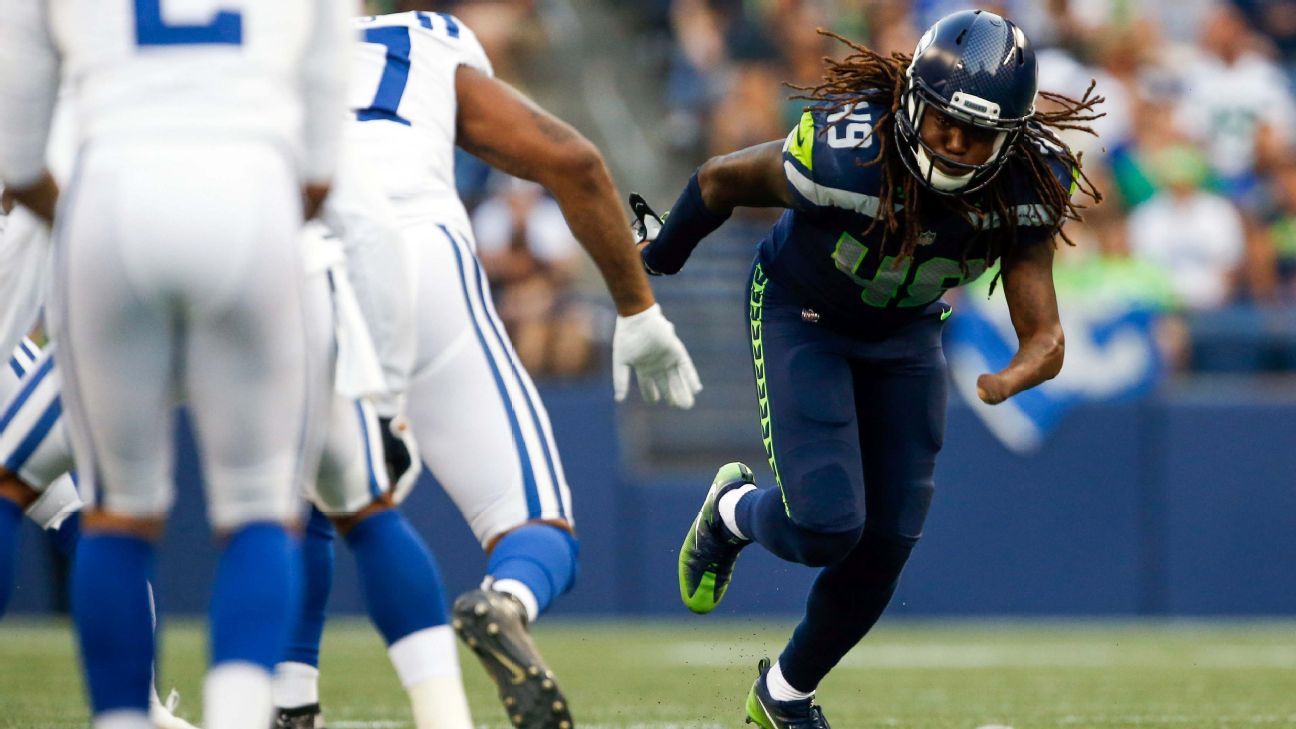 RENTON, Wash. — Second-year linebacker Shaquem Griffin is back at his natural position as he tries to improve upon an up-and-down rookie season and stick with the Seattle Seahawks.
They're playing him on the edge as a strong-side linebacker, the same role he had at Central Florida, and the huge smile on his face told you everything you need to know about what he thinks of the switch.
"It's exactly the same thing," Griffin said of his current role compared to what he did in college. "It's no change. I'm rushing, I'm dropping, I'm going man-to-man in coverage, I'm setting the edge. I had so much time, and I remember so much from college on how I need to set the edge and what's best for me and how I need to do it, it just snapped right back as soon as they put me there and I was like, 'I'm having so much fun again.' It's just such a big difference because I feel so comfortable there."
The Seahawks used Griffin as a weak-side linebacker last season after choosing him in the fifth round, which made him the first one-handed player to be drafted in the NFL's modern era. They initially felt that Griffin and his 4.38-second speed would be best suited for the weak side, the position in Pete Carroll's 4-3 defense that plays behind the line of scrimmage and is thus more often in space. But he struggled while making a spot start for K.J. Wright in the opener and barely played on defense the remainder of the season.
The Seahawks ask their strong-side linebackers to play on the ball and set the edge. Barkevious Mingo started there last season, but Carroll revealed after the Seahawks' final minicamp practice Thursday that the plan is for Mingo to be used as more of as an edge-rusher in 2019. That's a need area for the Seahawks with Frank Clark gone and his replacement, Ezekiel Ansah, coming off shoulder surgery that is expected to sideline him past the start of training camp and maybe into the regular season.
That will leave some open snaps at strong-side linebacker. Griffin has been working there in base defense and at the weak-side spot in nickel packages. Carroll has said this could be the best group of linebackers he's had in Seattle, which means the battle for roster spots behind All-Pro Bobby Wagner, Wright, Mychal Kendricks and third-round pick Cody Barton will be competitive. Seattle also drafted Ben Burr-Kirven in the fifth round.
"It's been really a good deal for him," Carroll said of Griffin's switch. "We see how much background he has on the edge. He's played safety and outside linebacker for the most part in his career. He's just more comfortable out there. That doesn't mean that he can't play behind the line of scrimmage. He's gained a lot there, but you can see him on the edge, in space and coming off the edge and pressures and stuff like that, that it's a good spot for him. So he's had a very, very good offseason with us."
The biggest adjustment Griffin said he faced in moving to the weak side last season was staying patient and not reflexively flying to the ball, which would cause him to abandon his run gap. He described the reads as easier at the strong-side position.
"The line blocks down, you're taking off," he said. "The line blocks to you, you're setting the edge. That's two things. When it comes to being behind the ball, you've got pullers, you've got to stunt the line one way or you've got to make sure you adjust the line before the play starts if they motion over. There's just so much more into it that now if you put me on the edge, it's like boom, let's play ball."
Griffin suffered from a congenital birth defect called amniotic band syndrome and had his left hand amputated at age 4. His backstory and the fact he was being reunited with his twin brother Shaquill, Seattle's starting left cornerback, made him the darling of last year's draft. With that came so much attention that the Griffin family fielded interview requests from China and Italy.
This offseason was "definitely" easier with less hoopla, he said.
"Don't have to worry about all the extra, everybody trying to hype your head up and get you big-headed and stuff like that and tell you what you can and cannot do," he said. "More so for me it was like, take time for yourself, find out who you are and find out what you want to do, find out your goals and what you want to get out of the next season and just go after it. Working out every single day, making sure I was getting my body right, making sure I was eating right and let's focus on my stuff instead of letting everyone focus on me."
The twins hired a personal chef this offseason at the suggestion of Shaquill, who dropped 12 pounds. Shaquem said he's moving around better after cutting out fried foods, fast food and pork.
And they've been working on sack dances in the event Shaquem records one.
"We're gonna have a few," Shaquem said. "We're gonna have a whole little dance routine. Don't worry about that."
Cardinals release CB Amerson in surprise move
The Arizona Cardinals released veteran cornerback David Amerson on Thursday, a surprise move as the team wrapped up its offseason workouts.
Amerson, 27, had been considered a favorite to start at one of the team's outside cornerback spots with Patrick Peterson suspended for the first six games of the season for a violation of the PED policy. Robert Alford, who signed a three-year contract with the Cardinals earlier this offseason, is expected to start at the other outside cornerback spot.
The Cardinals also have rookie cornerback Byron Murphy, who they selected with the first pick of the second round of the 2019 draft, and veteran Tramaine Brock on their depth chart.
Amerson signed with the team last November and appeared in six games, including five starts.
The six-year veteran has appeared in 74 games (61 starts) for three teams in his NFL career.
He has nine interceptions, 65 passes defensed, two forced fumbles and 273 tackles since the Redskins selected him in the second round (51st overall) of the 2013 draft.